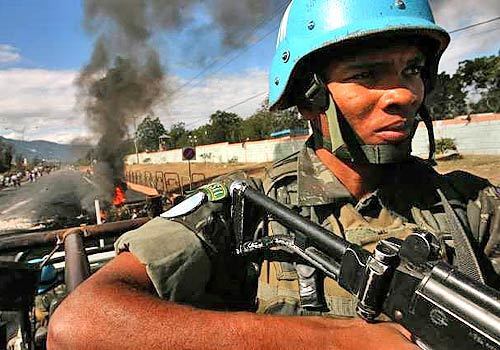 20 Images
The Week in Photos: February 12-18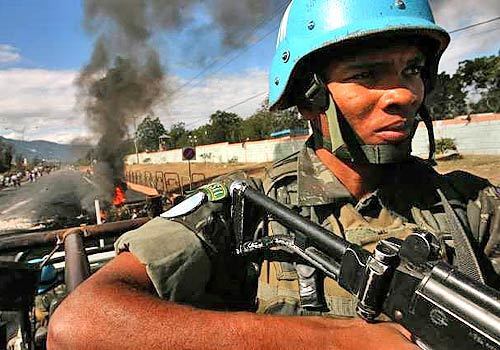 ON PATROL:
A U.N. peacekeeper patrols Port-au-Prince, the Haitian capital this week. After two days of election-related violence, demonstrations by backers of Rene Preval dissipated when the presidential candidate addressed the nation by radio to urge calm. Preval insists he won outright.
(Carolyn Cole / LAT)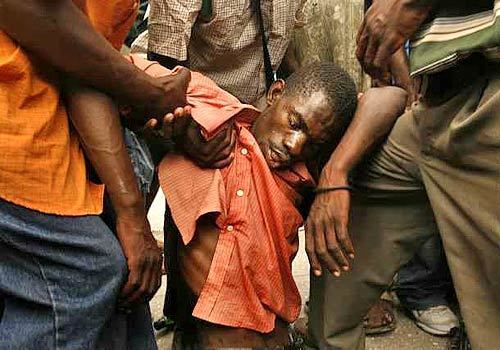 HELPING HANDS:
Bystanders aid a Haitian man who collapsed in Port-au-Prince. He was said to be exhausted from a long trip and lack of food. Many of the poor want former President Jean-Bertrand Aristide to return from exile.
(Carolyn Cole / LAT)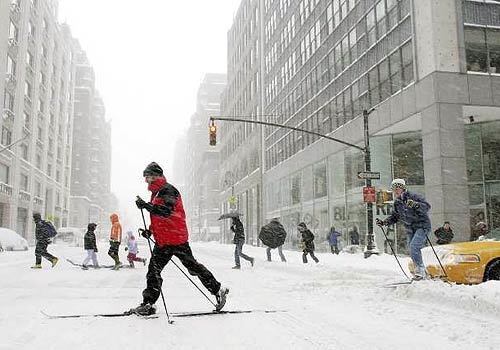 YANKEE INGENUITY:
James and Catherine Siegel ski toward Manhattan's Central Park, where a record 26.9 inches of snow fell during a storm that blanketed much of New England and the Mid-Atlantic last weekend.
(Nick Laham / Getty Images)
TAKING AIM:
A security guard at a bank in Lahore, Pakistan, opens fire on protesters trying to damage the property during protests over the published caricatures of the prophet Muhammad.
(K.M. Chaudhry / AP)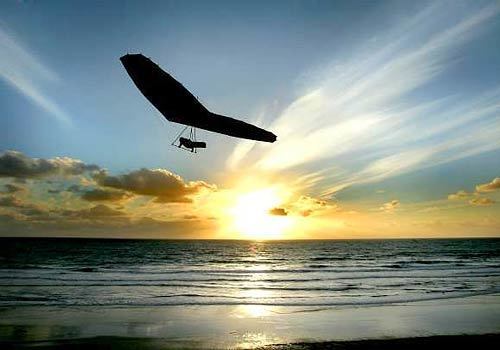 SUN GLIDER:
A San Marcos resident, who likes to use the alias "Famous Dave," soars through the sunset sky over the beach off Palomar Airport Road and Carlsbad Boulevard in Carlsbad, Calif., on Wednesday.
(Sean DuFrene / AP)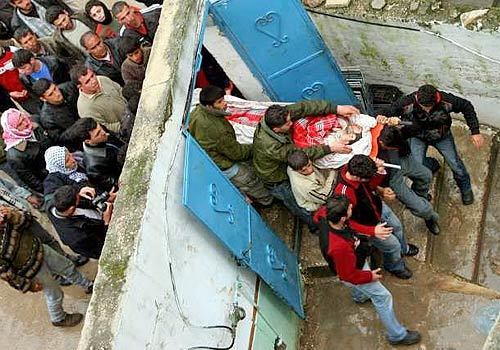 GRIEF IN MIDEAST:
Relatives of a mentally handicapped Palestinian, Mujahed Al-Simadi, cry over his body after he was killed by Israeli troops at Qabatya village, near the West Bank town of Jenin, Wednesday. The boy was killed as he was carrying a toy rifle, Palestinian security officials said.
(Alaa Badarneh / EPA)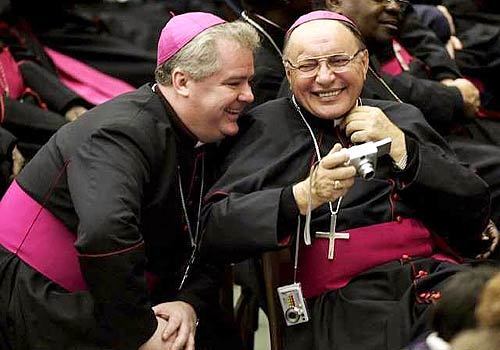 VATICAN HUMOR:
Two bishops, one of them holding a digital camera, laugh during Pope Benedict XVI's general audience at the Vatican on Wednesday.
(Danillo Schiavella / EPA)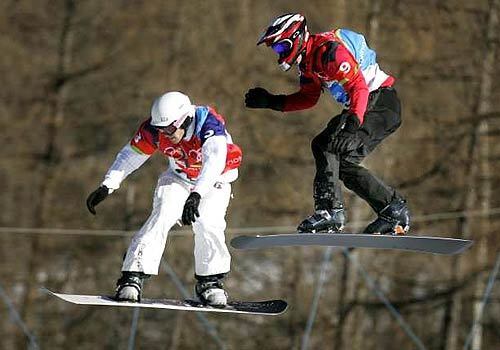 LEAP AHEAD:
U.S. Olympian Seth Wescott keeps his lead over Radoslav Zidek of Slovakia in the air heading toward the finish of the men's snowboard-cross finals in Bardonecchia, Italy on Thursday. Wescott won the gold medal and Zidek won silver.
(Gina Ferazzi / LAT)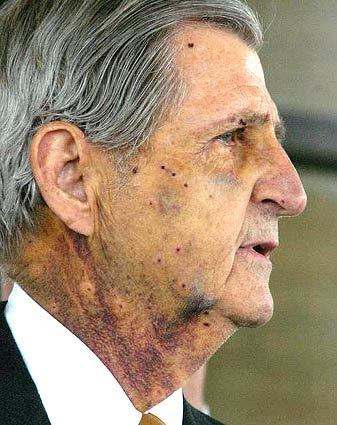 BRUISED:
Texas attorney Harry Whittington talks with reporters Friday in front of the hospital in Corpus Christi, Texas, where he had been recovering after being shot by Vice President Dick Cheney in a hunting accident Saturday.
(Paul Iverson / AP)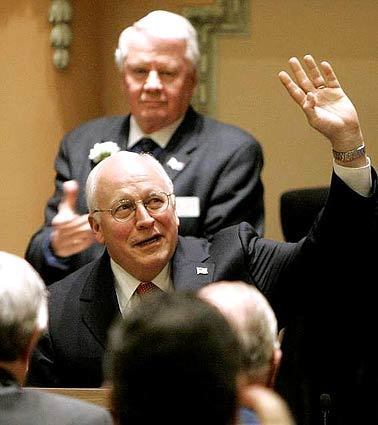 COMFORTS OF HOME:
Vice President Dick Cheney waves as he arrives to address a joint session of the Wyoming Legislature at the Capitol in Cheyenne, Wyo., on Friday. It was Cheney's first public event since he accidentally shot 78-year-old attorney Harry Whittington while aiming for a quail last weekend.
(Ed Andrieski / AP)
HELPING HAND:
Brendan Draper, 5, visits his brother Nick at UCLA Medical Center before the 7-month-old had surgery to receive a new heart. Nick and his twin, Nate, were born with a condition that caused their hearts to swell and barely pump, and have been awaiting new organs since birth.
(Anne Cusack / LAT)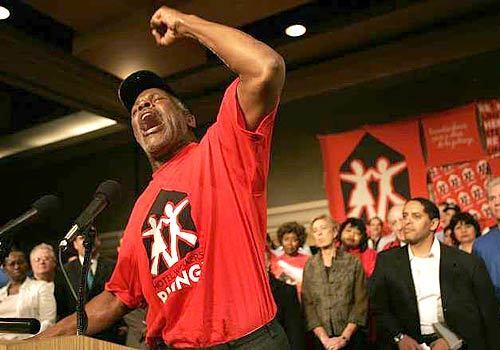 UNION GATHERING:
Actor Danny Glover delivers a raucous rendition of a poem by Langston Hughes at an L.A. rally for hotel workers.
(Robert Gauthier / LAT)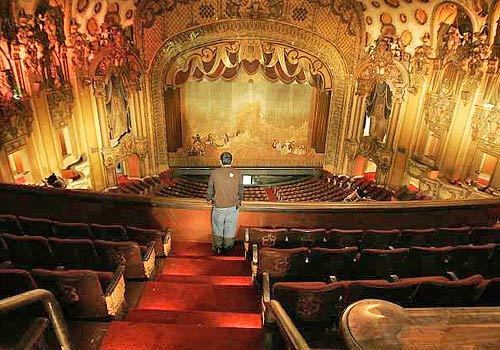 DISTANT PROJECTION:
The ornate interior of the Los Angeles Theatre is typical of the grand old movie houses along downtown's Broadway. When the venue opened in 1931, guests included Charlie Chaplin and Albert Einstein. Even as downtown L.A. enjoys a revival of sorts, attracting new theaters has proved difficult.
(Luis Sinco / LAT)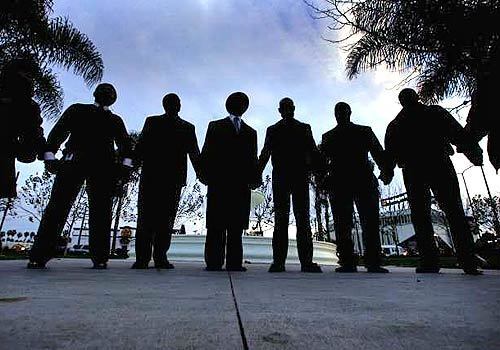 PRAYER FOR PEACE:
A prayer circle to urge peace in Los Angeles County jails is held at Leimert Plaza Park on Thursday. The circle involved members of black and Latino groups.
(Richard Hartog / LAT)
HIGH SPIRITS:
Fourth-graders Delayna Harris, left, and Imami Jackson do a bear walk at Watts Learning Center. The charter school concluded purchase of a permanent home, the Olivet Baptist Church on West 95th Street in Los Angeles, this week.
(Mel Melcon / LAT)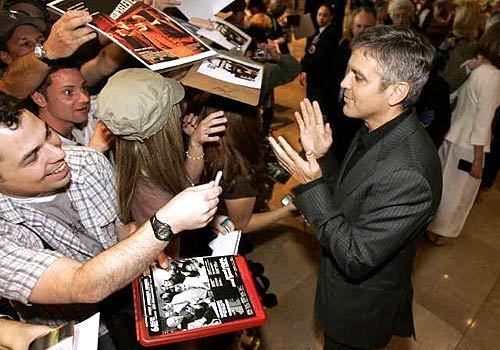 'A PRETTY AMAZING TIME':
George Clooney, up for three Academy Awards, says he probably wouldn't have been at the luncheon for Oscar nominees this week if his TV "failures" had turned to success.
(Al Seib / LAT)
ICY HAZARD:
Search-and-rescue team commander Jim Lyon stands with his kayak just beyond shards of ice in Big Bear Lake. "It makes perfectly good sense to equip and train the tons of young, strong firefighters we have up here" as a coldwater dive team, he said.
(Irfan Khan / LAT)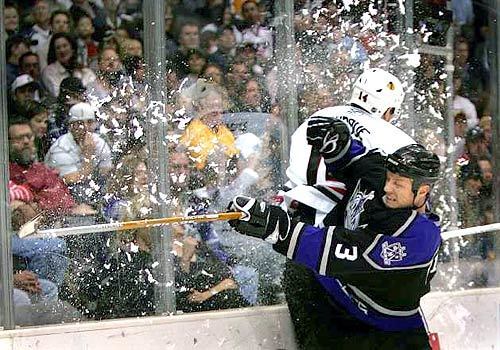 WINTER WONDERLAND:
The ice goes flying at Staples Center when the L.A. Kings' Aaron Miller (3) checks Chicago Blackhawk's Rene Bourque.
(Richard Hartog / LAT)
WELL-PRESERVED:
Sierra Club member Mike Boeck explores rugged Fremont Canyon after the Irvine Co. announced its donation of the North Ranch land last year. The Nature Conservancy is managing the wilderness, home to the rare Tecate cypress and the occasional mountain lion, and is leading guided tours on foot, bike and horse.
(Don Kelsen / LAT)
DON'T TRY THIS AT HOME:
Yoga practitioners from around the world competed last Sunday at the third annual International Yoga Asana Championship/ Bishnu Charan Ghosh Cup at the Sheraton Los Angeles Downtown Hotel. Bikram's Yoga College of India, headquartered in Los Angeles, was host of the event, in which contestants performed seven poses from a repertoire of 26, five compulsory and two of their own choice. One of the competitors was Shivakumar Madayya of the United Arab Emerates.
(Francine Orr / LAT)