RIVER OF NO U-TURN:
An emergency vehicle navigates a flooded Hollywood Freeway Monday night, near Santa Monica Boulevard. The freeway was closed in both directions for more than three hours after a cloudburst and clogged drains left about two feet of water pooling on the lanes.
(Luis Sinco / LAT)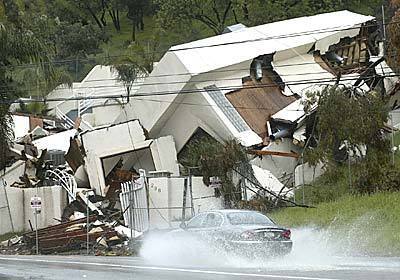 Storm Damage
A house lies in pieces after collapsing from soil erosion as cars pass by in Studio City.
(Brendan McDermid / EPA)
la-storm2-ic9z0ckf
Los Angeles Department of Water and Power workers evaluate downed trees and power lines in Woodland Hills.
(Phil McCarten / AP)
la-storm3-ica6ovkf
Pasadena fire crews inspect one of three homes damaged by a mudslide. Three Pasadena homes were evacuated about 3:30 a.m. after being red-tagged.
(Genaro Molina / LAT)
la-storm4-ica6hlkf
Pasadena fire crews help the Maloney family move out belongings after a mudslide hit the back of the family's house.
(Genaro Molina / LAT)
la-storm5-ic9r6ekf
This NOAA satellite image taken at 7:45 a.m. PST today shows a strong storm spinning off the California coast.
(NOAA / AP)
la-storm7-ica2zckf
A Los Angeles Department of Public Works truck lies in a sinkhole in Sun Valley where a city engineer was killed.
(Brendan McDermid / EPA)
la-storm8-ica4vnkf
A giant Oscar statue at Hollywood's Kodak Theatre is wrapped in plastic to protect it from the rain during preparations for Sunday's 77th Annual Academy Awards.
(Al Seib / LAT)