20 Images
Floods, Slides and Sinkholes
la-storm1-ican89kf
A motorist navigates a flooded street as rain pelts downtown Los Angeles.
(Luis Sinco / LAT)
la-storm8-icbxp0kf
A flooded Santa Clara River weaves into Santa Paula Airport, eroding the main runway. Santa Paula officials struggled to divert the river's path and said the damage may mean the airport will have to close indefinitely.
(Stephen Osman / LAT)
la-storm9-icbxwskf
Workers try to protect the edge of the Santa Paula Airport runway from the flooded Santa Clara River.
(Stephen Osman / LAT)
la-storm10-icbxp6kf
A chunk of runway falls into the Santa Clara River at battered Santa Paula Airport.
(Stephen Osman / LAT)
la-storm11-icc4kikf
In Bel Air, a hillside swimming pool lies in a ravine after breaking away from a house.
(Francine Orr / LAT)
la-storm2-icahjekf
A firefighter looks over a scene where a swimming pool slid down a hill and careened against another home in Bel Air. Four homes affected by the rain were red-tagged and their owners had to evacuate.
(Genaro Molina / LAT)
la-storm12-icc3iekf
In Highland Park, homes in the 6700 block of Fortune Place were evacuated after their yards began slipping away.
(Francine Orr / LAT)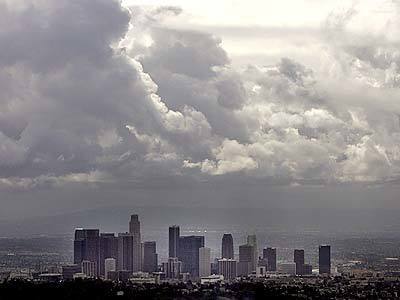 la-storm13-icc4oukf
Storm clouds gather ominously over downtown Los Angeles.
(Francine Orr / LAT)
la-storm3-ica9nzkf
A teenage driver was hospitalized when her compact car hydroplaned across rain-slickened South Riverside Avenue in Rialto and slammed head-on into a tractor trailer in the opposite lane.
(Irfan Khan / LAT)
la-storm4-icaaqkkf
Pedestrians on the Colfax Avenue bridge in Studio City watch as the muddy, rain-swollen Los Angeles River rages through Studio City, just past the Tujunga Wash.
(Brian Vander Brug / LAT)
la-storm5-icabuikf
Kenny Hebert, on his skim board, is pulled by bicycle through Dawson Lane, flooded by Monday's storm in Huntington Beach.
(Don Kelsen / LAT)
la-storm6-icaczpkf
A 40-foot-deep sinkhole kept Tujunga Avenue closed in Sun Valley. One road worker fell into the sinkhole and was killed. Officials said it could take six weeks to fix the 100-foot-wide hole.
(Genaro Molina / LAT)
la-storm7-ica2zckf
A Los Angeles Department of Public Works truck lies in a sinkhole in Sun Valley where a city engineer was killed.
(Brendan McDermid / EPA)
la-storm7-icbtrrkf
The rain-swollen Los Angeles River at the North Main Street bridge in downtown Los Angeles.
(Brian Vander Brug / LAT)
RIVER OF NO U-TURN:
An emergency vehicle navigates a flooded Hollywood Freeway Monday night, near Santa Monica Boulevard. The freeway was closed in both directions for more than three hours after a cloudburst and clogged drains left about two feet of water pooling on the lanes.
(Luis Sinco / LAT)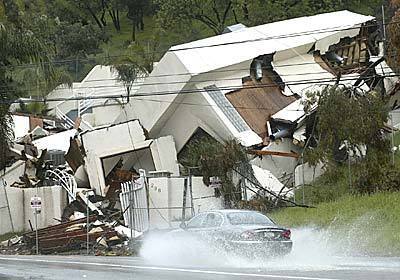 Storm Damage
A house lies in pieces after collapsing from soil erosion as cars pass by in Studio City.
(Brendan McDermid / EPA)
la-storm2-ic9z0ckf
Los Angeles Department of Water and Power workers evaluate downed trees and power lines in Woodland Hills.
(Phil McCarten / AP)
la-storm3-ica6ovkf
Pasadena fire crews inspect one of three homes damaged by a mudslide. Three Pasadena homes were evacuated about 3:30 a.m. after being red-tagged.
(Genaro Molina / LAT)
la-storm4-ica6hlkf
Pasadena fire crews help the Maloney family move out belongings after a mudslide hit the back of the family's house.
(Genaro Molina / LAT)
la-storm8-ica4vnkf
A giant Oscar statue at Hollywood's Kodak Theatre is wrapped in plastic to protect it from the rain during preparations for Sunday's 77th Annual Academy Awards.
(Al Seib / LAT)