20 Images
The Week in Photos: Feb. 18-24
la-0222-week01-jdop8enc
Korean American dancers perform a Fan Dance at the Pasadena celebration of the Chinese New Year. The revelers welcome the Year of the Boar, or pig, an animal from the Chinese zodiac considered to be lucky.
(Béatrice de Géa / LAT)
la-0222-week02-jdgzgznc
A Serb from the former Yugoslavia, designer Roksanda Ilinicic stays grounded this season with clouds of tulle at her Valentine's Day runway show.
(Kirk McKoy / LAT)
la-0222-week03-jcpdwdnc
Canadian Army Capt. Lee Mossop, accompanied by Afghan forces, tries to kick in the door of a compound near Kandahar, despite pleas from Afghan commanders to cease the practice. "If you enter someone's house by breaking down his door," an Afghan official said, "that man and all his relatives are your enemy forever." Conducting joint patrols for weapons and intelligence material, Canadian and Afghan National Army soldiers on this day found only large quantities of marijuana.
(Damon Winter / LAT)
la-0222-week04-jdsjgknc
On his first trip to Los Angeles since he declared himself a candidate for president, Sen. Barack Obama (D-Ill.) generates enthusiasm in the Crenshaw District, and later generates big money from big names at a Beverly Hills gala.
(Myung J. Chun / LAT)
la-0222-week05-jdsg6lnc
Three loops around the state Capitol in Sacramento signal the end of the 115.8-mile second stage of the Amgen Tour of California bicycle race. The 141 riders conclude their 700-mile competition Sunday in Long Beach.
(Robert Durell / LAT)
la-0222-week06-jdum2fnc
The Lakers' Ronny Turiaf fights Brandon Roy for one of his two rebounds against the Trail Blazers at Staples Center.
(Robert Gauthier / LAT)
la-0222-week07-jcquo2nc
At Roosevelt High School, Junior Reserve Officers' Training Corps students learn how to fold a U.S. flag properly. Over three years, enrollment in JROTC has fallen 24% in L.A., but is up nationwide.
(Spencer Weiner / LAT)
la-0222-week08-jdqjjxnc
Rain puddles in Laguna Beach
(Mark Boster / LAT)
la-0222-week09-jdkyn7nc
Andy Bussell settles in for sweet dreams in the bed of his pickup truck. Of life without a conventional home, he says, "Once you find a routine, it's actually really easy."
(Don Kelsen / LAT)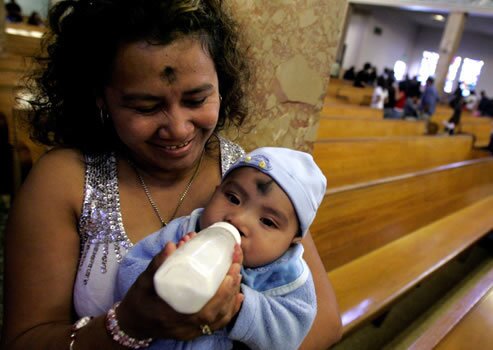 la-0222-week10-jdu5bxnc
The faithful, including Olivia Mestizo and her 5-month-old, Esai Romero, mark the beginning of Lent at St. Boniface Catholic Church in Anaheim by the anointing of their foreheads with ashes.
(Robert Lachman / LAT)
la-0222-week11-jdrrhmnc
A Royal Air Force CH47 Chinook Helicopter creates a dust storm during the re-supply of Patrol Base Delhi before Op Glacier 4 in the Afghan district of Garmsir.
(Sean Clee / AP Photo)
la-0222-week12-jdtwponc
U.S. soldiers try to liberate a vehicle from the mud at a forwarding base in Orgun-E in eastern Afghanistan.
(Rafiq Maqbool / AP Photo)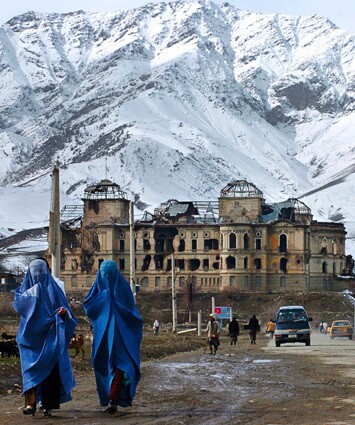 la-0222-week13-jduuannc
Darlaman Palace, like much of West Kabul, incurred significant damage during the warlord-Taliban wars of the early 1990s. The process of rebuilding Afghanistan is underway, but ruins and war-scarred structures are prominent city features.
(Shah Marai / AFP / Getty Images)
la-0222-week14-jdv2denc
An Indonesian police officer removes an injured child from a cargo ship that rescued passengers from a burning ferry at Tanjung Priok port in Jakarta. Carrying at least 350 people, the Indonesian ferry caught fire in rough seas off the north coast of Java Island; according to military officials, at least six people were killed.
(Bagus Indahono / EPA)
la-0222-week15-jds8d1nc
After her release from captors, Colombian army soldiers escort Marina Garces, 72, in Cali, Colombia. Garces was kidnapped three months ago by National Liberation Army guerrillas.
(Carlos Julio Martinez / AFP / Getty Images)
la-0222-week16-jdv3ycnc
Representing a diminishing number of coal miners in Romania's Valea Jiului region, this worker is one of 11,800 remaining from a work force of 46,000 in 1990. The general population has plummeted as well, from 300,000 to half that number.
(Daniel Mihailescu / AFP / Getty Images)
la-0222-week17-jdrrebnc
The coffin of Yasmina Akhtar, a victim of the firebomb assault on a train linking India and Pakistan, is removed from an ambulance near Srinagar in the Indian-controlled part of Kashmir. The twice-weekly train service, seen as a symbol of peace between rivals India and Pakistan, was carrying more than 750 Pakistanis and Indians when it was attacked.
(Altaf Qadri / EPA)
la-0222-week18-jdtv69nc
The European Union and Japan ageed to slash tuna quotas by more than 20% in an effort to stanch their alarming decline. Environmentalists warn that, thanks to overfishing, 80% of bluefin tuna, seen here at a farm near Zadar, Croatia, before being shipped to Japan, have disappeared in the last 20 years.
(Stinger / AFP / Getty Images)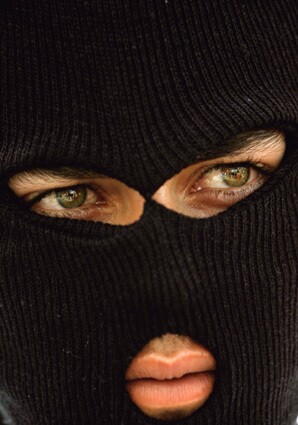 la-0222-week19-jdv9wonc
A masked militant in the Democratic Front for the Liberation of Palestine participates in a rally for the organization's 37th anniversary in the West Bank city of Ramallah.
(Muhammed Muheisen / AP Photo)
la-0222-week20-jds0usnc
An unidentified airport worker is immersed in backlogged luggage at Philadelphia International Airport, courtesy of canceled flights resulting from winter storms.
(Matt Rourke / AP Photo)