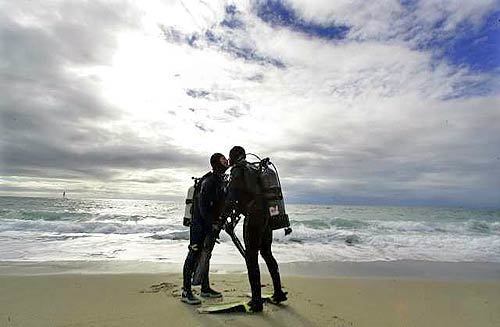 18 Images
The Week in Photos: February 19-25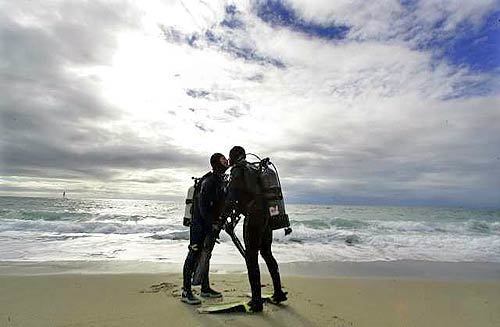 A KISS BEFORE DRYING:
Jennifer and Erik Nelson of Lomita share a moment under an approaching storm last week after diving off Redondo Beach.
(Lori Shepler / LAT)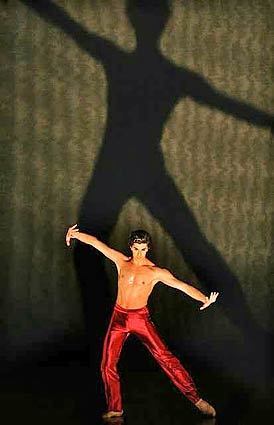 FIREBRAND:
Nikolay Tsiskaridze performs "Solos From Carmen" in Act III of "Kings of the Dance" at the Orange County Performing Arts Center in Costa Mesa on Feb. 16.
(Christine Cotter / LAT)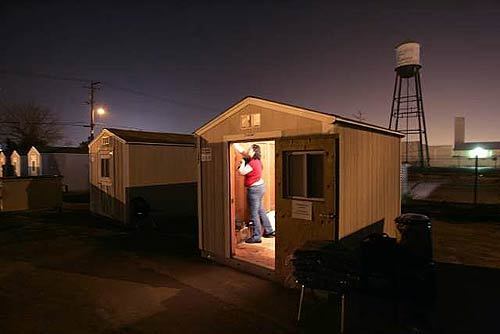 SHELTER:
LaRissa LePage sets up her home at Village of Hope, a collection of sheds that have no plumbing but offer a free place to sleep. Tenants must leave during the day to work or seek work.
(Mark Boster / LAT)
REMEMBERING CAITLIN:
Silverado Canyon residents participate in a candlelight walk in memory of teenager Caitlin Oto on Monday evening. Oto was crushed by a boulder a year ago during a mudslide. "The whole town has been through an emotional disaster. Everything has changed," said Ray Verdugo, who organized the event.
(Ken Hively / LAT)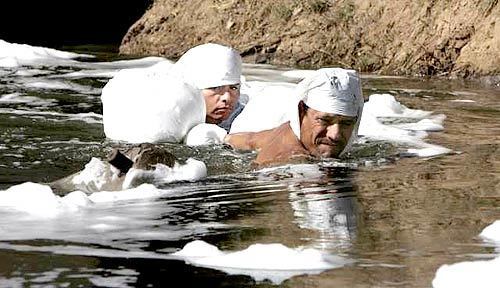 PERILOUS JOURNEY:
Two people swim in the foam-filled waters of the New River in Imperial County wearing white plastic bags on their heads as camouflage. The Metropolitan Water District of Southern California is seeking access to the water. The river is also used by illegal immigrants to enter the U.S.
(Allen J. Schaben / LAT)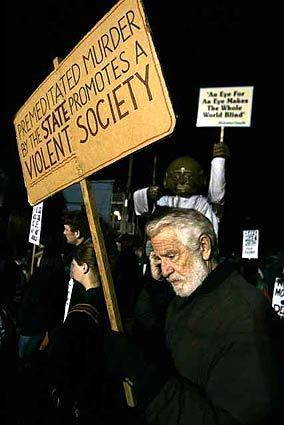 SOMBER VIGIL:
Bill Olin of Berkeley was among the protesters Monday outside San Quentin State Prison before the scheduled execution of Michael Morales. The execution was later called off until the state can comply with a judge's order on how the execution should be carried out.
(Robert Durell / LAT)
SISTER'S LOVE:
Caitlin Draper, 6, cuddles her 7-month-old brother Nick before he underwent heart transplant surgery at UCLA Medical Center on Thursday. Nick's twin brother, Nate, has the same condition and awaits a new heart.
(Anne Cusack / LAT)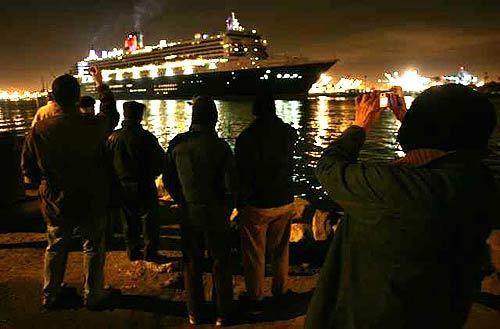 THAR SHE GLOWS:
Onlookers photograph the Queen Mary 2, which had to back into its terminal because it could not fit under the Vincent Thomas Bridge. Boat lovers and history buffs were waiting in the dark along the channel when the ship arrived at 4:45 a.m. Later, it moved into Long Beach Harbor to greet the original Queen Mary.
(Bob Chamberlin / LAT)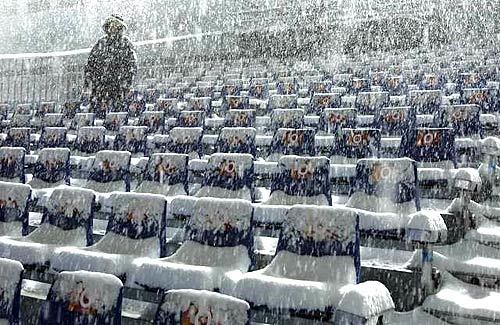 CROWD CONTROL:
A lone fan braves a heavy snowstorm to watch the two-man bobsleigh finals at Cesana Pariol, Italy, on Feb. 19.
(Gina Ferazzi / LAT)
SHARED PAIN:
Relatives of trapped miners comfort one another near the mine entrance in San Juan de Sabinas, Mexico, where 65 workers were trapped more than a mile underground. Emergency crews continued working around the clock, but cave-ins and other obstructions slowed their progress.
(L.M. Otero / AP)
ROADSHOW:
President Bush visits a Johnson Controls laboratory in Milwaukee on Monday as part of his effort to focus on developing alternative fuel technologies. "We have a chance to transform the way we power our economy and how we lead our lives," he said.
(Jim Watson AFP/Getty Images)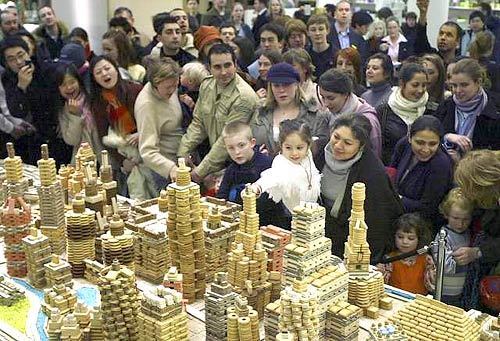 BITING BACK:
Shoppers gather to destroy and eat the installation art "Eating the City" by Song Dong in Selfridges department store in London on Wednesday. The artist built a large model city made entirely of 72,000 biscuits.
(Leon Neal/AFP/Getty Images)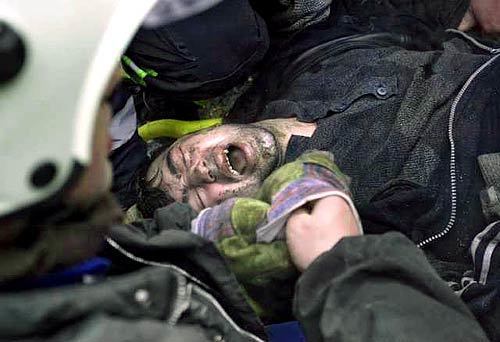 SURVIVOR:
Sarkhan Khalilov cries out as he is pulled from the rubble of a market in Moscow where the roof collapsed shortly before the market was scheduled to open. At least 57 people were killed.
(Igor Kharitonov / EPA)
QUOTH THE RAVEN:
Derrick Coyle, the yeoman warder who is also the raven master at the Tower of London, holds one of the flock. The ravens have been moved indoors as a precaution against bird flu, even though the disease has not spread to Britain.
(Natasha Marie Brown / EPA)
AMID THE RUINS:
An Iraqi man surveys the damage at a Sunni mosque in Baghdad, one of many that came under attack by Shiites seeking revenge after one of their holiest sites, the Golden Mosque in Samarra, was bombed.
(Asaad Muhsin / AP)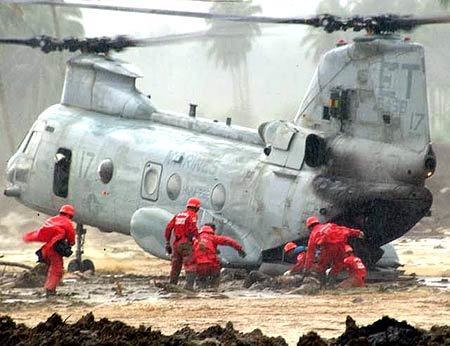 RESCUING THE RESCUERS:
A US Marine Chinook helicopter Thursday helps a Taiwanese search and rescue team (in red) who were stuck in the mud in the wasteland of what was left of the central Philippine village of Guinsaugon after the Feb. 17 landslide.
(AFP/Getty Images)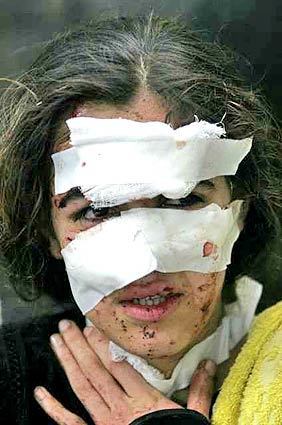 AWAITING CARE:
An Iraqi girl sits in Yarmuk Hospital in Baghdad after being injured in a bomb bomb blast near a busy market Tuesday. At least 21 Iraqis were killed.
(Hadi Mizban / AP)
DUNE DEVELOPMENT:
A trailer marks the site of the Palacio del Mar residential towers to be built south of Rosarito Beach. Diane Gibbs, owner of a leading Baja real estate firm, says her telephone has been ringing off the hook with calls from Southern Californians looking for a vacation home they can get to in time for dinner on Fridays.
(Don Bartletti / LAT)