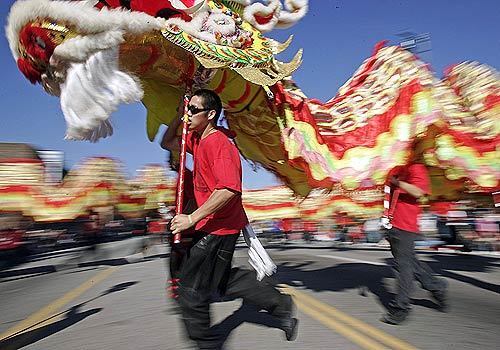 21 Images
The Week in Photos: Feb. 25 - Mar. 3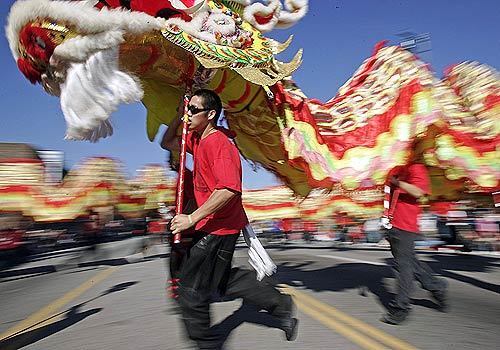 A team of handlers maneuvers a traditional dragon costume through L.A.'s Chinatown during the annual Chinese New Year celebration.
(Damon Winter / LAT)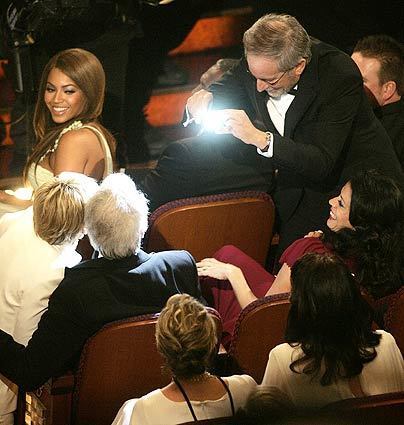 To the amusement of Beyoncé Knowles, Steven Spielberg directs Clint Eastwood and Academy Award show host Ellen DeGeneres, who said she wanted to post the photograph on MySpace.
(Mark Boster / LAT)
Clippers guard Shaun Livingston is carried off the court after suffering a severe knee injury in the first quarter of a game against the Charlotte Bobcats at Staples Center.
(Richard Hartog / LAT)
A youth tags an MTA bus carrying Mayor Antonio Villaraigosa and L.A. Unified Supt. David L. Brewer at a media event to announce a new bus stop behind the Santee Education Complex in South Los Angeles. The location was selected so students wouldn't have to walk through a gang-infested neighborhood.
(Anne Cusack / LAT)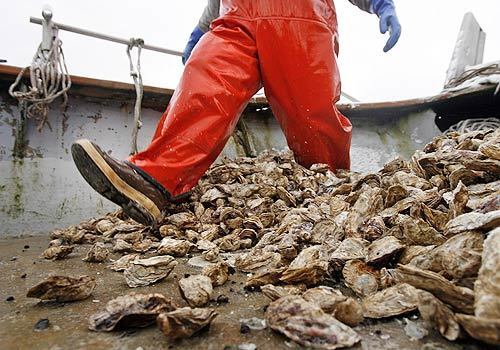 On deck with an oyster farmer and his haul in Prince William Sound off Cordova, Alaska. In 2004, warmer waters contaminated some Alaska oysters with a bacterium that, when ingested, sickened several passengers on a cruise ship.
(Rick Loomis / LAT)
Gayle Etcheverry spruces up Oscar statues with a coating of gold paint in advance of the 79th annual Academy Awards at the Kodak Theatre in Hollywood.
(Al Seib / LAT)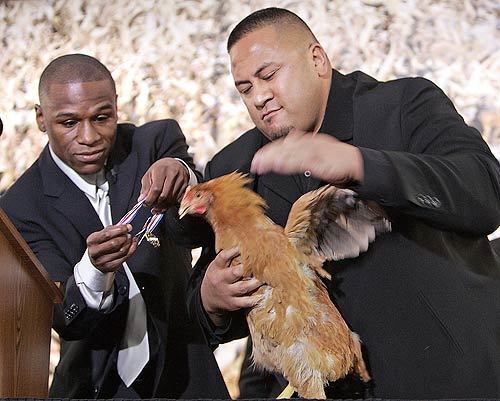 With a reluctant avian assistant, boxer Floyd Mayweather and an unidentified animal wrangler mocks Oscar De La Hoya by adorning the chicken with a gold medal. The media event at Mann's Chinese Theaters in Hollywood was to promote their upcoming bout in Las Vegas.
(Robert Gauthier / LAT)
Brea residents Bob Rosner and his daughter Sarah frolic at Mountain View Park in Fullerton against a backdrop of snow-capped San Gabriel Mountains.
(Allen J. Schaben / LAT)
Siblings Karla, 14, and Carlos Castro, 11, engage in a bit of rivalry as the residents of Sinaloa, Mexico, play in the snow at Big Bear Lake in the San Bernadino Mountains.
(Damon Winter / LAT)
Capt. Clayton Combs examines one of 150 copper plates found in a weapons cache in Baghdad, Iraq. Such plates are used in bombs that can penetrate armored vehicles.
(Rick Loomis / LAT)
Ben Waldron was stunned to learn that when his Sacramento-area home was burglarized, the thief took not only cash and jewelry, but the journal he had kept during three years as a Japanese prisoner of war in World War II. A suspect has been arrested, but the journal is still missing.
(Robert Durell / LAT)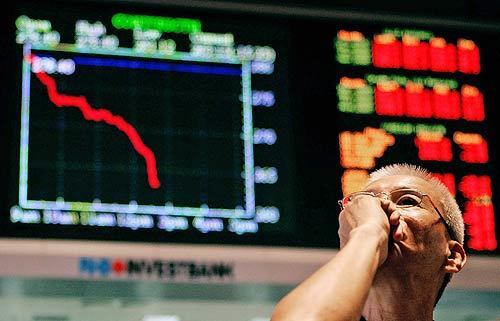 An investor is concerned about the share prices posted at a private stock market gallery in Kuala Lumpur, Malaysia.
(Andy Wong / AP)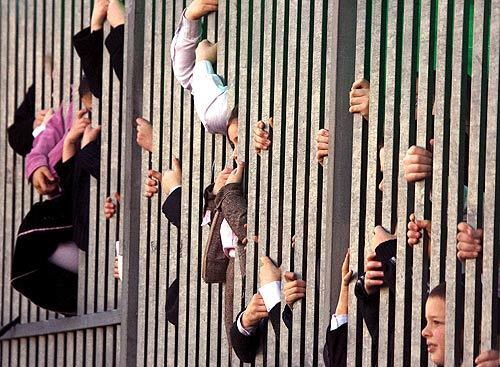 Jewish girls in Jerusalem peer through a barrier to observe an ultra-Orthodox wedding. Men and women are segregated during such events, this one held on the roof of a seminary.
(Jim Hollander / EPA)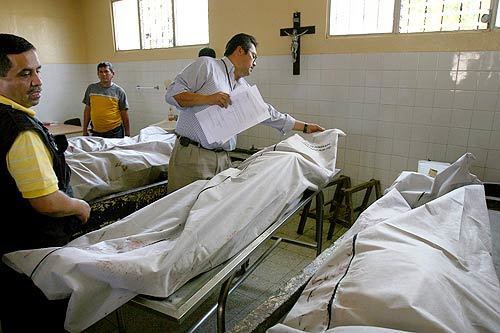 Morgue workers examine the bodies of four Guatemalan police officers slain by unknown assailants while imprisoned in connection with the killing of three Salvadoran lawmakers and their driver.
(Rodrigo Abd / AP)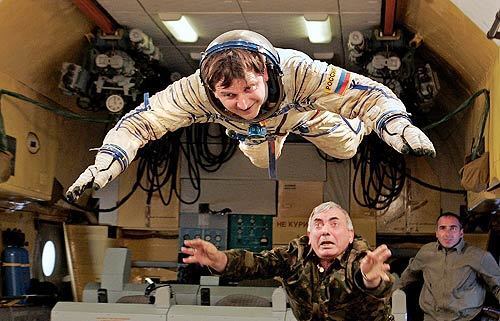 Monitored by unidentified assistants, former Microsoft software developer Charles Simonyi takes parabolic flight aboard a zero-gravity simulator. The Russian IL-76 MDK aircraft, in Star City outside Moscow, is used for astronaut training flights in weightlessness. Simonyi, the world's next space tourist, will blast off to the International Space Station in April, according to Russia's space agency.
(Maxim Marmur / AFP)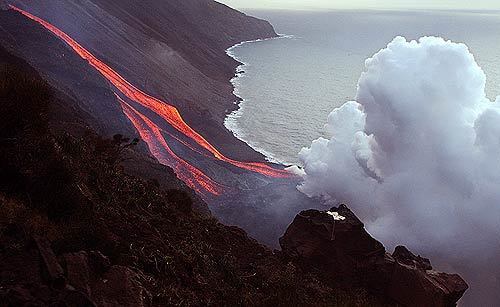 Having recently been placed under heightened surveillance after registering increased seismic activity, the Stromboli volcano north of Sicily erupts, sending lava down its flanks toward the Mediterranean Sea.
(Mario Laporta AFP/Getty Images)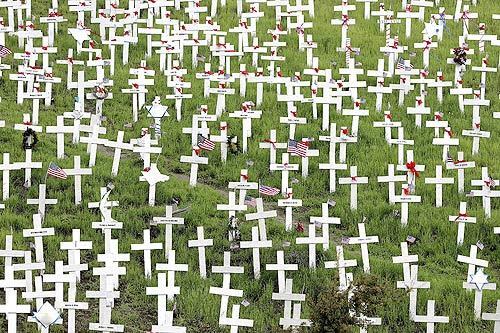 Nearly 3,000 wooden crosses honoring U.S. troops killed in Iraq adorn a hillside memorial in Lafayette, Calif. A Washington Post-ABC poll says that 53% of Americans want the U.S. government to set a deadline to withdraw troops from Iraq.
(Justin Sullivan / Getty Images)
Morning snowfall in Sofia, Bulgaria
(Boryana Katsarova / AFP)
A worker corrals concrete balls used to help stem the mudflow from a crater in East Java, Indonesia. A gas-drilling field has spewed mud to nearby villages, displacing some 11,000 people.
(Dimas Ardian/Getty Images)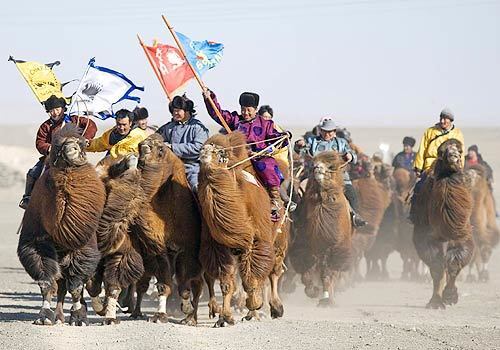 In celebration of the lunar New Year, participants in the annual Thousand Camel Festival in Mongolia showcase their most attractive mounts in a beauty competition.
(Adrian Bradshaw / EPA)
Sadhus, or Hindu holy men, anoint each other's faces with colored powders as part of the celebration of Holi, the festival of colors in Allahabad, India.
(Rajesh Kumar Singh / AP)