20 Images
The Week in Photos: March 4 - 10
Workers dismantle an F-14 Tomcat fighter at Chino Airport, one of four privately owned F-14s seized by federal agents in San Bernardino County. The seizures follow a 17-month investigation by the U.S. Immigration and Customs Enforcement agency and the Defense Department, which alleged that the planes were not properly demilitarized when they were retired from service and sold. The Navy sold three of the F-14s for scrap in the 1990s, but were found in the possession of Yanks Air Museum and Planes of Fame Air Museum, both based at the Chino airport.
(Irfan Khan / LAT)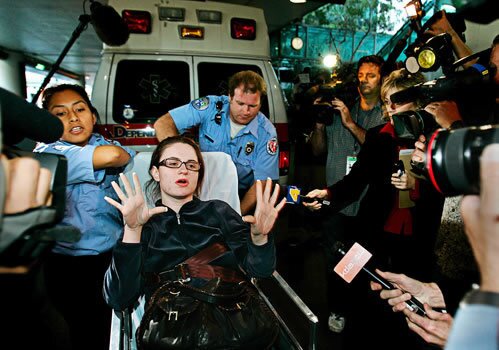 Suffering from thallium poisoning and surrounded by media, Yana Kovalevsky, 26, is taken to an ambulance at L.A. International Airport upon her return from Moscow, where she and her mother Marina, 49, also stricken, had been visiting. The poisoning has unnerved L.A.'s Russian community.
(Robert Gauthier / LAT)
Mayor Antonio Villaraigosa enjoys a light moment with eighth-grader Eric Sedrakyan at LeConte Middle School. Villaraigosa had just announced L.A.'s participation in the Road to Health Expo at Joseph LeConte Middle School
(Genaro Molina / LAT)
Inmates at the California State Prison in Lancaster bunk down in a converted day room. In addition to gymnasiums and classrooms, this space is a temporary dormitory for nearly 450 prisoners. Department of Corrections and Rehabilitation Secretary James Tilton toured the prison to draw attention to the problem of overcrowding in the state prison system.
(Spencer Weiner / LAT)
With the advent of daylight saving time this weekend, the sun will rise later in the morning.
(Don Kelsen / LAT)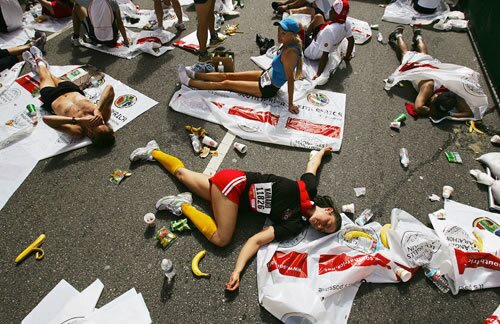 Exhausted runners at the finish of the 22nd annual Los Angeles Marathon
(Spencer Weiner / LAT)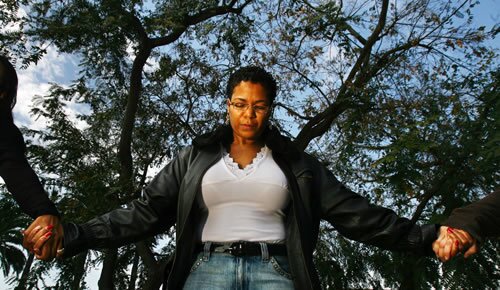 Charlene Lovett, whose daughter Cheryl Green was shot to death near her apartment in Harbor Gateway, holds hands in prayer with participants in a peace rally for change in L.A.'s gang-ridden neighborhoods.
(Rick Loomis / LAT)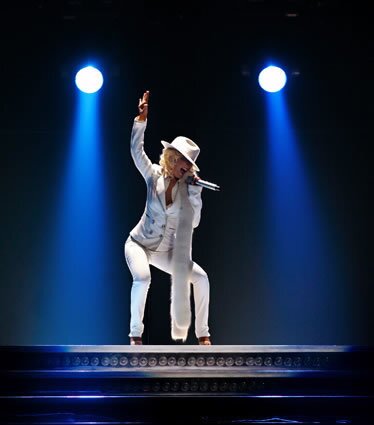 Christina Aguilera indulges her trademark big vocals and high notes in her "Back to Basics" show at the Honda Center in Anaheim.
(Richard Hartog / LAT)
In Arcadia, Pooja Goel decorates the face of Vika Khanduri, held captive by his wife Vivalsha Khanduri. Brightly hued faces characterize the merriment of Holi, a Pan-Indian holiday marking the arrival of spring and the triumph of good over evil.
(Carlos Chavez / LAT)
Rancher Dean Baker, whose family is the largest private landowner in Snake Valley, fears Las Vegas will drain aquifers to quench its growth-driven thirst. Baker and other White Pine County ranchers on the Nevada-Utah border see parallels to what happened in California's Owens Valley after Los Angeles tapped that northern region's water for its urban use.
(Brian Vander Brug / LAT)
An Iraqi boy and his mother encounter the wreckage of an alleged suicide bomber and his car outside an Iraqi army checkpoint in Baghdad's al-Yarmuk neighborhood. Soldiers said they opened fire at the car speeding toward them before it exploded.
(Ali Yussef / AFP / Getty Images)
Iraqi soldiers with the 1st Battalion, 2nd Brigade, 1st Division, patrol the outskirts of Fallouja.
(AFP / Getty Images)
A man negotiates the Tocoa River in Honduras after its banks were breached by heavy rains.
(Gustavo Amador / EPA)
French artists from a project called Face2Face paste giant posters on Israel's separation barrier between a West Bank Palestinian town and Arab East Jerusalem. The project posts portraits of Palestinians and Israelis who perform similar jobs alongside each other on both sides of the barrier to promote understanding between Israelis and Palestinians.
(David Silverman / Getty Images)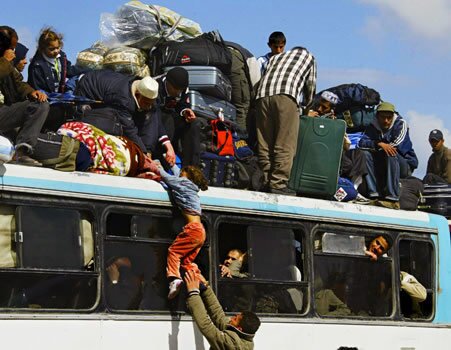 Palestinians await passage through the Rafah border crossing with Egypt upon its reopening in the southern Gaza Strip. The Palestinians' only window to the outside world, the crossing has been mostly closed since Palestinian militants abducted an Israeli soldier last summer in a cross-border attack inside an Israeli army base near Gaza.
(Abid Katib / Getty Images)
A year and a half after hurricanes Katrina and Rita, the Federal Emergency Management Agency is auctioning off at fire-sale prices thousands of trailers used by storm victims, raising fears among mobile-home dealers that the government will flood the market and depress prices. Some of about 20,000 mobile homes and travel trailers owned by FEMA are housed at the Hope Municipal Airport in Arkansas.
(Danny Johnston / AP Photo)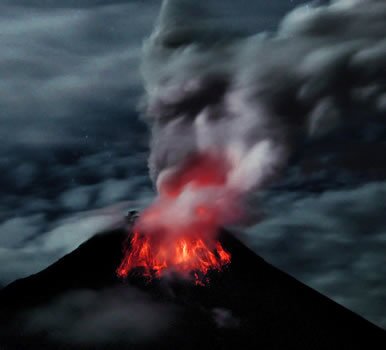 Also known as The Black Giant, the Tungurahua volcano in the central highlands of Ecuador has erupted after seven months of relative calm, spewing ash over the towns of San Juan, Pillate and Choglontus.
(Instituto Geofisico / EPA)
In an attempt to maintain the free flow of water into Poyang, China's largest freshwater lake, a worker dredges silt resulting from deforestation along the Yangtze River near the city of Hukou. China is one of the world's most polluted countries; at least 300 million people lack access to clean water, according to government reports.
(Mark Ralston / AFP / Getty Images)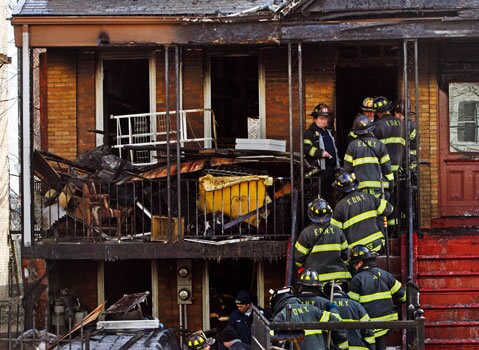 Firefighters assemble at the scene of a blaze that claimed the lives of nine people, including eight children. Trapped inside the four-story row house in the Bronx borough of New York, one woman tossed children from a second-floor window in an effort to save them.
---
FOR THE RECORD:
Bronx fire: An earlier version of this caption said the house was three stories. The house was four stories. —
---
(Jason DeCrow / AP Photo)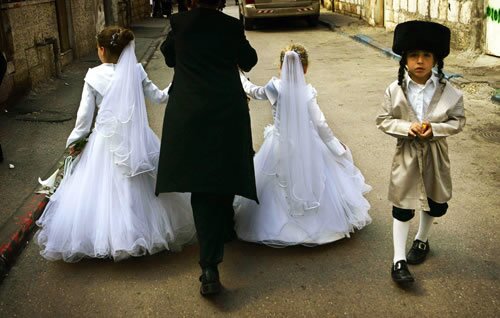 Ultra-Orthodox Jewish children in the Mea Shearim neighborhood of Jerusalem celebrate Purim dressed in traditional costumes. The festival of Purim commemorates the rescue of Jews from genocide in ancient Persia.
(Emilio Morenatti / AP Photo)