18 Images
The Week in Photos: March 5-11
DEEP SORROW:
The mother of Palestinian boys Raed, 8, and Alah Batch, 16, weeps outside the family home during their funeral in Gaza City on Tuseday. According to Palestinian doctors and witnesses, the two brothers and another youth were killed in an Israeli missile strike that also left two Islamic Jihad militants dead Monday evening. The Israeli military confirmed the attack, saying the target was one of the dead men, Islamic Jihad operative Moner Sukar, who had carried out rocket attacks against Israel.
(Khalil Hamra / AP)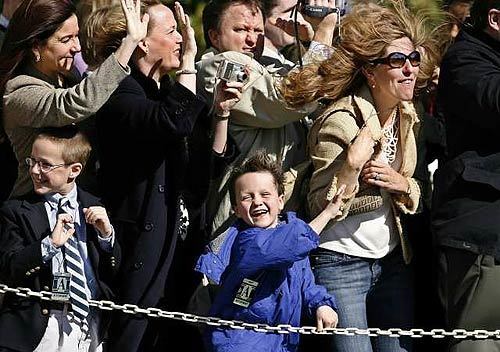 WAVING GOODBYE:
Wind created by Marine One blows onto guests to the White House as the helicopter, carrying President Bush and First Lady Laura Bush, leaves the White House grounds Tuesday before they traveled to the Gulf Coast region to visit areas damaged by Hurricane Katrina.
(Chip Somodevilla / Getty Images)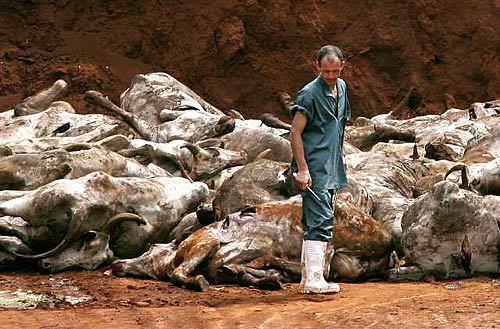 CATTLE CARNAGE:
A butcher stands by several dozen dead cattle at a ranch in Maringa, Brazil on Wednesday. Police officers, acting on orders from the Agricultural Ministry, began slaughtering cattle in southern Brazil to contain an outbreak of highly contagious foot-and-mouth disease.
(Victor R. Caivano / AP)
MARCH OF THE PENGUIN:
A tourist photographs an African penguin in Cape Town, South Africa on Wednesday. A South African conservation group reports that there has been a successful re-integration of hundreds of African penguins that were found covered in oil and rescued in 2005.
(Nick Bothma / EPA)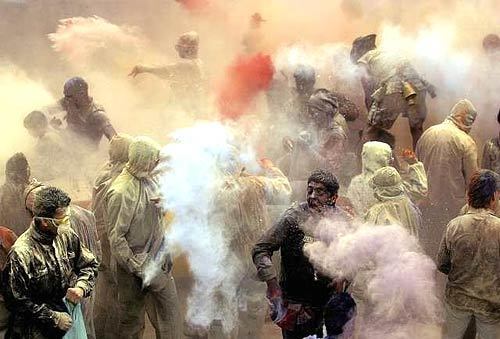 JUST ADD WATER:
Local revelers celebrate "Clean Monday" this week with a colorful "flour-war," traditionally marking the end of the carnival season in Galaxidi, Greece, and the start of Lent.
(Milos Bicanski / Getty Images)
BARREL OF A GUN:
Recruits go through their paces at the police academy in Baghdad, Iraq. U.S. officials say that more than 120,000 recruits have been trained and 80,000 more need to take courses.
(Saad Khalaf / LAT)
FLAG BEARER:
An Irish Air Corps standard bearer struggles against the wind during a commissioning ceremony at Casement Aerodrome at Baldonnel near Dublin on Thursday to mark the awarding of flight wings to three new cadets.
(Julien Behal-pa / AP)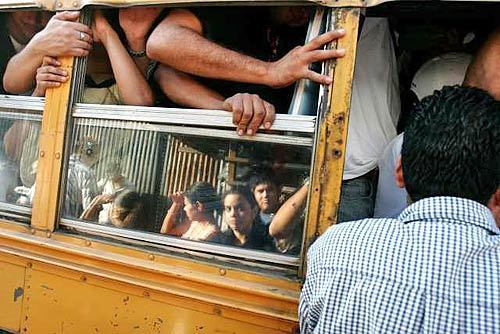 STRIKE EFFECT:
Nicaraguan people cram into a bus during a partial transportation strike in Managua, Nicaragua on Tuesday. Fifty percent of Nicaraguan transportation workers were on strike, demanding that the government subsidize their fuel and lower gas prices.
(Esteban Felix / AP)
WINE CYCLE:
A pack of riders cycle through vineyards during the fourth stage of the Paris-Nice cycling tour from Saint-Etienne to Rasteau on Thursday.
(Oliver Weiken / EPA)
HARSH CONDITIONS:
A Kosovo Roma woman washes clothes at a camp in Plemetina, a village north-west of Pristina, on Tuesday. Some 280 Roma people from across Kosovo are still living there in miserable conditions after they fled from their homes fearing revenge.
(Valdrin Xhemaj / EPA)
LARGER THAN LIFE:
A portrait of Otis Chandler greets mourners entering All Saints Church in Pasadena on Monday for his memorial service. The former publisher of the Los Angeles Times was passionate about hunting, driving race cars, cycling, surfing, weightlifting and running The Times.
(Francine Orr / LAT)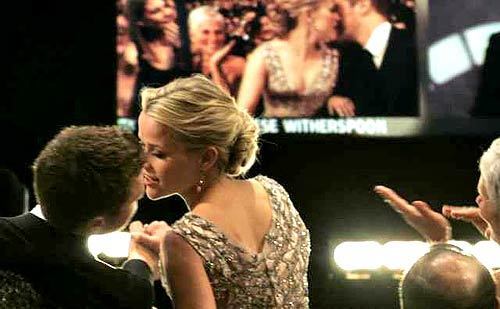 LONG WAY FROM HOME:
Ryan Phillippe kisses wife Reese Witherspoon, as she is announced as the best actress winner Sunday at the Academy Awards for her turn as June Carter in the biopic "Walk the Line."
(Mark Boster / LAT)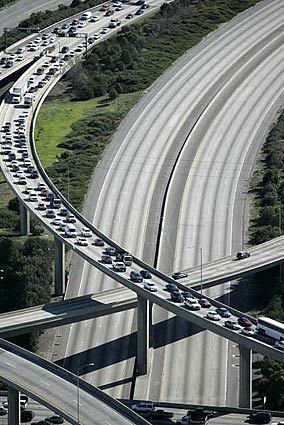 WIDE OPEN:
The traffic Wednesday on a connector from the 105 Freeway provides a sharp contrast to the emptiness of the 710, closed after a suspect being pursued by authorities stopped and refused to get out of his van. He later surrendered.
(Myung J. Chun / LAT)
'BEAUTIFUL LADIES!'
The 2000 movie "Coyote Ugly" is the inspiration for the high jinks Thursdays at Patrick Molloy's.
(Lawrence K. Ho / LAT)
DIVINE INSPIRATION:
Nicolas Majdalani, a Lebanese iconographer, beholds the icons he did for St. Nicholas Antiochian Orthodox Cathedral in Los Angeles.
(Bob Chamberlin / LAT)
AMID THE SHADOWS:
Swans surround the Prince, a role danced with touching vulnerability by Simon Wakefield in Matthew Bourne's Swan Lake at the Ahmanson Theatre on Wednesday.
(Gary Friedman / LAT)
COLOR IN THE RAIN:
A man shields himself from the rain as he walks through Chinatown in Los Angeles on Monday as rain moved through the area.
(Luis Sinco / LAT)
'HE'S NOT A THREAT':
San Bernardino County Sheriff's Deputy Ivory John Webb Jr., right, enters the courtroom Thursday for his bail hearing with his attorney, Michael Schwartz. Webb, 45, pleased not guilty. He is accused of shooting Air Force policeman Elio Carrion, 21, three times while on duty at the end of a chase.
(Irfan Khan / LAT)