9 Images
In Focus: Staff photos from March 9 - 15
Marc, 15, relights candles at a vigil marking the spot where his friend, Jamiel "Jazz" Shaw Jr., was shot to death. The 17-year-old, who was not a gang member, was only three doors from his home when two men in a car pulled up next to him, asked if he belonged to a gang, and then shot him when he apparently didn't answer, authorities say.
(Barbara Davidson / Los Angeles Times)
Jamiel Shaw Sr. kneels at his son's casket as family members and others gather for the funeral of Jamiel Shaw II, 17, a Los Angeles High School football star who was shot to death.
(Barbara Davidson / Los Angeles Times)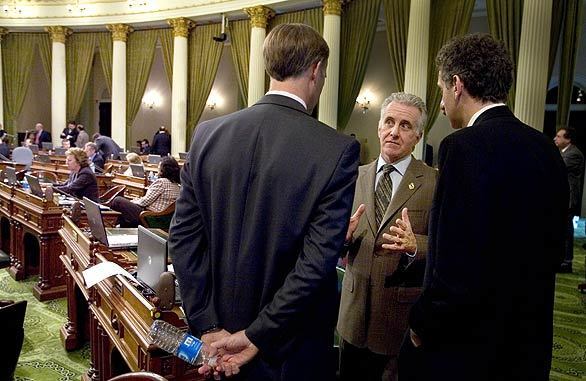 Assemblyman Paul Krekorian (D-Burbank), center, talks with Assembly Democrats Jared Huffman of San Rafael, left, and Mike Feuer of L.A. after Krekorian spoke on behalf of legislation to tax oil firms with a 6% levy on oil extracted and a 2% levy on "windfall profits" — net income beyond $10 million. Assembly Republicans blocked the proposed taxes on oil companies and said they would hold to their commitment to bar any new taxes.
(Robert Durell / Los Angeles Times)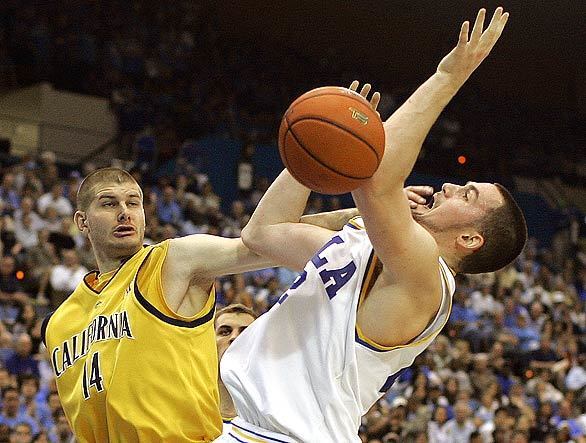 UCLA's Kevin Love, who scored 22 points, gets the worst of this play as he is fouled by Cal's Eric Vierneisel during the Bruin's 81-80 win over the Golden Bears at Pauley Pavilion.
(Gina Ferazzi / Los Angeles Times)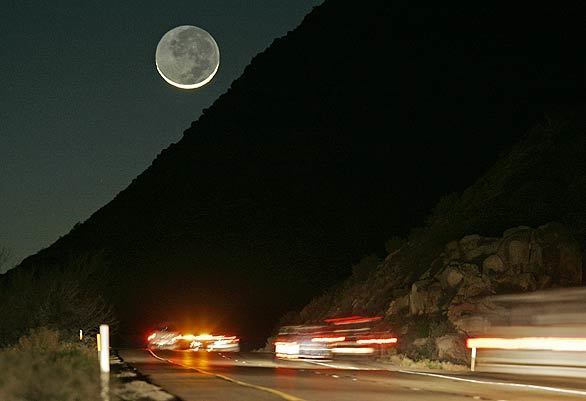 The waxing crescent moon looks like a smile as it sets behind the hills above traffic on Interstate 8 near Alpine in San Diego County.
(Don Bartletti / Los Angeles Times)
Juan Magana celebrates his overtime goal that gave Santa Monica a 2-1 win over Poway in the Southern California Regional Division I title match at Warren High School in Downey.
(Lori Shepler / Los Angeles Times)
A Bureau of Land Management planner guides visitors through Spooky Cave in the Afton Canyon Natural Area near Barstow. A technicality in the wording of a proposed law may exclude California desert areas from federal protection.
(Allen J. Schaben / Los Angeles Times)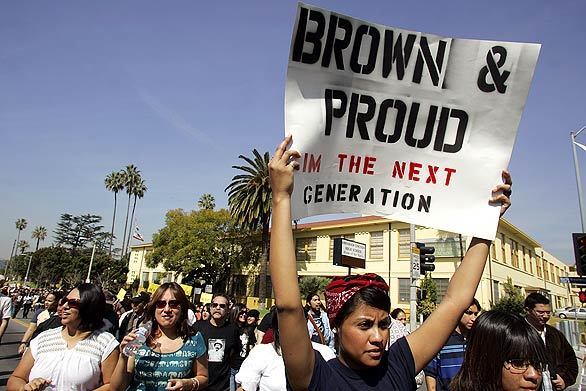 Sonia Salazar, 20, a Chicano studies student at UC Santa Barbara, is a graduate of Belmont High, one of five high schools whose students participated in the walkouts to commemorate the "blowouts" that helped launch the Chicano Movement. The other high schools were Roosevelt, Garfield, Wilson and Lincoln.
(Annie Wells / Los Angeles Times)
Fifth-grader Erick Cuz strains as he tries to do his sixth pull-up at the newly installed 10-station Outdoor Fitness Challenge Course at Kennedy Elementary School in Santa Ana. The equipment was provided by the nonprofit Orange County On Track to fill a need for physical fitness options.
(Mark Boster / Los Angeles Times)