18 Images
The Week in Photos: March 12-18
LONELY TREK:
Hugh Neff of Skagway, Alaska drives his dog team on the frozen Bering Sea at sunset toward the finish of the Iditarod dog race in Nome, Alaska on Wendesday. Jeff King of Denali Park, Alaska won the race.
(Al Grillo / AP)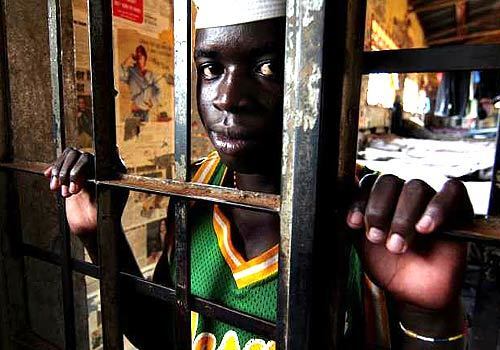 'WHAT I DID WAS BAD':
Wakalanga Alex, 17, is being held in the Naguru Remand Home, a juvenile prison in Kampala, Uganda. He was arrested after his then-14-year-old girlfriend became pregnant. His father refused to pay the $120 bail.
(Evelyn Hockstein / For The Times)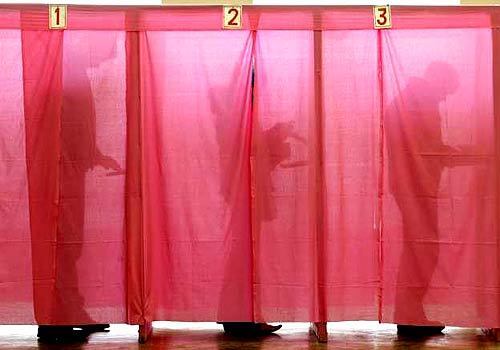 BEHIND THE CURTAIN:
Belarusian students read their ballots Wednesday at a polling station as early voting is held for Sunday's presidential election in Minsk, Belarus. The opposition fears the vote will be rigged in favor of the authoritarian incumbent.
(Sergei Grits / AP)
UNDER SIEGE:
Palestinians leave a prison in Jericho, in the West Bank, on Tuesday as it is attacked by Israeli forces seeking suspects jailed in the 2001 slaying of an Israeli minister. The men removed their clothes to show they were not bearing weapons. Militants in the Gaza Strip kidnapped eight foreigners in retaliation.
(Kevin Frayer / AP)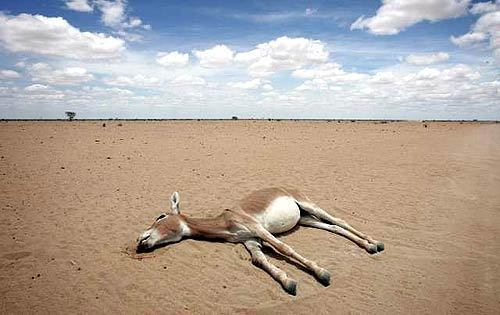 DEATH AMID DROUGHT:
A donkey suffering from severe dehydration and malnutrition draws its last breaths just before dying Wednesday in Kenya. Thousands of people are facing starvation due to deepening drought in northern Kenya. The government is distributing food rations and is appealing to the international community for urgent aid to save the lives of an estimated 2.5 million people.
(Chris Jackson / Getty Images)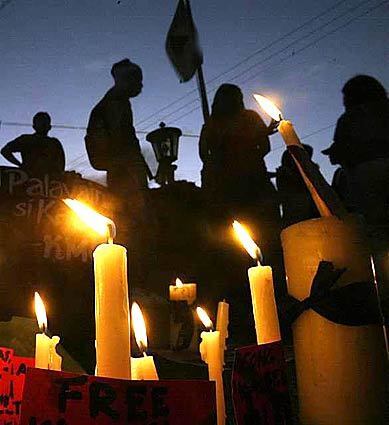 FILIPINO VIGIL:
Anti-government activists light candles during a vigil along Welcome Rotonda in Quezon City, north of Manila, on Wednesday. The armed forces acknowledged its crucial role in keeping President Gloria Macapagal-Arroyo in power, warning that the nation would fall apart if it gave in to pressure from various power blocks seeking the president's ouster.
(Mike Alquinto / EPA)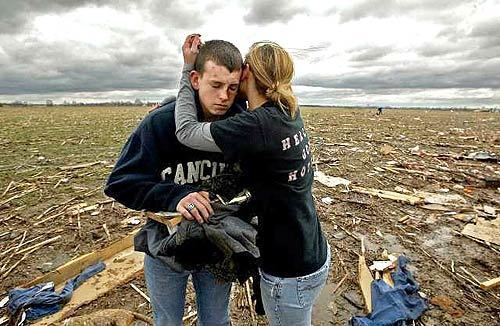 MIDWEST DEVASTATION:
Chris Longdon, 17, gets a hug from friend Katlyn Kendall as they search a field near Renick, Mo. Longdon's girlfriend, Nickie Briscoe, was seriously injured and her parents, Billy and Pennie Briscoe, were killed when a tornado destroyed their home last weekend.
(J.B. Forbes / St. Louis Post-Dispatch)
IN THE SHADOWS:
Dark clouds pass over a semi-sunlit Parthenon temple atop the Acropolis in Athens on Monday. Restoration work is ongoing at Greece's most famous monument.
(Petros Giannakouris / AP)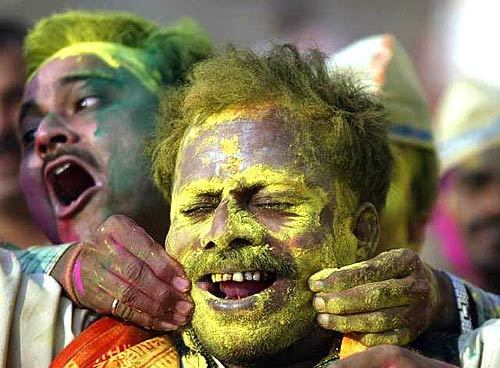 RELIGIOUS RITUAL:
Sadhus, or Hindu holy men, celebrate Holi, the festival of colors, in Varanasi, India, on Monday. The Hindu festival heralds the arrival of spring.
(Rajesh Kumar Singh / AP)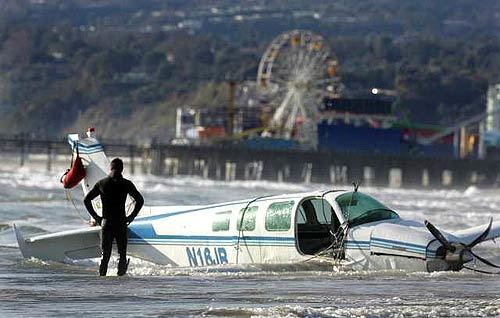 FATAL CRASH:
Former TV game show host Peter Tomarken, 63, and his wife, Kathleen, 41, died Monday when their plane crashed into the ocean shortly after takeoff from Santa Monica Airport.
(Spencer Weiner / LAT)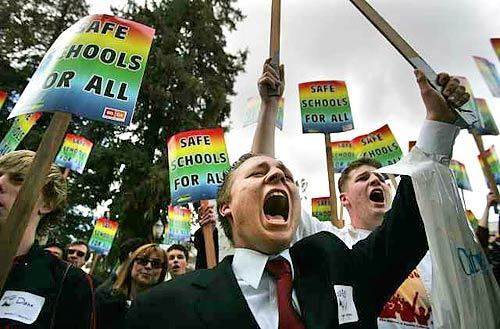 ACTIVISM:
Roy Hall, center, a student from Bakersfield, voices his support at Queer Youth Advocacy Day. Hundreds lobbied for legislation that would withhold funds from districts that fail to abide by a California law that protects gay students from discrimination.
(Robert Durell / LAT)
BLANKET OF SNOW:
In Crestline, heavy snow forced motorists to abandon their cars, which became snarled in the storm. At Big Bear, skiers who braved difficult driving conditions were treated to several feet of fresh powder.
(Gina Ferazzi / LAT)
MARATHON MOM:
Vanessa Tull, her hands full with six kids, trained with help from a running group, a baby-sitter and her husband to be part of Sunday's Los Angeles Marathon.
(Spencer Weiner / LAT)
SAD DAY:
Cathlene Rosha mourns at a memorial for Turning Point School teacher Carrie Phillips, 24, who was killed at the site in Culver City on Wednesday by an out-of-control car. Eight students walking with the teacher were injured. Rosha's daughter attends the school.
(Spencer Weiner / LAT)
LISTENING TO HOPE:
Russell York hears his son Jordan's heart beat in the chest of Nick Draper. York and his wife, Tracey, center, had just met Nick's parents, Nicole, right, and Mike Draper at UCLA Medical Center. Jordan York, 4 months, died last month. His parents donated his heart, and Nick, 7 months, received it.
(Anne Cusack / LAT)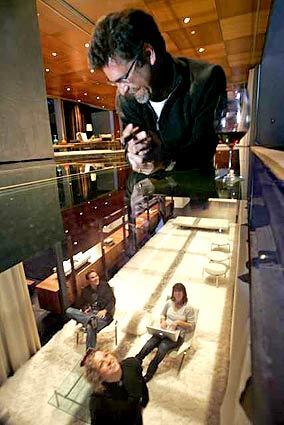 LINE OF SIGHT:
Jonathan Segal relaxes on the floor above the basement of his home in downtown La Jolla. The glass, which extends into the yard and doubles as the patio floor, brings light into this subterranean room which, as he says, "doesn't have to be a dreary dungeon."
(Don Bartletti / LAT)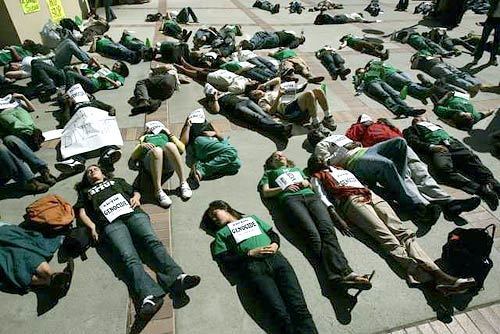 A LIE-IN:
Students at UCLA stage a demonstration during a meeting of the UC Board of Regents, which voted to divest from companies with business ties to the Sudanese government.
(Béatrice de Géa / LAT)
ALL GAME:
Under gray and lowering skies on Sunday, Maxwell Gilmore, 13, leaps for the basket at Norman O. Houston Park in Baldwin Hills.
(Spencer Weiner / LAT)