10 Images
In Focus: Staff Photos from March 16 - March 22
Antiwar march
Demonstrators march in Hollywood on Saturday to protest the war in Iraq. Police estimated that 2,000 people took part in the peaceful rally to mark this month's fifth anniversary of the conflict. No arrests were made.
(Annie Wells Los Angeles Times)
Blind swimmer, Andrew Luk
Andrew Luk, who lost his vision at age 5, joined Diamond Bar's junior varsity swim team last month. Luk's teammates have rallied around him, cheering him on and helping him with his everyday tasks.
(Mark Boster / Los Angeles Time)
Wheelchair access, Michela Alioto-Pier
"This is worth the battle because it's the law," says San Francisco County Supervisor Michela Alioto-Pier, who says the city is violating the Americans With Disabilities Act. Alioto-Pier, at the the bottom of the five stairs leading up to the board president's dais in the the supervisors' chamber, is suing the board over its refusal to build a ramp.
(Robert Durell / Los Angeles Times)
UCLA, Luc Richard Mbah a Moute
UCLA's Luc Richard Mbah a Moute reacts after making a shot from half-court in practice in preparation for the NCAA Tournament at the Honda Center in Anaheim.
(Wally Skalij / Los Angeles Times)
Titan rally, Juli Santos, Melyssa DeLaCruz
Students Juli Santos and Melyssa DeLaCruz cheer the Cal State Fullerton basketball team on as they board the bus for the trip to the NCCA Basketball Tournament in Omaha. It's Fullerton's first appearance in the NCAA tournament in 20 years.
(Robert Lachman / Los Angeles Times)
Tryouts, Newport Beac
Ninety-nine hopefuls race to the surf in Newport Beach, vying for 40 city lifeguard positions in a rigorous swim-and-run competition in 55-degree water with a strong current and gusty winds.
(Allen J. Schaben / Los Angeles Times)
Tent city
Because new rules forbid dogs, Linda Parker vows she'll move rather than give up Dude. Parker is homeless and lives with her four dogs in a trailer home at an area known as Tent City in Ontario, Calif. The city is cracking down on the number of homeless people there and is not allowing anyone to keep a pet.
(Irfan Khan / Los Angeles Times)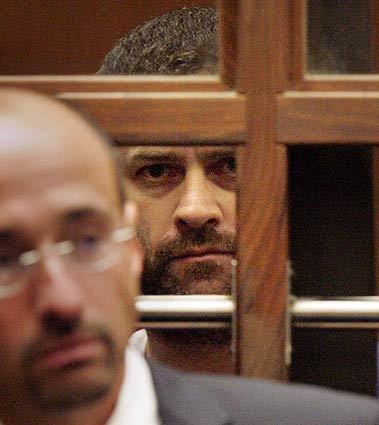 Stephen Thomas Rooney
Stephen Thomas Rooney, with his attorney Dmitry Gorin, left, is arraigned Wednesday on charges of sexually molesting a 13-year-old female student at Markham Middle School in Watts, where Rooney is assistant principal.
(Annie Wells / Los Angeles Times)
Boyle Heights
The mariachi group Los Invencibles Cadetes de Nuevo Leon relaxes on Cesar Chavez Boulevard in Boyle Heights. A mural proposed for the police station in Boyle Heights has some residents upset because of its images.
(Gary Friedman / Los Angeles Times)
Hollywood Walk of Fame
Captain Jack Sparrow impersonator Michael Luce kisses his wife, Marilyn Monroe impersonator Malerie Luce, as they take a break from posing with tourists along Hollywood Walk of Fame in front of Mann's Chinese Theater.
(Allen J. Schaben / Los Angeles Times)