20 Images
The Week in Photos: March 18-24
Migrants hustle through the hardscrabble terrain near Sasabe, Mexico. Increased security along the U.S.-Mexico border results in the majority being caught or aborting their journey.
(Don Bartletti / LAT)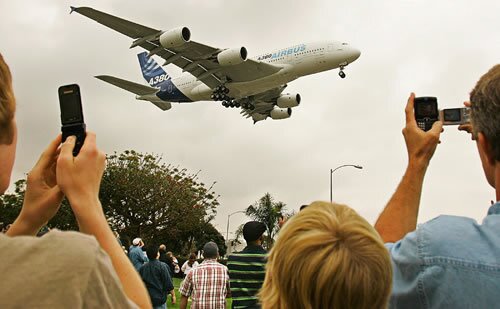 Spectators memorialize the arrival of the the Airbus A380 to Los Angeles International Airport as the world's largest commercial airliner makes its inaugural visit to the West Coast.
(Luis Sinco / LAT)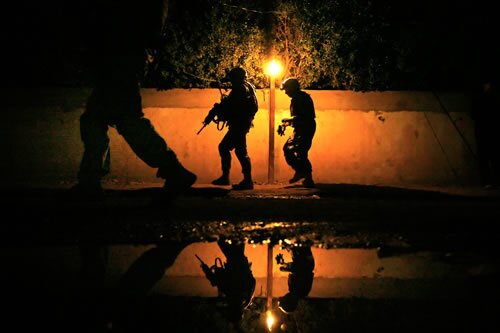 A U.S. soldier and an interpreter patrol a Baghdad neighborhood illuminated by generator-powered light.
(Rick Loomis / LAT)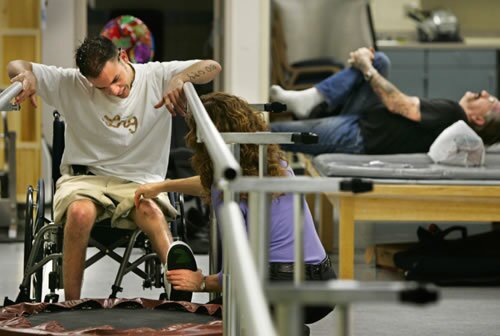 David Martins, 22, is learning to walk again at the VA medical center in La Jolla. The soldier was shot in the back while home on leave in Georgia days after arriving stateside from his second tour in Iraq. A vet from the Vietnam War exercizes in the background.
(Don Bartletti / LAT)
UCLA's Alfred Aboya, rear, applies aggressive defense to the efforts of Indiana's D.J. White in the second round of the men's NCAA basketball tournament. The Bruins won to advance to the Sweet 16.
(Wally Skalij / LAT)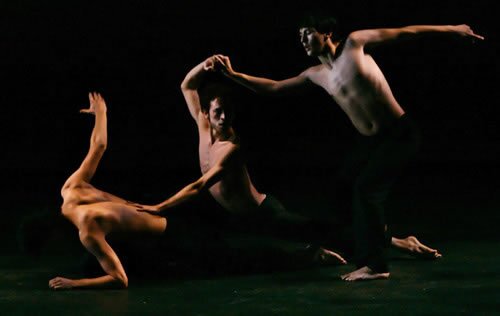 Dancers Jamie Joseph, left, Logan Schyvnck and Jon Stotlar give fluid form to Denise Leitner's "Surrender" at the El Portal Theatre in North Hollywood.
(Béatrice de Géa / LAT)
Rebecca James comforts her brother-in-law Ray James after a hospital staff member alerted his mother that his brother Roland had been found without a pulse. Because of concerns about privacy laws, the staffer refused to provide further information. Roland, who was on life support, had tried to commit suicide at Atascadero State Hospital. "I can't believe he didn't confide in me," Ray said. "For 43 years he's been my brother. He always talked to me."
(Robert Gauthier / LAT)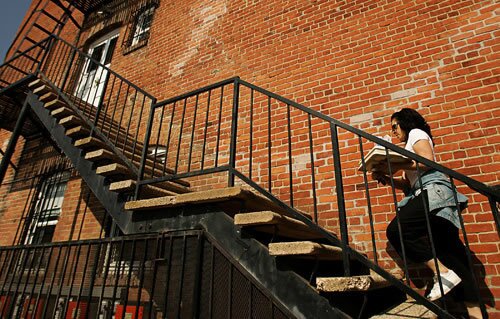 Volunteer Maria Estrada, a recording industry executive, delivers a meal to the apartment of an elderly client of Meals on Wheels West in Santa Monica. Local meal-delivery programs for the homebound elderly are oversubscribed--40% nationwide and 30% in California have waiting lists.
(Luis Sinco / LAT)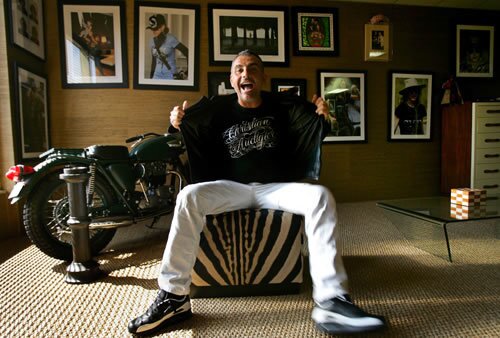 In advance of two runway shows at L.A. Fashion Week, designer Christian Audigier, the man behind the Von Dutch craze, hams it up in his Los Angeles office.
(Karen Tapia / LAT)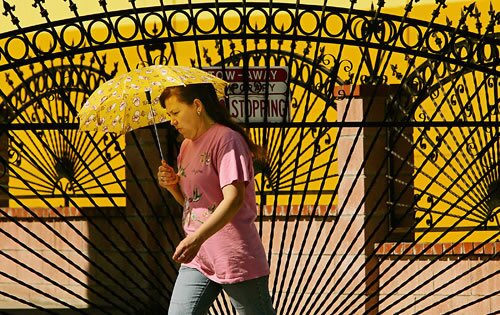 Hilda Garcia accessorizes with a parasol in the blazing late-winter sun along Soto Street in Boyle Heights.
(Luis Sinco / LAT)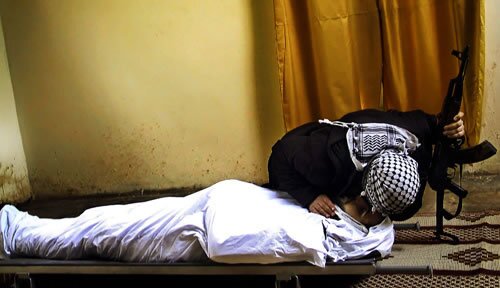 An armed militant of the Palestinian Islamist group Fatah al-Islam kisses his dead comrade, Abu Abdel Rahman al-Maqdisi, before the funeral procession in the refugee camp of Nahr al-Bared in north Lebanon. Al-Maqdisi was killed and another member of the group was wounded during clashes with the mainstream Palestinian movement Fatah.
(Nicola Toahmeh AFP/Getty Images)
VIPs, members of the media and the Hualapai tribe inaugurate Skywalk, a U-shaped glass walkway 4,000 feet above the Colorado River and extending 70 feet from the western rim of the Grand Canyon on the Hualapai reservation. Open to the public March 28, the visitor attraction has engendered complaints that it desecrates the singular landscape.
(David McNew / Getty Images)
Rich in aquatic resources, the Philippines nevertheless is riven with pollution including this inland waterway in Manila where rows of shanties contribute to the toxic brew. A recent report released by the global development network of the United Nations noted that more than 10 million Filipinos have no access to safe drinking water, while more than 21 million lack basic sanitation.
(Mike F. Alquinto / EPA)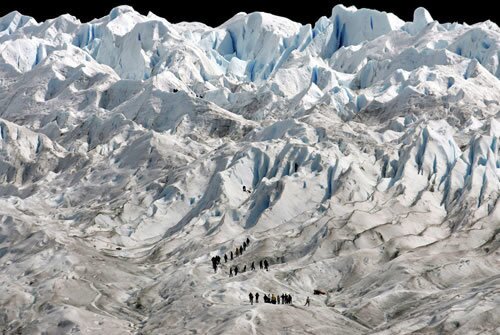 A group of climbers en route to the Perito Moreno glacier in Patagonia throw into sharp relief the precipitous state of glaciers in South America. Scientists have warned that their loss due to global warming will threaten the water supplies of millions of people within a few decades.
(Orestis Panagiotou / EPA)
A lone firefighter prepares to do battle with the blaze at the century-old Christ Covenant Orthodox Presbyterian Church outside of Kirklin, Ind.
(Brent Drinkut / AP Photo)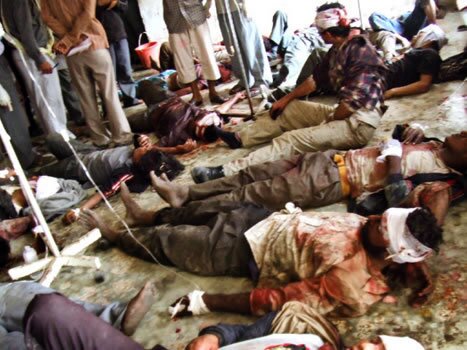 Madhesi activists lie injured after a clash with Maoists in Gaur, southeast Nepal, where the two sides had gathered for competing rallies. Twenty-five people died.
(Bipin Gautam AFP/Getty Images)
Workers pull a tarp over the pitch as rain showers temporarily stop play during the Cricket World Cup Group C match between Kenya and New Zealand in Gros Islet, St. Lucia.
(Matt Dunham / AP Photo)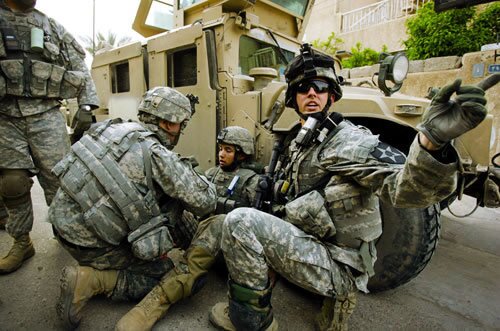 U.S. soldiers assist a colleague overcome by shock after a roadside bomb damaged his vehicle during a patrol in the predominantly Sunni al-Dora neighborhood of Baghdad.
(David Furst AFP/Getty Images)
A coffin is lowered into its grave in the southern Russian village of Kamyshevatskaya. Representing more than 60 Russian pensioners, almost half of them bedridden, its occupant died in a retirement home blaze an hour's drive from the nearest fire station.
(Alexander Blotnitsky AFP/Getty Images)
A girl and her mother claim prime viewing from a natural balcony on the grounds of a Shiite Muslim shrine in Kabul, Afghanistan. The celebration of Nowruz marks the first day of spring and a new year.
(Musadeq Sadeq / AP Photo)