18 Images
The Week in Photos: March 19-25
Designer Sue Wong loves her headgear, plunking parasols atop some models to be worn as hats. She has revisited international themes as she seeks to expand her markets.
(Béatrice de Géa / LAT)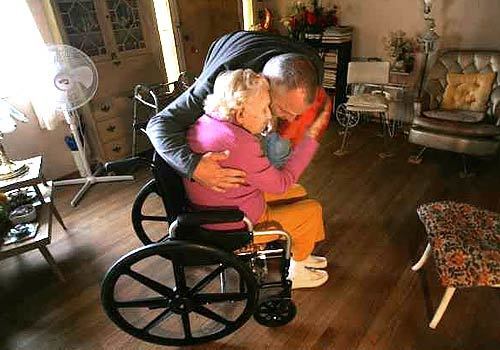 FAMILY TIES:
Helen Jones, 88, hugs her late husband's grandson Michael Tomazin, 52, who was appalled to learn of her predicament. "I'm trustworthy. That's what it comes down to," he says of his bid to be named her conservator. "I'll take care of Helen. I'll fight very diligently for her."
(Francine Orr / LAT)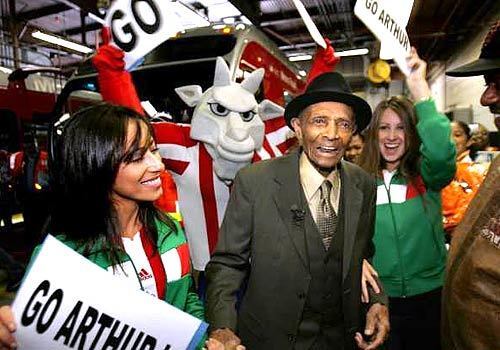 LAST STOP:
Arthur Winston celebrates his 100th birthday Wednesday and the first day of his retirement from the Metropolitan Transportation Authority after 76 years of work for L.A. transit agencies. Also at the party: Chivas USA Soccer cheerleaders and the team mascot, a goat.
(Spencer Weiner / LAT)
COMEBACK FOR THE AGES:
Luc Richard Mbah a Moute and Darren Collison celebrate THursday night after the UCLA Bruins rallied to defeat Gonzaga, 73-71, and reach the final of the Oakland Regional. UCLA had been trailing the whole game until the final seconds.
(Alexander Gallardo / LAT)
ON THEIR MARK:
Runners take off at the start of the 21st L.A. Marathon on Sunday morning. The race began downtown and wound through Koreatown, Little Ethiopia and other neighborhoods.
(Wally Skalij / LAT)
HOLY BATCAVE:
A runner wearing what appears to be a cape (OK, maybe it's just a heat-retention wrap) walks through the Third Street tunnel downtown after completing the Los Angeles Marathon on Sunday.
(Wally Skalij / LAT)
POLICING SKID ROW:
Community support has built for a plan that would target skid row crime but let tents stay for now. LAPD Chief William Bratton must still weigh in.
(Lawrence K. Ho / LAT)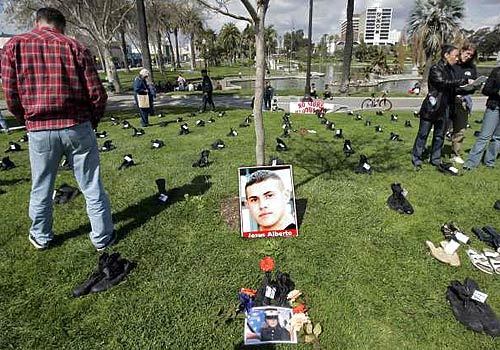 BOOTS ON THE GROUND:
A photo of Jesus Alberto Suarez del Solar Navarro, a Marine killed in Iraq, rests near his boots in MacArthur Park in Los Angeles. The 240 pairs marked California's dead in the war.
(Myung J. Chun / LAT)
ICING ON THE CAKE:
Carpenter Fernando Vargas, 27, of Irvine adjusts his hat under the sun shining on the San Gabriel Mountains to the northeast. Vargas is framing new houses on an Irvine street that's named, of all things, Grandview.
(Don Bartletti / LAT)
FRAMING THE HOUSE:
A Martingala chair for Arflex reflects Design Within Reach founder's Rob Forbes' style. He's decorating his home with things he loves, one piece at a time.
(Myung J. Chun / LAT)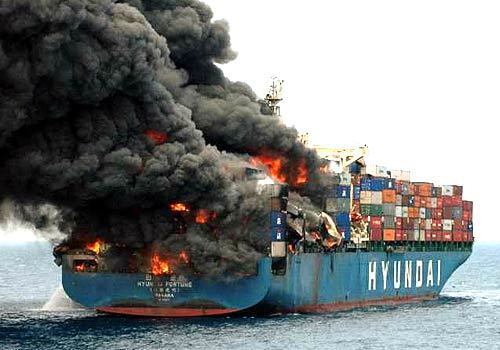 FIRE AT SEA:
The Hyundai Fortune burns in the Gulf of Aden on Tuesday, about 43 miles off the coast of Yemen. The Royal Netherlands Navy ship HNLMS De Zeven Provincien and the command ship of Combined Task Force 150 from Operation Enduring Freedom rescued 27 people from Hyundai Fortune.
(Royal Netherlands Navy / AP)
THE FOG OF WORKING OUT:
Kentucky Derby hopeful Barbaro, left, with exercise rider Peter Brett, gallop through the fog with a stablemate prior to his morning workout at Palm Meadows Training Center in Boynton Beach, Fla., on Monday, March 20, 2006 in preparation for the $1,000,000 Florida Derby at Gulfstream Park on April 1.
(Bill Denver / AP)
RISKY BATHING:
A young boy named David takes a bath in a stream in Orellana, Ecuador, in the Amazonian region this month. Rivers of this sector have allegedly been contaminated by oil extraction. Wednesday was World Water Day, coordinated by UNESCO under the theme "Water and Culture."
(AP)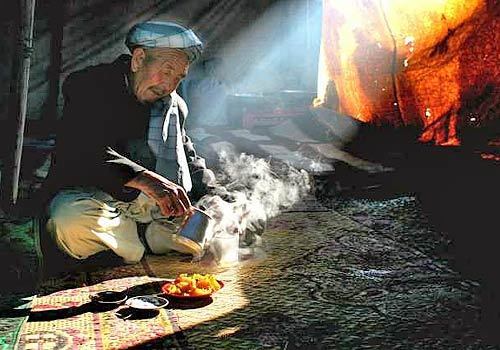 HAPPY NEW YEAR:
An Afghan man drinks tea at a kiosk tent next to the Sakhy shrine in Kabul, Afghanistan, where a holy ceremony was held to bring in the New Year on Tuesday. According to the solar calendar, Afghanistan honors the year of 1385.
(Rodrigo Abd / AP)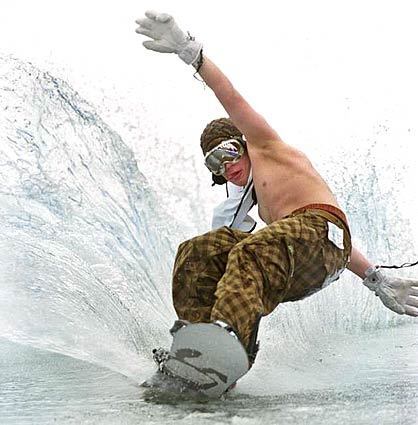 ICE SPLASH:
Shane Carrier skims shirtless across a manmade pond during the 3rd annual "Slush Cup' pond skimming competition at Crotched Mountain Ski and Ride Area in Bennington, N.H., on Sunday.
(Michael Moore AP/The Keene Sentinel)
TEARFUL REUNION:
South Korean visitors in a bus wave to their North Korean relatives before they return to South Korea after the 13th separated family reunion meeting at KumKang Mountain on Wednesday in North Korea.
(Lim Jung-Hyun Pool/Getty)
BEFORE THE HUNT:
A fishing boat makes its way through the ice in the Gulf of St. Lawrence on Friday. Despite poor ice conditions throughout the area, the annual harp seal hunt will start Saturday, with 325,000 seals expected to be killed and harvested.
(Jonathan Hayward / AP)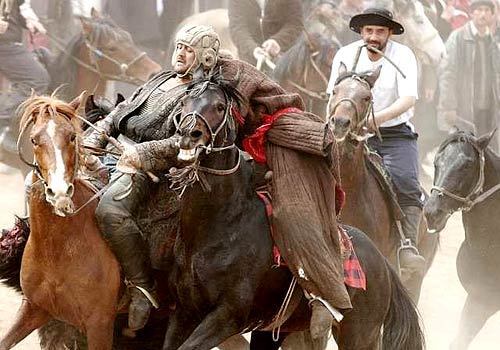 GETTING THEIR GOAT:
Tajik riders Tuesday fight for the body of a goat as they take part in the celebrations marking the upcoming Persian new year, known as Noruz, in the village Rudaki, south of the capital Dushanbe, in Tajikistan.
(AFP/Getty Images)