20 Images
The Week in Photos: March 25-31
Orange County residents were urged to conserve water during a weeklong shutdown of the Diemer Filtration Plant in Yorba Linda. The facility, which pumps and filters half of the county's drinking water, is replacing these pipes with new ones that will funnel Colorado River water into the plant.
(Don Bartletti/LAT)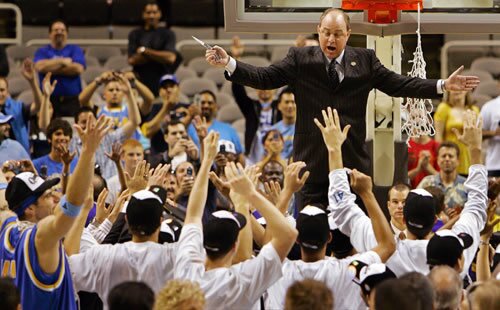 With help from his team, Coach Ben Howland prepares to liberate the net in celebration of UCLA's victory over Kansas in the men's NCAA basketball tournament. The win gave the Bruins their second consecutive trip to the Final Four
(Gina Ferazzi/LAT)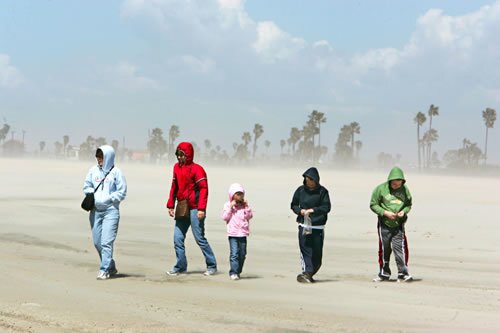 Vacationers from Bondurant, Iowa, neglected to bring sandscreen when a storm ripped through Seal Beach. The freakishly violent but nearly rain-free event generated gusts of wind that peeled roofs, toppled trees, downed power lines and left some residents of the Southland without power.
(Allen J. Schaben/LAT)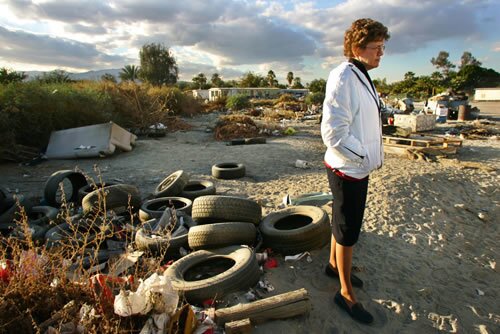 Just a few miles from the posh desert golf resorts and spas of Indian Wells, La Quinta and Rancho Mirage lie trash-strewn communities where people live crammed into trailers with no heat, no air-conditioning, no potable water and unreliable power. Gabriella Williams, a nun who aids residents and is raising money for a learning center, says owners of the trailer parks "have to look into their own conscience as to why they run these kinds of places."
(Irfan Khan/LAT)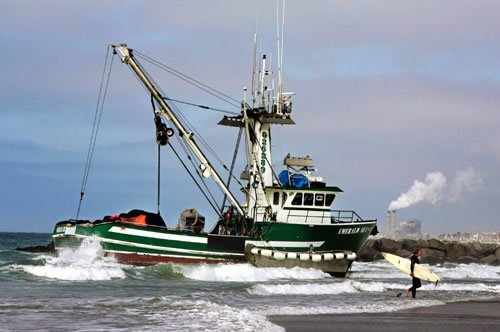 Surf batters the 61-foot Emerald Sea, which ran aground north of Newport Beach pier.
(Don Bartletti/LAT)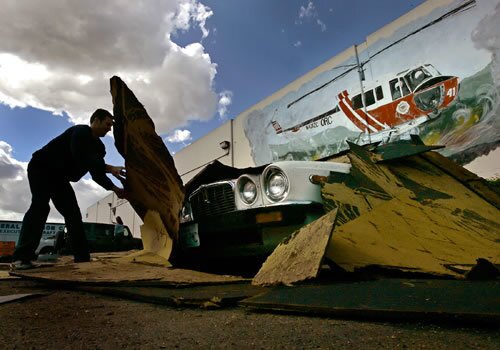 Silhouetted against a cloud-dappled blue sky, firefighter John Wilson lifts roofing material from a car in the parking lot of the Fullerton Municipal Airport where strong winds damaged a helicopter hangar.
(Mark Boster/LAT)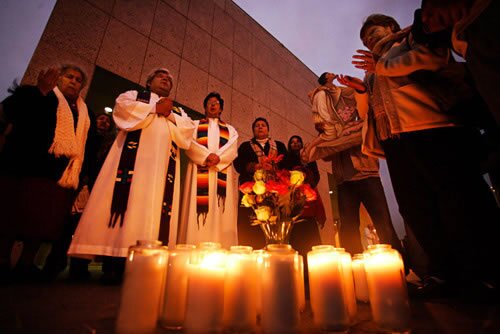 Father Angel Nietz, second from left, leads a prayer in downtown Los Angeles. The service followed a candlelight march to the Federal Building to commemorate last year's historic immigration rally of 500,000 people.
(Richard Hartog/LAT)
Away from the pressures of urban life, Nanci Sutton has more time to bond with the creatures who share her rural home. She and her husband Ken moved to San Bernardino County to breed llamas at their ranch in Apple Valley.
(Irfan Khan/LAT)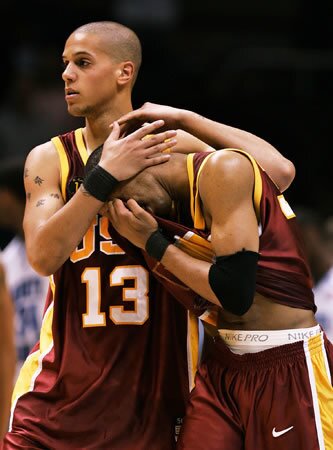 USC player Daniel Hackett consoles teammate Gabe Pruitt after losing to the University of North Carolina Tar Heels in the regional semifinal, ending the Trojans' feel-good run through the NCAA men's basketball tournament.
(Robert Gauthier/LAT)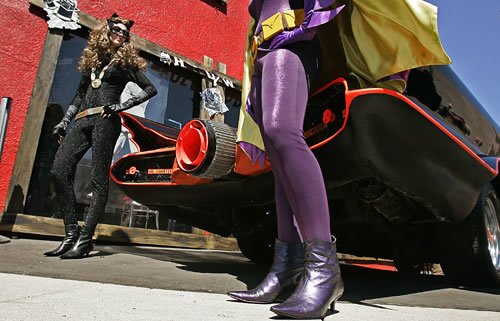 Character impersonators Allison Carroll, left, and Amber Vanderzee accessorize George Barris' 1960s Batmobile, one of two surviving originals. The vehicle began life as as a 1955 Lincoln Futura. In honor of Barris, the area around his car-customizing shop in Toluca Lake was christened "George Barris Place."
(Luis Sinco/LAT)
In full battle gear, army paratroopers take part in a training jump over the Palmachim military base near Tel Aviv, Israel. The Paratroopers Brigade has had only one parachute drop in combat, during the 1956 Sinai War, but has no trouble attracting volunteers for the elite unit.
(Abir Sultan IDF/Getty Images)
Two skiers soak up the summerlike sun shining on a winterscape at the Fellhorn near Oberstdorf, Germany.
(Karl Josef Hildenbrand EPA/Getty Images)
Family members of Arfa Nofal grieve at his funeral in Gaza City. Nofal was a casualty of the fighting between supporters of Hamas and supporters of President Mahmoud Abbas.
(Mohammed Saber/EPA)
Firefighters rescue people trapped in a 12-story building in Caracas, Venezuela. About 15 people suffered burns, including two electrical workers who were seriously injured by an explosion from an electrical box that started the blaze.
(Fernando Llano/AP Photo)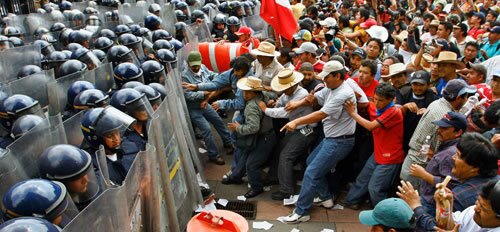 Demonstrators angry about proposed legislation to change the state workers pension system try to penetrate a police line protecting the Senate in Mexico City. Thousands of people took part in the protest.
(Marco Ugarte/AP Photo)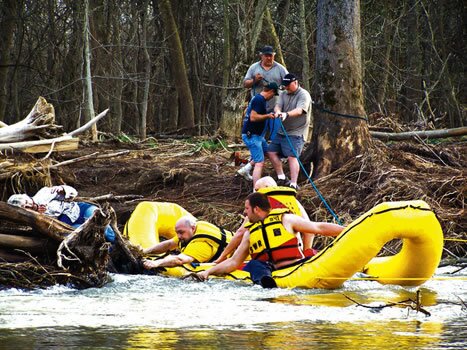 Members of the Everton Volunteer Fire Department dive team and Fayette County Sheriff's Department rescue Peggy Evans from her perch on a log in the middle of the fast-moving Whitewater River near Nulltown, Ind. Two fishermen had spotted her in peril and alerted authorities. It was unclear how Evans became stranded; her car was parked at a nearby bridge.
(Thomas Neal AP Photo/News Examiner)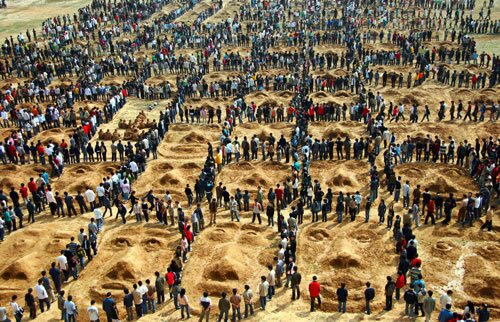 Patriotism meets performance art as about 3,000 Chinese in Zhengzhou surround earth-sculpted faces and shout pro-China slogans.
(Eye Press/AP Photo)
A Subaru WRT becomes momentarily aloft with Norwegian driver Petter Solberg at the wheel in the first stage of the Portuguese Rally at the Algarve stadium in Faro.
(Steven Governo/AP Photo)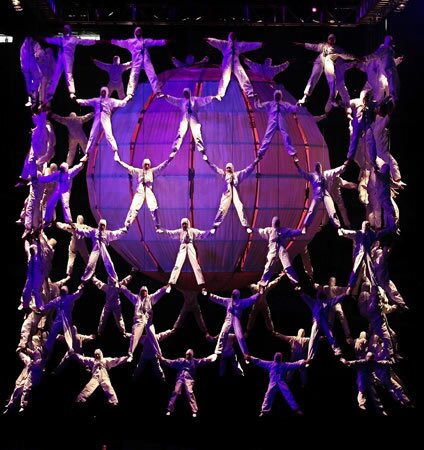 Members of the Spanish performance ensemble La Fura del Baus seem suspended with little means of support in the opening ceremony of the World Track Cycling Championships in Palma de Mallorca.
(Bernat Armangue/AP Photo)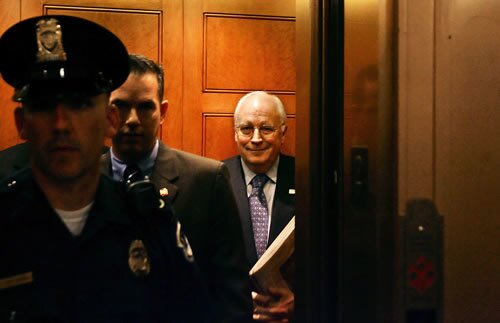 Vice President Dick Cheney prepares to leave the U.S. Capitol after his vote was not required to break a tie in the Senate. The issue at hand in the Iraq spending bill was an amendment by Sen. Thad Cochran (R-Miss.) to remove the date for a proposed troop withdrawal. The amendment was defeated 48-50.
(Chip Somodevilla/Getty Images)