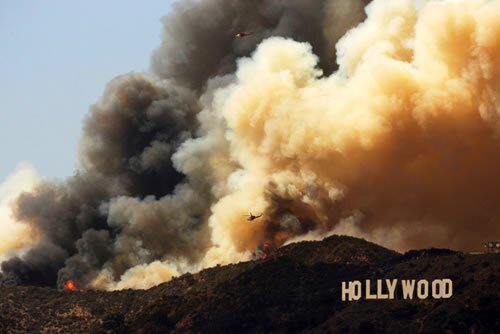 20 Images
The Week in Photos: April 1-7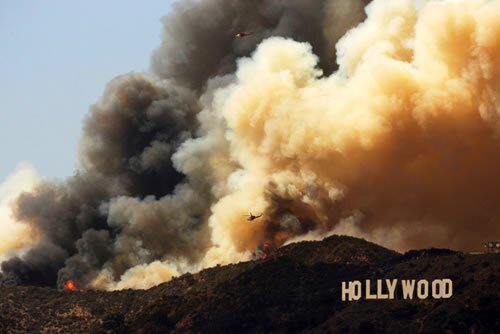 About 200 firefighters and several chemical-dropping helicopters mustered to battle a brush fire in the Hollywood Hills that burned 160 acres and colorized the Los Angeles basin with a dramatic orange haze and massive plumes of smoke. Although frightening for residents and businesses in Universal City, the Warner Bros. Studio and Forest Lawn cemetery, there were no injuries. Two teenagers have been charged with igniting the blaze.
(Bryan Chan/LAT)
About 500 college and high school students, including Kesia Tapa, in pink, from East Los Angeles College, march from Boyle Heights and East Los Angeles to Los Angeles City Hall in support of recognizing Cesar Chavez Day as a national holiday. In addition to honoring Chavez, co-founder and longtime leader of the United Farm Workers labor union, marchers, the rest of whom are unidentified, also called for an end to immigration raids, amnesty for illegal immigrants and establishing the state as a sanctuary where illegal workers would not be prosecuted. In Santa Ana, about 180 students walked out of schools in support of the movement.
(Al Seib/LAT)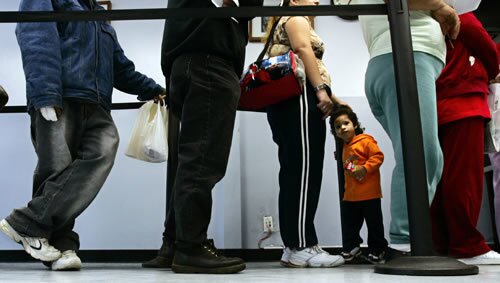 Angelo Gama, 2, takes his place in line at the Mexican Consulate in Santa Ana where people seek information about passports, missing relatives and immigration status. No agency feels the impact of the increasing number of immigrants deported more than this outpost. "We deal with the family members of all the people who are left behind," says Consul Luis Miguel Ortiz Haro.
(Mark Boster/LAT)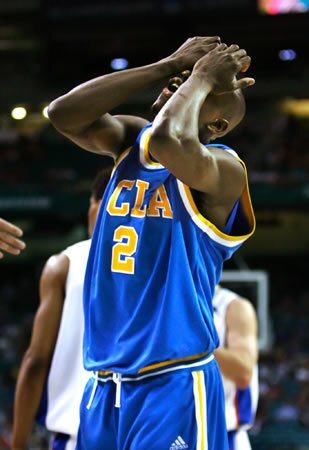 UCLA Bruin point guard Darren Collison feels the pain of losing to the University of Florida in the semifinals of the men's NCAA basketball tournament. The victorious Gators advanced to beat the Ohio State Buckeyes to become NCAA champs, a status also claimed by Florida's football team earlier this year. The two-fer is unprecedented in college athletics.
(Wally Skalij/LAT)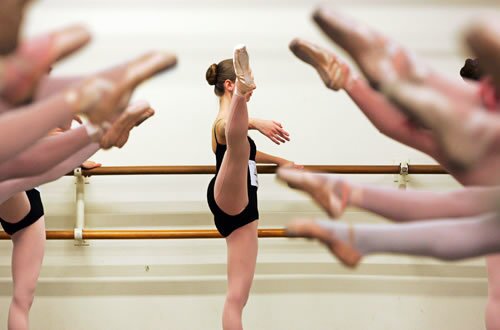 Of the 124 young dancers auditioning this day in Santa Monica, five secured five-week internships with the School of American Ballet in New York. As the official training academy for the New York City Ballet, the school holds open auditions in 25 cities in search of promising young dancers.
(Beatrice De Gea/LAT)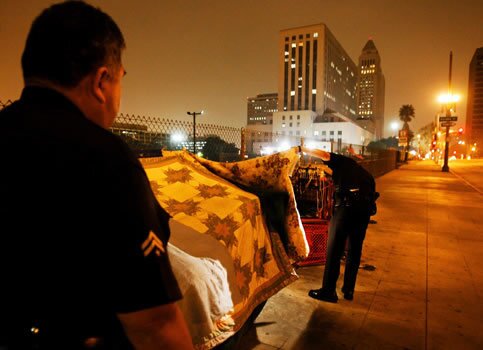 Every two weeks since November, the Los Angeles Police Department has counted the number of homeless people sleeping on the city's streets. The most recent count showed the first major increase in months, but officials attribute some of that to the closing of most of the county's winter shelters. In addition to quantity, the census notes gender, location and type of shelter.
(Myung J. Chun/LAT)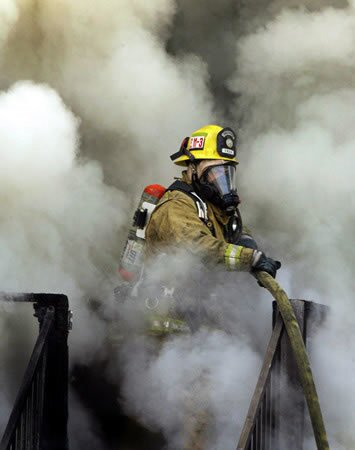 Pulling a hose toward an apartment house fire in Santa Ana, a firefighter is shrouded the smoke of the blaze a resident said had started in a bedroom of his unit and quickly spread. One unit in the complex was destroyed, another seriously damaged and a tenant, who suffered smoke inhalation and minor burns, lost his pet in the fire.
(Mark Boster / LAT)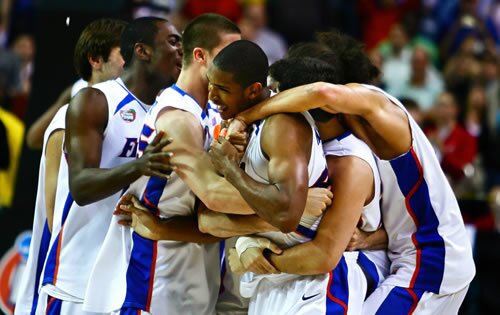 The University of Florida Gators celebrate their 84-75 win over the Ohio State Buckeyes in the finals of the men's NCAA basketball tournament. Florida is the first college to win titles in football and basketball in the same academic year. Instead of leaving school to turn pro last year, several of this team's starters chose to return for another academic year to attempt to become the first team since the early 1990s to repeat at NCAA champions.
(Wally Skalij / LAT)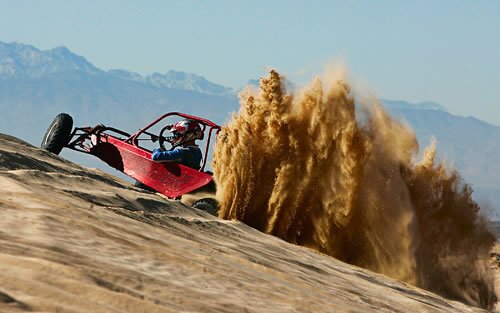 Sun Buggy Fun Rentals turns bored freeway commuters into sand-churning off-roaders at Nellis Dunes, the Valley of Fire and the Amargosa dunes near Las Vegas. The buggies are comfortable, safe and easy to drive, but after a couple of hours, riders are likely to feel ... tenderized.
(Luis Sinco/LAT)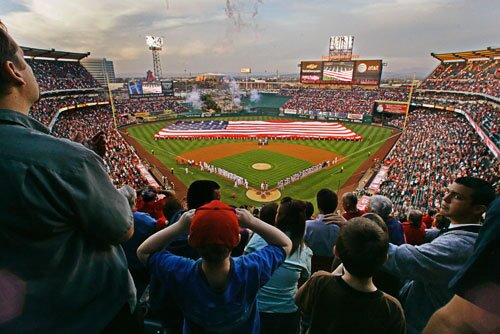 A young baseball fan hangs on to his hat as a huge U.S. flag is unfurled and fireworks are ignited to celebrate opening day at Angel Stadium in Anaheim. The pre-game festivities proved to be only an introduction to revelry, as the Angels went on to defeat the Texas Rangers, 4-1. The Dodgers, meanwhile, opened their season on the road, and in less spectacular fashion, losing to the Milwaukee Brewers, 7-1.
(Richard Hartog/LAT)
Cohdi Harrell of Escape Artist, an American group whose members are proficient in street theater, circus, dance, abstract imagery and martial arts, demonstrates his aerial skills at a school in New Delhi, India.
(Mustafa Quraishi/AP Photo)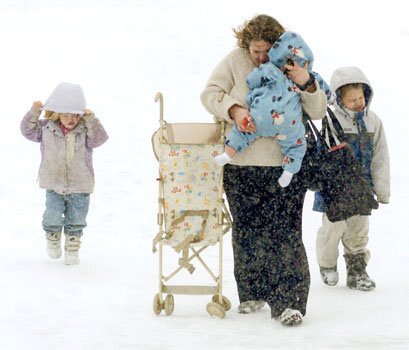 Tonya Schwalbe, center, offers shelter from the blowing snow storm to Hunter Reberg as Hunter's sister, Mackenzie, left, and brother, Wyatt, try to manage on their own. The children were en route to an Easter egg hunt at the Mesabi Range Community College in Virginia, Minn., where more than six inches of snow were dumped, prompting the eggs to be relocated indoors.
(Mark Sauer / AP Photo)
On Eid-e-Milad-un-Nabi, the birthday of Prophet Mohammad, Kashmiri Muslims at the Hazratbal Shrine in Srinagar are enraptured by a priest displaying a relic believed to be a hair from the beard of the prophet.
(Tauseef Mustafa / AP Photo)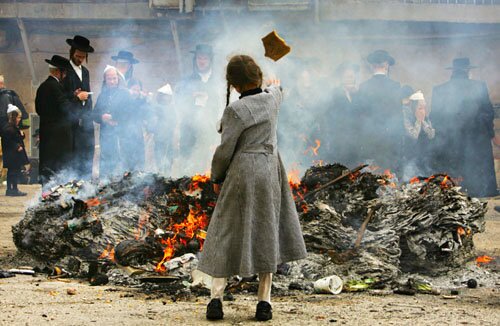 An ultra-Orthodox Jewish girl contributes a piece of sponge to a fire that burns leavened items in ritual preparation for the Passover holiday in Jerusalem. All leavened food, such as bread, is forbidden to Jews during the week-long Passover holiday commemorating the Israelites' hasty departure from Egypt and freedom from slavery.
(Oded Balilty/AP Photo)
Faithful pray in St. Peter's Square in Vatican City where Pope Benedict XVI commemorated the second anniversary of his predecessor's death, noting that the procedures for John Paul II's beatification were moving forward quickly. Benedict, clad in the purple robes of Lent, led a procession of cardinals to an altar in front of St. Peter's basilica and then presided over Mass in honor of the Polish pontiff. The pope said that the term "servant of God," traditionally used for candidates for sainthood, was particularly appropriate for John Paul, whose death was mourned by millions around the world, the pope said, "with an involvement never before seen in history."
(Danilo Schiavella/EPA)
Bathed in the blue photo therapy light of an infant incubator, tiny Ashanty grasps the finger of her father, Miquel Pena, at Women & Babies Hospital in Lancaster, Pa. Ashanty is one of five quintuplets born 12 weeks prematurely to Pena and Rosa Gonzalez. The babies are in fair condition, but will remain in the hospital's neonatal intensive care unit for as along as two months.
(Marty Heisey / AP Photo)
A boulder the size of a city bus is blamed for a train derailment near St. Albans, W. Va., that left a locomotive partially submerged in the Coal River. No injuries were reported in the early-morning accident, but diesel fuel leaked into the water and 10 train cars, plus a second locomotive, slid completely off-track. Officials say a mudslide caused the rock to fall on the edge of the track and the CSX coal train couldn't stop in time to avert the mishap.
(Bob Wojcieszak/AP Photo)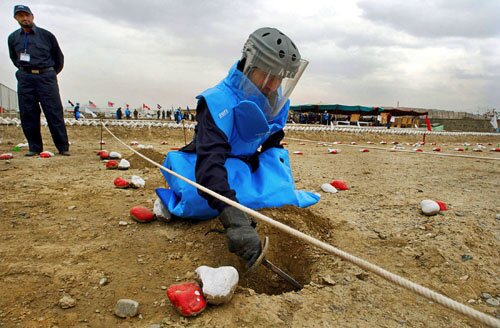 An Afghan de-miner works symbolically on a mined field as part of a ceremony marking International Mine Action Day in Kabul, Afghanistan. After one-quarter century of war, Afghanistan remains littered with millions of land mines and other unexploded ordnance, and new mines are being planted in regions of the south where a Taliban-led guerrilla war against NATO forces has been escalating.
(Musadeq Sadeq/AP Photo)
Clowns add their colorful antics to a protest outside the Faslane Naval Base on the River Clyde in Helensburgh, Scotland, where a year-long peaceful blockade of the Trident base began in October. (Photo by Jeff J Mitchell/Getty Images)
(Jeff J Mitchell/Getty Images)
A coyote finds refuge next to the cooler in a Quizno's restaurant in Chicago. The wild animal strolled through the propped-open front door and lay down next to the fruit juice and soda display. Animal control officers captured the predator, whose brethren are normally shy, cautious and not known for their affinity for SoBe beverages. Chicago authorities capture 10 to 15 coyotes every year, especially in the spring, said Anne Kent, director of Chicago Animal Care and Control. This bold canine was given a clean bill of health, and released into his natural habitat outside of the city.
(Scott Stewart/AP Photo)