19 Images
The Week in Photos: April 2–8
HANG IN THERE:
Members of Argentina's De La Guarda group perform a piece called "Villa Villa" on stage at the El Campin Coliseum during the Ibero American Theater Festival in Bogota, Colombia, on Tuesday.
(William Fernando Martinez / AP)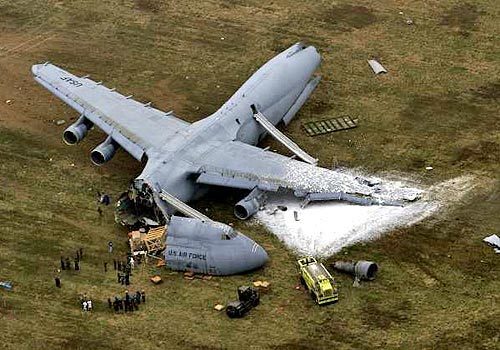 'ABSOLUTELY A MIRACLE':
An engine malfunction apparently caused this C-5B Galaxy cargo plane, the military's largest, to crash shortly after takeoff from Dover Air Force Base in Delaware. All 17 people aboard survived, though several were drenched with fuel and 14 were taken to the hospital. Air Force officials say the plane was carrying supplies for U.S. troops in the Middle East.
(Matt Rourke / AP)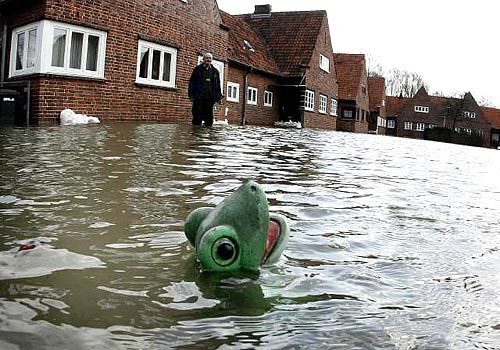 HE'S NO KERMIT:
A fake frog tries to keep its head above water in the flooded streets of Hitzacker, Germany, on Friday. The figure once stood in a garden and was washed away by the floods when the River Elbe overflowed.
(Fabian Bimmer / AP)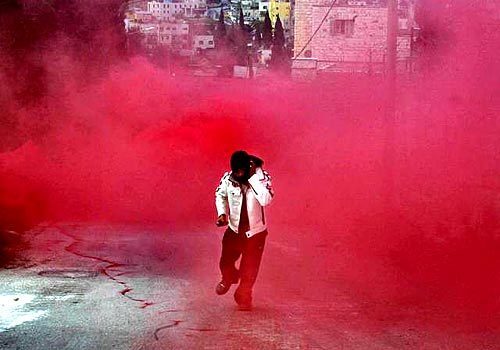 MIDEAST UNREST:
A Palestinian youth runs through red tear gas thrown by Israeli soldiers in clashes during an army operation in the West Bank city of Nablus on Thursday.
(Nasser Ishtayeh / AP)
SPRINGTIME IN QUEENS:
A sudden spring snow squall blankets St. Albans Park in Queens, N.Y. on Wednesday.
(Kathy Willens / AP)
PAYING ATTENTION:
New national government workers attend their induction ceremony in Tokyo on Wednesday. A total of 679 attended the ceremony.
(Franck Robichon / EPA)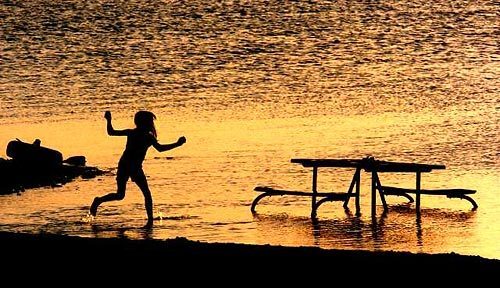 GOLDEN SPRING:
Madalyn Nelson runs through the water toward a partially submerged picnic table as the setting sun casts a warm hue on the water Wednesday at Webster Reservoir, west of Stockton, Kan.
(Steven Hausler / AP)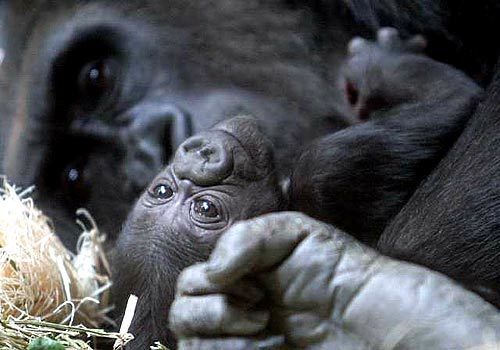 BABE IN ARMS:
A baby gorilla looks out from its mother's arms Wednesday at the Bronx Zoo in New York. The baby was born Jan. 11.
(Mary Schwalm / AP)

ALL TOGETHER NOW:
Cheerleaders from Stonehill College in Massachusetts jump in unison on Daytona Beach, Fla., on Wednesday. The girls were in town to compete in the International Cheerleading Competition.
(Jim Tiller AP/Daytona Beach News-Journal)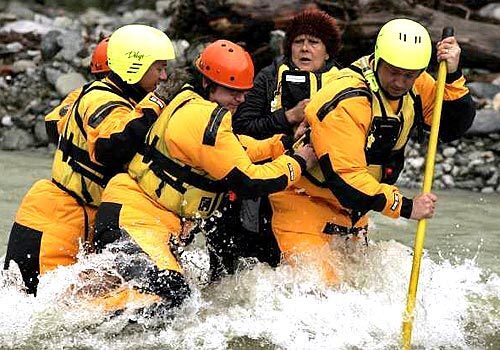 RESCUED:
A woman believed to be a transient is helped across Lytle Creek by San Bernardino County emergency workers Wednesday after she was stranded in a tent overnight.
(Irfan Khan / LAT)
MARCH MADNESS TO APRIL SADNESS:
UCLA's Ryan Hollins, left, and Jordan Farmar embrace amid the confetti after Florida's 73-57 victory in Indianapolis on Monday night. Gator players in the background celebrate their first NCAA basketball championship.
(Wally Skalij / LAT)
CHALLENGES:
Santos Monge, a mariachi, waits for work in Boyle Heights in L.A. The U.S. Senate this week was working on an immigration bill, but disagreements held up a vote on the legislation.
(Carlos Chavez / LAT)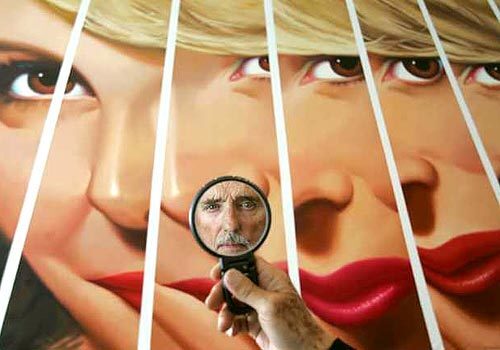 Dennis Hopper gazes at his image at an exhibition of his photographs and other works at Ace Gallery.
(Francine Orr / LAT)
FAREWELL TO BUCK OWENS:
Violet Brushey of Bakersfield checks tributes for country singer Buck Owens at his Crystal Palace. Owens died March 25. Last Saturday, townspeople and fellow musicians paid their respects.
(Gary Friedman / LAT)
NOT QUITE:
Dodger centerfielder Jason Repko can't hang on to the ball as he crashes into outfield wall during the sixth inning of opening day Monday at Dodger Stadium. Two runs scored on the play.
(Richard Hartog / LAT)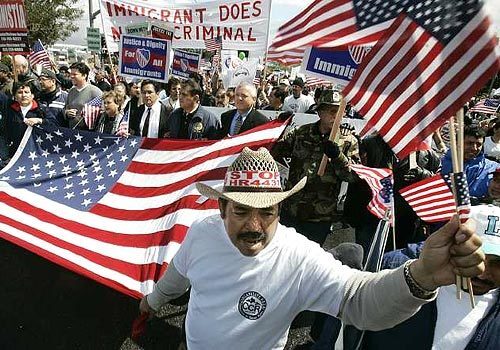 ON THE MARCH:
Protesters of proposed immigration reform head down Fair Drive in Costa Mesa on Saturday. Between 1,500 and 2,000 people attended the demonstration.
(Luis Sinco / LAT)
CRASH AFTERMATH:
A Metrolink train heading west from San Bernardino to Union Station in Los Angeles on Monday struck a small car on the tracks at Azusa Avenue in Covina, dragging it about 150 yards. Three people in the car were injured, but none of the 200 train passengers were hurt.
(Mel Melcon / LAT)
SHORT VISIT:
Lesa Naso of Lake Forest and son Jake, 4, ford streams of rainwater Tuesday as they cut short a visit to Huntington Beach with visiting relatives from Georgia.
(Allen J. Schaben / LAT)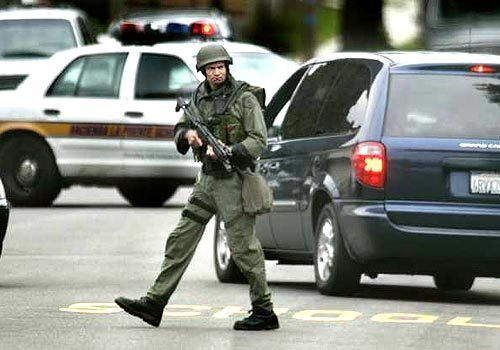 A member of the Los Angeles County Sheriff Department's SWAT team walks outside a home in Hacienda Heights where deputies were seeking a suspect in a shooting Monday that left one teenage boy dead and another critically injured. Authorities arrested one suspect.
(Karen Tapia-Andersen / LAT)