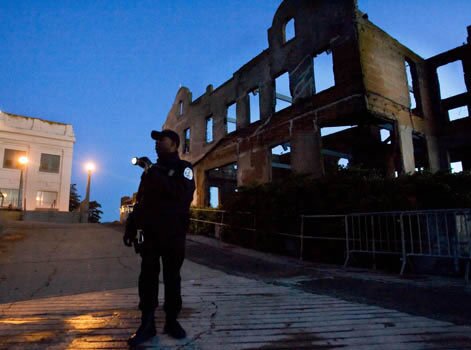 19 Images
The Week in Photos: April 8-14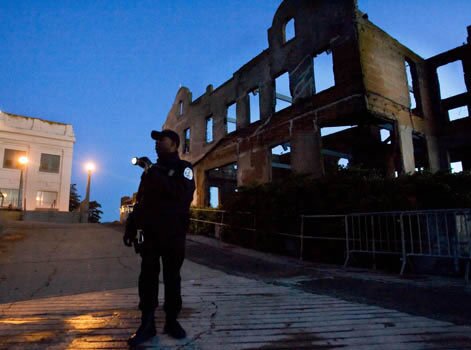 la-0412-week01-jg1f66nc
Night watchman Gregory Johnson, a member of the United States Park Police, patrols outside the warden's house and the main cellblock on Alcatraz Island. The site of a former prison housing many notorious federal inmates, the property is now deserted during Johnson's 3 p.m. to 9 a.m. shift. At least Johnson hopes so.
(Robert Durell/LAT)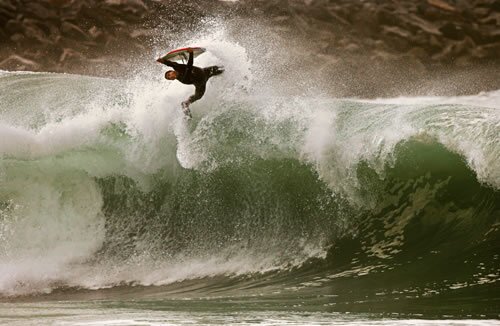 la-0412-week02-jgco0znc
A body boarder launches off a wave in advance of a spectacular wipeout at the Wedge in Newport Beach, where the surf reached as high as 20 feet. Another surfer nearby also failed to navigate the waves with grace, exiting the ocean with his board in two pieces.
(Allen J. Schaben/LAT)
la-0412-week03-jgb96fnc
USC students Meher Talib, left, and Tani Ikeda hug at the end of a six-hour sit-in at the president's office. They hoped to persuade school officials to ensure that sweatshop labor is not used in the manufacture of USC apparel. Thirteen students gave up the protest when the school gave them 15 minutes to decide whether to leave or be suspended, kicked out of their dorms, and possibly arrested. "I almost felt violated," Talib said of administrators contacting her parents.
(Lori Shepler/LAT)
la-0412-week04-jg3x2knc
Members of St. Michael's Church in South L.A. reenacted the Stations of the Cross on Good Friday, walking along streets where, church members said, gang violence once was common. Among other participants in the Good Friday tradition was Vicky Vergara.
(Gary Friedman/LAT)
la-0412-week05-jg9eo9nc
Outfielder Matt Kemp injured his shoulder slamming into the right-field wall in pursuit of Jeff Baker's triple in the fourth inning of the Dodgers' home opener against the Colorado Rockies. The hit scored Brad Hawpe and the Rockies went on to win 6-3.
(Gary Friedman/LAT)
la-0412-week06-jf0qlinc
With vehicles in limited supply and the terrain more suitable for other forms of locomotion, horseback riding is a popular mode of transport on Little Corn Island, Nicaragua.
(Béatrice de Géa/LAT)
la-0412-week07-jg7i0snc
More than 10,000 members of the Sikh community parade through downtown Los Angeles in celebration of Baisakhi, a harvest holiday that commemorates a key moment in the development of the religion. On the minds of many participants were recent hate crimes against their community, made worse as they apparently were provoked by mistaken identity. "People don't know. They think we're Muslims," said Raj Singh as he watching a float go by. "I hope, for the people standing on the road, or seeing this from their roofs, this will enlighten them."
(Gary Friedman/LAT)
la-0412-week08-jg7aaznc
Lakers center Andrew Bynum and Suns reserve Kurt Thomas grapple for possession of the ball. Phoenix won the game 115-107, dropping the Lakers into seventh place in the division.
(Stephen Osman/LAT)
la-0412-week09-jg91gwnc
A 29-foot sperm whale washed ashore dead in Isla Vista near UC Santa Barbara. Such an occurrence is rare in California, as the marine mammals typically remain far offshore. Federal officials are investigating accusations that one man attempted to remove whale teeth with a hammer, a violation of federal law for this endangered species.
(Kenneth R. Weiss/LAT)
la-0412-week10-ja1gggnc
Patrons queue on Sunset Boulevard for admission to the Roxy nightclub in West Hollywood where city officials are discussing ways to promote the Sunset Strip more aggressively and preserve its history. Much of the youthful nightlife has moved east, to edgier clubs in Hollywood.
(Ken Hively/LAT)
la-0412-week12-jgectdnc
Algerian mourners pray at the funeral of Mohammed Roukhi in Maalma town, west of Algiers City. Roukhi was killed in one of the two suicide attacks in the Algerian capital, where authorities have ordered tougher security amid fears of a resurgent Al Qaeda front in North Africa.
(Fayez Nureldine/AFP/Getty Images)
la-0412-week13-jgdkxxnc
Thais and tourists alike celebrate the three-day Songkran festival in Bangkok with plenty of liquid refreshment. It's a tradition for the Thai New Year that symbolizes cleansing the sins from the old year. Some celebrants of Songkran, also known as the water festival, apply powder to each other's faces to denote a new start.
(EPA)
la-0412-week14-jg9xornc
The cracked earth of Wivenhoe Dam in Brisbane, Queensland, is a mosaic of desperation. A major source of water for the greater Brisbane area, Wivenhoe Dam is at record low levels and Brisbane is the first Australian state capital to impose extreme water-use restrictions.
(Jonathan Wood/Getty Images)
la-0412-week15-jgbuc5nc
A wall bears the presence of both children and munitions after shrapnel sprayed a school in eastern Baghdad, Iraq. A Katushya rocket hit the basketball court, killing a 6-year-old boy and wounding 15 students and two teachers.
(Adil al-Khazali/AP Photo)
la-0412-week16-jg8itcnc
Students and paramilitary police unfurl a huge Chinese national flag to promote the 2008 Beijing Olympic Games at a primary school in Chongqing Municipality. China reportedly is investing more than $23 billion in preparation for the games, and hopes to leverage the visibility of its economic muscle and expanding political influence.
(China Photos/Getty Images)
la-0412-week17-jge57inc
Under fire from transitional government troops, an insurgent ducks on the front line of the latest fighting in northern Mogadishu. At least two people have been killed and three others wounded in renewed fighting between the Ethiopian troops backed by transitional government soldiers and the insurgents.
(Ibrahim Elmi/EPA)
la-0412-week18-jg8vr4nc
In a Voodoo ceremony, a woman bathes in a muddy pool of water considered to be sacred in Souvenance, 90 miles north of Port-au-Prince, Haiti. Over Easter, hundreds of people embark upon a pilgrimage to this tiny village in devotion to the African spirits brought to the island by slaves from West Africa.
(Ariana Cubillos/AP Photo)
la-0412-week19-jga0tqnc
Residents try to salvage whatever they can from the smouldering ashes of a fire that swept through a Manila slum. Two people were killed in the Philippine tragedy and at least 3,000 were left homeless.
(Jay Directo/AFP/Getty Images)
la-0412-week20-jgdxndnc
In this image released by the U.S. Air Force, U.S. Army soldier Jimmie Arnold observes a game of pool being played as Iraqi and U.S. soldiers search the house in Mansour, Baghdad.
(Master Sgt. Andy Dunaway, U.S. Air Force/AP Photo)