13 Images
Crisis in the Middle East, 4/12/02
Bullets riddle the walls of Bilal Mahmoud abu Abed's home in the West Bank town of Jenin, where fighting with Palestinians was particularly fierce. Israeli soldiers also ransacked the house.
(CAROLYN COLE / LAT)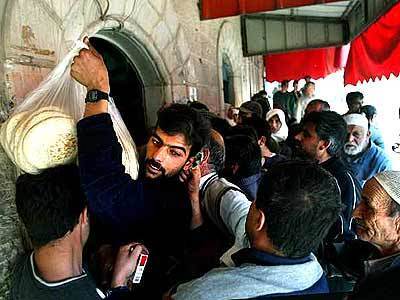 In the West Bank city of Jenin, where hundreds may have been killed after days of an intense Israeli military assault, residents struggle to buy food during a three-hour cease-fire.
(CAROLYN COLE / LAT)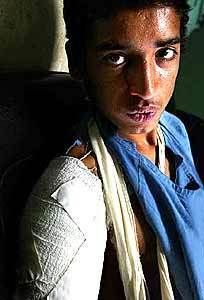 Ammar Abu Hatab, age 15, was shot by Israeli soldiers as he was trying to reach his home in the city of Jenin. He is now in the Al-Razi Hospital with several others injured in the fighting.
(CAROLYN COLE / LAT)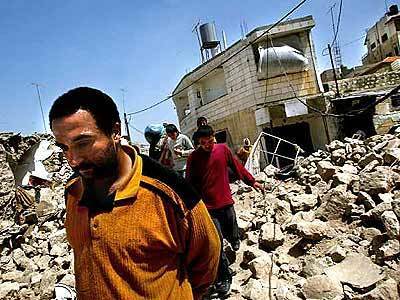 Residents view the rubble in Jenin, a militant Palestinian stronghold and site of the fiercest battle of Israel's West Bank incursion.
(CAROLYN COLE / LAT)
Palestinian women shout in front of a hospital in Jenin. A last pocket of 36 hardcore Palestinian militants holed up inside the Jenin refugee camp surrendered to Israeli troops on Thursday, bringing to an end the bloodiest battle of Israel's two-week incursion into the West Bank.
(AFP)
A Palestinian woman shouts in front of her Jenin home destroyed by the Israeli army.
(AFP)
Palestinian Khaled Al Atabeh, 8, stands in his home demolished by Israeli forces in the northern West Bank town of Nablus.
(AP)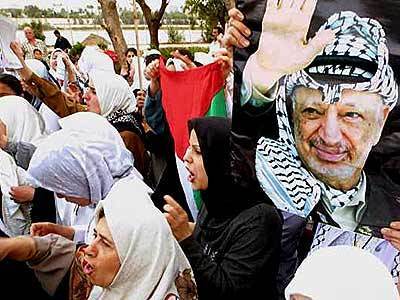 Palestinian women in Baghdad hold a portrait of Palestinian leader Yasser Arafat during a demonstration on Thursday demanding that Israel pull out of the West Bank. Iraqi President Saddam Hussein recently announced that Iraq will halt its oil exports for a month to protest Israel's military offensive in the West Bank.
(Taha al Rubayyh / Getty Images)
King Abdullah of Jordan helps on Thursday with a shipment of food and medicine headed from Amman for refugee camps in the West Bank.
(Ali Jarekji-Pool / Getty Images)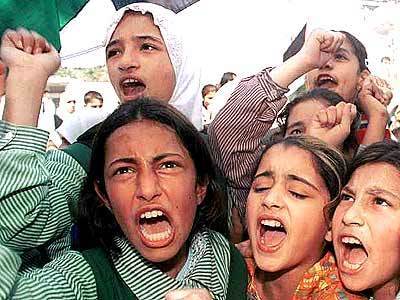 Palestinian students shout slogans against America and Israeli at a demonstration on Thursday in the Ein el-Hilweh refugee camp near the southern port city of Sidon, Lebanon. Some 5,000 Palestinian schoolchildren marched to protest the Israeli military offensive in the West Bank.
(AP)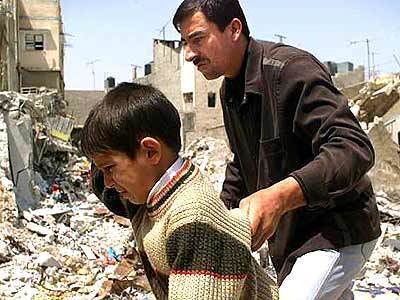 Palestinians walk through the rubble of homes destroyed by Israeli forces in the Jenin refugee camp. A round-the-clock curfew was lifted for three hours to allow the remaining residents to resupply themselves with food and water. The Jenin refugee camp has been the scene of the heaviest fighting between Israeli forces and Palestinian gunmen.
(AP)
Smoke billows after Israeli rockets strike the outskirts of the Lebanese village of Kfar Chouba in retaliation for an attack on Israeli-held Shabaa Farms by Lebanon-based Hezbollah guerrillas.
(AP)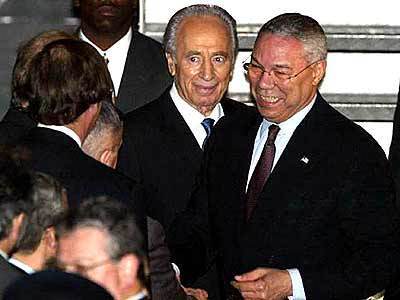 Secretary of State Colin Powell greets special envoy Anthony Zinni on Thursday after being welcomed by Israeli Foreign Minister Shimon Peres. Powell is in Tel Aviv to discuss the Isreali-Palestinian situation.
(AFP)