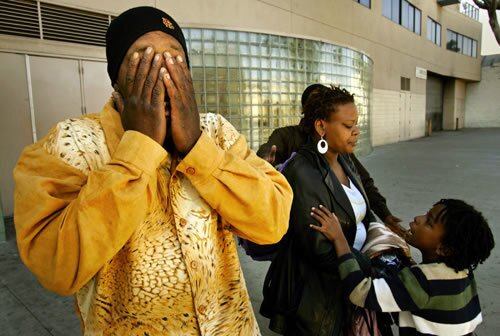 20 Images
The Week in Photos: April 15-21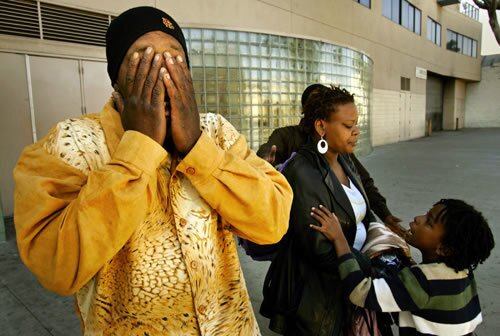 In front of the Union Rescue Mission, Christopher Barnes becomes tearful upon hearing that social workers have found help for his family of seven, including his wife, Shannon, and son Chris. Los Angeles County is targeting homeless families with children in the hope of relocating them to a safer place than skid row.
(Mark Boster / LAT)
A man parked on Archer Street in Anaheim had to be cut out of his van and airlifted to UCI Medical Center with life-threatening injuries when winds estimated to be as strong as 60 mph caused a ficus tree to topple onto the vehicle. Nearby, at Disneyland, a banana tree frond fell on a Jungle Cruise rider, causing minor neck injuries.
(Don Kelsen / LAT)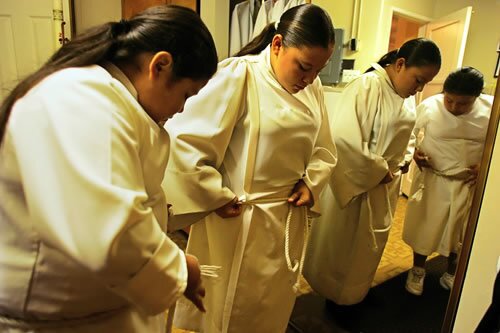 Reflected in a mirror, Alejandra Quintana, 14, and her sister Gabriela, 12, don their robes at Mission Dolores Church in Boyle Heights for a 7:30 a.m. Mass. The Vatican endorsed female altar servers in 1994; at Mission Dolores, seven of the 10 altar servers are girls.
(Genaro Molina / LAT)
Banana workers in Chinandega, Nicaragua, react joyfully to news that AMVAC Chemical Corp., a Southern California manufacturer of pesticides, has agreed to settle a lawsuit concerning one of the firm's products. AMVAC agreed to pay $300,000 to 13 field workers who claimed they were sterilized while using a pesticide called DBCP on banana plantations here nearly three decades ago.
(Annie Wells / LAT)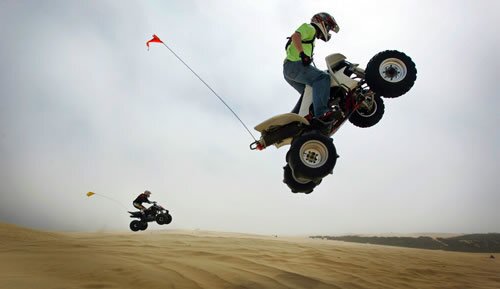 Off-roader enthusists David Dowdle, 32, foreground, and Warren Clark, 33, go airborne off the Oceano Dunes in San Luis Obispo County in their 450cc all-terrain vehicles. Their joy brings misery for some environmentalists who want the county to prohibit such recreation at the last place in California where it still is legal to drive motorized vehicles on the beach. The state is offering to buy 500 acres of dunes it has leased from the county. Beach riders want the deal to happen, figuring the state is more sympathetic to them than the more eco-minded county.
(Stephen Osman/LAT)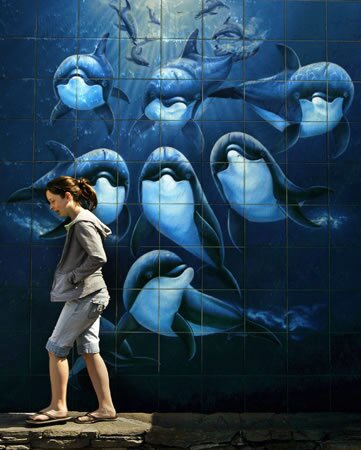 Jordan Pendley, 12, of Mobile, Ala., is welcomed to Southern California by the pinnipeds in "The Dolphin Playground." The mural fronts the Wyland Studio Gallery in Laguna Beach, whose owners refer to it as their Kodak spot for its popularity with photo-snapping visitors.
(Mark Boster / LAT)
Thousands of Virginia Tech students, staff and family hold a somber, emotional vigil at the university's parade grounds a day after a gunman killed 32 people and himself, and injured more than two dozen.
(Robert Gauthier / LAT)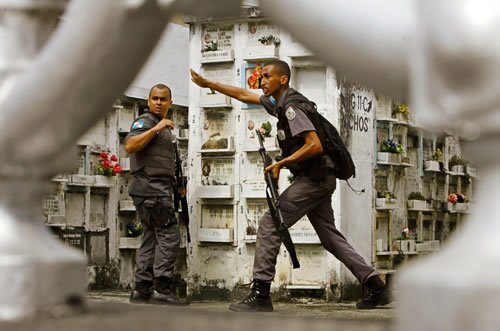 Police officers patrol Catumbi Cemetery in the Mineira slum of Rio de Janeiro during a raid against drug gangs. Shootouts between gang members and police left more than 20 alleged gangsters dead and a number of bystanders injured. The violence persisted for 15 hours.
(Ricardo Moraes / AP Photo)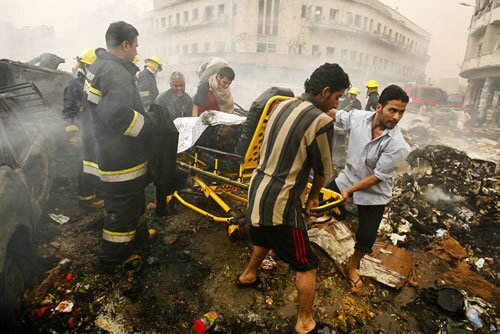 Iraqi firefighters and civilians evacuate a burned body from the site of a car bomb explosion at a market in Baghdad's Sadriyah neighborhood. It was one of five such explosions on the same day in and around Iraq's capital city; this was the deadliest, killing 140 people. The district is still recovering from a Feburary car bombing that killed at least 130 people.
(Ahmad Al-Rubaye / AFP/Getty Images)
The Rev. Ki Hyung Han leads a prayer during a ceremony in Los Angeles for victims of the Virginia Tech shooting rampage. Some local Korean Americans were moved to respond to fears that society might judge them harshly for the acts of a single, disturbed person. Their sensitivity, and that of other minorities, is rooted in culture and history. The sense of shame for Korean Americans, said one psychologist, might be particularly acute because of their cultural commitment to interdependence.
(Ricardo DeAratanha / LAT)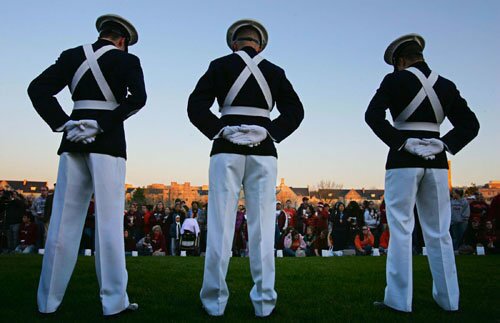 Cadets, thousands of students and staff members attend a candlelight vigil on Virginia Tech's Drill Field, the geographic and psychic heart of the campus. "We are sad today, and we will be sad for quite a while," said poet Nikki Giovanni, who teaches at the university. "We are not moving on. We are embracing our mourning."
(Francine Orr / LAT)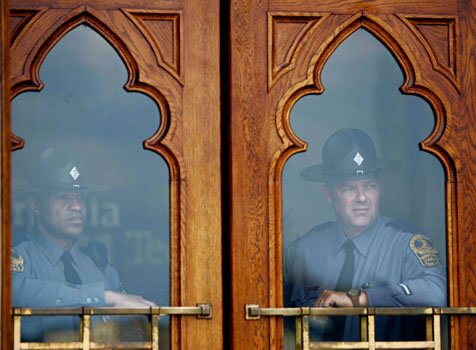 Virginia State Police Troopers Terry, left, and Crouse provide security at the entrance to Burruss Hall at Virginia Tech. The campus massacre prompted universities nationwide to reassess their ability to spot troubled students and examine their policies in dealing with them. Some educators fear an overreaction
(Francine Orr / LAT)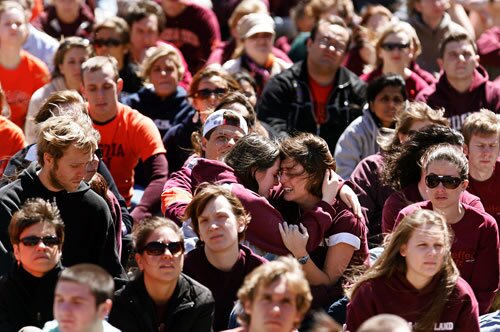 Virginia Tech students and supporters in Blacksburg, Va., are moved to tears at a convocation at which President Bush appeared via big screen at Lane Stadium. They represented the overflow when thousands of mourners were turned away from nearby Cassell Coliseum once it was filled to capacity.
(Robert Gauthier / LAT)
Residents in the Ferry Beach section of Saco, Maine, survey the damage inflicted on two homes by a severe nor'easter that lashed the East Coast. The structures are on the verge of being washed into the ocean.
(Robert F. Bukaty / AP Photo)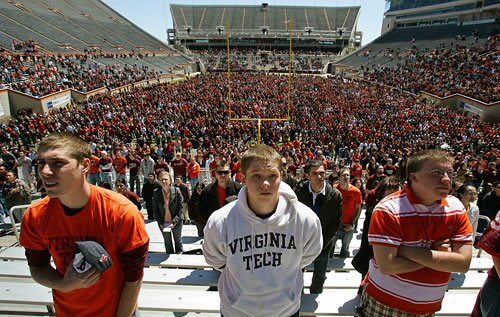 Thousands of Virginia Tech students, many wearing their school colors of orange and maroon, participate in a ceremony at Lane Stadium mourning their fallen colleagues. At one point, the assembled rose to their feet and burst into their school's rallying cheer, "Let's go Hokies! Let's go Hokies!"
(Robert Gauthier / LAT)
A man collects plastic from a trash-choked river in Jakarta, Indonesia, where inadequate waste management contributes to poor hygiene and invites health problems as well as conflict within the community. According to the Indonesian Forum for Environment, it is common for local authorities to evict whole suburbs in search of land to create rubbish dumps.
(Bay Ismoyo / AFP/Getty Images)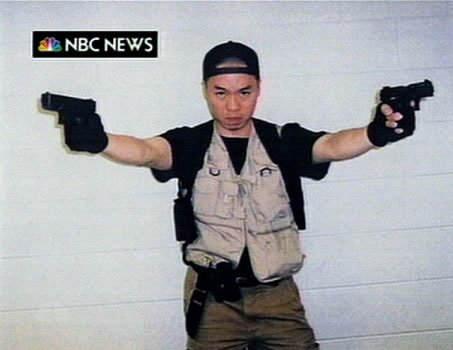 Seung-hui Cho poses with two firearms, possibly the weapons he used to massacre 32 people on the campus of Virginia Tech. This frame was taken from a video aired by NBC News and was part of a multimedia package allegedly mailed to the network between Cho's first and second shooting episodes.
(AP Photo / NBC)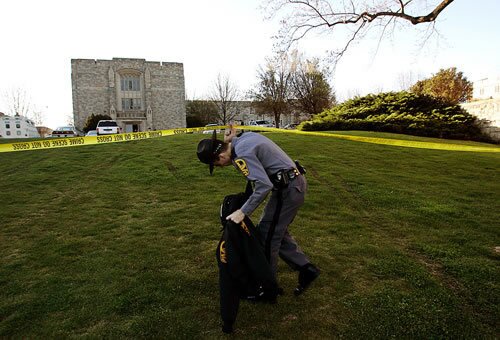 A Virginia state trooper ducks under crime-scene tape surrounding Norris Hall, one of the sites at which a gunman massacred people on the campus of Virginia Tech in Blacksburg. Witnesses said the shooter, Seung-hui Cho, said nothing and appeared to be looking for no one in particular as he shot 30 people in the building.
(Roberty Gauthier / LAT)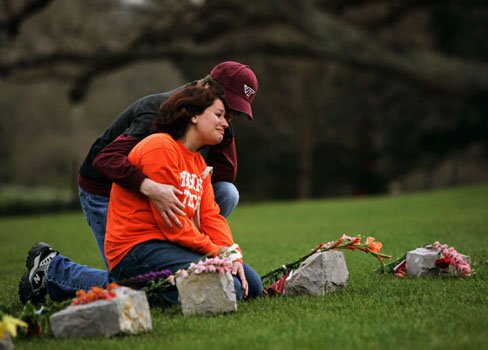 Callaway Cass comforts his wife, Kiera, on the Drill Field at Virginia Tech in Blacksburg, Va. The impromptu memorial is composed of 32 stones in a half-circle, representing the victims of a gunman on a rampage..
(Francine Orr / LAT)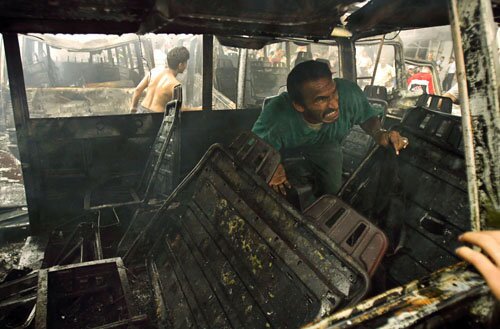 An unidentified man searches for victims when an explosion in Baghdad's Sadriya district burned a city bus. Survivors criticized the U.S.-Iraqi security plan for the city on a day in which four other car bombs exploded in and around the area, collectively killing at least 172 people.
(Ahmad Al-Rubaye / AFP/Getty Images)