18 Images
The Week in Photos: April 16-22
la-week1-ixx5y0nc
Six Taiwanese women, former "comfort women," or sex slaves from World War II's Japanese occupation, were allowed to live out lifelong dreams Tuesday: to be brides. Local women's support groups treated the women to a mock wedding, including the dresses, flowers and ceremonies.
(Chiang Ying-ying / AP)
la-week2-ixx7wsnc
A child cries as he receives medical attention Tuesday at the Children's hematological and oncological center in Minsk, Russia, which was built after the Chernobyl nuclear accident. The Red Cross said this week it was facing a major funding shortfall to continue to help people still affected by the Chernobyl disaster 20 years ago.
(Viktor Drachev AFP/Getty Images)
la-week3-ixxdwgnc
A Brazilian surfer fails to ride a wave but is still tethered to his board Tuesday at Leblon Beach in Rio de Janeiro, Brazil.
(Antonio Scorza AFP/Getty Images)
la-week4-ixxb14nc
Nepalese stand in a queue to buy kerosene oil in Katmandu. Pro-democracy demonstrations and a general strike have emptied Nepal's highways, leaving Katmandu and other cities low on fresh food and fuel. On Friday, the king promised to bring democracy back to this Himalayan nation, but his efforts met with more opposition.
(Gautam Singh / AP)
la-week5-ixz18inc
A billboard with a picture of Moscow's Kremlin is reflected in a puddle as Muscovites walk past it on Wednesday.
(Denis Sinyakov AFP/Getty Images)
la-week6-ixx87unc
Former Enron Chairman Kenneth Lay walks to the U.S. Courthouse in Houston on Tuesday for his fraud and conspiracy trial. He is expected to begin his testimony next week.
(Dave Einsel / Getty Images)
la-week7-iy2lxenc
A child takes pictures from the almost empty Stands Friday during the practice for Sunday's Formula One Grand Prix of San Marino at the Dino and Enzo Ferrari racetrack in Imola, Italy.
(Alberto Pellaschiar / AP)
la-week8-ixz7ebnc
A vendor's baby lies beside chicken cages at a poultry market Wednesday in Wuhan, in Hubei Province, China. A 21-year-old migrant worker in Wuhan has been infected with H5N1 bird flu and is in critical condition, the Ministry of Health said. The case brings the number of human cases of bird flu in China to 17, resulting in 11 deaths, according to state media.
(China Photos / Getty Images)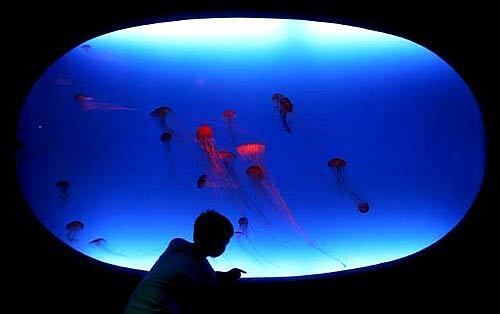 la-week9-ixx19gnc
A visitor looks at the Brown Sea Nettle jellyfish at a newly opened exhibition hall inside the Ocean Park aquarium-amusement park complex in Hong Kong on Tuesday.
(Kin Cheung / AP)
la-week10-ixzhidnc
Chinese President Hu Jintao tries on a Boeing ballcap after he addressed employees Wednesday in Everett, Wash. Hu was invited to tour Boeing's plant just days after Chinese officials confirmed a commitment to order 80 Boeing 737 jets in a deal valued at $5.2 billion.
(Elaine Thompson / AP)
la-week11-ixbohanc
Rick Moore of the conservation group Grand Canyon Trust examines an area of Vermilion Cliffs National Monument, one of two preserved areas in the Arizona Strip. Critics are opposing a plan by the Bureau of Land Management to allow mining and grazing near the monument.
(Lawrence K. Ho / LAT)
la-week12-ixxh90nc
Survivors of the 1906 San Francisco earthquake listen Tuesday to speeches during a predawn ceremony in downtown San Francisco honoring those who died 100 years ago. From left to right, Frances Duffy, 100, Olive Carroll, 101, Violet Lyman, 102, Herb Hamrol 103 and Chrissie Martenstein, 109.
(Robert Durell / LAT)
la-week13-iy1mk1nc
Jairo Ramirez, 11, relaxes with other classmates at the end of a yoga class. Although teacher turnover in the lower grades has slowed in recent years, about two- thirds of the Accelerated School's high school teachers have left in the last two years.
(Genaro Molina / LAT)
la-week14-iy18w9nc
Dale Jones tows Boeing's final 717 from its assembly plant in Long Beach on Thursday. The plane, the last of 156, will be delivered to AirTran Airways in May. Boeing halted production of the twin-engine jet because of slow sales. The move brings to an end commercial airliner manufacturing in California.
(Spencer Weiner / LAT)
la-week16-ixudmwnc
A float makes its way up Grand Avenue on Sunday, carrying the Guru Granth Sahib, the text that serves as supreme spiritual authority to Sikhs. The scripture contains hymns, poetry and instruction on living morally and ethically. Sikhs constitute the world's fifth-largest religion.
(Stephen Osman / LAT)
la-week17-iy091snc
Dodger right fielder Jose Cruz Jr. can't get to the ball hit by Chicago Cub Ronny Cedeno in the 8th inning Wednesday at Dodger Stadium that allowed two runs to score. The Cubs beat the Dodgers 5-4.
(Lori Shepler / LAT)
la-weekingphotos18
Gabriela Olguin, 14, is reflected in a mirror she's holding before basketball practice. She recently received the 2006 Princeton Prize in Race Relations for helping to create Peace and Unity Week at South L.A. Area High School No. 1 (Santee H.S.), where she is a ninth-grader.
()
la-week20-ixq3q9nc
Actress Amy Rush plays Marie Antoinette as a blogging talking head --only her head is visible in a pedestal – as part of an experimental theater class at UCLA that resulted in the "The Bloggers Project."
(Béatrice de Géa / LAT)