18 Images
The Week in Photos: April 23-29
la-week1-iychownc
Army Reserve soldiers from the 950th Maintenance Company say their goodbyes Wednesday as they deploy en route to Iraq from the Joint Forces Training Base on the Los Alamitos Army Airfield. Two chartered planes carried the 250 soldiers to Ft. Bliss, Texas, where they will train before being shipped overseas.
(Mark Boster / LAT)
la-week2-iyd7tcnc
Laker Kobe Bryant dunks over the Suns' Steve Nash on a broken play, giving the Lakers a 92-83 lead with 3:13 to play in Game 2 of the NBA Western Conference quarterfinals in Phoenix on Wednesday.
(Robert Gauthier / LAT)
la-week3-iycr59nc
The Lodi News-Sentinel rack tells the story Wednesday after the verdicts in a terrorism trial against two local Muslims. Hamid Hayat, 23, was found guilty on four counts and his father, Umer Hayat, 48, had his case end in a mistrial.
(Robert Durell / LAT)
la-week4-iy8u22nc
OSC Larry Chase kisses his wife goodbye on the dock next to the U.S. Naval Hospital Ship Mercy in San Diego. Looking on is son Tommy. Chase and the crew departed Monday on a five-month humanitarian mission to the western Pacific.
(Don Bartletti / LAT)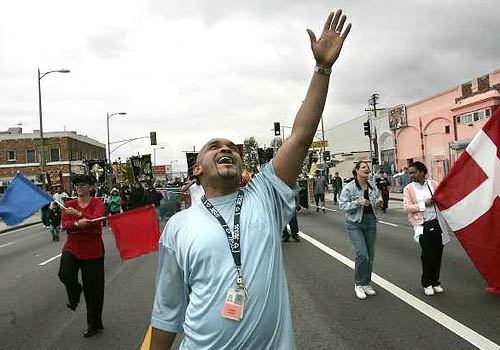 la-week5-iy4yfbnc
Larry Gray shouts, "Thank you, Jesus!" as he walks in the Pentecostal procession down Beverly Street last Saturday. Thousands of Pentecostals were in Los Angeles this past week to celebrate the centennial of the Azusa Street Revival.
(Ken Hively / LAT)
la-week7-iw1aqfkn
Todd Masters, Emmy award-winning specialist in creating prosthetic and animatronic effects, mimics a figure he made that is one of two women who hold up his conference table at his studio in Arleta. Masters, president of MastersFX Incorporated, created the Borg Queen for the movie "Star Trek: First Contact" and corpses for HBO's "Six Feet Under."
(Genaro Molina / LAT)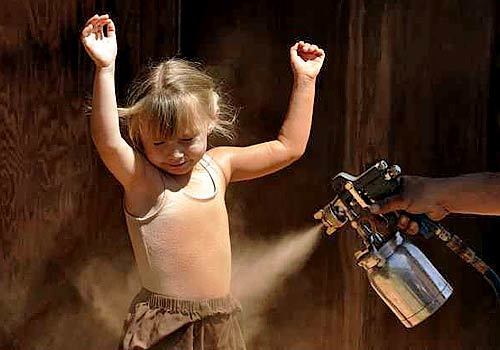 la-week8-iy8s8mnc
Arms held aloft, Cheyenne Nauretz, 3, is getting sprayed with a special liquid stage makeup. Nauretz was among the many kids playing the role of Rock Indians in "Ramona," an outdoors spectacular based on a 19th-century historical epic starring six horses, three mules and 386 actors that is being staged at the specially built Ramona Bowl Amphitheater in Hemet this month.
(Irfan Khan / LAT)
la-week9-iyaq6lnc
Steve Sanchez paints a giant mural depicting the enduring Walt Disney character Mickey Mouse on the side of a downtown Los Angeles building near the corner of Olympic Boulevard and Figueroa Street on Tuesday.
(Mark Boster / LAT)
la-week10-itmhlvnc
Eighteen contestants line up with the reining Miss Chinatown Jessica Feng, right, just before the announcement of the winners in the 2006 Miss Los Angeles Chinatown Pageant at the Westin Bonaventure Hotel last weekend.
(Ricardo DeAratanha / LAT)
la-week11-iy886vnc
A masked militant looks out from a car during the funeral of Palestinian militant Ahmed Musleh in the West Bank town of Bethlehem on Monday. Musleh was one of two militants of the Al-Aqsa Martyrs' Brigades killed Sunday in an exchange of fire with Israeli troops.
(Emilio Morenatti / AP)
la-week13-iya2vrnc
A man takes fire from the leaping flames of a bonfire Monday during the burning of the Boeoegg, the highlight of Zurich's traditional springtime festival Sechselaeuten. The Boeoegg is an effigy representing the Old Man of Winter and is burned.
(Eddy Risch / EPA)
la-week14-iyctirnc
Gas prices aren't high enough, and now the cars apparently are mocking us as the Giants' Randy Winn can't catch a ball hit by the Mets' Ramon Castro during the second inning Wednesday at AT&T Park in San Francisco. The Mets defeated the Giants 9-7 in 11 innings.
(Jed Jacobsohn / Getty Images)
la-week15-iycfm2nc
Ultra-Orthodox Jews carry the body of Rabbi Moshe Halberstam during his funeral at the old Jewish cemetery on Jerusalem's Mount of Olives on Wednesday. Thousands attended the funeral of the 75-year-old rabbi, who was a judge at Jerusalem's ultra-Orthodox court.
(Menahem Kahana AFP/Getty Images)
la-week16-iy7t3ync
A Nepalese woman makes her way through Katmandu as an 11 a.m. curfew approaches last Monday. The curfew was in response to weeks of demonstrations in which police and anti-monarchy protesters have frequently clashed in the capital of Nepal.
(Manish Swarup / AP)
la-week17-iyaa7pnc
Thousands of Nepalis attend a victory rally Tuesday a few hundred yards from the royal palace in Katmandu, the capital. Nepal's opposition alliance called off weeks of devastating pro-democracy protests after the king gave in to a key demand to reinstate Parliament.
(Manish Swarup / AP)
la-week18-iyaiiinc
Baby cradles are seen in a hospital in the abandoned town of Pripyat, in the exclusion zone around the closed Chernobyl nuclear power plant. This month is the 20th anniversary of the explosion at the Chernobyl nuclear power plant, which sent a radiactive cloud across Europe.
(Oded Balilty / AP)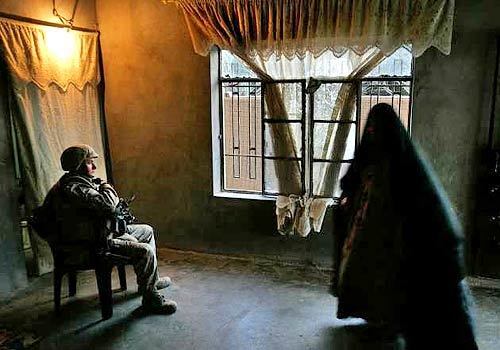 la-week19-iyahoenc
U.S. Marine Lance Cpl. Russ Spall rests Tuesday in the kitchen of an Iraqi house in Karmah, 50 miles west of Baghdad, in the volatile Al Anbar province.
(Jacob Silberberg / AP)
la-week20-iyarnjnc
Commuters walk through Grand Central Station in New York on Tuesday. As gas prices in the United States rise, some experts are speculating that commuters could turn to public transportation to save money.
(Justin Lane / EPA)