20 Images
The Week in Photos: April 29-May 5
Mothers and their babies marching down Broadway toward City Hall in Los Angeles were among the estimated 25,000 people at a May Day rally for immigration reform. The number of participants was considerably smaller than last year's event, but the enthusiasm endured. A second march to MacArthur Park drew about 10,000 participants
(Luis Sinco / LAT)
In response to rock- and bottle-tossing demonstrators, law enforcement officers conduct a sweep of MacArthur Park during a May Day rally. A Los Angeles police officer shoves KCBS cameraman Carl Stein out of the way; earlier, Stein said, he had been struck by a baton when he stopped to capture the scene on camera. The LAPD used batons and rubber bullets at the end of the immigrant rights assembly.
(Rick Loomis / LAT)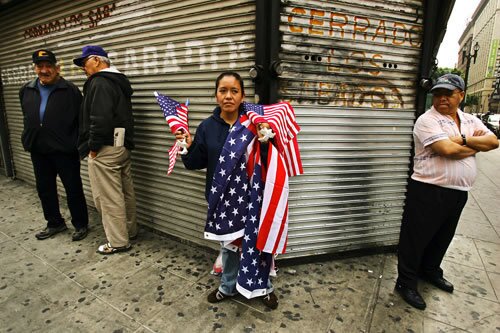 An unidentified vendor hawks U.S. flags on Broadway before the start of the Great American Boycott march on May Day. The relatively small turnout resulted in fewer downtown street closures and less traffic gridlock than last year's rally, which drew about 650,000 people.
(Francine Orr / LAT)
Unidentified spectators at Inspiration Point on Ocean Boulevard have an unobstructed view of Newport Bay, where 450 vessels are entered in the 60th annual Newport to Ensenada Internation Yacht Race.
(Don Bartletti / LAT)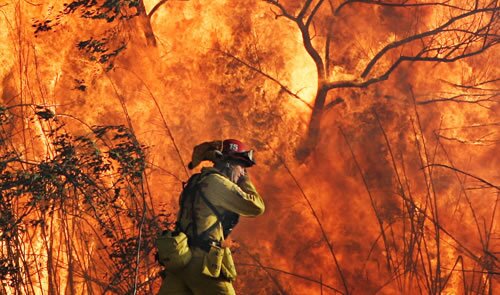 A Riverside County firefighter endures the heat of towering flames from a wildfire in Mira Loma. About 158 acres of dense brush were charred. Residents of 15 homes were asked to voluntarily evacuate, but all of them chose to stay. No homes or structures were damaged. The cause of the fire was under investigation.
(Gina Ferazzi / LAT)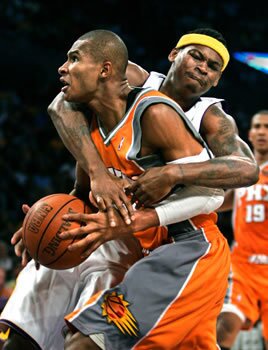 About the only way the Lakers could stop the Suns in Game 4 of the first round of the playoffs was to foul them, as Smush Parker does to Leandro Barbosa. The Lakers lost, 113-100, and four days later would be defeated in Game 5 to drop the series 4-1.
(Wally Skalij / LAT)
Temperatures flirting with the century mark did not deplete the crowd's enthusiasm at the three-day Coachella Valley Music and Arts Festival. On the first day, celebrant Stefan Liden, 21, of Las Vegas makes a fashion statement with his self-described "Coachella Skully" head wear. The climax of the eighth annual event, which drew daily attendance of 60,000 people to the Empire Polo Field in Indio, was the reunion of Rage Against the Machine.
(Spencer Weiner / LAT)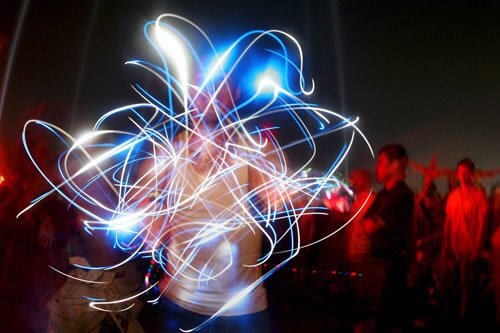 In the wee small hours of the morning, after the musical performances but before some people at the Coachella Valley Music and Arts Festival were ready to call it a night, Bill Goodwin of Denver entertains with a dance-and light show.
(Spencer Weiner / LAT)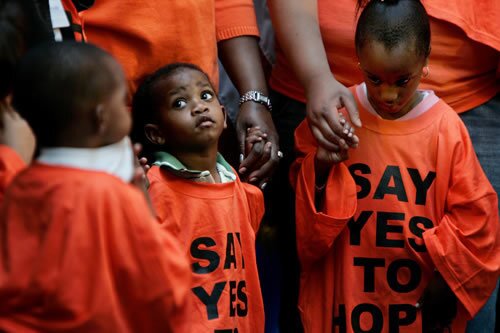 Charles Johnson, 3, center, and Tylese Hannigan, 5, are among the interested parties at a news conference at the Union Rescue Mission. Cardinal Roger M. Mahony and Rabbi Allen Freehling urged L.A. County officials to OK a permit for a transitional housing complex for homeless people near Sylmar to house as many as 228 women, children and seniors. The skid row-based mission wants to open the facility, called Hope Gardens, on a site bordering the Angeles National Forest.
(Francine Orr / LAT)
A bloop hit by Diamondbacks pitcher Brandon Webb eludes Dodgers centerfielder Juan Pierre in the fifth inning of a game at Dodger Stadium. Arizona piled up more runs to defeat L.A., 9-1.
(Lawrence K. Ho / LAT)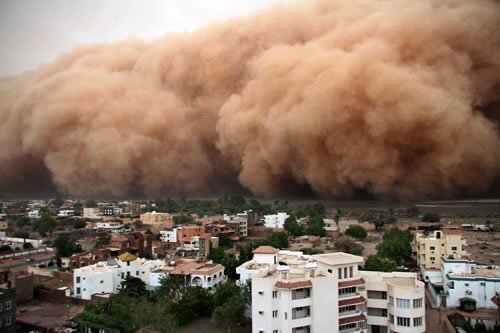 A gigantic cloud of dust called a "Haboob" advances over Khartoum, the capital of Sudan. Formed in the final stages of a thunderstorm, the seasonal monsoon can reach a height of 3,000 feet. Thunderstorm downdrafts create a gusting front of air that slams into the ground and picks up dust, changing the landscape in the process.
(STR / AFP / Getty Images)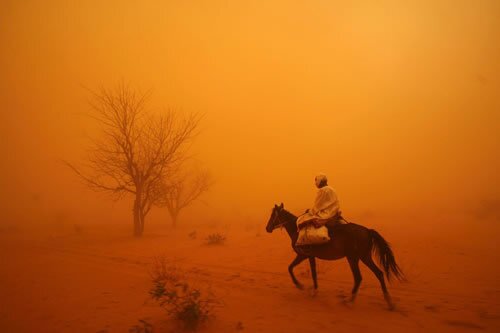 A horse and rider navigate through a sandstorm from the violence-plagued Darfur region of Sudan into eastern Chad. More than 200,000 people have fled from the brutal, Khartoum-backed janjaweed militia in Darfur toward their chronically unstable neighbor Chad, and more arrive every month despite international pressure on Sudan to end the four-year-old conflict.
(Stephen Morrison / EPA)
In the challengers' regatta, Team China hopes to rule the waves in a race at the Louis Vuitton Cup off the coast of Valencia, Spain. The winner among 11 contestants will sail against Amerca's Cup champion Alinghi, of landlocked Switzerland, here in June.
(Maurizio Gambarini / EPA)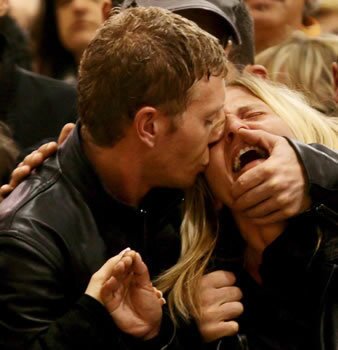 The arrest of Doina Matei, a 21-year-old Romanian woman, for allegedly killing Vanessa Russo, 23, during a brawl in a railway station in Rome, has sparked demands for tighter immigration in Italy. Russo died from brain injuries incurred by the umbrella being thrust into her eye. Russo's brother Simone is seen here trying to comfort their mother Rita at Vanessa's funeral.
(Claudio Peri / EPA)
A crew of prison inmates assist firefighters in Waycross, Ga,. in the battle against a stubborn blaze that has raged since April 16. Under the auspices of the Georgia Department of Corrections, 220 inmates--among them thieves, armed robbers and drug dealers--have been called up in weeklong rotation. They join 830 firefighters from across Georgia and neighboring states. Tthe inmates have been working 12-hour days to extinguish the fire that has burned more than 135 square miles of forest in and around the Okefenokee Swamp.
(Chris Viola / AP Photo)
U.S. soldiers detain a protester as residents rally against the U.S. military presence in the Kamaliyah neighborhood of Baghdad, Iraq. Hundreds of people participated, some throwing stones on an passing American convoy.
(Adil al- Khazali / AP Photo)
For Afghan boys training at a kick-boxing gym in Kabul, practice makes perfect. Paying $2 a month for their trainer, youths gather at this gym five times a week for workouts. The ruins of the palace of former King Darul Aman, destroyed during the civil war, serve as a backdrop to the action.
(Rafiq Maqbool / AP Photo)
Special forces of the German police train over Frankfurt for some of their more daring aerial assignments.
(Michael Pro / AP Photo)
The landmark Fehmarnsund Bridge appears to have lost its moorings in the fog. At more than 3,100 feet long, the automotive and railway thoroughfare connects the German continent to the Baltic island of Fehmarn. Designed by the German architect Gerd Lohmer, it was opened in 1963.
(Thomas Nyfeler / AFP / Getty Images)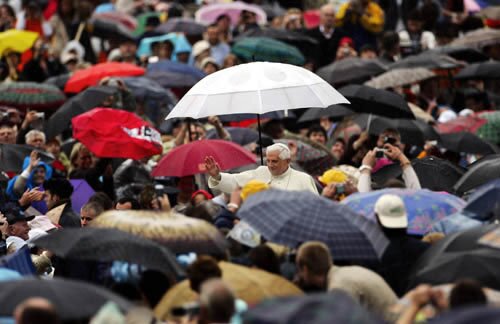 On a rainy spring day in Rome, Pope Benedict XVI walks among the faithful in his weekly general audience at the Vatican's St. Peter's Square. Benedict sought prayers of support for his upcoming trip to Brazil, his first pilgrimage to Latin America. A key mission of the trip is to support the church in its battle for predominance in the region.
(Gregorio Borgia / AP Photo)