10 Images
Suicide Bombing Kills 16
Medics tend to an Israeli wounded in an attack at a pool hall in Rishon Le Zion outside Tel Aviv. About 60 people were injured in the bombing. Israeli Prime Minister Ariel Sharon cut short a trip to Washington, where he was meeting with President Bush, because of the attack.
(AP)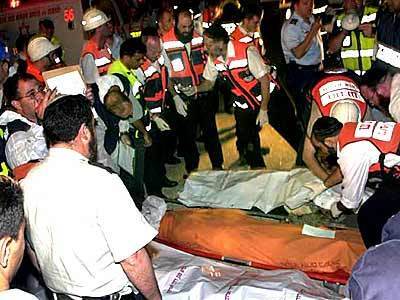 Bodies are lined up outside the damaged building.
(AFP )
Rescue personnel gather under a destroyed pool hall.
(Getty Images)
Rescue workers comb through the wreckage of a pool hall near Tel Aviv, where a suicide bomber killed himself and 15 others. Israeli security officials believe that the bomber came from the Gaza Strip. The Islamic Hamas group claimed responsibility for the attack.
(AFP)
An Israeli man is comforted by a friend after the attack. The Palestinian Authority threatened firm action against those responsible.
(AFP)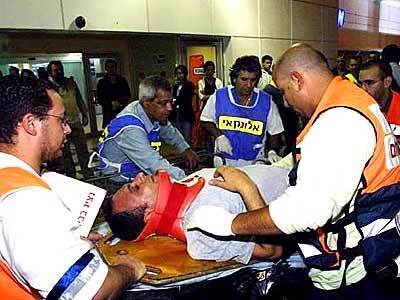 An injured Israeli arrives at a hospital.
(AP)
Israeli police search the site of the bombing.
(AFP)
Rescuers work inside the blown out windows of the pool hall.
(AFP)
One of the injured is carried by medics into an ambulance after the suicide attack.
(AFP)
A police officer looks into a damaged car outside the pool hall where the suicide bombing took place.
(AP)