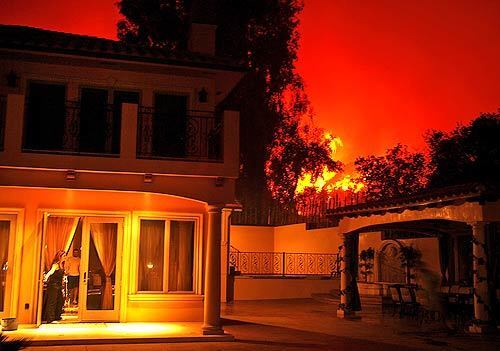 19 Images
The Week in Photos: May 6 - May 12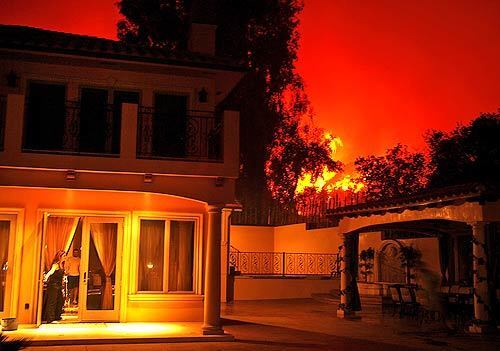 With flames approaching her home, Mary Afifi, 39, prepares to leave after police call for a mandatory evacuation. Firefighters moved in to protect structures from the brush fire in Griffith Park, where more than 200 acres were consumed in the blaze fanned by hot temperatures and dry winds.
(Rick Loomis / LAT)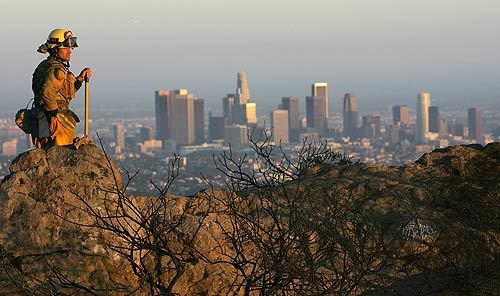 With downtown Los Angeles as a backdrop, firefighter Robert Damico surveys Griffith Park as part of the watchful contingent remaining at the blaze site near Griffith Observatory to guard against flare-ups.
(Spencer Weiner / LAT)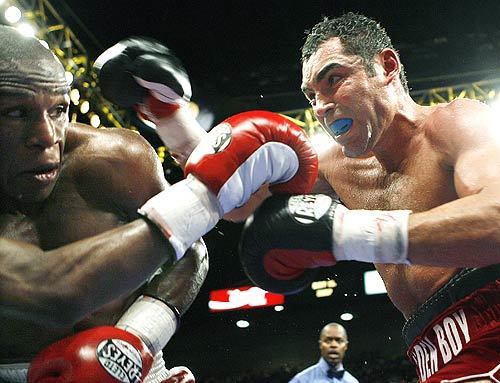 Although Oscar De La Hoya, right, lost the WBC super welterweight title fight against Floyd Mayweather Jr., he won the bottom line. The match generated a record 2.15 million buys on HBO's pay-per-view telecast, generating in excess of $50 million for De La Hoya to $20 million for the unbeaten Mayweather.
(Wally Skalij / LAT)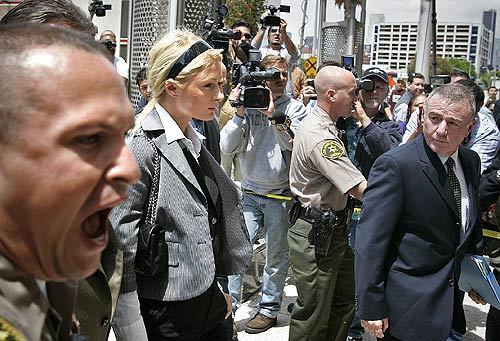 Paris Hilton is used to being the center of attention, and generally welcomes that status. But her appearance at the Los Angeles courthouse was less than happy for the hotel heiress and socialite. She was sentenced to 45 days in county jail for violating her probation for an alcohol-related arrest by driving with a suspended license. An L.A. County deputy sheriff orders the media to grant Hilton and her lawyer Howard Weitzman a wider berth.
(Allen J. Schaben / LAT)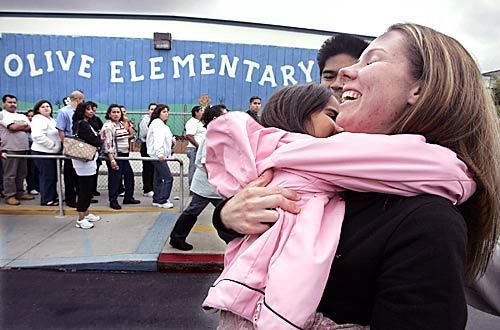 Melanie Weathers embraces her daughter Larissa Fry, 6, outside Olive Elementary School. It was one of five schools in Vista, Calif., that were locked down for three hours after a report of gunfire in the area. Investigators for the San Diego County sheriff detained a man for questioning but later released him. They found no evidence that shots had been fired.
(Don Bartletti / LAT)
Fidel Castro Santos claims a spot of sunlight filtering through a tunnel's air vent. When Santos was a guerrilla fighter in El Salvador, this space served as a hospital for the rebels. Today Santos and other villagers maintain the network of old tunnels above the mountain hamlet of San Jose Las Flores as artifacts of war.
(Don Bartletti / LAT)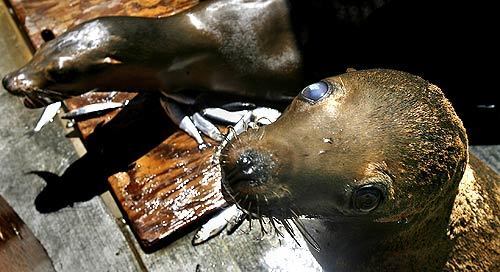 Space is at a premium at the Marine Mammal Care Center in San Pedro where a variety of animals are being treated for domoic acid poisoning. The current outbreak of toxic algae off the Los Angeles Harbor is the most virulent on record, scientists say, so overburdening animal rehabilitation centers that some sickened sea lions are temporarily left to fend for themselves on Los Angeles County beaches. "We just don't have the space to accommodate them all," said Lauren Palmer, staff veterinarian at the facility.
(Rick Loomis / LAT)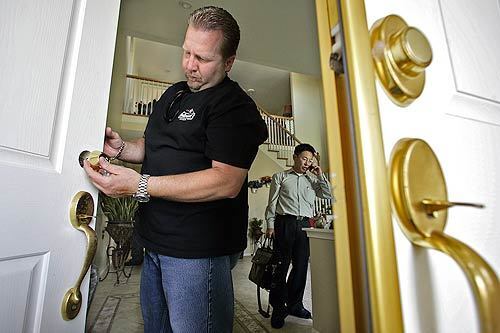 At the direction of the bank that has foreclosed on a home whose owners have failed to make their mortgage payments, Jeff Meads changes the locks. John Kim, a friend of the evicted family in Rancho Cucamonga, calls to apprise the former residents of the circumstances. Defaults and foreclosures are rising nationwide as subprime loans with low introductory rates adjust higher and homeowners struggle with payments. The trend is especially apparent in places such as the Inland Empire, where tracts of new homes drew first-time buyers, who are especially vulnerable to foreclosure because they often have little equity.
(Irfan Khan / LAT)
Guillermo Abalaz of Santa Ana physically articulates his point outside Parker Center in downtown L.A. about the violent end to the May Day demonstration in MacArthur Park. Inside, the first public hearing on the melee by the Police Commission took nearly four hours, much of it angry testimony from some of the people injured at the rally.
(Spencer Weiner / LAT)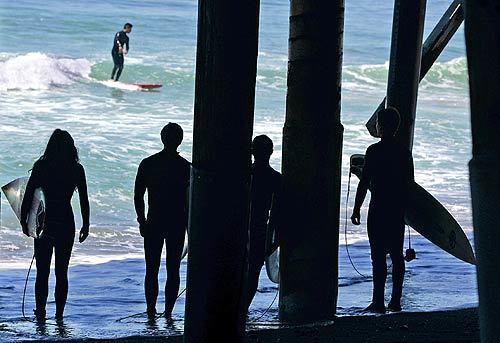 With highs of 99 degrees, Anaheim and Santa Ana reigned as the hottest spots in the nation, and a record high was set in Fullerton, where it reached 98. One of the coolest places in the Southland to escape from the heat was under the San Clemente Pier. Although the sand was hot, the water remained too cold for surfing without a wetsuit.
(Don Bartletti / LAT)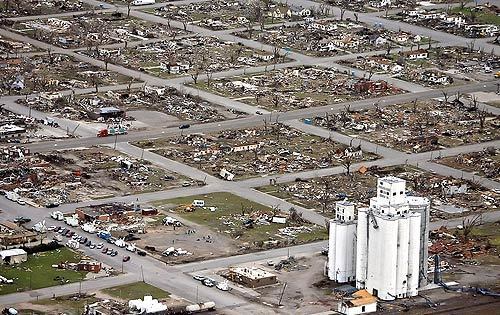 A tornado of epic proportions devastates Greensburg, Kan., killing at least 11 people among a population of 1,600. Spinning at speeds as high as 205 mph and spanning 1.7 miles, the twister destroyed an estimated 95% of the town. When President Bush visited the ravaged agricultural hamlet in the southwestern part of the state, he said, "A lot of us have seen the pictures of what happened here and the pictures don't do it justice,."
(Larry W. Smith / EPA)
President Bush comforts Debra Wilder, left, and Rhonda McKee, residents of tornado-ravaged Greensburg, Kan. The state's governor, Kathleen Sebelius, charged that National Guard shortfalls delayed Kansas' emergency response to the destructive storm, but Bush administration officials denied that there was a lack of sufficient resources.
(Travis Morisse / AP)
A cemetery worker studies a body exhumed from the main cemetery in Guatemala City. Forensic anthropologists in Guatemala are examining about 2,500 skeletons to create a database derived from the physical characteristics of the Guatemalan population. These subjects were exhumed by graveyard personnel after 10 years of being interred.
(Rodrigo Abd / AP)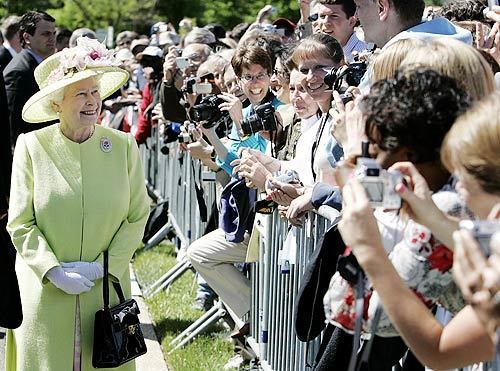 Britain's Queen Elizabeth II accepts the adoration of the crowd at the Goddard Space Flight Center in Greenbelt, Md. Her visit was one of several events during her six days in the United States, including a tour of Jamestown, Va., America's first permanent English settlement, observing the 133rd running of the Kentucky Derby, and a formal state dinner at the White House.
(Larry Downing / AFP)
An Iraqi soldier offers a T-shirt to a boy in western Baghdad. The shirts, which read "My dear Baghdad," were distributed to children while soldiers provided security for a high-ranking Iraqi official who was visiting schools.
(Khalid Mohammed / AP)
An unidentified man dressed in the contemporary uniform of the Red Army is overcome with emotion during the annual celebration of the end of World War II in Moscow's Red Square. During the remembrance of the Soviet role in the victory over Nazi Germany, Russian President Vladimir Putin took veiled swipes at Estonia and the United States.
(Maxim Marmur / AFP)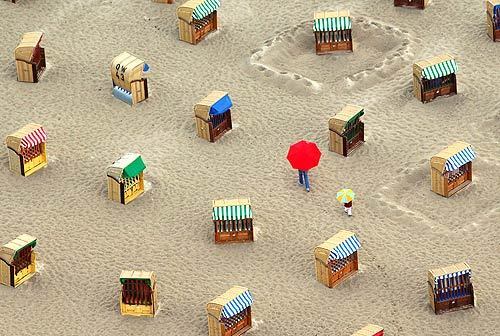 Season's greetings on the beach at Travemuende, Germany
(Wolfgang Langenstrassen / EPA)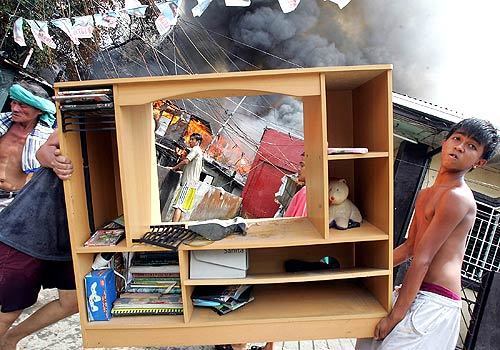 After fire breaks out in a squatters' neighborhood of Quezon City north of Manila, boys carry a television cabinet out of harm's way. The fire gutted a number of structures in an area of the Philippines where highly combustible houses are built in close proximity, and serve as kindling for the inferno.
(Pat Roque / AP)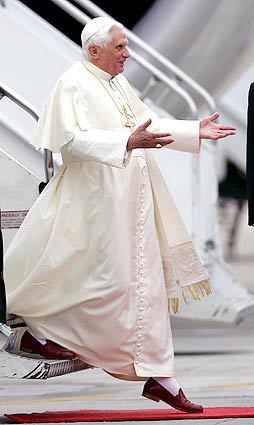 Pope Benedict XVI alights on terra firma in his first trip as pontiff to Latin America. His visit to Brazil, the most populous Catholic country in the world, is widely seen as an attempt to bolster the faithful against attrition to evangelical churches and to the allure of what has been described as liberation theology, a philosophy the pope finds subversive.
(Silvia Izquierdo / AP)