20 Images
The Week in Photos: May 7-13
Tina Balena, 29, of Santa Clarita; left, Ryan Van Horn, 28, of Murphys; Angel Gladden, 28, of Santa Clarita and Roy Gladden, 31, of Santa Clarita ride the new roller coaster, Tatsu, at Six Flags Magic Mountain in Valencia on Tuesday.
(Myung J. Chun / LAT)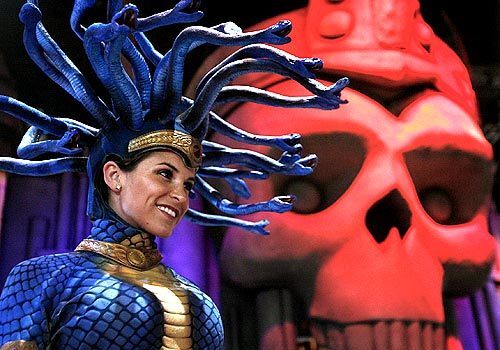 Lauren McCorcle models a Medusa-like character from Sony Online Entertainment's "Gods & Heroes" during the Electronic Entertainment Expo at the Los Angeles Convention Center on Wednesday.
(Myung J. Chun / LAT)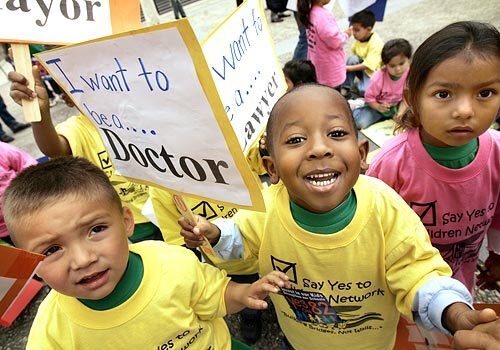 Carlos Burgoin, left, Dameon Butler and Janette Vega, all 4, from the Center for Community and Family Services in Lynwood prepare Tuesday for the third annual Say Yes to Children Network rally in downtown Los Angeles. The group advocates for improvements in children's safety, healthcare and education. The march also supported Proposition 82, the universal preschool initiative.
(Al Seib / LAT)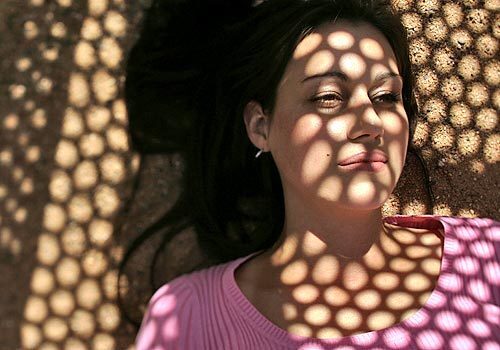 Sara Hammon, 30, said her father, who gave sermons on purity and propriety, began abusing her when she was about 5. She left the home in Colorado City, Ariz., where her father had 19 wives, as a teenager.
(Damon Winter / LAT)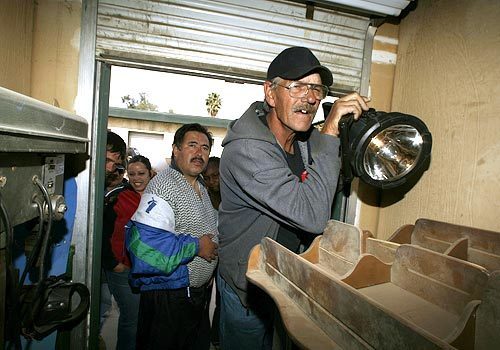 Chris Robinson peers into a unit at Airport Mini Storage in Riverside, but he'll have to guess at what's inside. Bidders on unclaimed property are not allowed to reach in to touch anything inside, so most of the times they are bidding on boxes without knowing what they hold.
(Irfan Khan / LAT)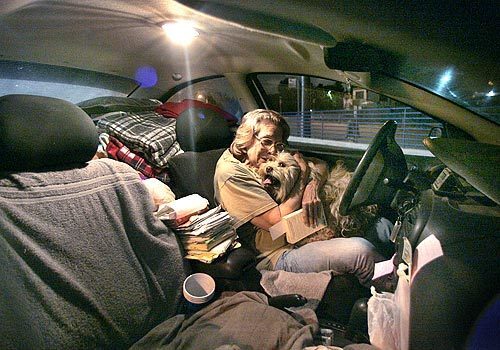 After a night of reading in her car, and before turning in for the night, Lee Sevilla hugs her dog Sandy in the parking lot at a store in El Segundo. The 71-year old homeless woman, the subject of a Steve Lopez column this past week, has lived in her car for more than eight years.
(Richard Hartog / LAT)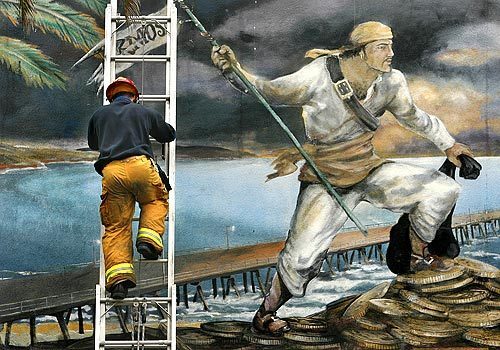 A firefighter climbs down a ladder Tuesday after a blaze gutted Sharkeez, a nearby restaurant and nightclub in Hermosa Beach. Officials say there were no injuries in the 4:30 a.m. fire, which began in the upstairs portion of the club, but the building was a total loss.
(Wally Skalij / LAT)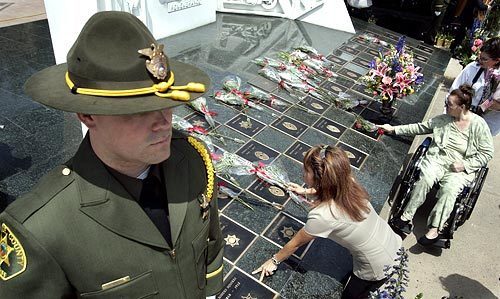 Tracy Preciado, left, reaches to place flowers on her dad's memorial plaque at the 20th annual Orange County Peace Officers' memorial ceremony in Santa Ana on Wednesday. Fullerton police officer Tommy De La Rosa, killed in 1990, was Tracy's father. Floris Greely, a 72-yr-old Costa Mesa resident, places flowers on Edwin Jensen's memorial plaque from her wheelchair. Jensen, a Santa Ana police officer, killed in 1931, was Greeley's uncle.
(Don Kelsen / LAT)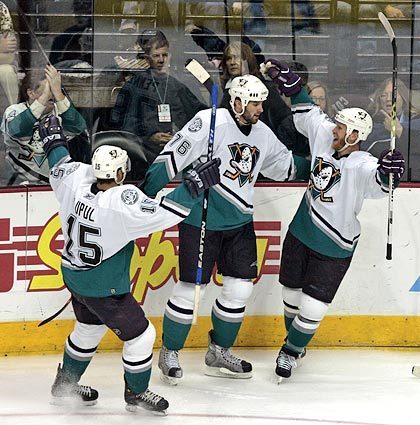 Anaheim Mighty Duck Joffrey Lupul, left, and Todd Marchant, right, celebrate Dustin Penner's, center, third period goal to win game 4 at the Pepsi Center in Denver on Thursday. The Mighty Ducks won the semifinal round against the Colorado Avalanche 4 games to 1.
(Allen J. Schaben / LAT)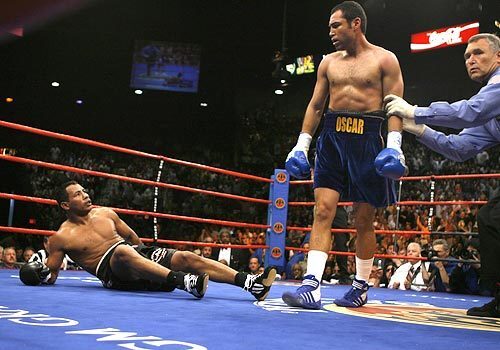 Oscar de la Hoya knocks down Ricardo Mayorga at the MGM Grand Garden Arena in Las Vegas on Saturday. De la Hoya won the fight in the sixth round.
(Wally Skalij / LAT)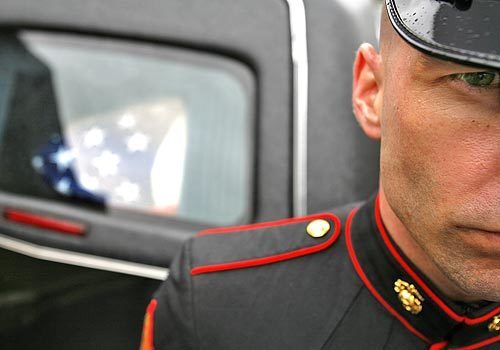 A Marine stands at attention after a funeral service for Marine Lance Cpl. Michael L. Ford, at a cemetery in Onset, Mass., on Tuesday. Ford, 19, of New Bedford, Mass., was killed April 26 in Iraq when his tank hit a roadside bomb in Anbar province.
(Peter Pereira AP/The Standard-Times)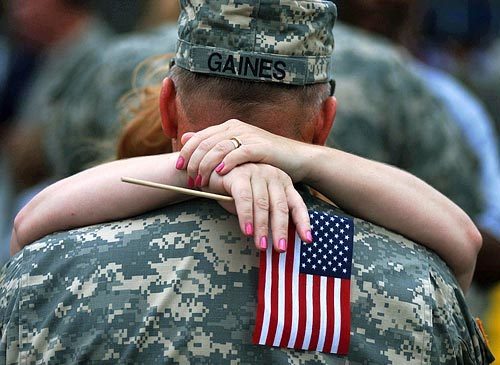 Georgia National Guardsman Sgt. Thomas Gaines kisses his wife, Michelle, of Valdosta, Ga., during a welcome home ceremony Thursday at Ft. Stewart, Ga. About 280 members of the Georgia National Guard 48th Brigade returned home from a year-long deployment to Iraq.
(Stephen Morton / Getty Images)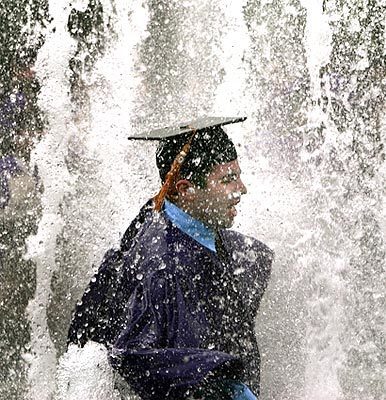 A New York University student celebrates in a fountain after the conclusion of the 174th commencement exercises Thursday in New York City.
(Spencer Platt / Getty Images)
Sri Lankan Wasantha Jayaweera bows before his father, P. M. Sirisoma, to receive his consent to enter the priesthood at a ceremony this week in the village of Polgahawela. Sri Lanka is organizing mass ordination campaigns across the country to celebrate the 2,550th anniversary of Buddhism.
(Lakruwan Wanniarachchi AFP/Getty Images)
A Russian Mi-14 helicopter crashes into the Sea of Okhotsk during rescue exercises near the Russian island of Sakhalin on Thursday, in this photo from television. One person was killed, emergency officials said.
(RTR TV / AP)
The sun sets behind the three sailboats painting a golden glow on the waters off Boracay Island on Tuesday. The tiny resort island in the central Philippines, a prime tourist destination, is hosting the ASEAN economic ministers meeting.
(Leo Solinap AFP/Getty Images)
A policeman checks the security seals on ballot boxes delivered to the Fijian electoral headquarters in Suva on Wednesday. Voting continues in racially-divided Fiji's week-long elections with the ethnic Indian Fijian Labour Party bidding to regain the power it has twice lost in indigenous nationalist coups in 1987 and 2000.
(Torsten Blackwood AFP/Getty Images)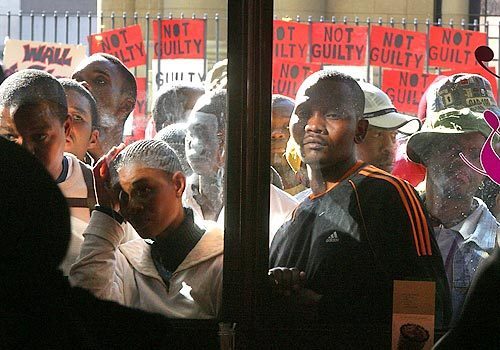 South Africans look at a television set inside a coffee shop outside the courthouse where former Deputy President Jacob Zuma was found not guilty in his rape trial in Johannesburg on Monday. Zuma's trial transfixed the nation while sending out mixed messages on AIDS and sexual violence. Zuma was accused of raping a 31-year-old, HIV-positive family friend. He said the sex had been consensual.
(Jerome Delay / AP)
Palestinian boys in Gaza City inspect a car damaged during clashes between Fatah and Hamas gunmen on Tuesday. The World Bank has warned of a breakdown in law and order, health services and education if foreign aid doesn't resume.
(Mohammed Saber / EPA)
Tulsi, 25, a eunuch from Bombay, bathes in a village pond before she wears a white sari, a traditional Indian dress that symbolizes her new status of widowhood after the death of her husband, the warrior God Aravan, in Koovagam, a village south of Madras, India, on Tuesday. Eunuchs gather in this small village to re-enact a story adopted from the Indian epic Mahabharata, in which they pretend to marry the warrior-god Aravan. Aravan had to be sacrificed by his people, the Pandavas, to win a war and was asked to get married and enjoy sexual bliss on his last night alive. To fulfill this wish, Hindu Go Lord Krishna briefly took on a female form - then became a "widow" the next day. Based on this myth, eunuchs regard themselves as the reincarnation of Lord Krishna.
(Gautam Singh / AP)