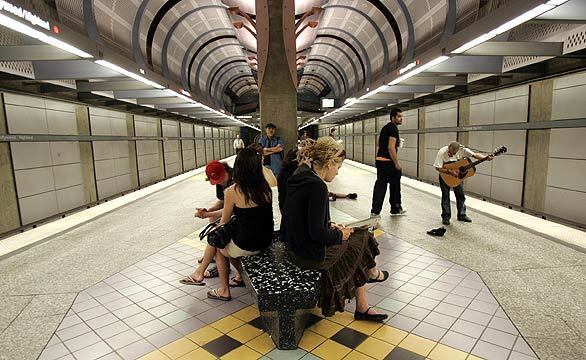 10 Images
In Focus: staff photos from May 11 - May 17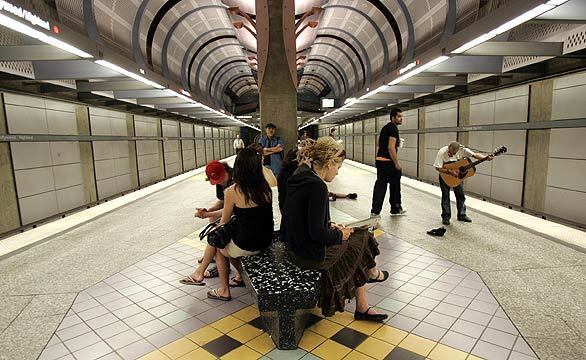 A man with his guitar serenades passengers waiting for a subway train at the Hollywood-Highland station in Los Angeles.
(Gina Ferazzi / Los Angeles Times)
The Lakers' Derek Fisher gets tangled up with Carlos Boozer during the first quarter of the Lakers' victory over the Utah Jazz in Game 5 of the NBA Western Conference semifinals Wednesday.
(Wally Skalij / Los Angeles Times)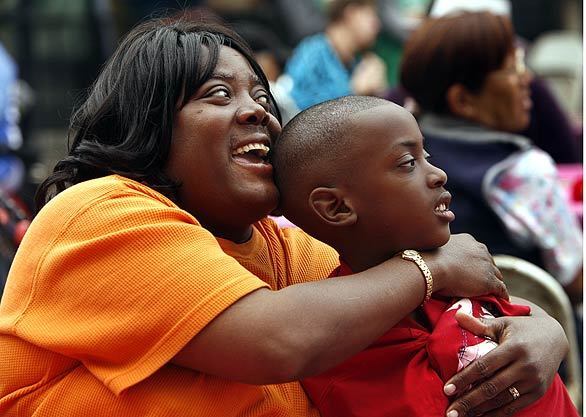 Carolyn Jones, who lives at the Union Rescue Mission with her three sons, sits with son Tyron, 6, during a Mother's Day gathering.
(Francine Orr / Los Angeles Times)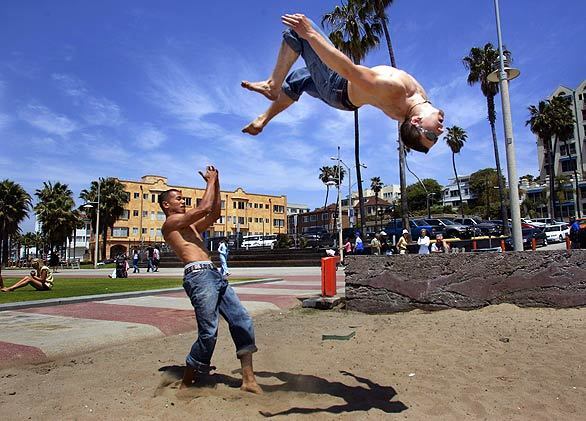 Acrobats Neal Cordova, left, and Ben Suvonnasupa work out just south of the Santa Monica Pier in Santa Monica. "This is the place where anybody who's active can come and find something to entertain themselves, and where everybody can feed off each other's energy," said Cordova.
(Richard Hartoh / Los Angeles Times)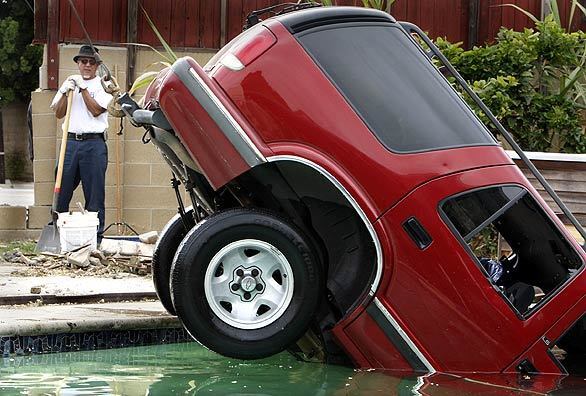 In Huntington Beach, cables lift a vehicle that crashed through a wall and landed in a pool in the 19400 block of McLaren Lane on Monday, injuring one person in the SUV. No one was home at the time.
(Mark Boster Los Angeles Times)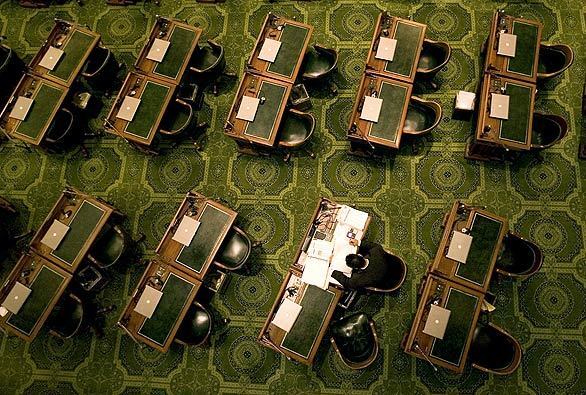 After his colleagues had adjourned for the day, Assemblyman Todd Spitzer (R-Orange) remains in the chambers Monday to study a bill that would expand food stamp eligibility for drug offenders. Currently those convicted of selling, manufacturing or distributing are ineligible.
(Robert Durell / Los Angeles Times)
Maria Paula Acuna blesses Cynthia Muro, 21, whose arms rise in the foreground in the Mojave Desert near California City. Acuna told Muro's family that the woman has a nerve problem and needs physical therapy. Followers attend this once-a-month ceremony, taking pictures of the sun in the hope of seeing a holy image. The gatherings started to take place after Acuna said she started to receive messages from the Virgin Mary while her daughter was sick with cancer. Cardinal Roger M. Mahony has disavowed Our Lady of the Rock.
(Brent Foster / Los Angeles Times)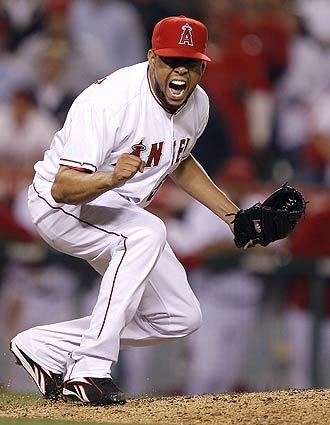 Angels closer Francisco Rodriguez is fired up after striking out Chicago's Jermaine Dye his 16th save, tops in the majors, during the the Angels' 2-0 win over the White Sox in Anaheim on Tuesday.
(Alex Gallardo / Los Angeles Times)
A Riverside County sheriff's deputy asks tribal Chairman Robert Salgado to leave the crime scene at the Soboba Indian Reservation on Tuesday, the day after a gun battle between deputies and two tribal members, who were killed.
(Irfan Khan / Los Angeles Times)
Anne Hjelle bikes the Coyote Run Trail inside the Aliso and Wood Canyons Wilderness Park. She has slowly regained her courage and her fear only rises when she's alone on a narrow trail surrounded by tall vegetation. Hjelle was attacked by a cougar four years ago while mountain biking in Whiting Ranch Wilderness park.
(Marc Martin / Los Angeles Times)