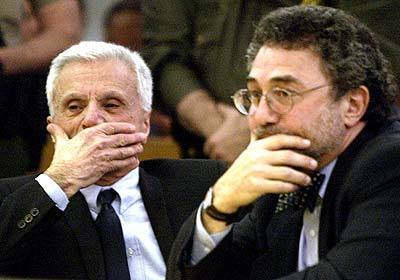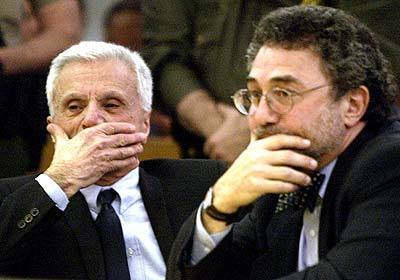 Robert Blake reacts after being found not guilty of murdering his wife, Bonny Lee Bakley, nearly four years ago. The jury returned the verdict after more than a week of deliberations in Los Angeles.
(Nick Ut / Pool)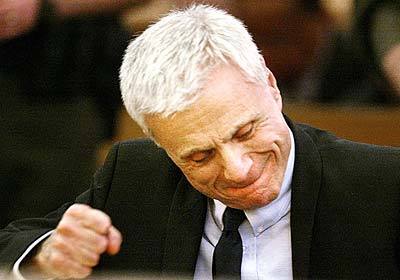 Robert Blake reacts to the jury's verdict of not guilty. Jurors, who deliberated for nine days, called the circumstantial evidence "flimsy." Blake would have faced life in prison if convicted.
(Nick Ut / Pool)
Robert Blake kisses his attorney, M. Gerald Schwartzbach, who is holding the electronic monitor that had been attached to Blake's leg since he was released on bail two years ago. Jurors in the 12-week trial said they did not believe two Hollywood stuntmen central to the prosecution's case.
(Gary Friedman / LAT)
Blake takes a drag from his cigarette before addressing the news media outside the Van Nuys courtroom after his acquittal. "I used to be a rich man. Right now, I couldn't buy spats for a hummingbird," an emotional Blake said.
(Damon Winter / LAT)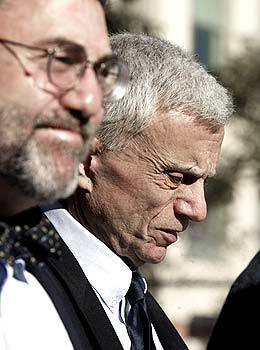 Actor Robert Blake and his attorney, M. Gerald Schwartzbach, arrive at the Los Angeles Superior Court in Van Nuys.
(Nick Ut / AP)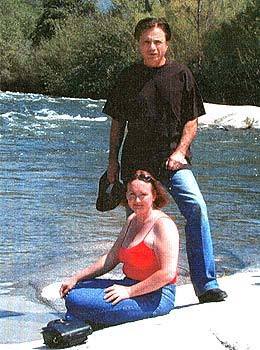 Robert Blake in April, 2001, with wife Bonny Lee Bakley during a vacation in California's Sequoia National Park.
(Courtesy of Harland Braun)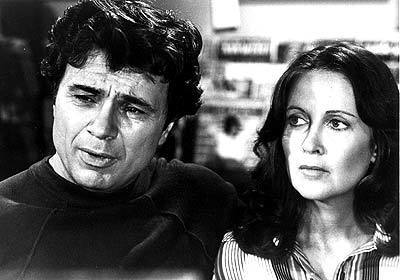 Robert Blake in a scene from the 1970's drama series "Baretta."
(AFP/Getty Images)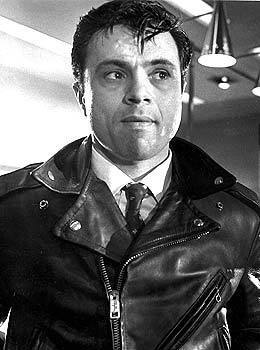 Robert Blake in the 1967 movie "In Cold Blood" in which he played killer Perry Smith.
(AFP/Getty Images)