17 Images
The Week in Photos: May 14-20
Phillip Maxson receives dialysis three times a week at a clinic in Mountain View, Calif.,and was on the waiting list for a kidney transplant with Kaiser, where he waited unsuccessfully. Now that the Kaiser program has been suspended, he says he is frustrated as he tries to find out his options.
(Robert Durell / LAT)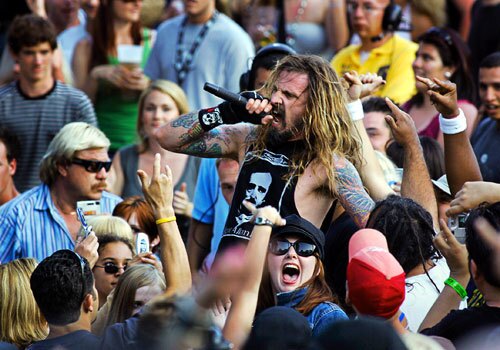 Rob Zombie makes his way into the crowd during KROQ's Weenie Roast at Verizon Wireless Amphitheatre in Irvine last Saturday.
(Christine Cotter / LAT)
L.A. Clipper Sam Cassell makes his shot over the Phoenix Suns' Raja Bell and Leandro Barbosa in Game 6 of the second round of the NBA Western Conference playoffs at Staples Center on Thursday night. The Clippers won to tie the series; Game 7 is Monday.
(Lori Shepler / LAT)
For 75 million dollars, you could buy the Mighty Ducks of Anaheim, a 737 Boeing jet or — a Corona del Mar oceanfront mansion. At least that's the asking price for the sprawling 30,000-square-foot home perched on a cliff above the Pacific. It's one of the highest priced homes outside the East Coast. The house includes a movie theater, shopping arcade and water park.
(Don Kelsen / LAT)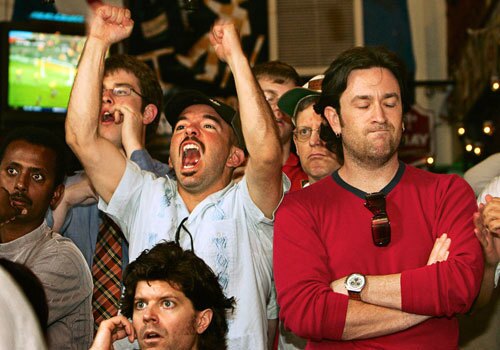 Alfonso Ruiz, 31, cheers after Barcelona scored a goal to take a 2-1 lead over Arsenal, while watching the game with others inside Lucky Baldwin's in Pasadena on Wednesday afternoon. The game televised on ESPN 2 was a champion league final between the top two teams in Europe. Barcelona won the game, 2-1.
(Mel Melcon / LAT)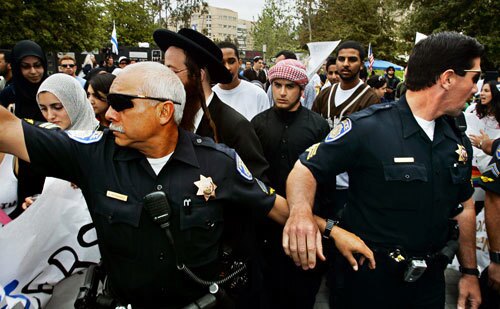 UC Irvine police Thursday maintain the peace between students from the Muslim Student Union and Jewish students during a noontime rally and speech entitled, "Israel: The 4th Reich." There were no arrests and no violence between the two groups.
(Mark Boster / LAT)
Kody Johnson, 45, of Logan, Utah, left, and brother Kameron cq Johnson, 43, of Thousand Oaks help celebrate the 60th anniversary of Tommy's Hamburgers on Monday at the original shack at the corner of Beverly and Rampart boulevards in Los Angeles. Kody joked that the "burgers were better than a fried baloney sandwich."
(Myung J. Chun / LAT)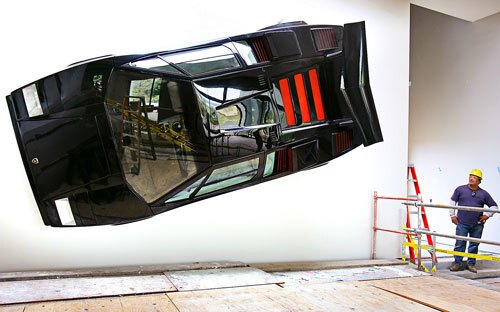 Herold Viberti, of Long Beach, checks out the 1974 Lamborghini as it sits suspended from hooks that he helped weld into the home of Newport Beach resident Richard Moriarty. The car was hung on the wall as an art piece in the home, which is under construction.
(Rick Loomis / LAT)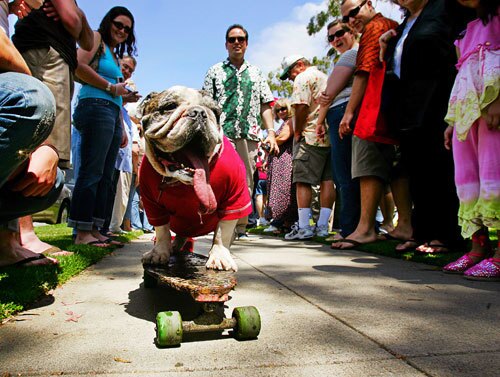 Look Ma, no hands! Darla Bell wows the crowd during the pet parade last Sunday in Belmont Shores. Darla Bell and owner Darrin Stout, in background, joined more than 250 English bulldogs and owners gathered for the Bulldog Beauty Contest at the annual pet adoption and vendor fair at Livingston Park.
(Spencer Weiner / LAT)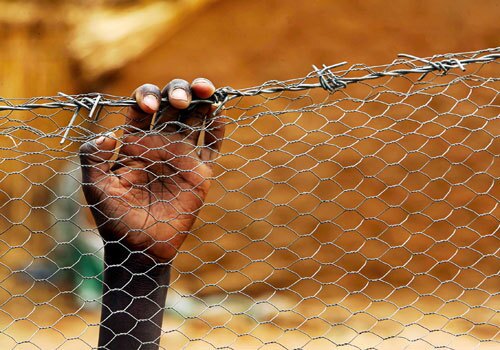 A child's hand grasps barbed wire at Abu Shouk camp, northwest of Al-Fasher, the capital of North Darfur, on Wednesday. Abu Shouk is the largest camp in North Darfur, with more than 50,000 internally displaced people in 2003 and 2004. Almost a year and a half after Sudan's north-south peace deal, ambitious plans for the return of millions of displaced people are being quashed by a host of physical and financial obstacles.
(Ramzi Haidar / AFP / Getty Images)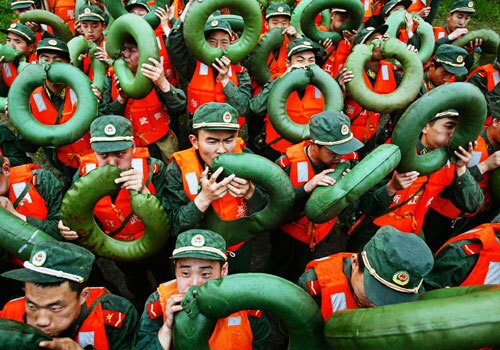 Chinese paramilitary police blow up buoy quoits to prepare for the storm in Hangzhou, east of China's Zhejiang province, Wednesday. Typhoon Chanchu churned its way toward southern China as the region prepared for the storm. It was the strongest storm on record to enter the South China Sea in May.
(EPA / STR)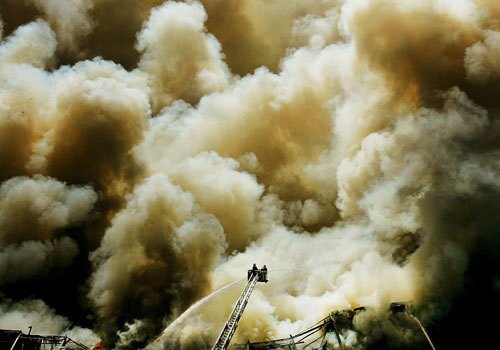 Firefighters battle a warehouse blaze along the Mississippi River on Wednesday in New Orleans. The three-alarm fire occurred at two abandoned Port of New Orleans wharfs along the Mississippi riverfront and the cause of the fire was under investigation.
(Mariol Tama / Getty Images)
Autumn Letendre, left, the widow of Marine Capt. Brian S. Letendre, watches as Capt. Aron Tevr, right, presents a U.S. flag to Dillon Letendre, 3, Brian Letendre's son, during the officer's burial at Arlington National Cemetery in Arlington, Va., on Monday. At Dillon's left are his father's nephew, Tristan Letendre, 7, and Capt. Letendre's parents, June and Milton Letendre. Capt. Letendre was killed in Iraq on May 3.
(Donnie Biggs / AP)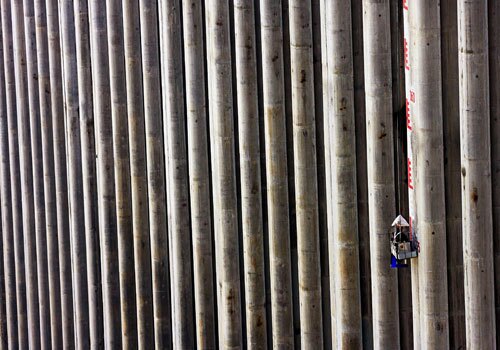 A worker paints the water level marker on the soon-to-be completed Three Gorges Dam project in Yichang on Wednesday. Construction of China's Three Gorges Dam, set to become the world's largest hydroelectric power project, will be completed nine months ahead of schedule on May 20, after the project was launched in 1993 in the middle reaches of China's longest river, the Yangtze.
(Goh Chai Hin / AFP / Getty Images)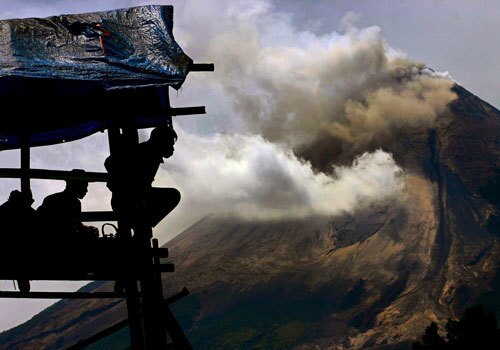 Tunggularum villagers sit on a tower as they watch Mt. Merapi spewing hot thick smoke on Monday in Indonesia. Mt. Merapi spat out clouds of deadly hot ash and debris throughout the week as activity intensified.
(Himawan / EPA)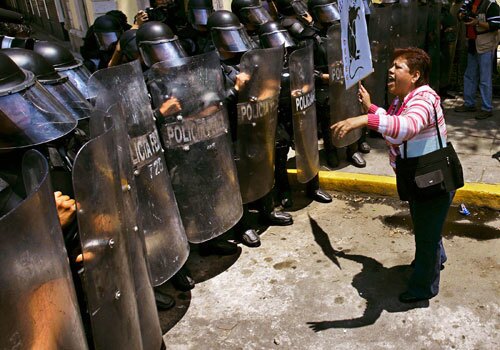 A teacher shouts at police in downtown Mexico City during a Teacher's Day march, Monday, May 1, 2006. Teachers are demanding the release of those detained during the violent clashes in the village of San Salvador Atenco last week.
(Eduardo Verdugo /AP)
A man attempts to cross a washed out bridge in Dover, N.H., on Monday. Rain pounded New England for days in what may have been the region's worst flooding since the 1930s.
(Craig Osborne / AP)