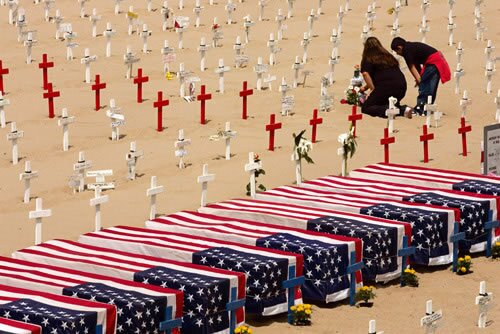 20 Images
The Week in Photos: May 27 - June 2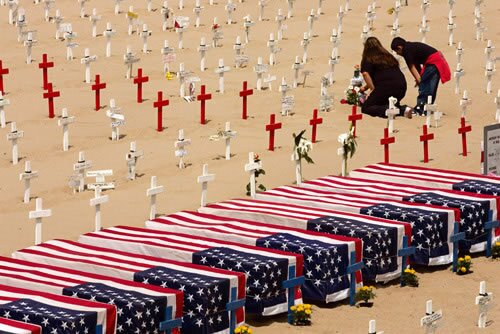 Dubbed Arlington West, crosses decorate the sand at Santa Monica Beach on Memorial Day to commemorate lives lost in the Iraq war. Maria Reynoso,14, and Tadeo Gonzalez, 9, from Baldwin Park pay respects to their cousin Mario Daniel Gonzalez, 21, who was killed in November. At Los Angeles National Cemetery in Westwood, where nearly 85,000 veterans are buried, hundreds came to honor America's war dead and mourn a lack of respect. Air Force Lt. Gen. Michael Hamel told the crowd that Memorial Day has lost its meaning for many Americans, that it has become a three-day weekend kicking off summer rather than a holiday conceived in the wake of the Civil War "to remind ourselves that freedom is not free.... "
(Anne Cusack / LAT)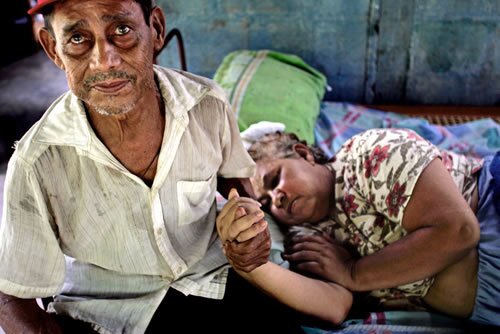 The pesticide DBCP manufactured by Dow Chemical Company and used by Dole Food Company is alleged to have made Nicaragua banana workers sterile 30 years ago. After years of a legal wrangling, a case is going to trial in L.A. this summer. Two of the people with an interest in the outcome are Primitivo Presentacion Perez, who worked for 25 years at a banana plantation, and Leticia Vidabre, his ailing former co-worker. She died of kidney failure less than a month after this photo was taken.
(Annie Wells / LAT)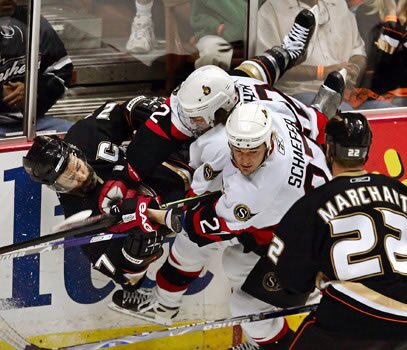 Under the helpless gaze of his teammate Todd Marchant, Scott Niedermayer of the Anaheim Ducks catches air courtesy of the Ottawa Senators' Mike Fisher, whose teammate Peter Schaefer skates away in the first period of the NHL Stanley Cup Finals at the Honda Center Wednesday. The Ducks emerged victorious, 1-0, to take a two-game lead in the best-of-seven series, which resumes Saturday in Ottawa.
(Christine Cotter / LAT)
Many Las Vegas properties have turned their swimming pools over to promoters to stage money-making, alcohol-fueled parties, and effectively rendering a formerly sleepy venue into a veritable daylight nightclub. These revelers cool off at the hot Bare party in the infinity pool at the Mirage hotel. Bare, like some pool parties in town, is a top-optional affair.
(Gina Ferazzi / LAT)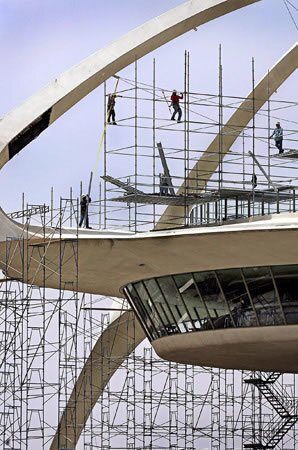 Workers erect scaffolding Friday to begin repairing the stucco covering the upper arches of the landmark Theme Building at LAX, which houses Encounter Restaurant & Bar. Renovations were ordered after a half-ton chunk of stucco fell off the structure in February. The facility will be closed until the repairs are completed.
(Al Seib / LAT)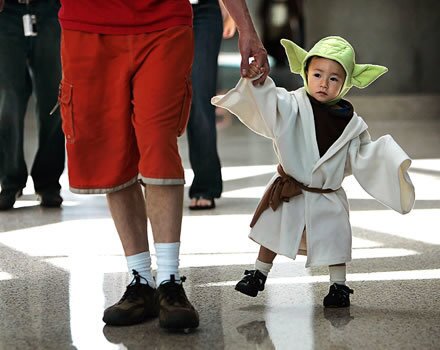 Celebrating the 30th anniversary of the "Star Wars" film saga, fans gather for Star Wars Celebration IV at the L.A. Convention Center downtown. Jasper Manning, 2, assumes the character of Yoda in the company of his father, Chad Manning. Franchise producer George Lucas sanctioned the Memorial Day weekend event
(Mel Melcon / LAT)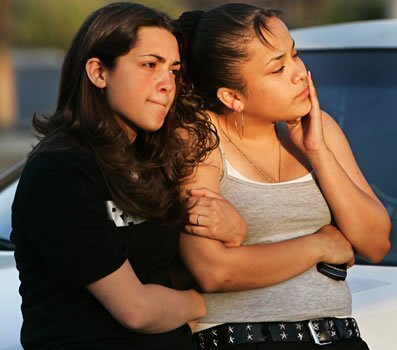 Perris High School students Cynthia Almaguer,18, and Letti Guzman, 16, comfort each other at the school after three classmates were killed and another critically injured while driving Wednesday on the 15 freeway in Escondido. En route to a senior field trip to San Diego, the dead students, all boys who were to have graduated Saturday, were believed to have been racing another car when the accident occurred. The tragedy recalled memories of a similar misfortune two years ago, when four local teens were killed.
(Gina Ferazzi / LAT)
Kellie Lim was 8 when bacterial meningitis forced the amputation of both legs below the knee, her right hand and forearm, and three fingertips on her remaining hand. Today, the fourth-year UCLA medical student embarks on a new adventure--she's learning to swim, despite a former fear of water. Poised to begin her medical residency in pediatrics, Lim attributes much of her perseverance and determination to her mother, Sandy, who went blind in her 20s and sought to continue as normal a life as possible in raising three children. "She definitely was a great role model for me," Lim says. "It was hard for her to overcome her blindness, and I think she definitely instilled a strength in me."
(Mark Boster / LAT)
Clarinet player Tiffany Zoller, 11, spreads a blanket over a wooden bench where she, her brother and mother sleep each night next to dozens of other homeless families and single adults. Some of the children who live with their families at the Isaiah House Catholic Worker shelter in Santa Ana also practice music there, and recently performed at Carnegie Hall in New York City.
(Allen J. Schaben / LAT)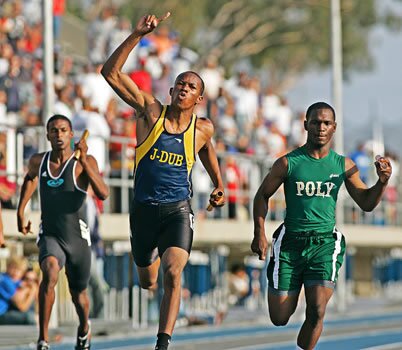 Before the Southland's top track and field athletes could secure hotel reservations for the state championships this weekend in Sacramento, they had to endure one final meet in front of the hometown crowd in the Southern Section's Masters meet at Cerritos College. Among the victorious on Friday was sophomore Reggie Wyatt of Riverside North, who lowered his sophomore state record in the 300 hurdles by winning in 36.52 and, as the anchor runner here, clinched the 400-meter relay.
(Lori Shepler / LAT)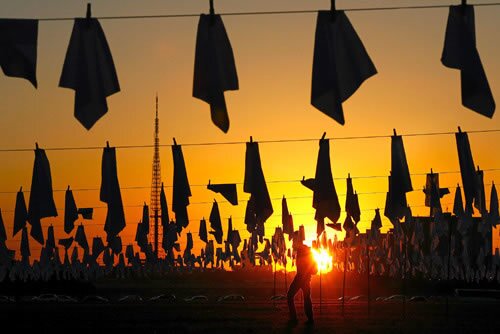 Peace activist members of non-governmental organizations hung 15,000 white clothes representing people killed by firearms in front of the Brazilian Congress on Wednesday. One activist, "Rio da Paz" President Carlos Costa, called out citizens who remain passive in the face of such social unrest: "If society does not support the task of security of the authorities," he said, "the country will not be able to emerge from barbarism." Calling poverty, social inequality and corruption the fuel for violence, he said that only a decent job and salary would keep people away from drug dealers.
(Eraldo Peres / AP Photo)
The parched earth of Canal M in West Palm Beach speaks eloquently about the historically low levels of water in Florida's Lake Okeechobee. South Florida's worst known drought continues into what, in normal years, is the rainy season.
(South Florida Water Management District / AP Photo)
University students offer a show of hands, some inscribed with the word "peace," during a protest Wednesday in Caracas, Venezuela. Former presidential candidate Manuel Rosales, a top opponent of President Hugo Chavez, demanded the release of jailed protesters as the students poured into the streets for a third day to protest the removal of a leading opposition TV station, RCTV, from the air.
(Howard Yanes / AP Photo)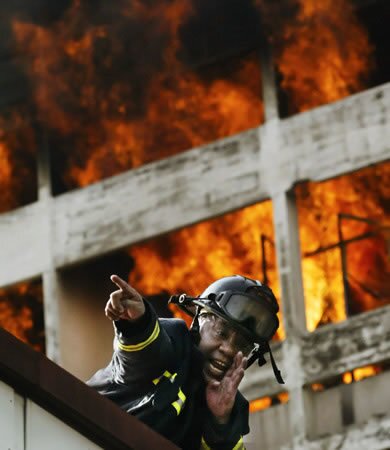 A firefighter shouts for more water as a blaze rips through the Philippine President Line building in Manila, Philippines, Wednesday. The Bureau of Fire Protection (BFP) dispatched all the firetrucks in Metro Manila to extinguish the persistant fire that one fire-fighting official said was the longest he had encountered in his 20-year career. No casualties were reported, but some investigators suspect arson as the cause of the fire, which reportedly burned for several hours before authorities were notified. It destroyed the four upper floors of the building, which housed offices of the Maritime Industry Authority (Marina), an agency under the Department of Transportation and Communications that oversees the shipping industry.
(Francis R. Malasig / EPA)
A peregrine falcon chick named Juliette is examined Tuesday by personnel of the Michigan Department of Natural Resources at the Fisher Building in Detroit. For more than a decade the swift-flying falcons have nested on a ledge above the entrance to the building, just outside the fifth-floor offices of Girl Scouts of Metro Detroit. This year three chicks were banded and named Juliette, Troop and Samoa, the latter of which probably indicates the cookie preferences of the human handlers rather than the chicks.
(Carlos Osorio / AP Photo)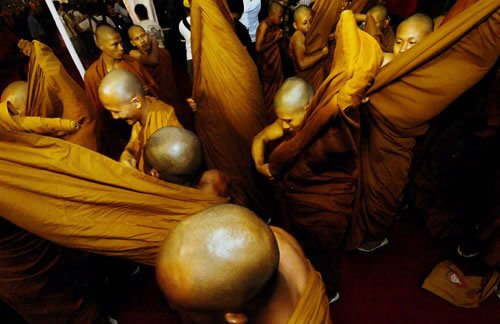 Indonesian Buddhist monks prepare Thursday for Waisak, or Buddha's birthday, at Mendut tample in Magelang, Central Java, Indonesia. Buddhists in the world's largest Muslim-populated nation will celebrate the annual Waisak festival on June 1.
(Ali Lutfi / AP Photo)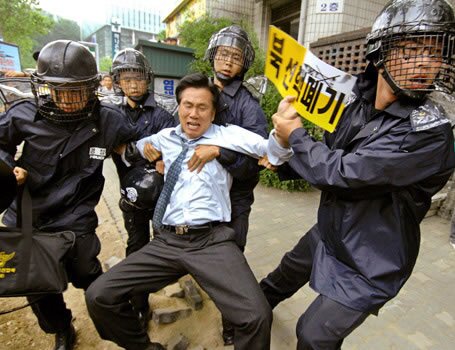 A South Korean protester holding a placard reading "North Korea must first scrap its nuclear program" is removed Tuesday by riot police outside a venue of inter-Korean ministerial talks in Seoul. The protest came shortly before North Korean delegates arrived for the four-day meeting, which some observers expected to be a bit rocky, given that the North boycotted a round of ministerial talks in July when the South postponed aid after Pyongyang test-fired missiles. These talks are the 21st such meeting since the historic Inter-Korean Summit in 2000.
(Jung Yeon-Je / AFP / Getty Images)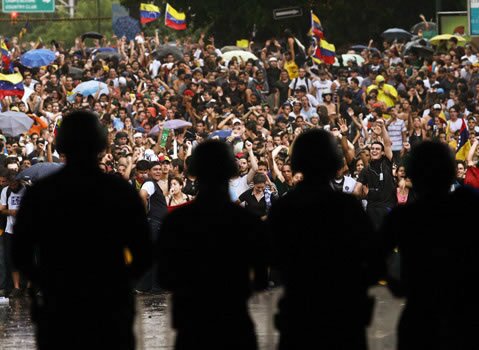 Riot police in Carcacas Tuesday are silhouetted against a throng of university students protesting Venezuela President Hugo Chavez's decision to shutter an opposition TV station, Radio Caracas Television (RCTV), and replace it with a new state-funded channel.
(Howard Yanes / AP Photo)
In the world's second-poorest country, where the majority of teachers are untrained, where 70% of the the population is unemployed and parents cannot afford to send their children to school, these young girls are among the lucky youth in Sierra Leone to receive an education. Here they act out a song at Kailahun Community pre-primary daycare center in the south-eastern part of the country. On Wednesday, as part of his farewell world tour, outgoing British Prime Minister Tony Blair visited the West African country where he is venerated for sending British troops to intervene and end a brutal 11-year civil war in 2002.
(Tugela Ridley / EPA)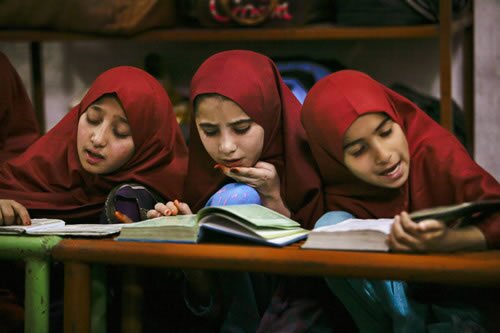 Young students study at the Jamia Hafsa women's school or Madrassa at the Lal mosque on Monday in Islamabad, Pakistan. The Jamia Hafsa, which is affiliated with the famous Lal Masjid (red mosque), has been steeped in controversy recently. Brothers Maulana Abdul Aziz and Abdul Rashid Ghazi, who run the Mosque, have been vehement in their support for the so-called "jihad against America," and have condemned President Pervez Musharraf. In July 2005, Pakistani security forces unsuccessfully attempted to raid the mosque following the suicide bombings that month in London. And recently, British schoolgirl Misbah Rana, also known as Molly Campbell, was reported to have been interested in joining the Jamia Hafsa after arriving in Pakistan at the center of an international custody row.
(Paula Bronstein / Getty Images)