Backed by the snow-speckled Coast Mountains and numerous uninhabited islets, an anchored sailboat appears to have the azure waters of Desolation Sound, at the northern end of the Sunshine Coast, all to itself.
(Jim Richardson / CORBIS)
Totem poles, carved by native Canadians, are a common sight in the Pacific Northwest. They are often regarded as protectors.
(MARGO PFEIFF)
Three of the four goats that Lori Kemp keeps at Hiker's Haven, her Powell River B&B. The native Newfoundlander is Canada's first commercial pack-goat outfitter.
(MARGO PFEIFF)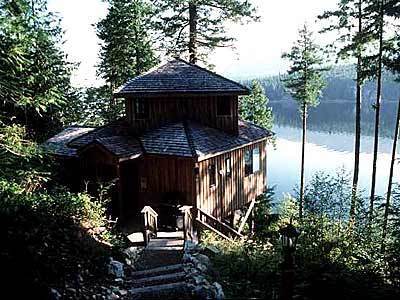 Overlooking Okeover Inlet at the beginning of Desolation Sound, the author's two-story cedar chalet at Desolation Sound Resort had a fireplace and a bedroom in the turret.
(MARGO PFEIFF)
The waterfront Malaspina Ranch at Pender Harbour offers wildlife-viewing horseback rides into the hills.
(MARGO PFEIFF)
The Laughing Oyster seafood restaurant is near the northernmost town of Lund, at the end of the road along the Sunshine Coast.
(MARGO PFEIFF)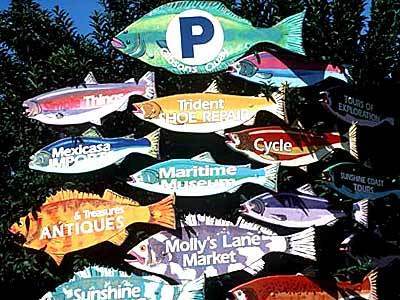 Signs at Gibsons Landing put the emphasis on fish. Like the Sunshine Coast as a whole, the artsy town draws people for an array of reasons.
(MARGO PFEIFF)