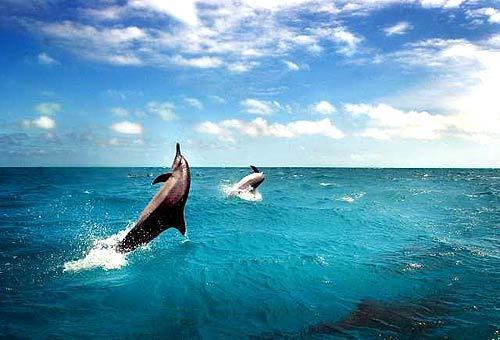 18 Images
The Week in Photos: June 11-17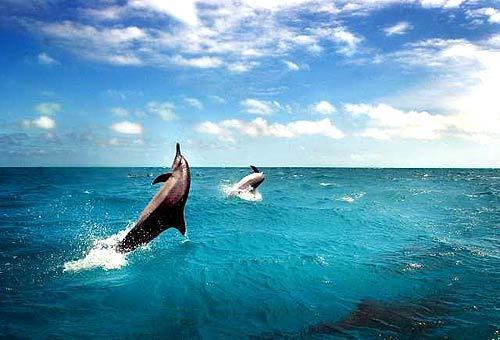 Spinner dolphins frolic near Midway Atoll, in a region rich in marine life that includes green turtles, monk seals and millions of nesting seabirds. President Bush this week created the world's largest marine protected area, 140,000 square miles of the Pacific Ocean, including the area around the atoll.
(Rick Loomis / LAT)
LAPD officers Tuesday hold supporters of an urban garden at bay. Protesters camped out at the 14-acre garden at Alameda and 41st. streets as L.A. County sheriff's deputies moved in to evict those on the land. About 40 people were arrested.
(Al Seib / LAT)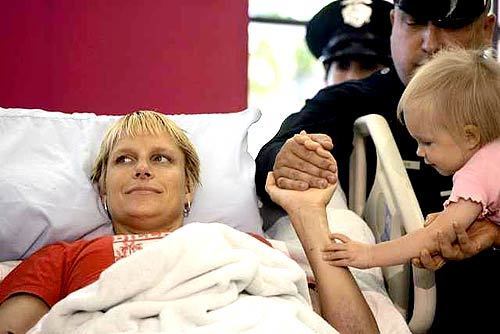 LAPD Officer Kristina Ripatti smiles as her patrol partner Joe Meyer holds her hand and her daughter Jordan touches her arm. Meyer shot and killed the man who wounded Ripatti on June 3. Ripatti was greeted by a police honor guard in the lobby of California Hosiptal on Tuesday, the day she was released from the hospital and sent to another facility for rehabilitation.
(Gary Friedman / LAT)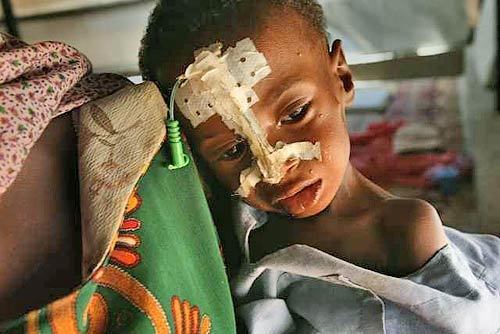 At the Adre Hospital in Chad, many of the youngest patients suffer from malnutrition. They are put on a nurishment program that includes six feedings per day.
(Carolyn Cole / LAT)
Anesthesiologist Dr. Cathy Shin, left, and pediatric surgeon Dr. James Stein, right, separate Regina from her sister Renata during the 21-hour surgery to separate the 10-month-old conjoined twins at Childrens Hospital Los Angeles. The marathon surgery was declared a success, and the two babies were in stable condition at the end of the week.
(Javier Manzano / LAT)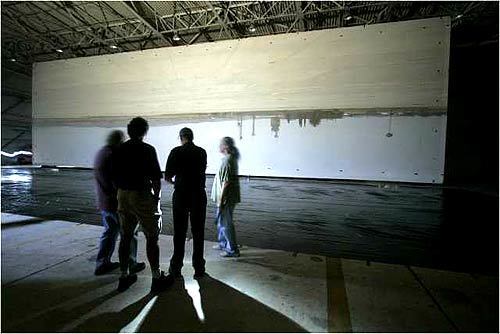 Artists are illuminated in a hangar by a strobe one is holding, and by the pinhole - in this 30-second exposure. On the wall is the base's image, backward and upside down.
(Don Kelsen / LAT)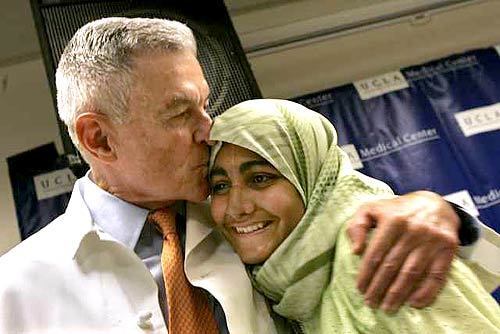 Marwa Naim is embraced by Dr. Timothy Miller, chief of plastic surgery at UCLA Medical Center on Monday. He along with Dr. George Rudkin performed reconstructive surgeries on Marwa, a 12-year-old girl from Iraq who suffered a devastating facial injury when a U.S. missile struck her home. Her mother was killed in the blast. She has undergone a four-month series of surgeries donated by UCLA after she was brought to the U.S. by several humanitarian organizations.
(Anne Cusack / LAT)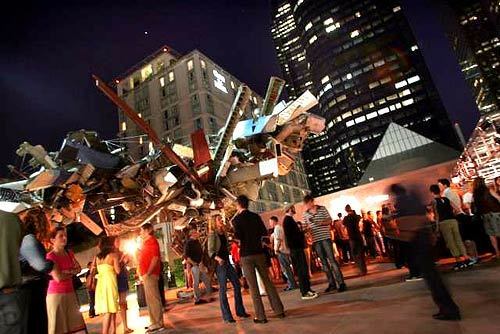 Visitors mingle outside at the Museum of Contemporary Art in downtown Los Angeles. The museum is open until midnight on Saturdays during the summer.
(Richard Hartog / LAT)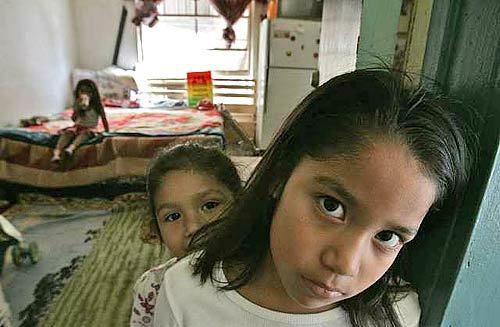 Cousins Michelle Gonzalez, left, and Nelly Ortega-Chan live in a building whose landlord is being sued. The L.A. city attorney's office is basing its case on an antitrust law to try to prevent those living under rent control from being forced out so the landlord can get new tenants and charge higher rents.
(Luis Sinco / LAT)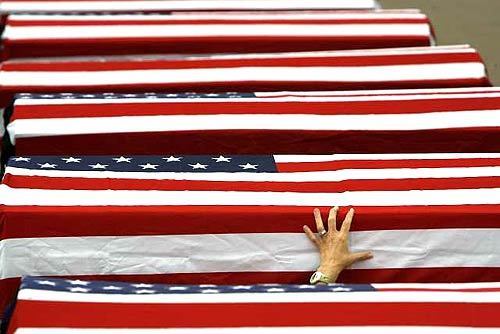 Allison Yorra of Washington lays inbetween flag-draped mock caskets Wednesday outside the White House in Washington, DC. Yorra and about 40 demonstrators participated in a "Silent Walk" by carrying the caskets from the Washington Hilton to the White House to celebrate Flag Day and to call for an end to the war in Iraq.
(Chip Somodevilla / Getty Images)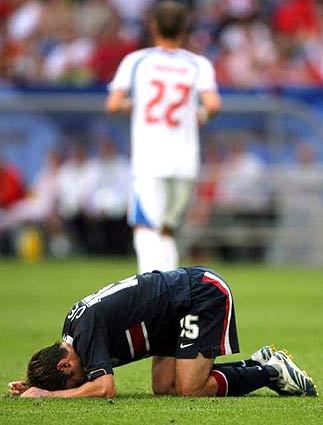 Dejected Bobby Convey from the U.S. team after the Group E match of the World Cup between the U.S. and the Czech Republic in Gelsenkirchen on Monday. The Czech Republic won 3-0.
(Youry Kochetkov / EPA)
President Bush boards Air Force One at Andrews Air Force Base on Monday night en route to Iraq. Bush paid a surprise visit to that country to show his administration's support for the new Iraqi government.
(Reic Draper EPA/White House)
Dallas Mavericks fans, from left, Corey Ray, Dustin Jobert, Sam Hudson and Taylor Ray, all of Coppell, Texas, chant outside the American Airlines Arena before Game 3 on Tuesday of the NBA basketball finals between the Mavericks and the Miami Heat in Miami. They probably weren't celebratng after the game. The Heat won in the final minutes.
(Lynne Sladky / AP)
Roger St. Cyr, commander of the Sons of the American Legion Post 464, sets fire to 8,000 flags behind Legion Post 286 in New Carlisle, Ohio during an official ceremony Wednesday for Flag Day.
(Bill Lackey AP/Springfield News-Sun)
Scarlet, a 2-year-old Siberian husky, gets a bath before an event at the AKC-sanctioned dog show at the Twin Falls County Fairgrounds on Tuesday in Filer, Idaho.
(Ashley Smith AP/Times-News)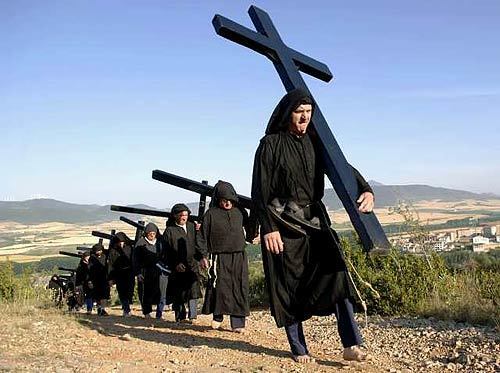 Penitents dressed in black monk habits carry heavy crosses during the Cruceros brotherhood penitential pilgrimage to the Ermita de la Trinidad on June 11 in Lumbier, Spain.
(Ander Gillenea / Getty Images)
Miguel Angel Jimenez of Spain puffs on a cigar at the 10th green during a practice round at Winged Foot Golf Club on Wednesday in Mamaroneck, N.Y. The 106th U.S. Open finishes Sunday.
(Morry Gash / AP)
Visitors view the artwork of French artist Kader Attia, shown at the Art Unlimited Basel, Switzerland, on Wednesday. The Art Unlimited exhibition presents 70 art projects from 26 countries.
(Georgios Kefalas / EPA)