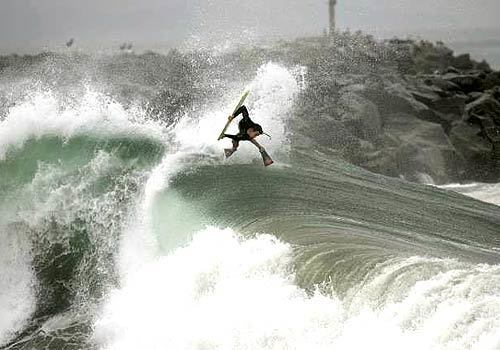 20 Images
The Week in Photos: June 18-24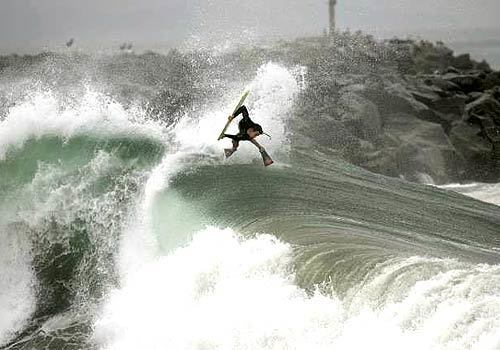 A bodyboarder goes airborne at the Wedge in Newport Beach, where surfers rode waves that reached as high as 20 feet. Other south-facing beaches in the area saw waves up to 12 feet.
(Allen J. Schaben / LAT)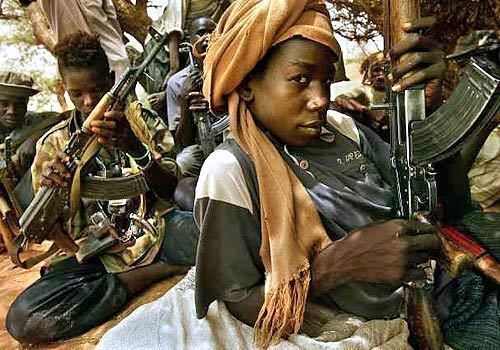 Annour Ahmed, 19, left, and Annour Issak, 17, have been with the Sudan Liberation Army for the last five years. The SLA, a leading Darfur rebel group, has set up a training camp across the border near Ade, Chad. Despite talk of a Sudan peace agreement, SLA members are training on the eastern border of Chad.
(Carolyn Cole / LAT)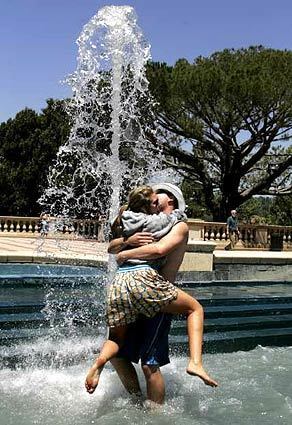 Suzanne Bell and Scott Buhl celebrate graduating from UCLA with a dip in the Shirley and Ralph Shapiro Fountain near Royce Hall in Westwood last week.
(Genaro Molina / LAT)
Anne-Laure Leny and Dan Lieberman anxiously watch the World Cup game at Yankee Doodles sports bar in Santa Monica last Saturday afternoon. The U.S. and Italy ended the game tied, 1-1. Later in the week, the U.S. was eliminated from the competition.
(Genaro Molina / LAT)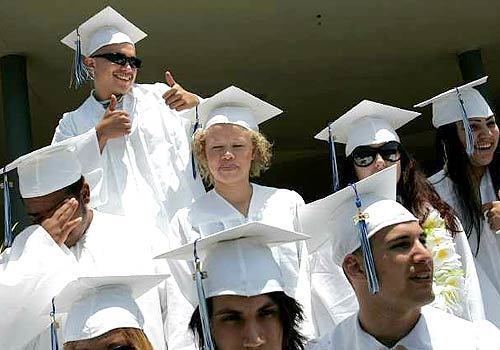 Isaac Castillo, 19, upper left, celebrates with fellow graduates of L.A. Unified continuation schools in a ceremony in gang-neutral Pacific Palisades. Featured this year in a Times series about Van Nuys dropouts, he finished his studies at an alternative campus.
(Genaro Molina / LAT)
Mikhail Baryshnikov, 58, dances against a sped-up video projection of his youthful self in "Years Later" Wednesday at the Lobrero Theatre in Santa Barbara.
(Gary Friedman / LAT)
A worker is dwarfed by a mountain of trash at a solid waste recycling center in Vernon.
(Luis Sinco / LAT)
Mata Amritanandamayi, better known as "Amma" or "Ammachi," hugs a child at the Hilton Los Angeles Airport. Amma, 52, is revered in her native India, where she is known as the "hugging saint." She has gained a reputation for good works over the last 30 years as a result of charitable institutions she has established and for her personal outreach. She is touring the U.S. with stops in Dallas, Chicago, New York and Washington.
(Genaro Molina / LAT)
A duck and its offspring make their way around a Huntington Beach neighborhood Thursday. The procession attracted a parade of youths excited to see the seven ducklings.
(Allen J. Schaben / LAT)
A grunion, having fulfilled its genetic destiny by laying as many as 3,000 eggs, prepares to dash back to the sea. Pomona College students are conducting a hands-in-the-sand research study into how human activity affects the grunion population.
(Don Kelsen / LAT)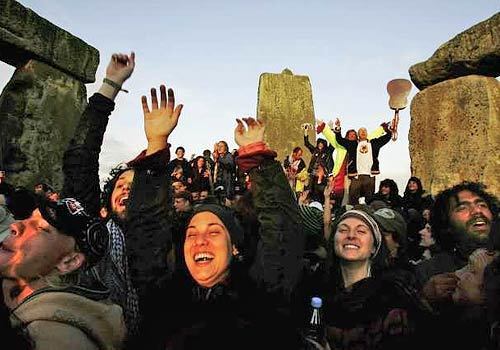 Revelers watch as the sun rises over Stonehenge on Salisbury Plain on Wednesday in Amesbury, England. Police estimated that about 17,000 people traveled to watch the sun rise over the 5,000-year-old stone circle to start the longest day of the year.
(Daniel Berehulak / Getty Images)
Protesters march and beat drums in downtown Vienna on Wednesday as they demonstrated against President Bush's visit. Bush was in Vienna to attend a European Union summit.
(Darko Bandic / AP)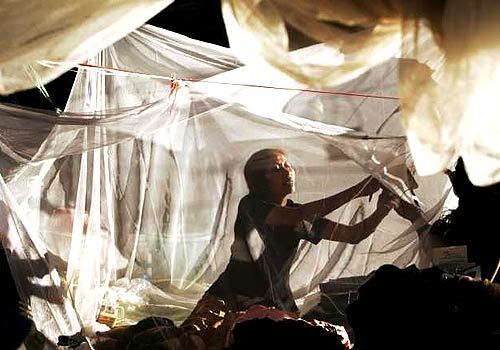 An East Timorese woman sits among mosquito nets at a refugee camp in Dili, the capital of East Timor, on Thursday. Thousands of East Timorese are sleeping in refugee camps, afraid to go home because of lingering instability and violence as East Timor's prime minister considers resigning.
(Ed Wray / AP)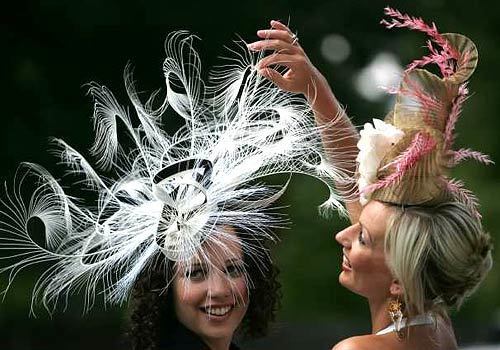 Jodie Sykes, right, adjusts the hat of her friend Alexander Stone as they attend the first day of the annual Royal Ascot horse race meeting in Ascot, England on Tuesday.
(Alastair Grant / AP)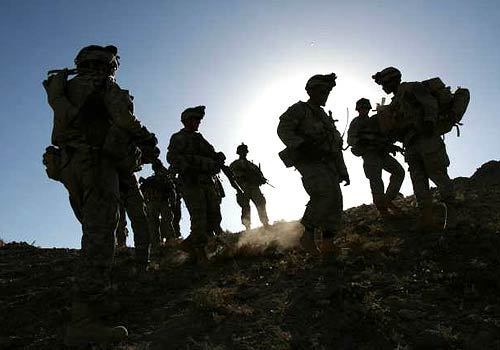 U.S. soldiers from the 2nd Battalion, 87th Infantry Regiment, 10th Mountain Division prepare to make a patrol near a fortified position in a mountain in Helmand province in southern Afghanistan on Tuesday in an effort to oust Taliban militants.
(Rodrigo Abd / AP)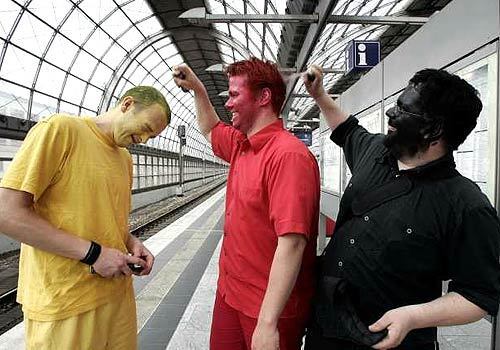 Three supporters of the German soccer team paint their faces with black, red and yellow, the colors of the German flag, on Tuesday at the Berlin-Spandau railway station before going to the Olympic stadium to watch Germany play Ecuador in the World Cup. Germany won 3-0.
(Timm Schamberger AFP/Getty Images)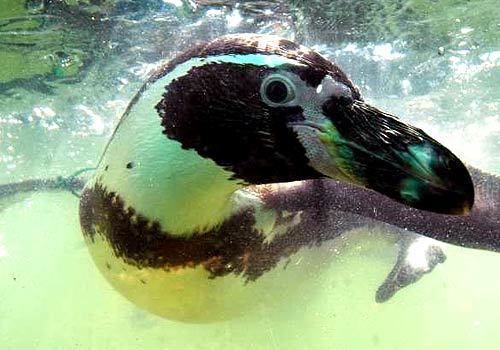 A Humboldt penguin takes a bath in his new pool in the zoological garden in Dresden, Germany on Monday.
(Matthias Rietschel / AP)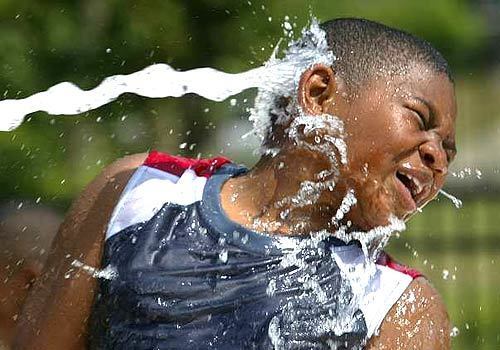 Anthony Phillips, 9, turns his head as he gets shot with a water cannon at the Lake Drive Tricentennial Park SprayGround on Thursday in Mobile, Ala.
(Bill Starling AP/Press-Register)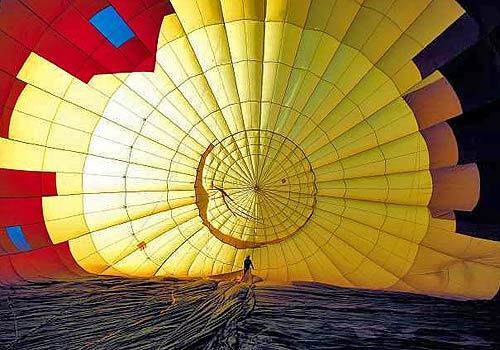 Todd Schweer is dwarfed by his hot air balloon as it inflates Thursday in Gypsum, Colo.
(Shane Macomber AP/Vail Daily)
Carolina Hurricanes center Eric Staal kisses the Stanley Cup after the team won game 7 of the hockey finals at the RBC Center in Raleigh, N.C. on Monday.
(©James Guillory / US PRESSWIRE)