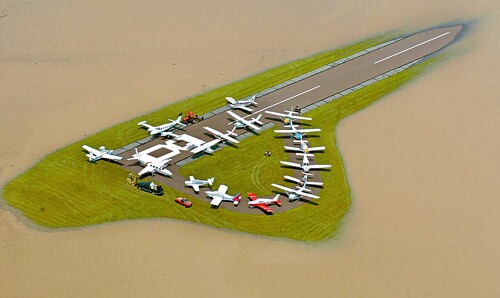 19 Images
The Week in Photos: June 25-July 1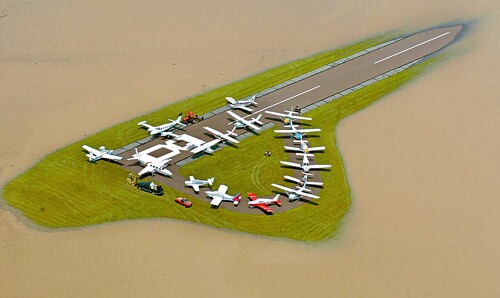 Small planes are clustered after being towed to the only remaining dry land at Bloomsburg Airport, as floodwaters from the Susquehanna River encroached on the airstrip Wednesday in Bloomsburg, Pa.
(Jimmy May / AP Photo)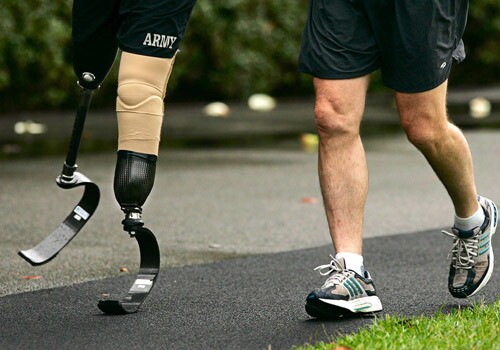 President Bush jogs with Army Staff Sgt. Christian Bagge, who lost both legs to a roadside bomb in Iraq, at the White House on Tuesday. The 23-year-old Oregon native was riding in a convoy near Kirkuk about a year ago when a blast tore apart his Humvee.
(Matthew Cavanaugh / EPA)
Christina Menchaca, 18, center, is comforted by her family at the casket of her husband, 23-year-old Pfc. Kristian Menchaca, during funeral services Wednesday in Brownsville, Texas. Menchaca, of the 101st Airborne, was kidnapped from a checkpoint in Youssifiyah, Iraq, and killed.
(Dave Einsel / Getty Images)
Lightning strikes the city of Zurich, Switzerland, on Thursday. The churches are, from left, the Preachers church, the Fraumuenster and the St. Peter's church.
(Alessandro Della Bella / EPA)
Ukrainian athlete Viktor Yastrebov competes in the long jump during the European Cup meeting in Ciudad de Malaga stadium in Malaga, Spain, on Thursday.
(Jose Manuel Vidal / EPA)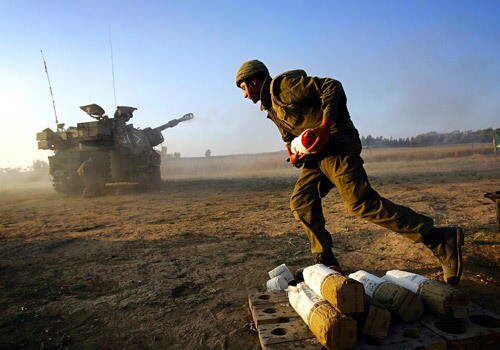 An Israeli soldier rushes an artillery round to a waiting canon as Israeli forces shell the Gaza Strip from a stretch of farmland near the Israeli kibbutz Nahal Oz on Wednesday. Israel launched the military offensive in the Palestinian territories to try to free a kidnapped soldier.
(David Furst / AFP / Getty Images)

Hanging out in the Chagrin River are, from left, Neil Burkett, Brian Burkett, Patrick Burkett, Kevin Burkett, Nick Pavelecky, and Thomas Medves, in Willoughby Hills, Ohio on Tuesday as rain saturated the area.
(Chuck Crow / AP)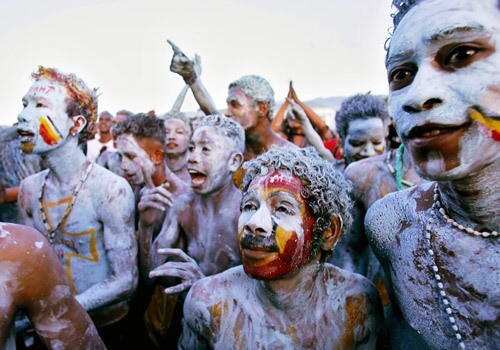 East Timorese demonstrators celebrate after Prime Minister Mari Alkatiri's announcement that he would resign in Dili, the capital of East Timor. The embattled prime minister announced his resignation Monday, triggering celebrations in the violence-scarred capital and raising hopes for an end to weeks of unrest.
(Ed Wray / AP)
Afghan children race to pick up candy thrown to them by passing U.S. soldiers near an American outpost in Zabul province in southern Afghanistan. American forces are the main element of 10,000 coalition troops finishing the second week of Operation Mountain Thrust, aimed at rooting out Taliban fighters.
(John Moore / Getty Images)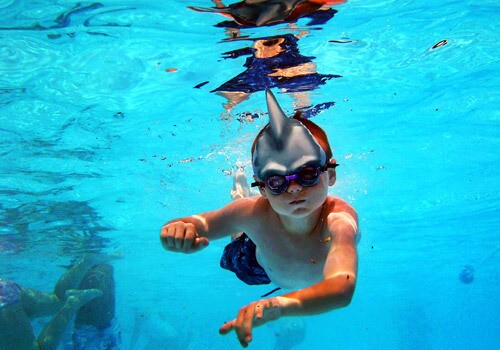 Jacob Sirois, 7, wears a shark mask while swimming at the Mill Pond Park's pool Tuesday in Newington, Conn.
(Lauren Tagliatela / AP)
The wreckage of a twin-engine plane smolders last Saturday after crashing at Cable Airport in Upland. Three people were injured in the crash.
(Irfan Khan / LAT)
Alma Rovi, a 69-year-old Panamanian, gets a kiss from minister Ruben Blades during the annual parade of the thousand polleras(the national costume) that runs through Calle Cincuenta, one of Panama City's main arteries.
(Beatrice de Gea / LAT)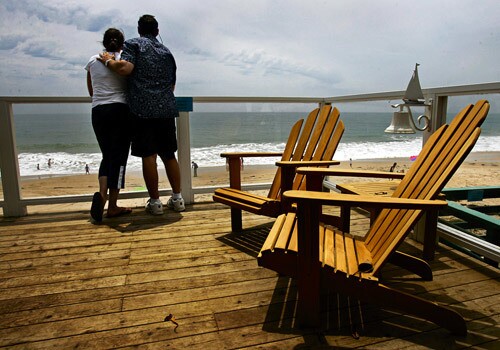 Rita and Gary Stenlund hug each other Monday after being one of the first families to rent one of the historic cottages in Crystal Cove near Laguna Beach. Fourteen of the cottages were restored at a cost of $14 million and are rented by the state park system on a nightly basis.
(Mark Boster / LAT)
Joseph Ramirez, 13, helps carry the casket of his brother, Anthony Michael Ramirez, 11, who was gunned down June 21 in San Bernardino while they were playing basketball. More than 400 people attended the funeral Thursday at St. Anthony's Church in Riverside.
(Karen Tapia Anderson / LAT)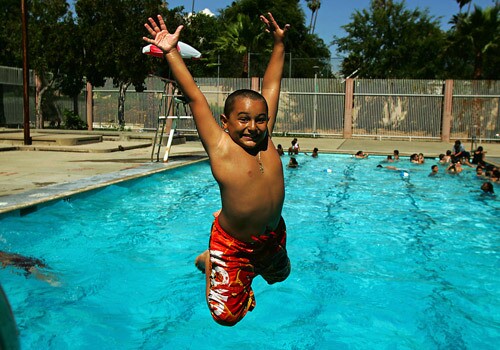 Michael Ocon, 7, cools off on a very hot Wednesday by jumping off the diving board at the swimiming pool at Villa Parke Community Center in Pasadena.
(Gary Friedman / LAT)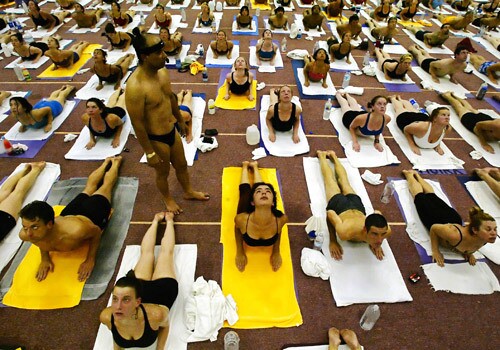 Bikram Choudhury, guru and creator of the 26-pose form of hot yoga, leads students at the Bikram Yoga College of India in Los Angeles, where devotees practice in temperatures well over 100 degrees.
(Luis Sinco / LAT)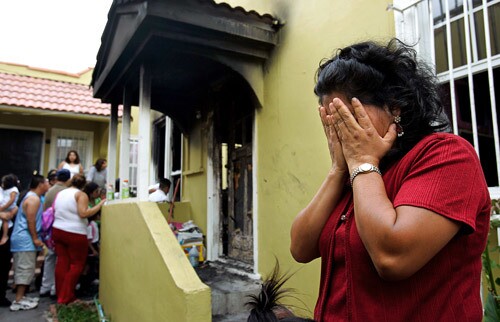 Family and friends react with grief Tuesday after an early morning fire killed a mother and daughter in a small apartment on the 1300 block of 2nd Street in Los Angeles. Alicia Cruz and her 4-year-old daughter died in the blaze.
(Carlos Chavez / LAT)
Tonja Frederickson, of Santa Fe Springs, exercises her horse Bubbles at the Pico Rivera Sports Arena stables. The city plans to evict horse owners and destroy the stables, as prelude to development. The horse owners vowed not to leave.
(Ricardo DeAratanha / LAT)
If the speed of a roller coaster ride, the height of a ferris wheel ride or a walk on the Santa Monica Pier didn't provide a break from the heat, surfers and beach-goers could hit the ocean to cool off Wednesday.
(Allen J. Schaben / LAT)