11 Images
In Focus: Staff Photos from July 8 - July 14
Two years ago, 19-month-old Susie Peña lost her life as the innocent victim in a shootout between police and her father. On Tuesday, her tearful mother Lorena Lopez, above center, was comforted by Arcy Carranza at a news conference in downtown L.A. where Lopez called for the resignation of Police Chief William J. Bratton. A man who said his name was Big Money Griff holds a sign expressing a heartfelt sentiment.
(Richard Hartog / LAT)
Healing ailing rivers is Mark Hill's specialty. So when the ecologist visits one of his works in progress, he's prepared to paddle a long and sinuous route to assess the health of his watery patient, in this case, the Lower Owens River. The 62-mile-long stretch was left essentially dry in 1913 after its flows of Sierra snowmelt were diverted into the Los Angeles Aqueduct. After decades of political bickering, water was directed back into the riverbed in December, launching the largest river restoration effort ever attempted in the West. Recently, Hill took his first survey of the river via kayak. He, and other scientists, have been pleasantly surprised by the river's recovery.
(Don Kelsen / LAT)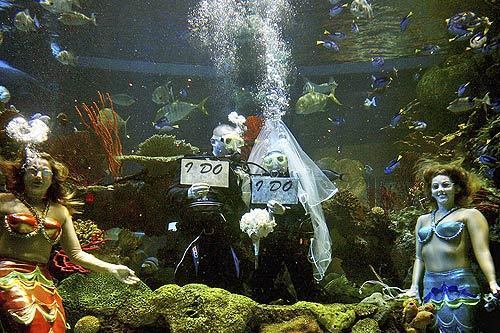 David Heilman and Charlene Jimenez employ a non-oral method to communicate "I do" in the Silverton Casino's aquarium on Saturday. Witnesses to the marriage ceremony on a date presumed by many people to be lucky (7/7/07) included tropical fish and ring-bearing mermaids. Let's hope this is one promise that happens in Las Vegas but doesn't stay there.
(Barbara Davidson / LAT)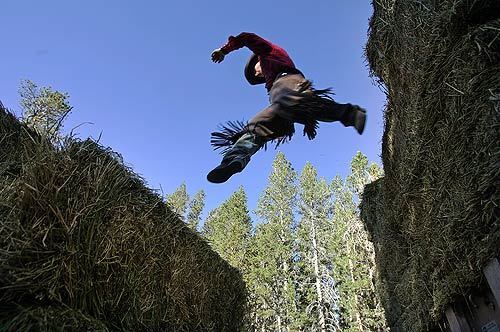 In the Eastern Sierra town of Mammoth City, Mammoth Lakes Pack Outfit has been meeting backcountry needs since 1915. The founder's grandson now runs the enterprise out of a creaky, weatherworn shack. Here, one of the resident cowboys negotiates a stack of hay bales that feed the horses and mules that constitute transportation for backcountry campers. For adventurers seeking access to remote parts of the Eastern Sierra without hauling all the gear necessary for a comfortable trip, such outiftters are indispensible.
(Spencer Weiner / LAT)
For photographer Glen Wexler, the very boring-ness of the bovine, the dullness of the dairy denizen, inspired him to create "The Secret Life of Cows" -- a book of surreal images created with digital imaging technology accompanied by an exhibition at Santa Monica's Bergamot Station's Track 16 Gallery. "I think cows are hysterical," says gallery owner Tom Patchett. "They look hysterical when they are standing there chewing their cud and looking at you when you are bearing down on them. Most animals would say: 'Run for your life, something's coming,' but they just sort of wait until it's too late." Here, Wexler fronts one of his udderly otherworldly images, assisted by Candy Kuehl-Van Winkle and Mark Wyse of A&I Photographic & Digital Services where Wexler had his printing done.
(Rick Loomis / LAT)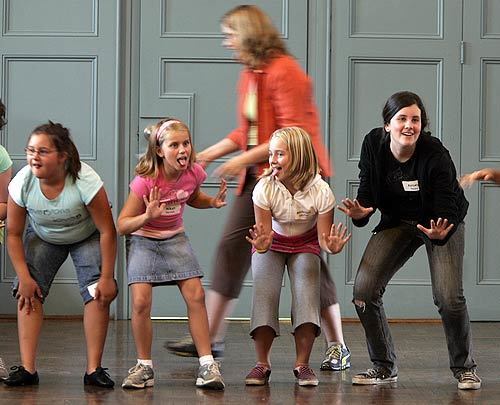 "Keepers of the Night," an opera by Peter Ash and Donald Sturrock, was commissioned by the Los Angeles Children's Chorus. It's the rare opera intended to be performed primarily by kids but enjoyed by a broader audience. "This isn't just a young person's thing," says director Corey Madden, depicted here with youthful members of LACC's Opera Camp at Pasadena Presbyterian Church last month. "Keepers," says Madden, is "a very smart and funny fable about the opera world and about the power of the young to see through adult social and artistic pretensions."
(Francine Orr / LAT)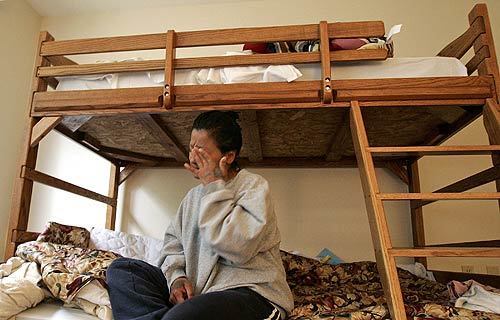 Veronica Duran-Ramirez, 35, finds refuge in her new home at Hope Gardens Family Center, a transitional housing site for women and children that opened two weeks ago north of Lake View Terrace. She fled an abuser who left her with two broken legs, no money and no home. Living on the streets of North Hollywood with her daughter, 10, and son, 7, Duran-Ramirez was one of several such families Tuesday at the former senior citizens retirement home whose 71 acres are a world away from their former lives on the street. In the next year, the Union Rescue Mission on skid row, which runs the center, plans to move as many as 225 homeless women and children to Hope Gardens.
(Francine Orr / LAT)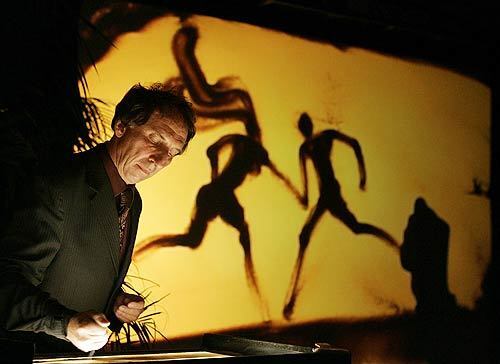 Hungarian artist Ferenc Cako creates animated images using sand and light at a preview Tuesday for the Orange County Fair, which opened today. Each night at the fair, the artist will project images onto a screen that tell stories accompanied by music.
(Allen J. Schaben / LAT)
Dodgers center fielder Juan Pierre gets horizontal in pursuit of a line drive by Florida Marlins outfielder Alfredo Amezaga. Although Pierre's effort was not successful here in the third inning, by the end of nine Sunday, the Dodgers ruled, 9-3.
(Stephen Osman / LAT)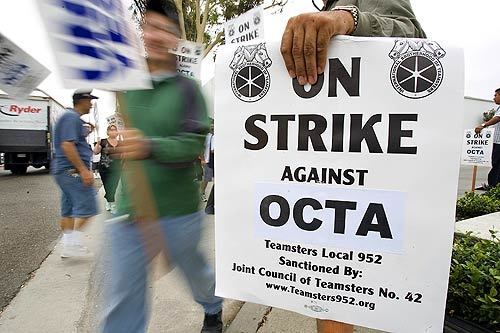 More than 225,000 Orange County bus commuters found themselves without transportation this week as union members went on strike, shutting down 50 bus routes. On Tuesday, picketers made their feelings known outside an Orange County Transportation Authority bus yard in Garden Grove. The work stoppage began at midnight last Saturday, and talks contined through the week. The primary bone of contention was disagreement over how much of the pay raises should be allocated to workers with less seniority.
(Don Kelsen / LAT)
Sailors acknowledge the loss of a respected member of their community Monday, dropping flowers into the ocean before the start of the Transpacific Yacht Race from San Pedro to Hawaii. They honored Wendy Ellen Siegal, who was found drowned next to her boat last week. Siegel, 55, of Long Beach, was a schoolteacher and a past participant and a promoter of the 2,225-mile race. Police said they did not suspect foul play in her death.
(Stephen Osman / LAT)