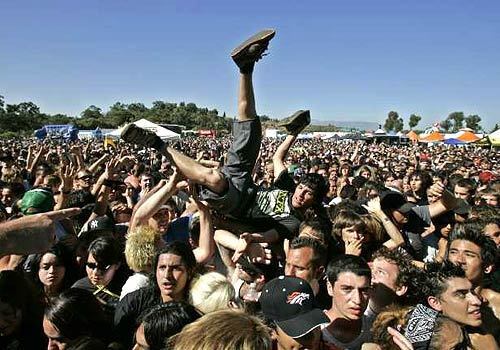 19 Images
The Week in Photos: July 9-15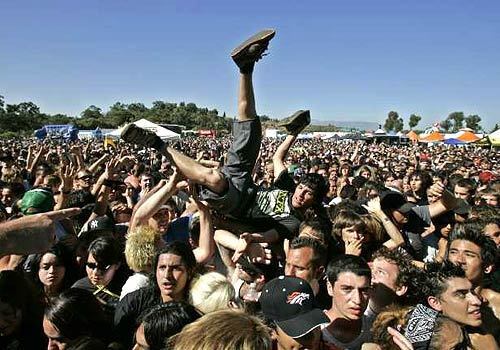 A fan crowd-surfs July 12 at the Vans Warped Tour, an all-day annual concert in the Dodger Stadium parking lot in Los Angeles.
(Allen J. Schaben / LAT)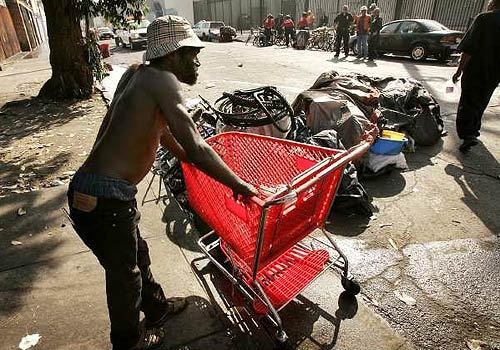 Nelson Ware, who has been living in and around downtown Los Angeles' skid row for at least 20 years, stands by his belongings while cleaning crews from the Central City East Assn. prepared to clean the sidewalk with high-pressure hoses. Demonstrators protested the cleaning effort, saying it was part of a campaign to harass and chase out the homeless.
(Al Seib / LAT)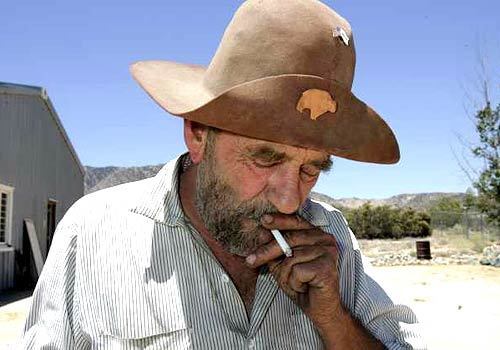 James Huff, a Wrightwood area resident, says he does not agree with the vandalism that is occuring along the construction site of SR 138. Some residents are upset with the need to circumvent the construction zone.
(Glenn Koenig / LAT)
The Balboa Fun Zone has been a fixture on the Newport Harbor coast since 1936. In September the amusement park will close to make way for construction of the Newport Harbor Nautical Museum.
(Mark Boster / LAT)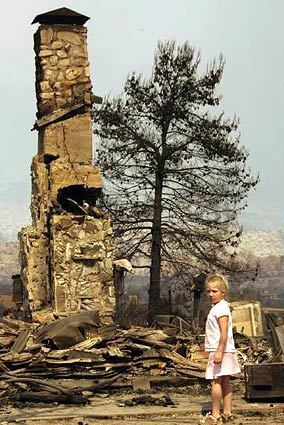 Six-year-old Ayriel Fonseca looks at the remains of her grandmother Lawna Wilson's home in Pioneertown as the Sawtooth Complex fire raged through the Yucca Valley this week.
(Irfan Khan / LAT)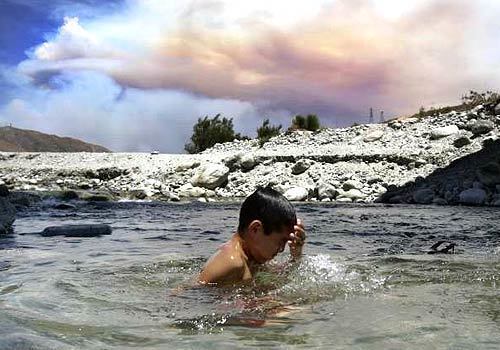 With fires burning behind him, 11-year-old Fernando Lopez of Indio stays cool in the Whitewater River. Temperatures hovering in triple digits were fueling the wildfires.
(Gina Ferazzi / LAT)
Because of chilly temperatures in March and April and an unseasonably warm June, lotus blossoms did not appear in time for the annual Lotus Festival held last weekend inn Echo Park in Los Angeles.
(Brian Vander Brug / LAT)
Six artists who turned a former jet hangar at the El Toro Marine Corps Air Station in Orange County into the world's largest pinhole camera stand before their "Great Picture," a 3,505-square-foot photograph of a runway. The shot was exposed over 35 minutes as part of an effort to chronicle the Irvine base's conversion into a 1,300-acre regional park. From left are Clayton Spada, Robert Johnson, Jacques Garnier, Jerry Burchfield, Douglas McCulloh and Mark Chamberlain.
(Don Kelsen / LAT)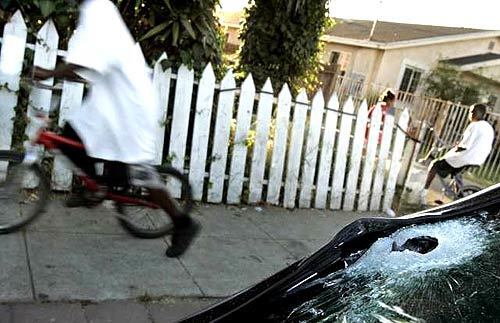 A broken windshield is a reminder of where a 4-year-old girl playing in front of her South Los Angeles home was seriously wounded Monday when an SUV pulled up and its occupants sprayed bullets at her and about half a dozen other children.
(Ricardo DeAratanha / LAT)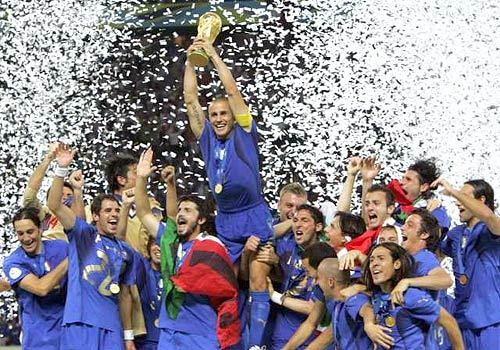 Italian defender Fabio Cannavaro holds the World Cup trophy as he celebrates with his teammates after winning the World Cup final between Italy and France at Berlin's Olympic Stadium on Sunday. Italy won 5-3 on penalty kicks.
(AFP / Getty Images)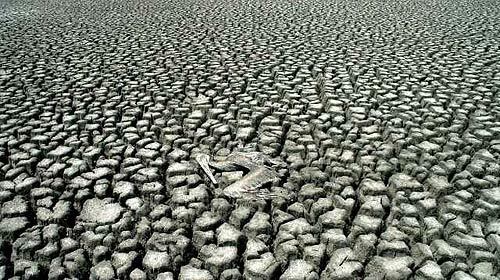 A dead pelican lies on the parched earth in Mazatlan, in the Mexican state of Sinaloa. The area has been severely affected by a drought caused by high temperatures.
(Eduardo Resendiz / EPA)
Runners are chased by a pack of fighting bulls during the annual Running of the Bulls in Pamplona, Spain, on Wednesday. The quick dash through cobblestone streets lasted two minutes and 30 seconds.
(Daniel Ochoa de Olza / AP)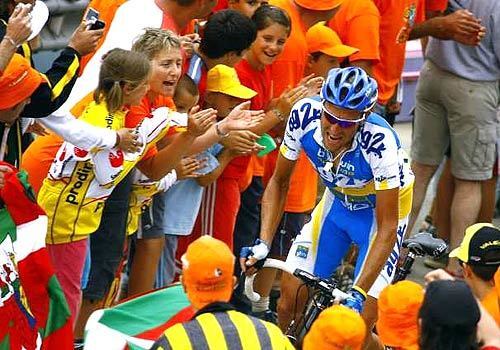 Spectators cheer for Christophe Moreau of France in the ascent of the Puerto de Beret pass during the 11th stage of the Tour de France on Thursday. Denis Menchov of Russia won the stage.
(Alessandro Trovati / AP)
Wardrobe supervisor David Profeta, in red, gives direction to Miss Ecuador, Karry Lopez, while preparing for a 2006 Miss Universe pageant photograph in Rancho Palos Verdes, Calif., on Thursday.
(Lucas Jackson / AP)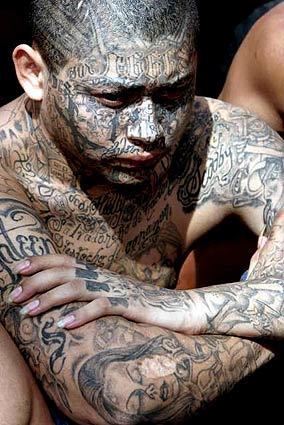 One of the 197 gang members captured in a police operation waits at a precinct in the eastern zone of San Salvador on Wednesday.
(Luis Romero / AP)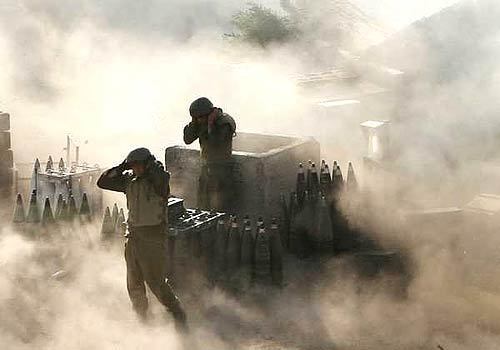 Dust swirls around Israeli artillery soldiers as they fire across the border into southern Lebanon from a position on the frontier in Zaura, northern Israel, on Wednesday. Hezbollah fighters launched a raid into Israel and captured two Israeli soldiers, triggering an Israeli assault with warplanes, gunboats and ground troops in southern Lebanon to hunt for the captives. Seven Israeli soldiers and two Lebanese were killed in the violence.
(Oded Balilty / AP)
A couple from Denver frolic in the San Fermin festival arena in Pamplona, Spain, on Thursday. Spain's most famous fiesta, held since 1591, was popularized internationally by Ernest Hemingway's 1926 novel "The Sun Also Rises."
(Daniel Ochoa de Olza / AP)
Dark clouds cover the sky in Hangzhou as the city braces for Typhoon Ewiniar in east China's Zhejiang province Tuesday. Authorities evacuated thousands of residents along the coast and recalled ships to harbors as the region prepared for storm.
(AP)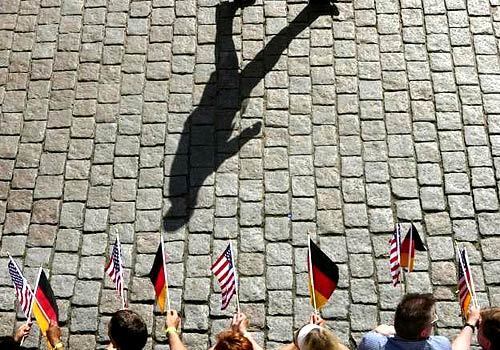 Spectators with German and American flags wait for the arrival of President George W. Bush at the marketplace of Stralsund, Germany, on Thursday. Security around the northern port city's historic center was tight, with fighter jets and helicopters patrolling the skies and police checking the city's 2,200 manhole covers that had been welded shut to ensure that nothing disrupted Bush's visit to German Chancellor Angela Merkel's constituency.
(Peter Kneffel / Pool)