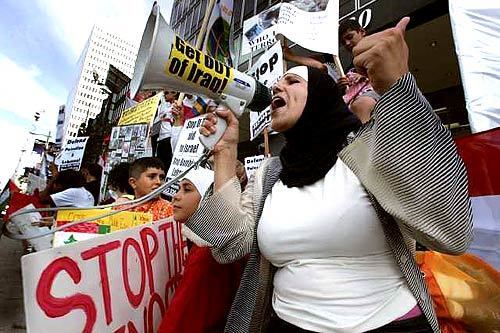 19 Images
The Week in Photos: July 16-22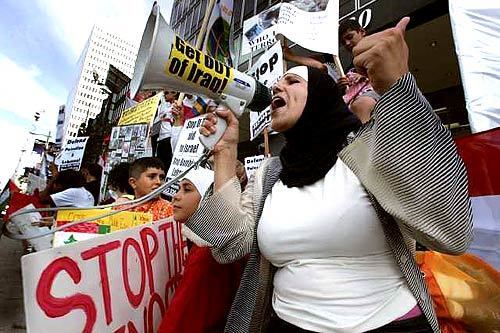 Members of the ANSWER Coalition, an antiwar group, protest action in the Middle East on Wednesday outside the Israeli Consulate on Wilshire Boulevard in Los Angeles. Across the street, members of the pro-Israel group StandWithUs voice their own concerns.
(Gina Ferazzi / LAT)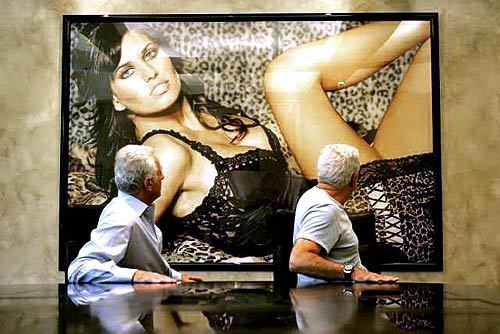 Guess founders Maurice, left, and Paul Marciano admire a photo of model Bree Condon. "We are associated with a sexy image and we should be that," said Paul Marciano, who directs the company's marketing.
(Genaro Molina / LAT)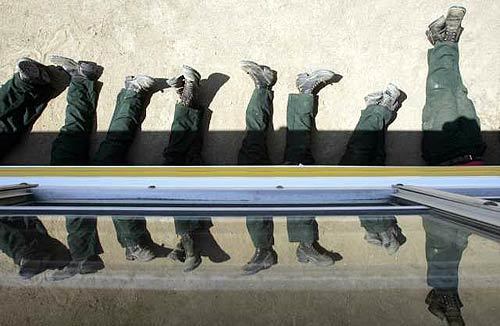 Members of a fire crew from the Hopi reservation in Arizona rest in the shade under the bus that transported them to help fight the Sawtooth fire in Yucca Valley, Calif., which was 100% on Tuesday. Officials reported that the fire ravaged 61,700 acres.
(Stephen Osman / LAT)
San Pedro residents Chris Garske, left, and William Schopp, both 14, take an early lead in a paddle board race, part of the third annual junior lifeguard competition at San Pedro's Cabrillo Beach.
(Javier Manzano / LAT)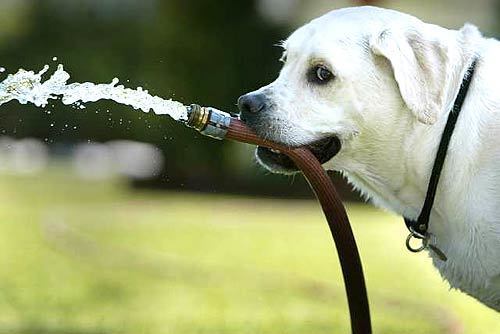 Keno, a 2-year-old yellow Labrador retriever, helps water owner Nita McVickar's lawn in La Habra, Calif.
(Mark Boster / LAT)
This week's heat drove people to the water to cool down. Here, a young visitor to Wild Rivers cavorts beneath a waterfall.
(Don Bartletti / LAT)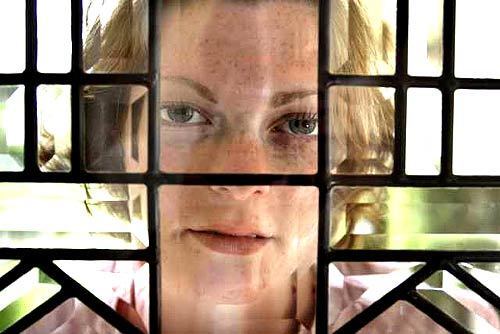 Hilary Gross-Richmond, 24, was planning to move to Israel on Wednesday, despite the country's conflict with Lebanon. Her mother, besides lamenting the 8,000-mile separation, fears the violence will spread south but adds, "I can't think about that."
(Don Kelsen / LAT)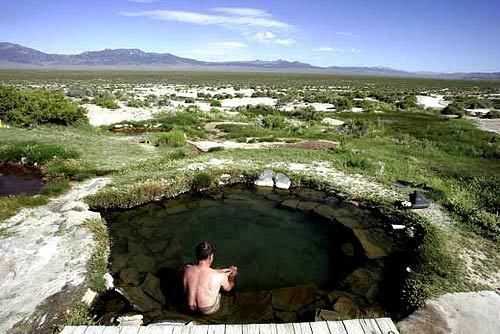 A visitor checks out the hot springs near Austin, Nev., a popular local spot for more than 100 years.
(Annie Wells / LAT)
Doc Valles, center in papal garb, and Marty Zacavich, right, with a bikini-clad reveler at the Old Mission Beach Athletic Club's Over-The-Line Tournament, a beer-fueled beach bacchanal held every year in San Diego.
(Allen J. Schaben / LAT)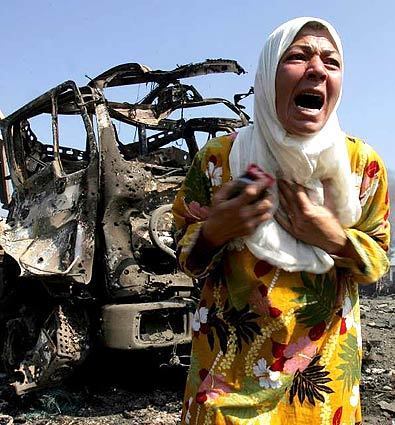 A Lebanese woman cries out near a truck that had been part of a convoy targeted by Israeli warplanes in Beirut on Wednesday.
(Mohamed Messara / EPA)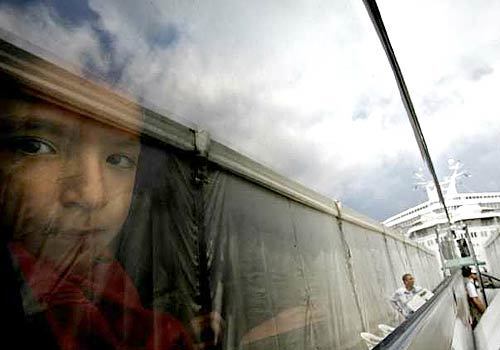 American families wait on a bus to board the Orient Queen in Beirut, Lebanon as they escaped the attacks there. The cruise ship arrived safely in Cyprus after a nine-hour journey.
(Robert Gauthier / LAT)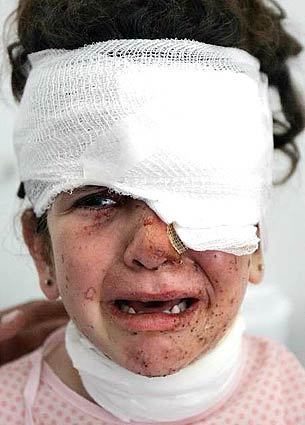 A Lebanese girl cries after being injured in an Israeli airstrike on a house in the southern Lebanon city of Tyre.
(Hassan Ammar AFP/Getty Images)
An 11-foot whale lies in the sand after it became stranded on Cabarita Beach on the Gold Coast in Australia on Tuesday. Australian wildlife officials euthanized the baby humpback because it had little chance of survival without it's mother.
(Steve Holland / AP)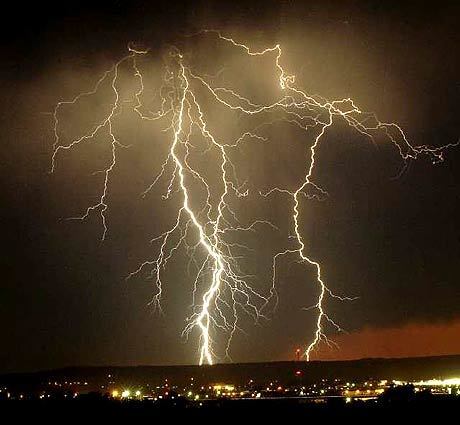 With wildfires raging around Montana, a lightning strike hits the west end of Billings during thunderstorms Monday.
(David Grubbs AP/Billings Gazette)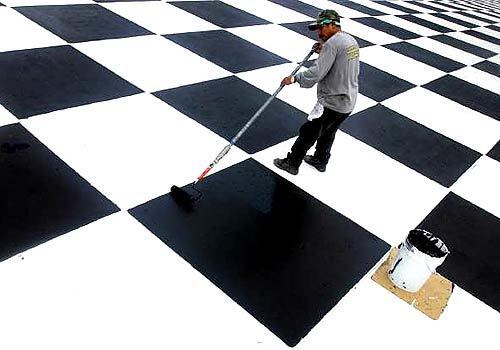 It's not the world's largest chess board, it's the outdoor show floor at Mershons World of Cars in Springfield, Ohio. Alejandro Gonzalez paints the 500 squares on Tuesday.
(Teesha McClam AP/News-Sun)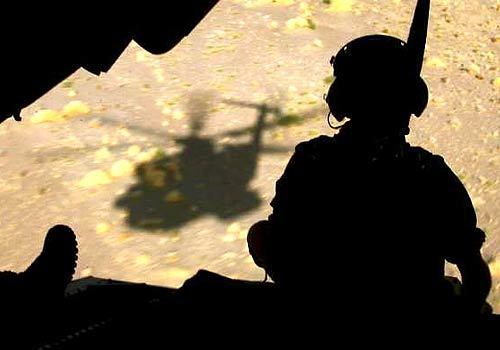 A German soldier sits in the back of a helicopter leaving Kundus, Afghanistan. German Minister of Defense Franz Josef Jung visited German troops there Tuesday.
(Michael Hanschke EPA/Pool)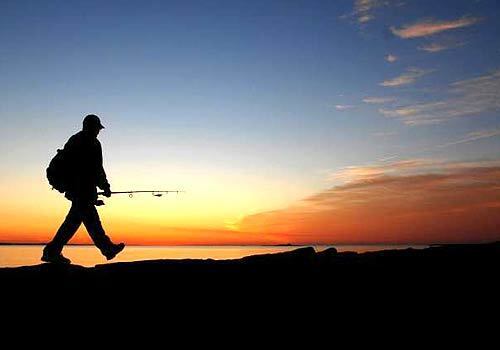 Chris Piascik of Worcester, Mass., makes his way out onto the breakwater at Camp Ellis for some early morning fishing in Saco, Maine on Thursday.
(Shawn Patrick Ouellette / AP)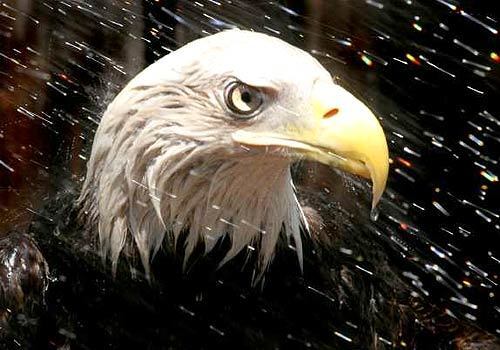 A bald eagle gets a shower from owner Ken Lockwood on Thursday at the Eagle Valley Raptor Center in Cheney, Kan. With temperatures near 110 degrees, Lockwood hoses down the birds at the rehab center every hour to keep them cool.
(Travis Heying AP/The Wichtia Eagle)
Tokyo Institute of Technology students run alongside the world's first manned airplane powered by 160 AA-size dry cell batteries at Okegawa Airport last weekend. The plane flew 1,285 feet and was airborne for 59 seconds.
(EPA)