10 Images
In Focus: Staff Photos from July 22 - June 28
Soccer star David Beckham made his long-awaited debut with the Los Angeles Galaxy in an exhibition against the English club Chelsea Saturday night. Beckham, who is nursing an ankle he injured June 6 while playing for his native England against Estonia, played the last 12 minutes of regulation, plus four minutes of stoppage time in a 1-0 loss. Despite the late entry of the sport's glamour boy, the match was watched on ESPN by nearly 1.5 million people
(Richard Hartog / LAT)
Git along, little hodaddies! Forgive the language stew, but how else to describe the joint marketing venture by the Orange County Fair and the U.S. Open of Surfing to bring 100 longhorn steers to the Huntington Beach Pier Thursday morning? Herded by 40 cowboys from Riverside and Temecula, the cattle drive covered 1.5 miles from the intersection of Goldenwest and the Pacific Coast Highway south to the pier. Go west, young bovine!
(Don Kelsen / LAT)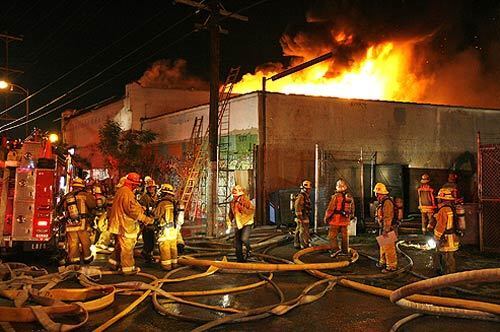 Crews battle a blaze that destroyed a commercial building in the Jefferson Park area of Los Angeles Tuesday evening. A firefighter fell through the roof and was taken to a hospital for treatment of burns and possible broken bones. The cause of the blaze was not known.
(Myung J. Chun / LAT)
Big sky, big wheel, big fun at the Orange County Fair in Costa Mesa. It runs noon to midnight until Aug. 5 (closed Mondays).
(Glenn Koenig / LAT)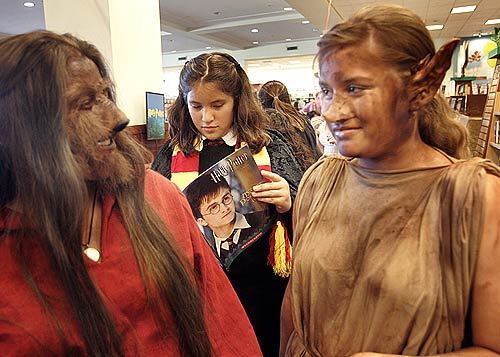 Sisters Elizabeth St. John (left, the werewolf), Kyrsten St. John (Harry) and Hillary St. John (a house elf) were dressed to impress at the Harry Potter book party at Barnes & Noble in Glendale Friday night. They were among thousands of fans around the world simultaneously celebrating and mourning publication of the final story in the Harry Potter series, "Harry Potter and the Deathly Hallows," in costume and, no doubt with a toast of butterbeer.
(Lawrence K. Ho / LAT)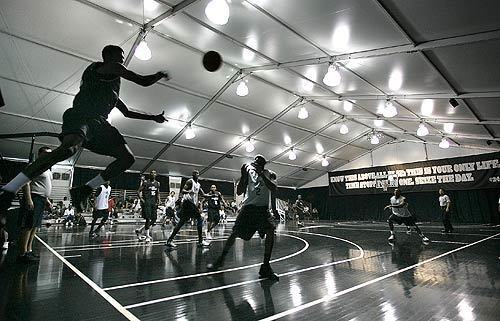 In a large tent in the heart of Hollywood is a too-hip basketball court with a limited number of seats for spectators who usually hear about it only through the grapevine. State of the art, it's the venue for the Say No Classic, a West Coast summer tradition tournament that, since 1972, has been host to a starry roster of roundball talent. "The best college players that live in L.A. play in it," said Lorenzo Mata of UCLA. "This prepares you for the season. ... It's kind of weird. It's kind of hard to get used to. I had never played on a black court before."
(Ken Hively / LAT)
Capable of traveling 100 miles a day, blue whales migrate north each summer from their winter grounds off Central America. Once a rare sight south of Santa Barbara, the whales, such as this one off Dana Point, in recent years have come to favor Southern California waters. Although an awesome and welcome sight, the whales' prevalence in Southern California is not without peril: They have entered waters populated by fishing boats and cargo ships, and have sometimes collided with the large vessels. Scientists are studying the migration patterns, but offer few explanations for the whales' shift south. "Five or six years ago, seeing a blue whale was newsworthy," said one Southland skipper. Last season, he logged 440 sightings.
(Courtney Hergesheimer / LAT)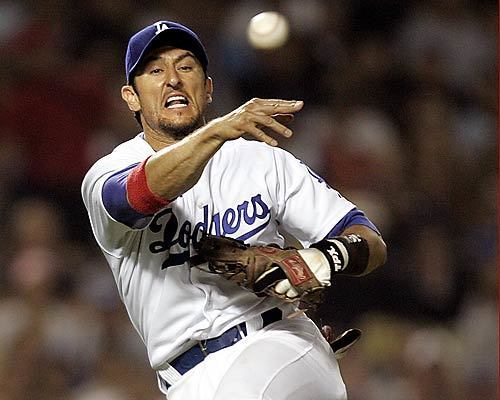 Third baseman Nomar Garciaparra, whose home run accounted for the Dodgers' only run Friday night, throws to first after fielding a ball hit by the New York Mets' Ruben Gotay in the seventh inning. Gotay was safe on the play, but it was the eighth inning that proved most nettlesome for the Dodgers--Roberto Hernandez gave up three run. The Dodgers lost the game at Dodger Stadium 4-1, as well as a chance to take a one-game lead over San Diego in the National League West.
(Christine Cotter / LAT)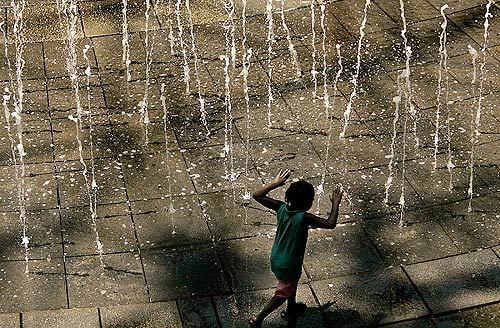 The Los Angeles forecast for the fourth week of July? Hot and muggy, with daytime highs of hot and muggy and nighttime lows of hot and muggy. One youngster sought relief Wednesday in the fountain at Universal CityWalk.
(Luis Sinco / LAT)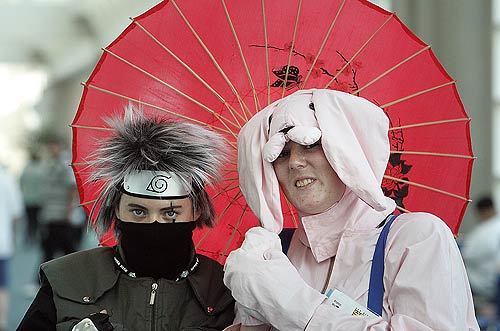 Christine Brown and Krystal Weiss, both 18, welcomed the preview of the Comic-Con International convention in San Diego Wednesday night by becoming one with their inner anime characters. The gathering draws fans of comics and pop culture, and, over the years, has evolved from a geekfest for residents of a parallel universe to a way-cool showcase of all fantasic creatures great and small.
(Spencer Weiner / LAT)