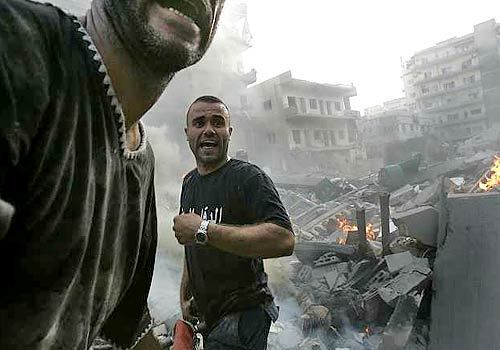 20 Images
The Week in Photos: July 23-29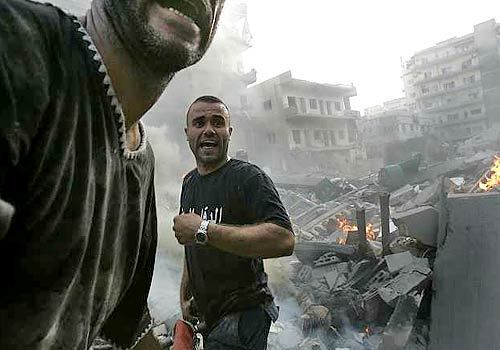 Residents of Tyre rush to a multistory apartment building destroyed by Israeli bombs Wednesday. A cleric with ties to Hezbollah lived in the complex, but was not there at the time of the attacks. At least 12 people were badly injured, including children.
(Robert Gauthier / LAT)
Brian LaPointe, a marine scientist with Harbor Branch Oceanographic Institution in Fort Pierce, Fla., plays with what he suspects is a matrix of algae and bacteria, similar to the enormous balls of mucilage found in the northern Adriatic Sea. This one is in Looe Key, where LaPointe has been documenting detrimental changes for more than 20 years. The photo is part of the Altered Oceans series that starts this weekend in The Times and on latimes.com.
(Rick Loomis / LAT)
Authorities evacuated 43 adults and six children Thursday from the Meadowbrook Park and Tower Apartments complex in San Bernardino and gave its managers a Monday deadline to fix the facility's air conditioning. That will help Precious Cisneros, 17, and her daughter, Carolyn, 2, above, who have only a fan to cool their apartment. Apartment managers have begun the repairs.
(Gina Ferazzi / LAT)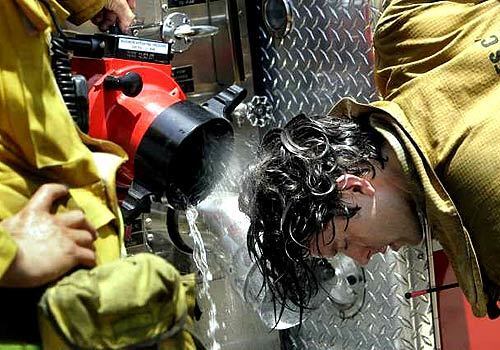 Los Angeles City Firefighter Buddy Pacheco sprays firefighter Branden Silverman with water from a firetruck after fighting a fire in Benedict Canyon in Los Angeles on Tuesday afternoon.
(Genaro Molina / LAT)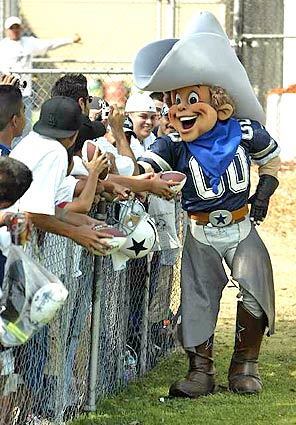 Rowdy, mascot for the Dallas Cowboys, greets fans atttending the morning session of training camp in Oxnard this week. This is the last year the Cowboys will be training in California.
(Mel Melcon / LAT)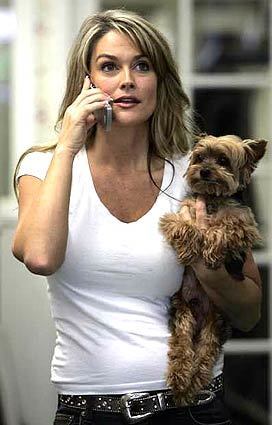 Tina Teets, holding Tank, talks on the phone with a Los Angeles County sheriff's detective. Teets was the model pictured as No. 8 among the 54 photos released this week by authorities as they looked for women photographed by convicted killer Bill Bradford. She say she remembers Bradford as someone she did not want to be left one alone with.
(Irfan Khan / LAT)
Dwayne Dickinson and girlfriend Melissa Millner share a moment outside the tent on an island in the L.A. River that they call home. A dozen or so homeless people choose to live on the small, secluded islands along the riverbed near downtown.
(Richard Hartog / LAT)
Jackie Fernandez, 20, Miss Sri Lanka, at the Wilshire Grand Hotel in downtown Los Angeles, before the Miss Universe contest last weekend. "My country is so in the shadows. If I can come across as someone very positive, it can actually help my country," she says.
(Béatrice de Géa / LAT)
A kayaker in Newport Beach, Calif., floats past a riverboat known as the Pride of Newport on July 27. The non-seaworthy craft has been home to the Newport Harbor Nautical Museum since 1995.
(Mark Boster / LAT)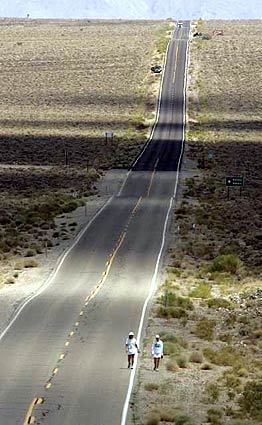 Shannon Farar-Griefer, left (with her pacer), walks along Highway 190. She's took part in this week's three-day, 135-mile Badwater Ultramarathon across Death Valley, one of the hottest places on earth.
(Stephen Osman / LAT)
Red Cross ambulances deliver badly injured Lebanese civilians to Jabal Amel Hospital in Tyre, Lebanon, on Sunday, July 22. Israel and Lebanon have been engaged in fierce fighting for almost three weeks.
(Robert Gauthier / LAT)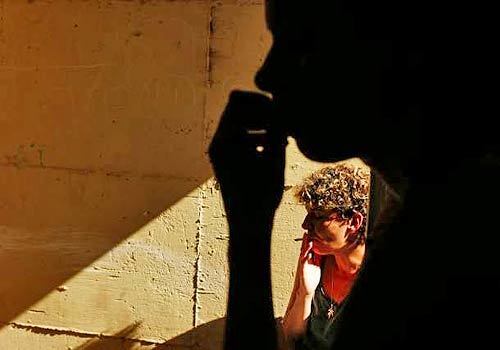 Gila Bitton takes a cigarette break at the entrance to a bomb shelter July 25 in Kiryat Shemona in northern Israel. She has has lived with 25 other people in the shelter, rarely emerging.
(Damon Winter / LAT)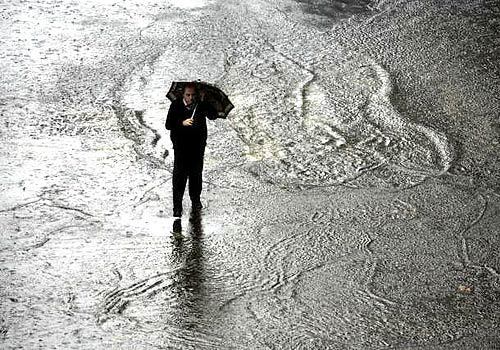 A man walks with an umbrella through a hail and rainstorm in Buenos Aires on Wednesday.
(Natacha Pisarenko / AP)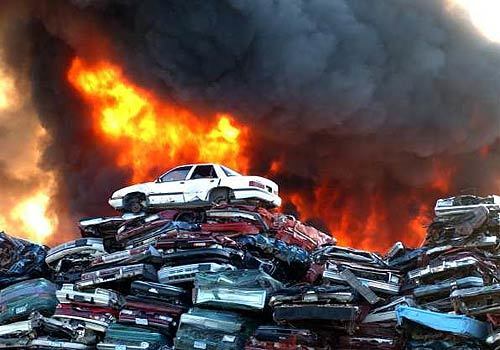 Flames and smoke rise from a massive pile of junked cars Wednesday at a scrap metal company in Mason City, Iowa.
(Jeff Heinz / The Globe Gazette / AP)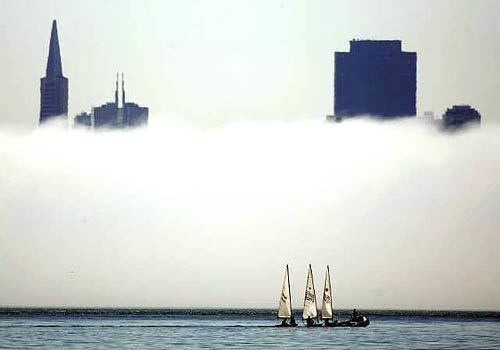 Sailboats float in San Francisco Bay on Monday, outlined by a backdrop of fog.
(Eric Risberg / AP)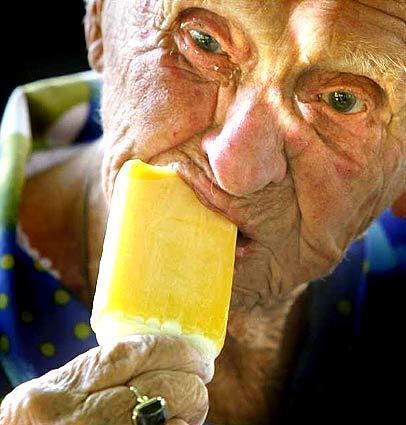 An elderly woman cools down with ice cream served at an old-peoples home in Leiden, Netherlands, on Wednesday. Europe has been gripped by a heat wave that has killed an estimated 40 people in last two weeks.
(Robin Utrecht / EPA)
"Cess," a short-beaked echidna, or spiny anteater, blows a bubble from her nose Tuesday. Cess was injured in a road accident that left her with a broken foot and severe cuts to her nose that required expert veterinary surgery at Taronga Zoo Wildlife Clinic in Sydney, Australia.
(Mark Baker / AP)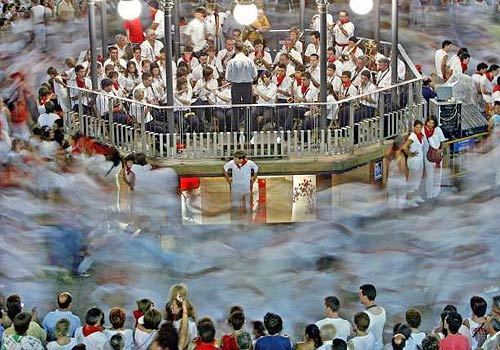 Hundreds of people dance around a bandstand as musicians play in the main square of Tudela, Spain, in the early hours on Tuesday, during the town's annual fiestas.
(Alvaro Barrientos / AP)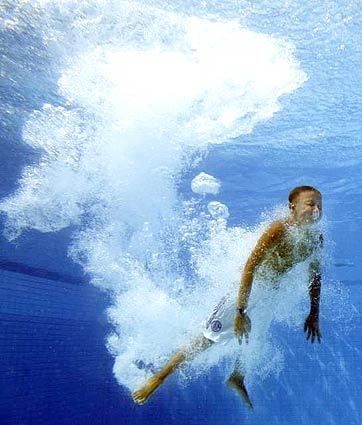 A boy dives into a pool in Gelsenkirchen, Germany, on Tuesday. Temperatures have been in the mid-90s for most of the week.
(Martin Meissner / AP)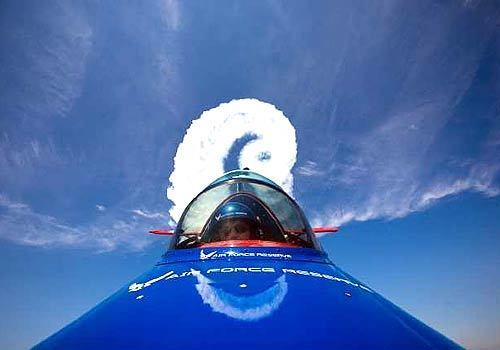 Aerobatic air show pilot Ed "Hamster" Hamill performs a snap roll, leaving a corkscrew trail of smoke behind his bi-plane in the skies over Oshkosh, Wis., on Monday during the EAA AirVenture airplane convention.
(Ed Hamill / AP)