12 Images
In Focus: Staff Photos from July 29 - August 4
la-0802-week01-jlwkwmnc
The young crew members of the Fireballs dragon boat team were among those plying the waves last Saturday at the annual Dragon Boat Festival in Long Beach. As always, the event drew dozens of teams to Long Beach Marine Stadium to compete in their long trademark boats with colorful dragons' heads and tails, paddling to the beat of drummers positioned at the boats' prows. Dragon boating is believed to have started in Yueyang, China, more than 2,500 years ago, when local fishermen used their boats to try to rescue a well-known poet-statesman who drowned himself. The fishermen are said to have beat drums and hit the water with paddles in an attempt to appease the water dragon.
(Luis Sinco / LAT)
la-0802-week02-jm4fcknc
Eight years after the stretch of Hollywood Boulevard from Western to Normandie avenues officially was designated Thai Town, the neighborhood offers a colorful streetscape that matches the lively flavors of the area's crowded Thai restaurants, markets and Armenian bakeries. Thai community leaders are capitalizing on the neighborhood's unique ethnic mix to attract more visitors, bolster the local economy and revitalize the area. In addition to creating business opportunities for fledgling immigrant Thai, Armenian and Latino entrepreneurs, the market is designed to promote social interaction among the ethnic communities. Here, under a striking pair of trompe l'oeil portraits, Thomas "Robert" Artunian, 16, plays an Armenian card game with a friend.
(Karen Tapia-Andersen / LAT)
la-0802-week03-jm2jconc
With Iraq behind him but never out of his mind, Army Pfc. David Foss, 25, has begun making plans for life after the military. Foss, who lost his left leg three months ago to an improvised explosive device in Iraq, has started talking to potential employers about jobs. He was one of more than 100 active-duty servicemen and servicewomen who attended the Hiring Heroes Career Fair sponsored by the Department of Defense Tuesday at the Marine Corps Air Station Miramar in San Diego. Representatives from about 70 corporations and government agencies were on hand. "My life has changed. I've gotten over losing my leg. There's nothing I can do about it but move forward," Foss said, seen here with David Radel of U.S. Citizenship and Immigration Services. "It's all mental. If you think you can do it, you can. I can do it."
(Don Bartletti / LAT)
la-0802-week04-jm04spnc
In gritty Orange County, 40 high school students began to board a charter bus Monday morning, packing with them dreams of a college education. The Latino students were traveling via what organizers called the "Barrio to Boardroom Bus" in Santa Ana for a week-long tour of college campuses in Northern California. Many had never stayed in a hotel or traveled outside Southern California; 35 hoped to be the first in their families to graduate college. Counselor Monica Cardenas conceived the bus tour with the hope of showing the teens "that there is a whole world out there." Little sister Genesis Pantoja, 7, is reluctant to let go of Mariel, 16, who said she was "nervous, and excited" about the tour. Mariel's mother Noelia said, "This is an opportunity we can't provide her. She really wants to go to college, and this program makes it seem possible."
(Karen Tapia-Andersen / LAT)
&nbsp
Last Saturday the Angels' home run drought came to an abrupt end with Garret Anderson's three-run blast in the eighth inning. It broke a 3-3 tie against the Detroit Tigers at Angel Stadium, and enabled Vladimir Guerrero to accept congratulations rounding third base from coach Dino Ebel.The Angels pounded out four more runs in an inning that culminated with a two-run homer by Orlando Cabrera. The Angels had hit home runs only twice in their previous 19 games and ranked last in the American League. At game's end, the Angels prevailed, 10-3.
(Christine Cotter / LAT)
la-0802-week06-jlv76hnc
After years of drought and beetle infestation in surrounding forests, Idyllwild practically defines an extreme fire hazard zone. Mere weeks away from the peak of fire season, local factions in the pastoral community are struggling to resolve what many people describe as a communication breakdown over how best to coordinate disparate evacuation plans that have been drafted by at least 12 mountain camps that cater to thousands of youths, several town organizations and fire authorities. Among them are these Boy Scouts at Camp Emerson, which sports the only fire bell among all the summer camps in the area.
(Gina Ferazzi / LAT)
la-0802-week07-jm27opnc
As if marriage isn't a roller coaster through the theme park of coupled life, bride Nicole Crabtree and groom Nathan Venderweit of Mentone felt compelled to give it a literal sendoff Tuesday aboard Knott's Berry Farm's new Sierra Sidewinder ride in Camp Snoopy. "Peanuts" characters Charlie Brown and Lucy served as best man and maid of honor. Good grief, let's hope these two always fasten their seatbelts, hold on tight and eat their cake only after the ride has come to a complete stop.
(Karen Tapia-Andersen / LAT)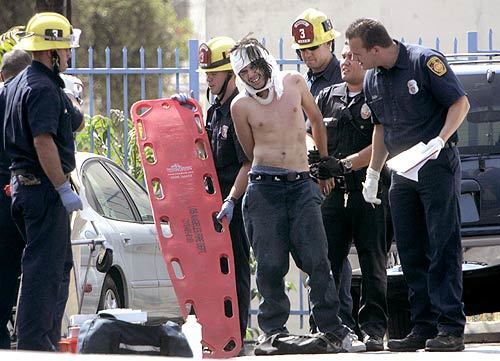 la-0802-week08-jm4hhsnc
An unidentified young man is taken to an ambulance after Los Angeles police subdued four people who reportedly began throwing rocks and bottles at officers Wednesday at the corner of Beverly Boulevard and Witmer Street near Belmont High School in Los Angeles. At least 20 ground units and one air unit responded to the strife, and witnesses said that officers used excessive force and pepper spray on several students who allegedly were standing in front of a restaurant. No officers were injured during the incident.
(Karen Tapia-Andersen / LAT)
la-0802-week09-jl5fdanc
The provocative, locally based Hysterica Dance Company celebrates its 10th anniversary at the John Anson Ford Amphitheatre this weekend with a retrospective that includes highlights from previous pieces as well as three new works. A sense of the here and now has always been a hallmark of the choreography by founder-director Kitty McNamee. And her love-hate relationship with pop culture has placed unorthodox fashion front and center in Hysterica performances. So the clothes and the dancing are both likely to rock out.
(Myung J. Chun / LAT)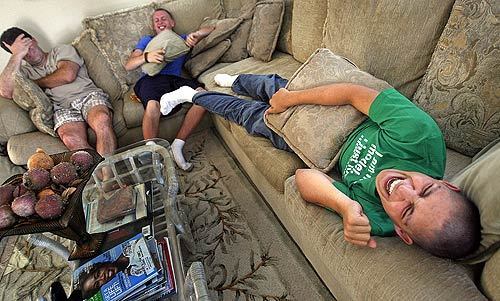 la-0802-week10-jle6hbnc
In a time of war, when Americans have soured on the grinding conflict in Iraq, young men and women continue to join the military. Among them are Marine recruits Steven Dellinger, 18, center, and Daniel Motamedi, 17, right, who talked Dellinger and another friend into signing up with him under the Corps' buddy program. It puts recruits into the same platoon for the 13-week boot camp. Enduring the rigors together made joining more attractive for the three. On the day before they ship off to boot camp, they goofed around with Daniel's father, Iranian-born Ali Motamedi, at the Motamedi home in Stevenson Ranch. Part of Daniel's motivation to serve his country was the fact that his father and mother were born in countries other than the United States.
(Rick Loomis / LAT)
la-0802-week11-jlx8gznc
David Beckham made some progress, all the way from a seat in a luxury box in Carson to a seat on the Galaxy bench at the Coliseum Saturday. That's as far as the injured star midfielder got, but at least it's something. The same progress has not been made by the Galaxy, which came out flat and was beaten, 2-1, by Chivas de Guadalajara of Mexico in a SuperLiga soccer game played in front of an overwhelmingly pro-Chivas crowd of 37,337. Here, in the first half, Landon Donovan of the Galaxy, left, and Jesus Padilla of Chivas de Guadalajara each made their claim to the ball.
(Lori Shepler / LAT)
la-0802-week12-jenn6vnc
Marin County Coroner Ken Holmes used to preach against publicizing the grim frequency of suicides from the Golden Gate Bridge, claiming that media tallies created a circus atmosphere and even encouraged some people to jump. But on Monday, he defied his own conventional wisdom and released a 10-year study of bridge suicides he said was designed to shed insight into some of the more than 1,300 people who have jumped to their deaths since the span opened in 1937. He wants officials to erect a suicide barrier. "I'm tired of the carnage," he said. "The public needs to know these needless deaths continue at an alarming rate."
(Luis Sinco / LAT)