10 Images
Friday: The day in photos
A girl takes a plunge in a lake west of St. Petersburg, Russia.
(Dmitry Lovetsky / Associated Press)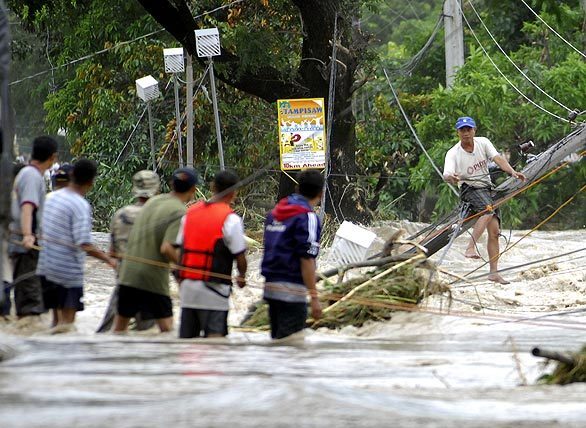 Rescuers battle rushing waters to reach a stranded resident in Zambales province, Philippines, where 10 villages have been flooded after heavy rains caused a dike to burst. Two French tourists and nine Filipinos have been killed in flooding and landslides triggered by heavy rain north of the Philippine capital, Manila, police and officials said.
(Nat Garcia / AFP/Getty Images)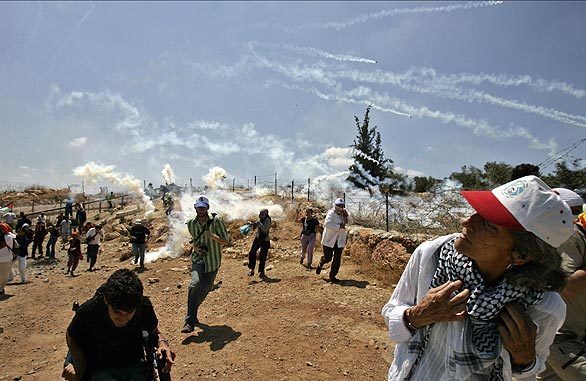 Palestinians, Israelis and foreign demonstrators run from tear gas fired by Israeli troops during a protest against Israel's separation barrier in the West Bank village of Bilin.
(Nasser Ishtayeh / Associated Press)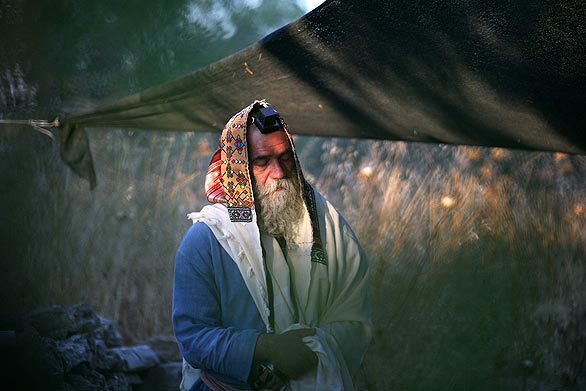 An
Israeli
man meditates during the End of Days music festival at the Bath Ain settlement in the West Bank, south of Jerusalem.
(Pacel Wolberg / EPA)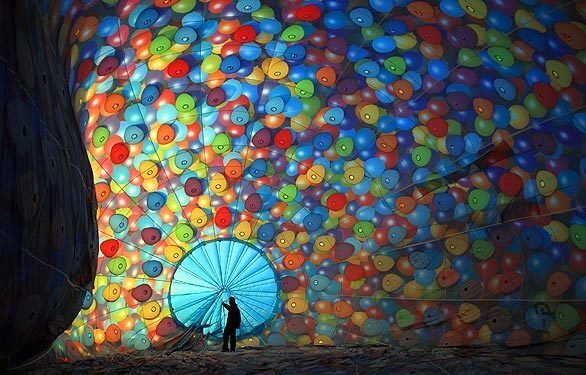 A balloonist monitors the inflation of the envelope of his balloon in preparation for the dawn mass ascent at the 31st Bristol International Balloon Fiesta in Bristol, England. Perfect flying conditions allowed more than 100 balloons of all shapes and sizes to fly this morning at what has become Europe's largest hot air balloon festival.
(Matt Cardy / Getty Images)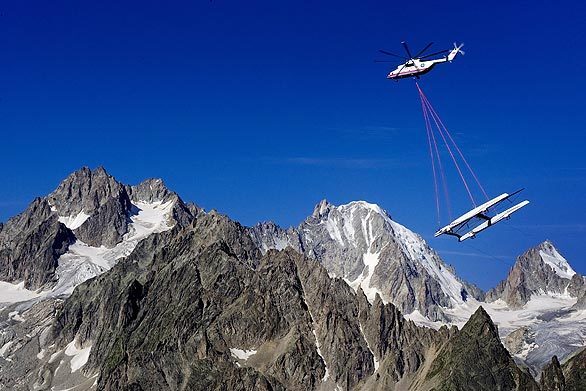 The 90-foot, high-tech catamaran of the America's Cup yacht Alinghi 5 is airlifted over the Swiss Alps near Martigny, Switzerland, bound for the Mediterranean Sea. After two weeks of sailing on
Lake Geneva
, where it was built, the catamaran was carried by the world's biggest helicopter, a Russian MI-26 heavy transport, to the Italian port of Genoa for its first sea trials.
(Fabrice Coffrini / AFP/Getty Images)
Soldiers from the 3rd Infantry Regiment , known as the Old Guard, march through Arlington National Cemetery while participating in a military funeral in Arlington,
Va
.
(Paul J. Richards / AFP/Getty Images)
A woman is dwarfed by a sculpture titled Driftwood on display in Bedford Square in London. The sculpture is made of 28 layers of plywood and was chosen as part of an annual competition to create a pavilion to fill to fill the public space.
(Dan Kitwood / Getty Images)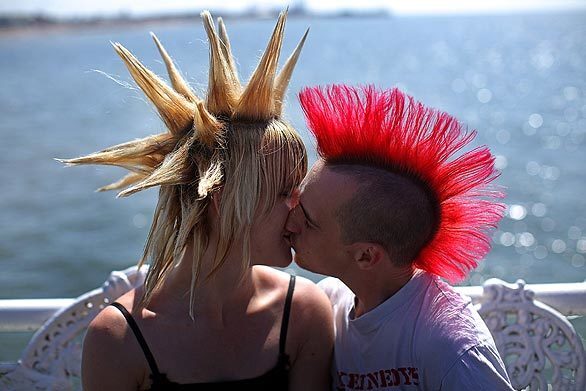 Romance is a hair-raising experience for a pair of punk rock fans attending the Rebellion Festival in Blackpool, England. Thousands of visitors have descended on the seaside resort for the annual three-day festival, which features bands from the heyday of the punk rock movement.
(Christopher Furlong / Getty Images)
Pittsburgh Penguins
captain Sidney Crosby holds up the Stanley Cup trophy for all to see while visiting a military base in his hometown of Cole Harbour, a suburb of Halifax, Canada. By tradition, members of the Stanley Cup champion team are given temporary custody of the trophy.
(Andrew Vaughan / Canadian Press)