12 Images
In Focus: Staff Photos from August 5 - August 11
A Los Angeles Police Department color guard folds the U.S. flag Monday at a memorial service for LAPD Det. George Selleh. Barbara Selleh, his widow, hugs her daughter Jessica as son Scott Selleh looks on. Selleh was killed in an off-duty motorcycle accident last month.
(Anne Cusack / LAT)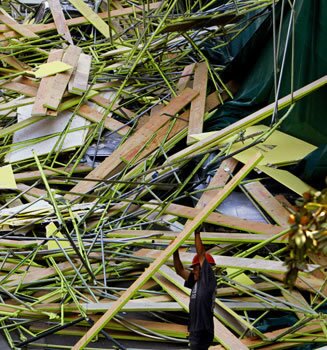 It looks like the aftermath of Hurricane Katrina, but it's what's left of the scaffolding at a five-story Pasadena building site after it collapsed Wednesday. A construction worker was seriously injured, and several unoccupied cars were damaged. The cause of the collapse is unknown, but workers have begun clearing the detritus.
(Gina Ferazzi / LAT)
Mieko Jozuka reacts upon hearing that Los Angeles police are investigating a possible triple homicide in her Rowland Heights neighborhood. Neal Williams and his two young sons were found dead Wednesday morning. The father's body was found with multiple stab wounds, but the boys' bodies showed no signs of trauma, and there was no evidence of an intruder. Williams' wife, Man-Ling Williams, told police that she discovered the gruesome scene upon her return from the grocery story. On Thursday she was arrested in the investigation.
(Irfan Khan / LAT)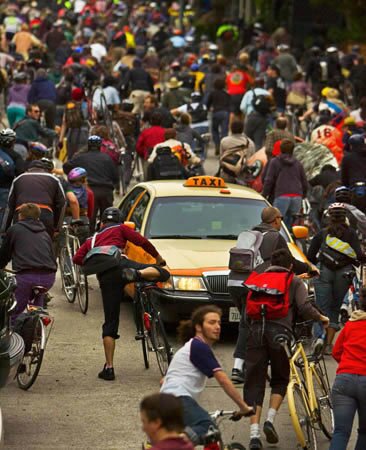 It's official, San Francisco has reach critical mass. Last month this taxi was rendered out of service by a flock of bicyclists flying up Lombard Street for the monthly Critical Mass ride through the streets of San Francisco. The riders meander through the city, blocking traffic, running red lights, causing vehicular havoc and eliciting bad language. The controversy over this lunacy has endured for its 15-year history. But the ride does have supporters, as the event has spread to every continent except Antarctica, and promoters claim it's a great way to raise consciousnes about the bicycle as superior to the automobile.
(Robert Durell / LAT)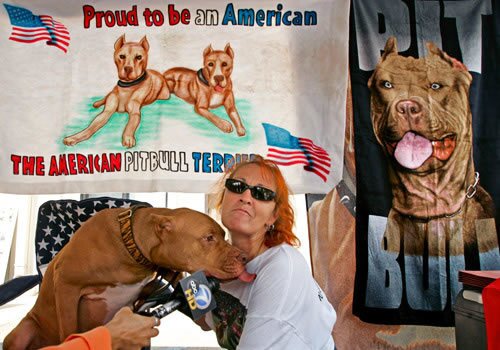 Lefty shows affection to Tia Torres, director of the Villalobos Rescue Center, which helps abandoned and abused pit bulls become the kinder, gentler companions Torres swears they can be with sufficient nurturing. The Rescue Center is the largest pit bull training facility in the United States, with more than 200 dogs, and it offers free pit bull training for community residents; on weekends Torres volunteers for the city by conducting training classes at various city animal shelters.
(Richard Hartog / LAT)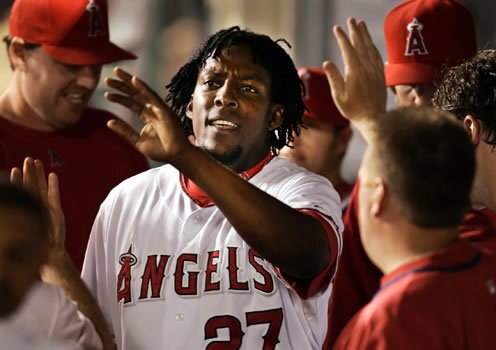 It was Tuesday, it was Anaheim Stadium and it was the fifth inning when the Angels emptied their offensive playbook, throwing just about everything they had--except a home run--at the Red Sox, and turning a 4-2 deficit into a 7-4 lead. There was a double, three singles, two walks, a stolen base, a suicide squeeze, a successful contact play, the Angels scoring on a ground ball with the infield in and a Boston error to boot. One of the participants in the slugfest was outfielder Vladimir Guerrero, congratulated here in the dugout after scoring. The final score favored the halos, 10-4.
(Christine Cotter / LAT)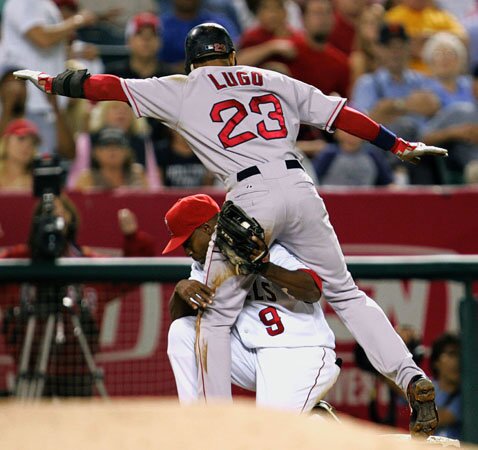 There was some l-o-n-g ball Wednesday night at Angel Stadium, where the Boston Red Sox and the Angels played at a glacial pace that took them deep into the evening. In the end, the 4-hour, 2-minute marathon, which matched the longest time for a nine-inning home game in Angels history, boiled down to a battle between two of the best bullpens in baseball, a game within the game that the Red Sox won rather handily en route to a 9-6 victory in front of a sellout crowd of 44,243. Here Boston's Julio Lugo finishes his steal in the fifth inning at third base, where the Angels' Chone Figgins catches the ball between Lugo's legs.
(Alex Gallardo / LAT)
The last time Brett Ratner directed Chris Tucker in a "Rush Hour" movie, the Iraq war hadn't begun, Barry Bonds had hit only 540 home runs and Paris Hilton hadn't made her sex tape. But 2001's "Rush Hour 2" was such a big hit -- grossing $347 million worldwide, more than $100 million more than 1998's first "Rush Hour" -- that New Line Cinema wanted at least one more buddy cop comedy. And here it is, "Rush Hour 3," starring Jackie Chan and Tucker, who, advance of the movie's opening, hams it up here in the lobby of Four Seasons Hotel in Beverly Hills.
(Wally Skalij / LAT)
Among the celebrities spotted at the X-Games party last week at Area nightclub in West Hollywood was Dave Navarro, who challenged rock's norms in the 1980s and played for Jane's Addiction.
(Stefano Paltera / For The Times)