20 Images
The Week in Photos: August 13-19
Los Angeles firefighters recover the body of a boy from the Los Angeles River in the Glassell Park area Tuesday, about two hours after witnesses reported seeing him go underwater. A bicycle and fishing pole were found at the scene.
(Ricardo DeAratanha / LAT)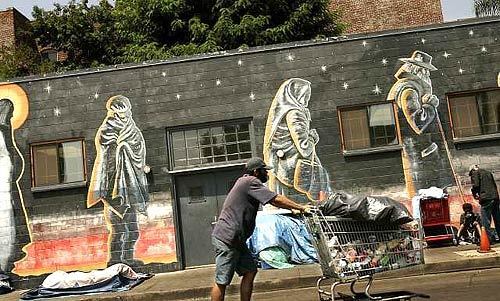 The LAPD blames the flagging cleanup effort along Skid Row partly on a federal court order barring arrests for sitting, sleeping or lying on public sidewalks. But the ACLU, whose suit prompted the ruling, denies that is the problem.
(Luis Sinco / LAT)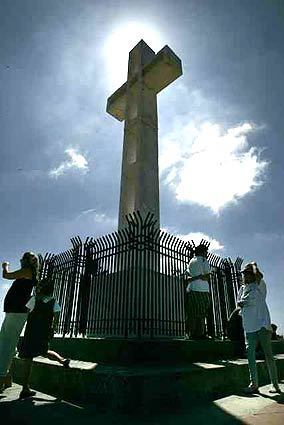 The cross atop Mt. Soledad in San Diego appears to have been saved by a bill signed by President Bush this week. The 42-foot cross has been the subject of church vs. state litigation for 17 years. San Diego Mayor Jerry Sanders made the annnouncement that the land where the cross and a veterans memorial stand is now federal land.
(Mark Boster / LAT)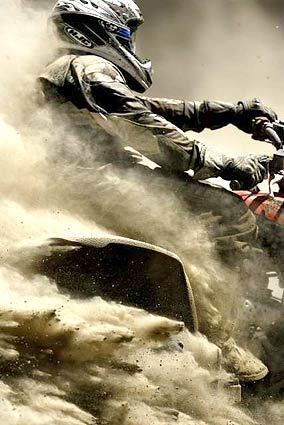 Southern California is the hub of off-roading in the West, yet there are only a handful of areas where it is legal. At left, an ATV rider in San Gabriel Canyon.
(Wally Skalij / LAT)
"The whole `party girl heiress' thing, I'm over it," Paris Hilton says. "I'm really serious as an artist. I'm a businesswoman." Hilton has recently recorded a pop music album and will launch the "brand of Paris Hilton."
(Wally Skalij / LAT)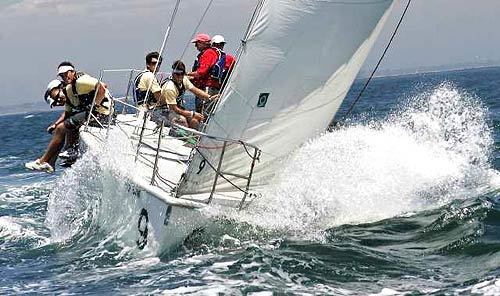 Roy E. Disney, in red hat, oversees crew members during the last stretch of a qualifying competition for next year's Los Angeles-to-Honolulu Transpacific Yacht Race. Disney is making a documentary on the building of the team as he tries to groom a diverse young group.
(Javier Manzano / LAT)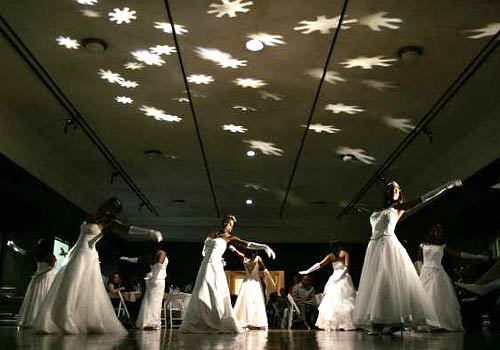 Dressed in gowns and tiaras, young women who soon will transition out of the foster care system waltz across the marbled floors of the Los Angeles County Museum of Natural History as debutantes at a Cinderella Ball, capping a three-week life-skills program. The HerShe group runs the event.
(Gina Ferazzi / LAT)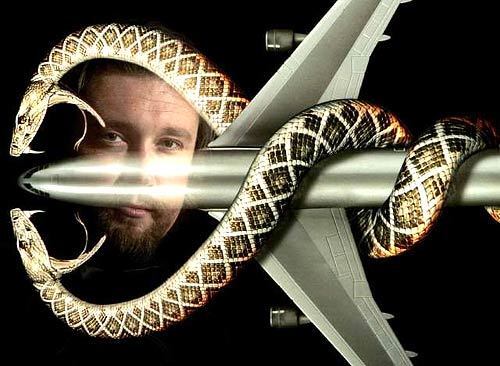 John Heffernan, 31, screenwriter for the movie "Snakes On A Plane," is reflected in a poster for the movie, which opened this week.
(Mel Melcon / LAT)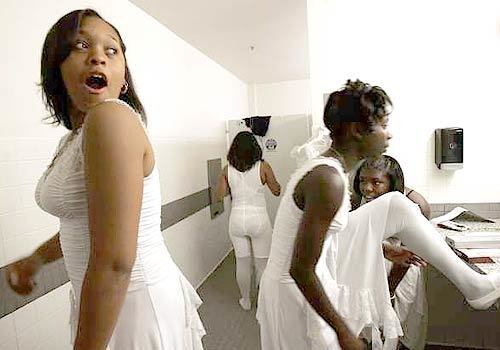 Rhyan Guidry,16, likes what she sees in the mirror as she gets ready for the Cinderella Ball, which celebrates the progress of young women upon leaving the foster care system.
(Gina Ferazzi / LAT)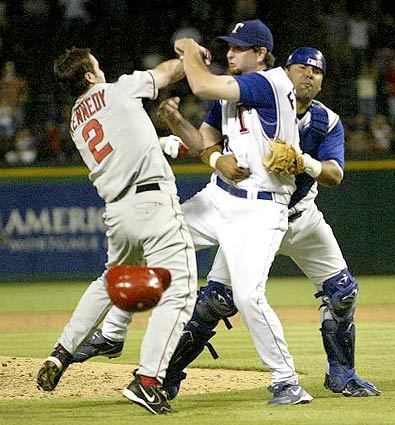 Texas Rangers pitcher Scott Feldman, center, is restrained by catcher Gerald Laird, right. as he fights with Adam Kennedy of the Los Angeles Angels in the ninth inning of their baseball game Wednesday in Arlington, Texas. Feldman hit Kennedy with a pitch and both benches cleared.
(Darrell Byers AP/Fort Worth Star-Telegram)
Affluent Lebanese drive through a bombed-out south Beirut neighborhood this week as thousands of Lebanese returned to their homes and villages. The cease-fire between Israel and Hezbollah held as leaders scrambled to resolve conflicting demands.
(Spencer Platt / Getty Images)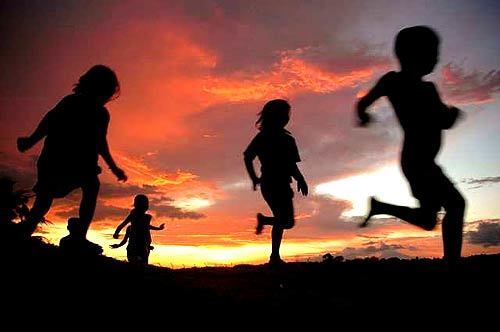 Indian slum children run at sunset at Bishalgarh, near Agartala, in the northeastern state of Tripura on Wednesday. Global child rights groups have been seeking renewed commitments from governments and non-governmental organizations for the welfare of children. UNICEF estimates that one-third of the world's children suffering from malnutrition are in India.
(Strdel AFP/Getty Images)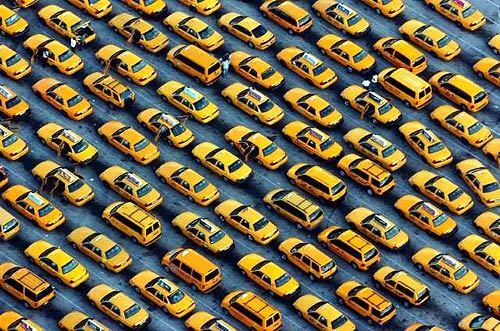 Taxicabs line up in the holding area of Miami International Airport on Thursday, waiting to move ahead to pick up passengers.
(Tim Chapman AP/Miami Herald)
A bevy of Indian rose-necked parakeets perch on electric wires on a summer evening in Tokyo on Thursday.
(Shizuo Kambayashi /AP)
A farmer pulls a hay rake, making rows in a field near Danville, Pa., on Monday.
(Jimmy May AP/Bloomsburg Press Enterprise)
Lava cascades down the slope of Mayon volcano as seen from Legazpi City in the Philippines on Wednesday. More than 42,000 people were evacuated to schools, where villagers complained of overcrowding.
(Dennis M. Sabangan / EPA)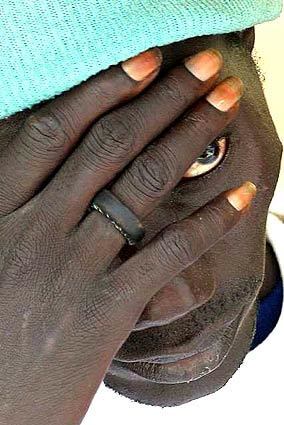 A would-be immigrant as he waits to be transferred after being intercepted among 100 African immigrants by a Spanish army patrol boat while trying to reach land on a small boat on Wednesday in Arona, Tenerife, Canary Islands.
(Manuel Lerida / EPA)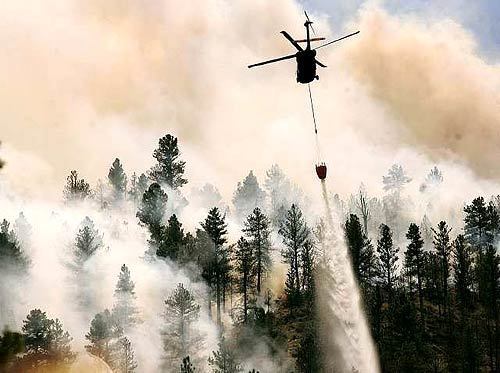 A helicopter makes a water drop while trying to contain a wildfire burning on the west side of Casper Mountain on Wednesday near Casper, Wyo.
(Dan Cepeda AP/Casper Star-Tribune)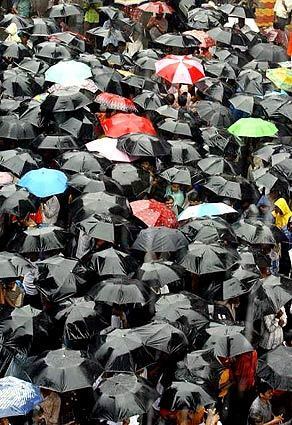 Indian commuters clog a street amid heavy rain in Mumbai, formerly Bombay, on Wednesday. The flood situation in India remained grim with almost 860,000 people displaced.
(Indranil Mukherjee AFP/Getty Images)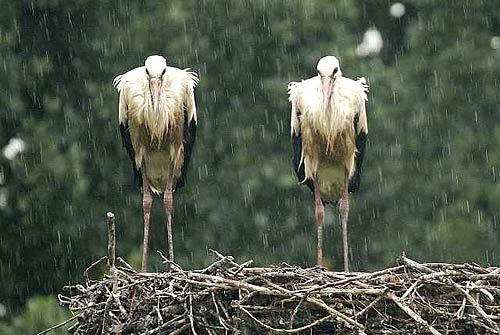 Two young storks sit on their eyrie in the rain in Hamburg, Germany, on Monday. Hamburg experienced a good stork year with 13 breeding couples and 29 squabs.
(Ulrich Perrey / EPA)