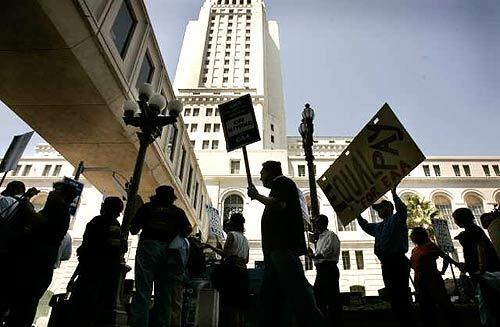 20 Images
The Week in Photos: August 20-26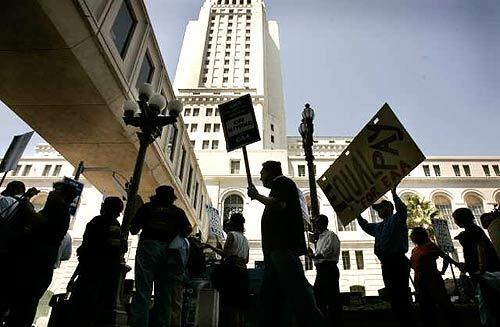 Picketers at City Hall are among the more than 1,500 municipal employees who walked out Tuesday as part of a strike by the Engineers and Architects Assn. The action did not disrupt daily life across L.A.
(Al Seib / LAT)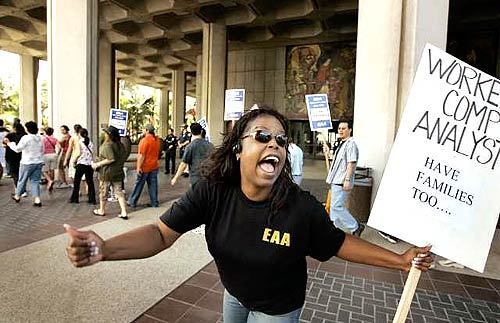 Bridget Talley urges her fellow union members to chant as the Engineers and Architects Assn. pickets City Hall. Union officials said 3,000 of its 7,500 members protested, but city officials said the number was far smaller.
(Al Seib / LAT)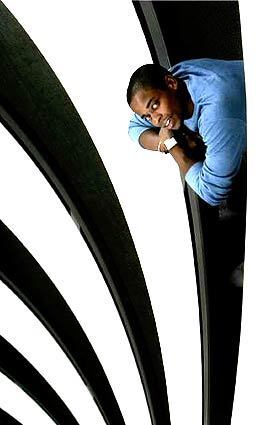 Actor Dulé Hill was a regular on "The West Wing" before taking a role in the new detective series "Psych." In between, he played a street-smart card shark in the film, "Edmond."
"Sometimes I think people get confused when they see the characters I play," Hill says. "When people hang out with me they say, 'You are much more urban than I thought.'"
(Carlos Chavez / LAT)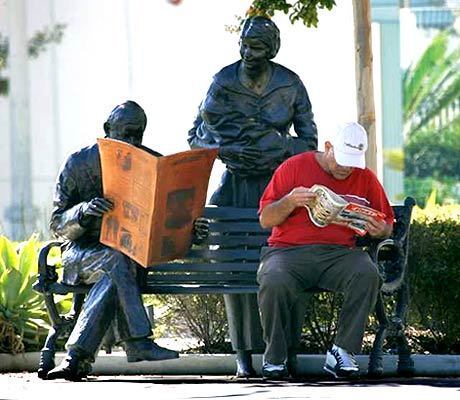 Fred Real of Los Angeles seems to mimic a sculpted figure of Culver City founder, Harry Culver, reading at a bench in Culver City. The artwork, at Culver and Washington boulevards, is titled "A Moment in Time" and also features Culver's wife, Lillian, and newborn daughter, Patricia. Culver died in 1946. The artwork was created by bronze sculptor De L'Esprie and was dedicated in March.
(Ken Hively / LAT)
From left, Gregory Harrison, Chriss Schiavo and Rich Fulcher celebrate a Boston win at Sonny McLean's, a Santa Monica bar and Red Sox fans' hangout.
(Genaro Molina / LAT)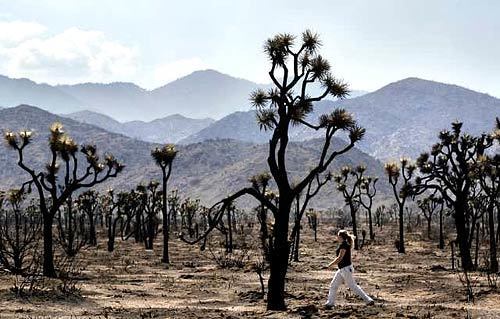 April Sall is a biologist and manager of the Pipes Canyon Preserve, which was 90% burned in last month's Sawtooth fire. It claimed the Joshua trees shown, as well as 1,000-year-old piñon and juniper pines. "This land isn't meant to burn," she said.
(Irfan Khan / LAT)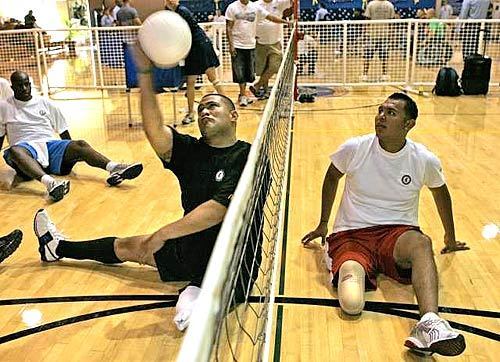 Army Sgt. Maverick Tunfuli, who was injured last year in Baghdad, strikes a volleyball during the Paralympic Military Summit at San Diego Naval Medical Center. Most of the players lost limbs in Iraq or Afghanistan.
(Don Bartletti / LAT)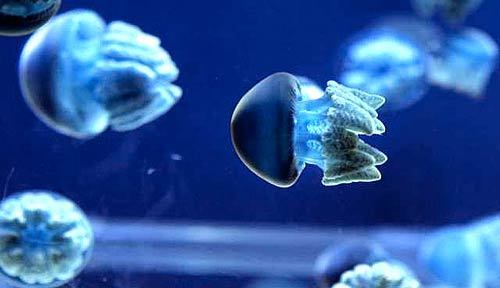 Visitors can get a close look at blue jellyfish at the Aquarium of the Pacific's "Dazzling & Dangerous: Venomous Creatures" exhibit.
(Glenn Koenig / LAT)
Players on the Sparks' bench watch Jessica Moore make free throws at the end of Game 3 against Seattle.
(Lori Shepler / LAT)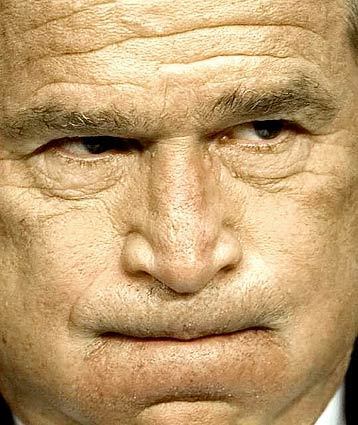 President Bush listens to a reporter's question during a press conference. Bush said that the ultimate goal of disarming the Hezbollah militia in Lebanon could only come once a security zone is created along the Lebanon-Israel border.
(Paul J. Richards AFP/Getty Images)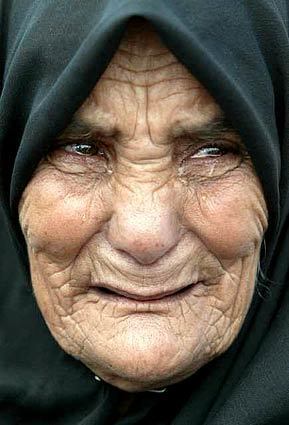 A Lebanese woman mourns her relatives during the funeral of 29 people killed during the first days of the latest Israel-Hezbollah conflict.
(Mohamed Messara / EPA)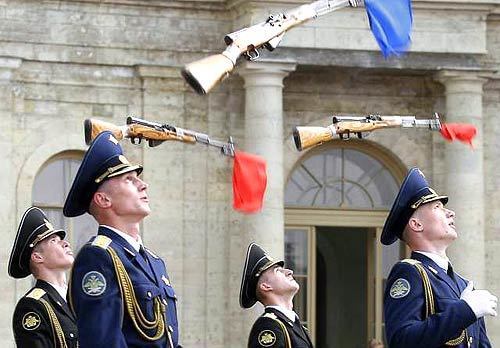 Soldiers from an honor guard unit perform during celebrations marking the Day of State Flag in St. Petersburg, Russia.
(Evgeniy Asmolov / AFP / Getty Images)
Bug Lokken paddles down rapids during a training session for the U.S. Slalom Kayaking Championships at the U.S. National Whitewater Center in Charlotte, N.C.
(Donald Miralle / Getty Images)
Two fish farmers in Ganshui, China, walk in the bed of what had been a pond. Broiling temperatures and a severe drought have left millions of people short of water and strained power supplies in many parts of the country.
(Color China / AP)
Dark clouds gather above an apartment complex in Merrillville, Ind., on Wednesday.
(Jon L. Hendricks AP/The Times of Northwest Indiana)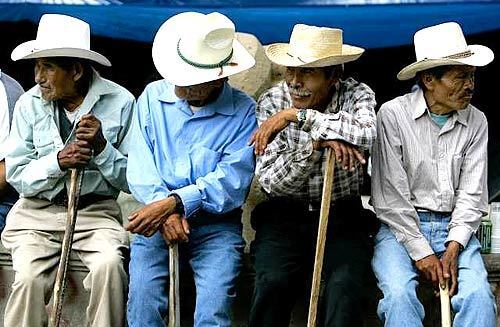 Members of a social organization talk at the main plaza of Oaxaca, Mexico, on Tuesday. Protesters calling for the resignation of Oaxaca Gov. Ulises Ruiz occupied the center of Oaxaca, stealing buses, setting up barricades of burning tires and taking over radio and televsion stations.
(Eduardo Verdugo / AP)
An unemployed Albanian man picks through garbage in Kosovo. The landlocked province is one of Europe's poorest regions. Unemployment afflicts more than half of its workforce.
(Ermal Meta / AFP / Getty Images)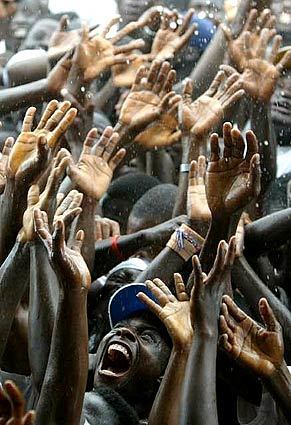 Thousands of Liberians scream for water at a mass rally for presidential candidate and football star George Weah in Monrovia, Liberia.
(Nic Bothma / EPA)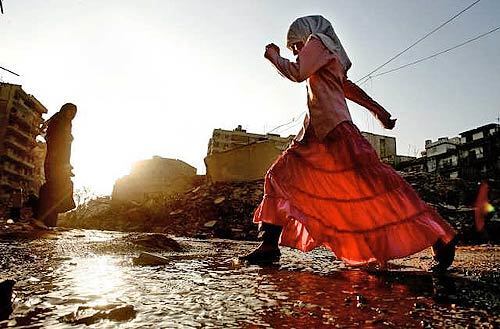 A young girl leaps over a puddle of water in the area known locally as Security Square in southern Beirut.
(Wally Skalij / LAT)
An Afghan army pickup is seen through the window of a U.S. armored personnel carrier during a recent combat operation in Afghanistan's Zabol province.
(Rick Loomis / LAT)