14 Images
In Focus: Staff Photos from August 26 - September 1
To Los Angeles preservationists, it was the icing on the cake--or at least the long-awaited, decorative top layer. A crane positioned the 3,500-pound cupola over the former St. Vibiana Cathedral on Wednesday, capping an 11-year campaign to save the historic downtown landmark. After the sanctuary was heavily damaged by the 1994 earthquake, the Catholic Archdiocese of Los Angeles had targeted the 131-year-old church for demolition. but conservationists sued. At the ceremony Wednesday, developer Tom Gilmore said, "No chunks fell off. If anything, I was expecting lightning bolts to strike."
(Brian Vander Brug / LAT)
Record-breaking heat in some regions of Southern California prompted a Stage 1 electrical emergency Wednesday, when residential and commercial users were asked to conserve energy. After Gov. Schwarzenegger directed state agencies to cut power use, the halls of power grew a bit dimmer, including this corridor outside a committee room in the state Capitol.
(Robert Durell / LAT)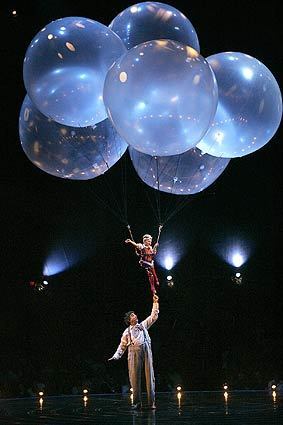 Playing through Oct. 14 at the Forum, Cirque du Soleil's "Corteo" takes place in a clown's nightmare. In the process of expiring, this "dead clown" (Jeff Raz) dreams of his funeral. Before his final,uh, curtain, the clown dons Harlequin attire before cycling into the heavens on an airborne bicycle. Here, in "Helium Dance," Raz gets a grip on Valentyna Pahlevanyan.
(Ken Hively / LAT)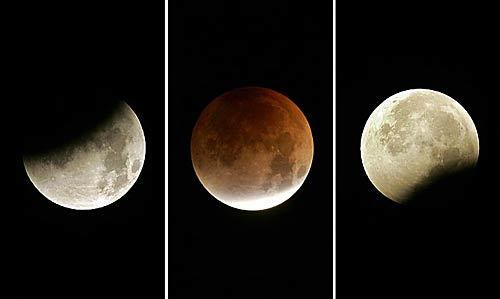 The Earth got mooned early Tuesday morning during a total lunar eclipse that began at 1:51 a.m. and ended at 5.24 a.m. These photos capture the celestial progress from left to right as the moon passes through Earth's dark shadow, bearing its signature reddish appearance.
(Al Seib / LAT)
A new tool enabling California to be better prepared for disaster was on display Saturday at the California National Guard's Joint Forces Training Base in Los Alamitos. The three full-service, 200-bed mobile hospitals can be rapidly deployed wherever they're needed in the state. "What you'll see is a true, state-of the-art, acute-care hospital," said Dr. Cesar Aristeiguieta, director of the state's Emergency Medical Services Authority, and seen here in the background during a mock emergency. The mobile hospitals will be staffed by teams of volunteers who are on call throughout the state, which has three California Medical Assistance Teams, a SWAT medical team of about 40 physicians, nurses, and other support staff that can be onsite within 12 hours of being dispatched.
(Luis Sinco / LAT)
The crowd of people trying to visit their children at Barry J. Nidorf Juvenile Hall in Sylmar often wait hours outdoors, baking in the heat or soaking in the occasional rain.To many parents and juvenile-justice experts, the weekly anxiety-fraught ritual is emblematic of persistent problems with the Los Angeles County system charged with overseeing thousands of young offenders. County Probation Department officials, although acknowledging shortcomings, say they are hamstrung by crowded conditions, staff shortages and pressing security concerns. "Let's face it: It's not pleasant," Chief Probation Officer Robert Taylor said. "It's a jail, basically." Among the people waiting on Sunday were Marco Lopez, 51, and daughter Sulema, 8, of Maywood.
(Francine Orr / LAT)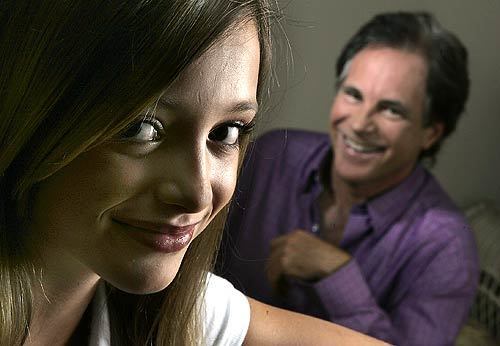 A few years ago, screenwriter Peter Barsocchini took a small assignment to write a kids' TV musical so he could entertain his preteen daughter, Gabriella, even naming the female lead after her. That gig for Disney Channel turned into "High School Musical," and "High School Musical 2," which became a global entertainment phenomenon. "It's just one of those projects where the planets sort of lined up from day one," says Barsocchini, seen here with his daughter. The stage version is on tour across the United States and will open in Britain in January. More than 200 million unique viewers have watched some form of "High School Musical." "I knew it was big when I went to the second premiere and actually saw all the people that really were into it," says Gabriella, who's about to start eighth grade.
(Ken Hively / LAT)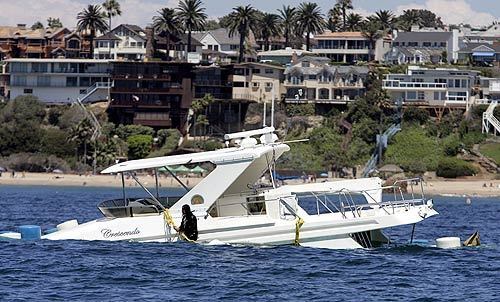 The pleasure craft Crescendo sank Aug. 11 after striking the Newport Harbor jetty. On Monday, a salvage crew lifted the vessel out of 135 feet of water, capping two weeks of painstaking work by divers to float the boat. Its next port-of-call? The salvage yard.
(Allen J. Schaben / LAT)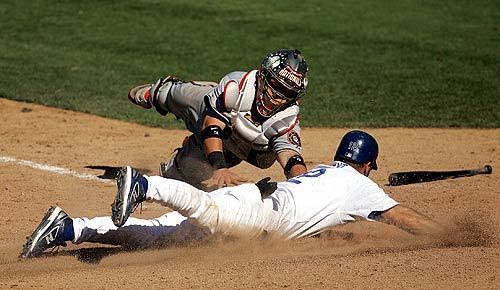 Jeff Kent had to run the instant he saw Washington's Austin Kearns move a step deeper into right field. And run he did, tagging up on teammate Shea Hillenbrand's fly ball and scoring on a play that was as close as the game itself, a 10-9 victory for the Dodgers over the Nationals on Wednesday that wasn't decided until Kent slid right of home plate and clear of catcher Jesus Flores to reach out and swipe it with his left hand in the bottom of the 12th inning. The victory was the fourth in a row for the Dodgers. Their three one-run wins over the Nationals marked their first series sweep since they took three from San Francisco in their first games out of the All-Star break.
(Gary Friedman / LAT)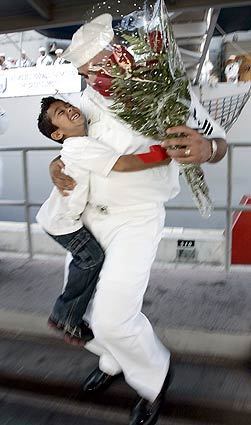 Several hundred family members waited eagerly at the pier for the arrival in San Diego Monday of the guided missile cruiser USS Antietam and its crew of 360 from a seven-month deployment in the Persian Gulf. Included among the 41 family members and friends who came from Arizona and throughout Southern California to welcome home Arturo Villa, 32, was his son, Anthony, 7. The elder Villa recently was selected to be chief petty office of the crew.
(Mark Boster / LAT)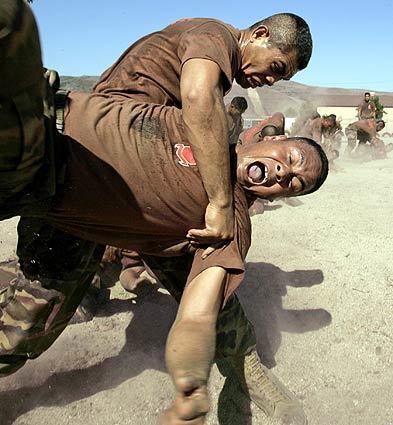 Ketim Kal'u, top, and Daniel Kal'u (no relation) practice martial arts at Camp Pendleton on Tuesday. The two soldiers and 53 others, all from the South Pacific island of Tonga, are receiving combat training at the Marine base before their upcoming deployment to Baghdad. Tonga has a relationship with the 1st Marine Division that stretches to World War II and the battle at Guadalcanal, where Tongans fought alongside Marines against the Japanese. In late 2004, Tongans provided security at Camp Blue Diamond, the 1st Marine Division's headquarters in Ramadi, Iraq. Soon, the Tongans at Camp Pendleton will assume security duties at Camp Victory, near the Baghdad airport.
(Mark Boster / LAT)
Union members celebrate Tuesday after the L.A. school board voted to extend health benefits to 2,300 part-time cafeteria workers by a 4-3 vote. The cost is $35.5 million.
(Gary Friedman / LAT)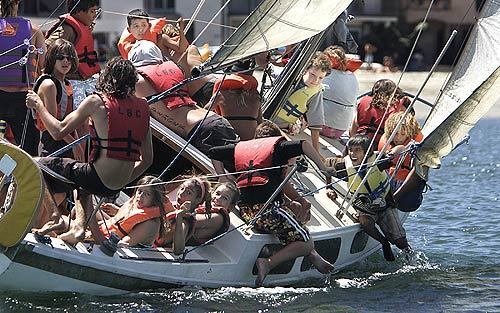 Tuesday's heat, the product of a high-pressure system that muscled in from Arizona, was just an introduction to the rest of the week, when records were set or equaled in many regions of Southern California. "School's about to start, Labor Day is next week and we're just now getting into our hottest weather," said Jamie Meier, a meteorologist with the National Weather Service. Savvy folks headed for the coast where these day campers got wet aboard a sailboat operated by the Leeway Sailing Center in Long Beach.
(Luis Sinco / LAT)
For much of its history, Boyle Heights was home to diverse waves of immigrants. Russians, Armenians, Greeks and Italians all settled into this neighborhood just east of downtown Los Angeles. Today, Boyle Heights is predominantly Latino, and most of the other ethnic groups have disappeared. But not the Japanese, who arrived in the 1920s. The 2000 U.S. Census counted about 600 Japanese Americans here, who still patronize Otomi restaurant, Tenrikyo Temple, Nanka Printing, Hayashi Realty, Haru Florist and Evergreen Cemetery where Yoshi Kaku, 85, who grew up in Boyle Heights, visits from her home in Victorville. She and her husband return often to place flowers on the graves of family members. During World War II she and her husband were taken to the Manzanar War Relocation Center.
(Anne Cusack / LAT)