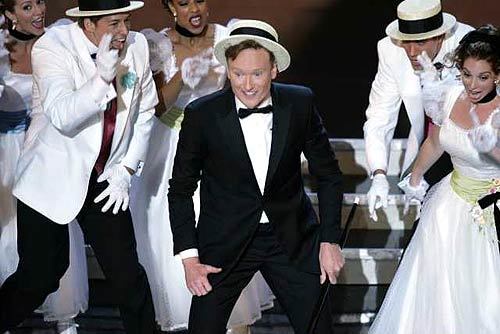 20 Images
The Week in Photos: Aug. 27 - Sept. 2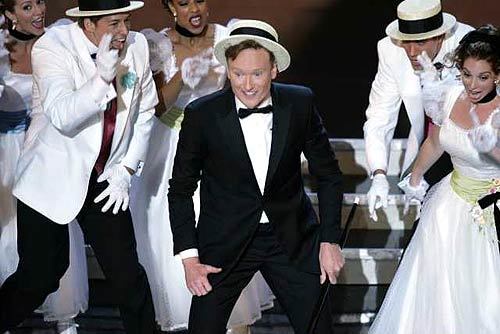 Conan O'Brien's fun and funny helmsmanship of Sunday's 58th Annual Primetime Emmy Awards telecast was downright Crystal-worthy.
(Brian Vander Brug / LAT)
Brother Bill Short returns for another load of mud to be molded into bricks for the repair of Mission San Miguel, the most dilapidated in the state. Volunteers spent Saturday making adobe bricks by hand because the mission couldn't afford the $40,000 to have bricks made.
(Robert Durell / LAT)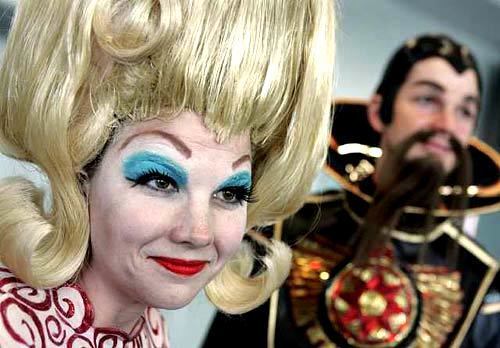 Dawn Rose is dressed as the Martian Spy Girl from the film "Mars Attacks!" Her husband, David Rose, is the film and comic strip character Flash Gordon's enemy, Ming. The two attended the 64th World Science Fiction Convention at the Anaheim Convention Center on Saturday.
(Christine Cotter / LAT)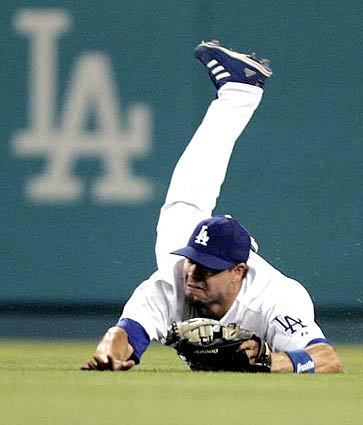 Center fielder Jason Repko makes a diving catch in the fourth inning of Tuesday's game against the Cincinnati Reds at Dodger Stadium.
(Gina Ferazzi / LAT)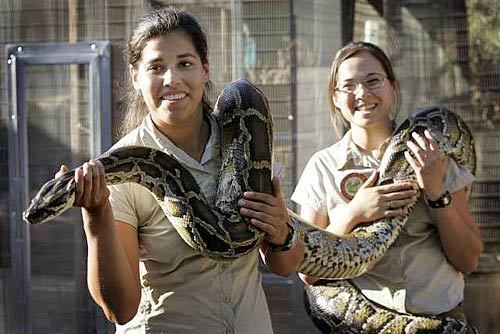 Natalie Elverman, left, and Susan Garity carry a 15-foot, 80-pound Burmese python.
(Stephen Osman / LAT)
A sign at the Sunset Boulevard onramp to the south 405 in Brentwood points motorists to Rancho Palos Verdes. Though it looks real, the sign was a phony that Caltrans removed earlier this week.
(Glenn Koenig / LAT)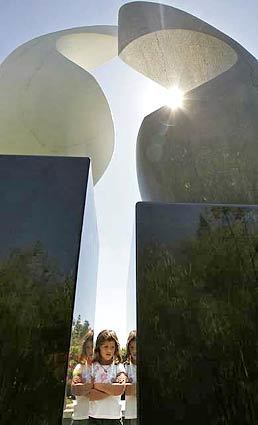 Malina Hernandez of Artesia, whose mother lost two brothers and a nephew in the Aeromexico air disaster 20 years ago, views a memorial to the 82 crash victims, recently erected at the Cerritos Civic Center.
(Luis Sinco / LAT)
An Emmy awards swag room at Le Meridien Hotel in Los Angeles offers a freebie bonanza for celebrities. Earlier this month, the IRS ruled that the luxury giveaways are taxable.
(Béatrice de Géa / LAT)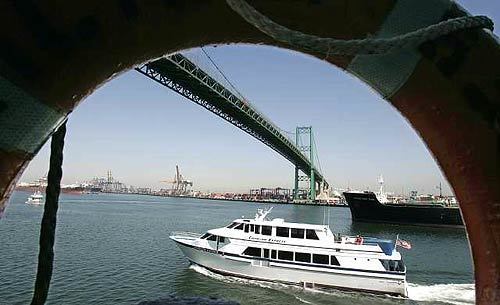 The extended crane on the Beautiful Queen cargo ship struck the Vincent Thomas Bridge on Sunday night, causing minor damage.
(Luis Sinco / LAT)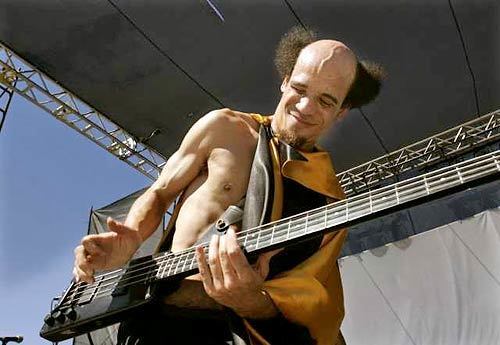 Lonnie Marshall, lead singer for the group Weapon of Choice, performs Sunday during the 26th annual Sunset Junction Street Fair in Silver Lake. More than 45 acts played at the neighborhood event, held over the weekend on Sunset Boulevard between Fountain Avenue and Edgecliffe Drive. Hundreds flocked to the street fair for food, games, rides and health information.
(Carlos Chavez / LAT)
An orangutan that was smuggled from Indonesia looks out of a cage at a wildlife sanctuary center in Ratchaburi province, southwestern Thailand. Next month, the country will repatriate dozens of smuggled Indonesian orangutans that were confiscated from a safari park two years ago, authorities said.
(Apichart Weerawong / AP)
A basketball fan facepainted in the colors of the Greek flag smiles prior to the start of Wednesday's quarterfinals between Greece and France at the World Basketball Championships in Saitama, Japan.
(Itsuo Inouye / AP)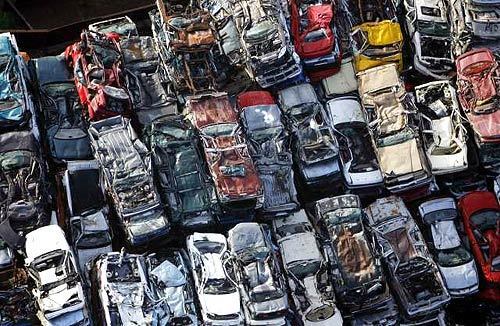 Stacks of cars fill salvage yards after the devastation of Hurricane Katrina nearly one year ago in New Orleans. Members of Congress toured the city Monday and President Bush headed to the region to see the current state of recovery efforts.
(Alex Brandon / AP)
A Loggerhead turtle hatchling reaches the surf in its race to the Mediterranean Sea after being freed from its 16-inch deep nest at a protected hatchery on Betzet beach near the northern Israel town of Nahariya.
(David Silverman / Getty Images)
A person walks past the back loading door of a C-17 Globemaster cargo plane at Toronto Pearson International Airport in Mississauga, Ontario, on Thursday after it arrived to take part in this weekend's Canadian National Exhibition Airshow.
(Nathan Denette / CP Photo)
Saudi Arabian show jumper Prince Faisal Al Shalan and his horse Uthago clear an obstacle Tuesday at the FEI World Equestrian Games in Aachen, Germany. The games continue through Sunday.
(Oliver Berg / EPA)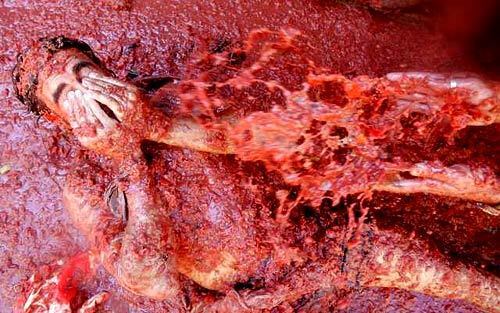 A reveler wipes his eyes Wednesday while laying in tomato pulp during the annual Tomatina, a food fight held in the small Spanish town of Bunol, Spain.
(Fernando Bustamante / AP)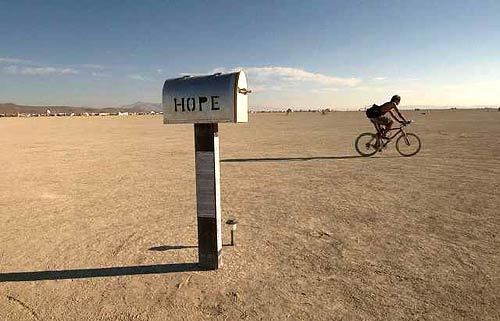 A bicyclist rides past an art piece that goes with this year's theme, "Hope and Fear: The Future" during Burning Man on Wednesday in Nevada's Black Rock Desert.
(Andy Barron AP/Reno Gazette-Journal)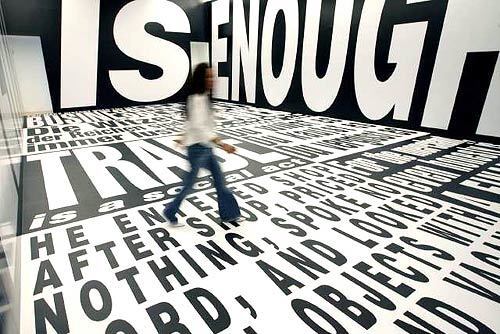 A museum employee walks through a room covered in typo collages at the Kestner Society in Hanover, Germany.
(Peter Steffen / EPA)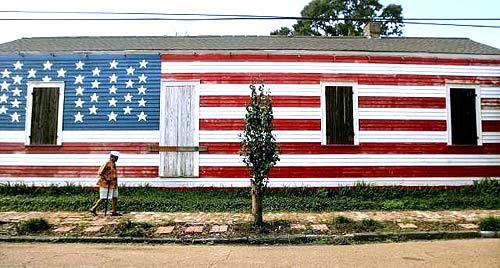 A man walks past a shotgun house painted with the American flag in the 9th Ward in New Orleans. Tuesday marked the first anniversary of Hurricane Katrina.
(Mario Tama / Getty Images)