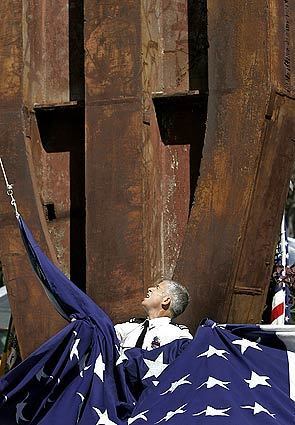 11 Images
In Focus: Staff photos from September 9 - September 15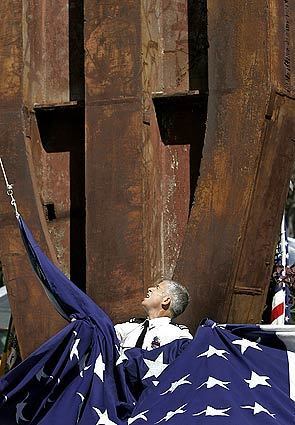 Events marking the Sept. 11 terrorist attacks dotted the Southern California landscape Tuesday. Several were held by fire departments. Los Angeles Fire Capt. Don Carter helps unfurl a U.S. flag in front of a remnant of the World Trade Center during ceremonies at the city's fire training center in Elysian Park. The 20-foot-tall, 2,300-ton piece of rusting metal served as a backdrop for the quiet outdoor ceremony to honor those who died in the attacks.
(Luis Sinco / Los Angeles Times)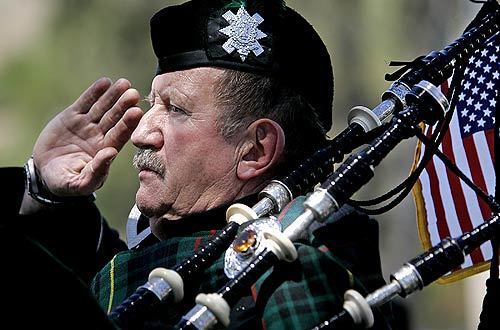 John Roberts, a firefighter and bagpiper from San Jose, salutes those who died in the Sept. 11 terrorist attacks during a ceremony at the Los Angeles Fire Department's training center in Elysian Park. Dozens of firefighters and police officers joined Mayor Antonio Villaraigosa, Police Chief William J. Bratton and Fire Chief Douglas L. Barry at the event.
(Luis Sinco / Los Angeles Times)
Sister Consuelo Cardenas, left, and Sister Margarita Antonia Gonzalez in the small chapel at the Sisters of Bethany house in Santa Barbara. The nuns recently received word that their convent, which is owned by the Roman Catholic Archdiocese of Los Angeles, will be sold to help pay the bill for the diocese's multimillion-dollar priest sex abuse settlement. The nuns have four months to move out, according to a letter from the archdiocese. The notice, which was dated June 28 but not received until the end of August, asked the women to vacate the property no later than Dec. 31 -- and noted that an earlier departure "would be acceptable as well."
(Spencer Weiner / Los Angeles Times)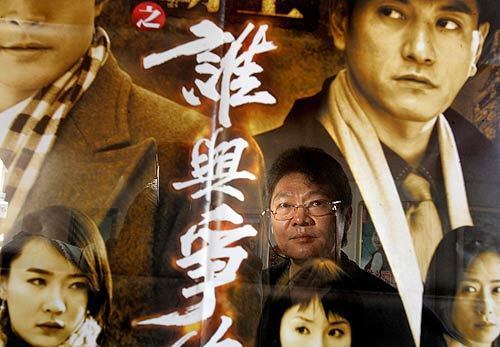 About 43% of California residents speak a language other than English at home, according to data released Wednesday by the U.S. Census Bureau. The trend was even more pronounced in Los Angeles, where more than 53% of residents speak another language at home. Michael Yang, at left, is reflected in a poster at his San Gabriel video store. Yang said through an interpreter that he left Taiwan for the U.S. in 1984 and still barely speaks any English. The 58-year-old signed up for classes last year, but quit soon after because he was too embarrassed to learn alongside students a third his age. Not surprising to some, his lack of English has not hindered his everyday life in the heavily Chinese San Gabriel Valley, he says.
(Genaro Molina / Los Angeles Times)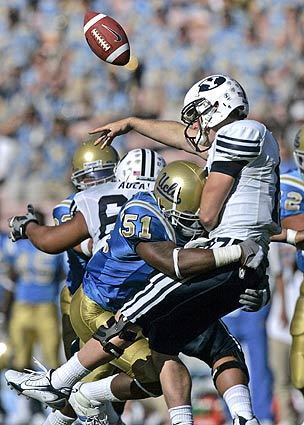 UCLA linebacker Reggie Carter hits Brigham Young quarterback Max Hall as he releases a pass in the second quarter of the Bruins' 27-17 victory at the Rose Bowl. The win boosted UCLA's record to 2-0, but it wasn't easy. "That was a hard game," said UCLA linebacker Christian Taylor. "I hope they are not all like that. I think we learned something valuable, that adversity is going to come. The more you work through it and the more you overcome it, the more confident you become."
(Gina Ferazzi / Los Angeles Times)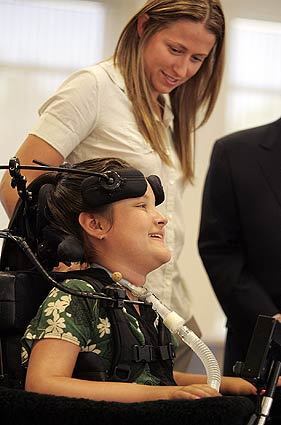 Leilani Gutierrez, 9, with her mother, June Hendriks, at a news conference in Santa Ana. In 2002, Leilani and her mother were riding in an SUV on Newport Boulevard in Costa Mesa when they were broadsided by a vehicle driven by Michael Lienart, an Army National Guard employee. Lienart, now 48, ran a red light before slamming into the passenger side of the SUV. He was cited for failing to stop at a light, but the case was dismissed after he went to traffic school. Last week, a federal judge ordered the U.S. government to pay Leilani, a quadriplegic, nearly $55 million for medical bills, lost wages and pain and suffering; and roughly $1 million to her mother for treatment of post-traumatic stress disorder and other compensatory damages.
(Allen J. Schaben / Los Angeles Times)
In front of the house he built on the Pechanga Indian reservation, Lawrence Madariaga, 90, with his wife, Sophia, 87, clutches a batch of documents that he says confirms their Indian heritage. The couple and their extended family -- 90 adults and about 50 children -- were ousted from the tribe and no longer receive monthly checks from casino profits. The family has filed a lawsuit against tribal leaders, including Mark Macarro, the chairman, demanding to be reinstated. They said their lineage was better documented than most and that their ancestors were among the original residents of the reservation. The case is pending in federal court in Los Angeles. "I know who I am," Madariaga said. "And no one is going to make me leave this place."
(Don Bartletti / Los Angeles Times)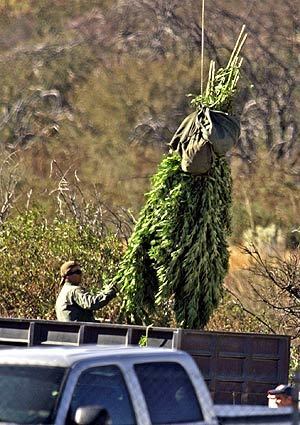 On Monday, San Bernardino County sheriff's deputies shot and killed a camouflage-clad gunman during a shootout with three people protecting a marijuana crop in the mountains north of Fontana, officials said. A manhunt for two others continued into the night, with deputies searching the rugged terrain on foot and in four-wheelers. The search was called off; no arrests were made. The shots were fired as deputies working with the U.S. Forest Service were preparing to destroy a large marijuana field near Lytle Creek in the San Gabriel Mountains, an area marked by steep hills and manzanita, said sheriff's spokeswoman Jodi Miller. Authorities estimate the field contained about 2,500 marijuana plants with a street value of $6 million.
(Irfan Khan / Los Angeles Times)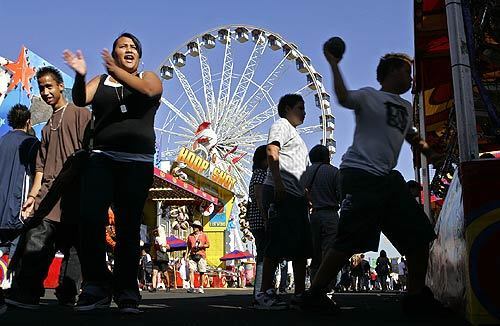 The Los Angeles County Fair, America's largest, marked its 85th anniversary, opening its gates to crowds that organizers hope will eventually top last year's 1,427,656. Held at the Fairplex in Pomona, the fair is open Wednesdays through Sundays until Sept. 30.
(Gina Ferazzi / Los Angeles Times)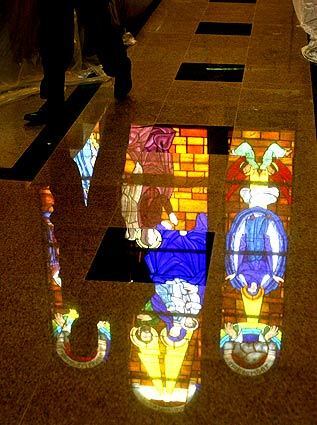 Workers put the final touches on St. Gregory the Illuminator Armenian Apostolic Church in Pasadena. The church, which opened last week, is seen by its members as a triumph of tradition: a marble-framed baptismal font, jewel-toned stained-glass windows and rounded arches inside and out. "They're inviting, they're warm, not squared or cold. Arches are like arms outstretched," said longtime church volunteer Marguerite Hougasian, whose father helped start the Pasadena parish in 1947. The new church's Old World style reflects the importance of tradition in the 1,700-year-old Armenian faith, she said. "It's a way of strengthening and holding to the faith, keeping us bonded to our belief."
(Wally Skalij / Los Angeles Times)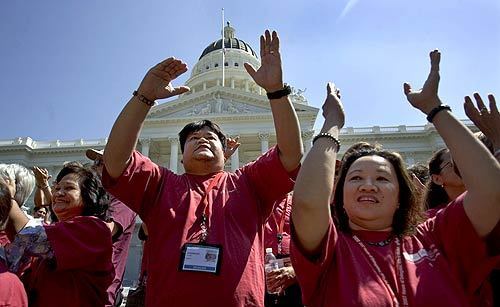 Members of the California Nurses Assn. rally in front of the state Capitol on Tuesday, the day after the Legislature approved a Democratic plan to overhaul the state's healthcare system. The governor has vowed to veto the legislation. Rose Ann DeMoro, the union's executive director, said the goal was to end what she called the "pay-or-die system" once and for all. "We are a very, very strong and, some say, militant organization," said DeMoro, an AFL-CIO vice president. "And, honestly, in this environment it takes a militant organization. It's very hard for a registered nurse to go home at the end of a shift and feel good about the care she's able to give." Emboldened by the nation's huge need for their skills, and bulked up through unionization, organized nurses have become a bona fide political force.
(Robert Durell / Los Angeles Times)