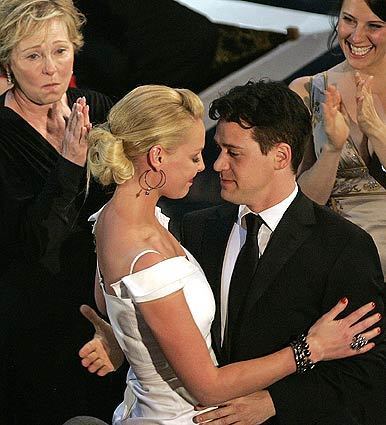 10 Images
In Focus: Staff photos from Sept. 15-22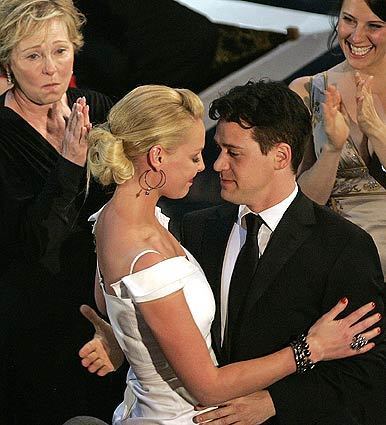 Katherine Heigl gets a hug from friend and "Grey's Anatomy" costar T.R. Knight after her Emmy win on Sunday as best supporting actress in a drama series. The Fox network had to cut away from her when she uttered a profanity in response to her win.
(Robert Gauthier / LAT)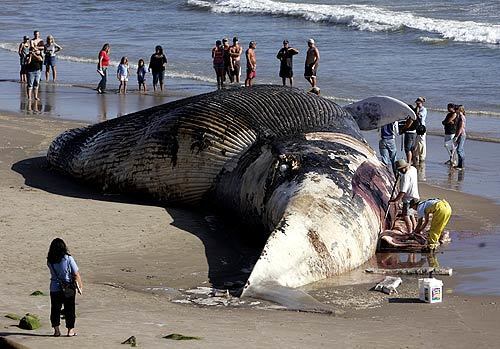 When a 78-foot-long blue whale washed up on a beach north of Ventura, hundreds of spectators gathered for a rare look at the specimen, the world's largest animal. Researchers say it was most likely struck by a ship in the Santa Barbara Channel. The 60- to 70-ton behemoth was given a burial beneath the beach Monday after being chopped up.
(Stephen Osman / LAT)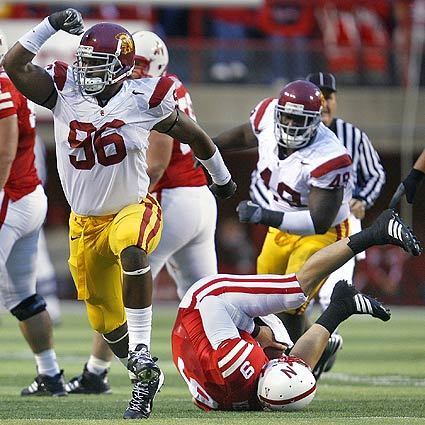 USC defensive end Lawrence Jackson (96) exults after sacking Nebraska quarterback Sam Keller (9) in the first quarter Saturday at Lincoln, Neb. The top-ranked Trojans rolled over the Cornhuskers 49-31 with a punishing rushing attack.
(Wally Skalij / LAT)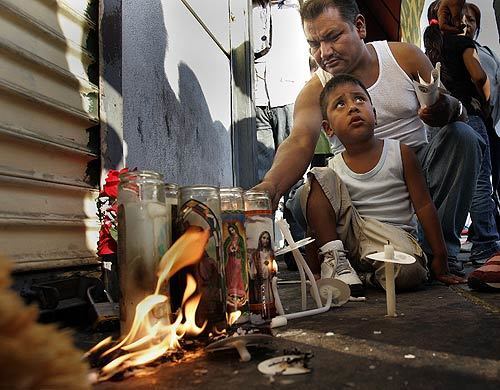 Five-year-old Kevin Pacheco gathers with others Tuesday in L.A.'s Westlake district at a makeshift memorial to the victims of a weekend shooting at an outdoor marketplace in which a newborn was killed and a vendor injured. Los Angeles prosecutors said members of a gang had tried to extort money from the vendors and when one refused, they returned later and opened fire. One suspect is currently in custody.
(Richard Hartog / LAT)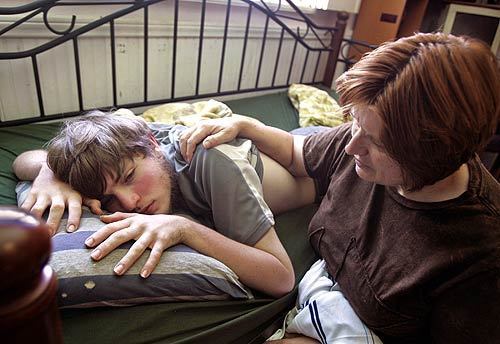 Doris Karras talks with her autistic son Taylor, 15, after an incident in which he was subdued with a stun gun by Orange County sheriff's deputies. The boy had run away from his parents Monday morning and later dashed into traffic when approached by a deputy who then shot him with a Taser gun and handcuffed him. O.C. officials defended the action, but his mother called it a "very aggressive response."
(Don Bartletti / LAT)
With clouds building in the background, Dillon LeMaire, 9, jumps off a ship at Marina Park in Ventura on Wednesday. Forecasters had predicted rain for the latter part of the week in what meteorologists are calling the season's first winter storm.
(Stephen Osman / LAT)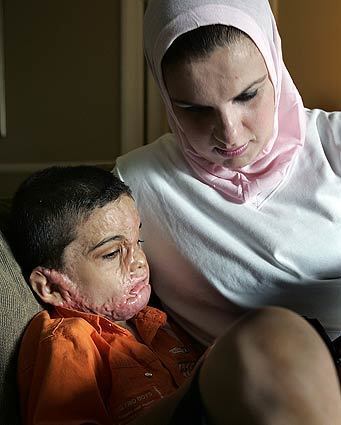 Youssif, 6, shown with his mother Zainab, was brought to the Grossman Burn Center in Sherman Oaks for treatment after an August CNN report focused attention on his plight. Youssif was playing outside his home in Baghdad in January when unknown assailants doused him with gasoline and set him on fire. He's expected to undergo months of surgeries and the center has been swamped with donations.
(Carlos Chavez / LAT)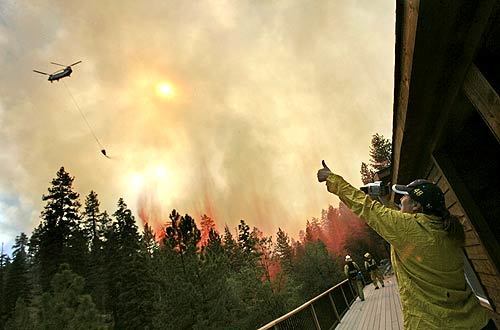 A grateful Kerrie Willis shows her support to firefighters as she videotapes a helicopter dropping fire retardant while standing outside a friend's house in the Fawnskin area near Big Bear Lake. By late Wednesday, the blaze was largely under control and a mandatory evacuation order had been lifted. More than 14,000 acres of steep forest terrain went up in flames.
(Karen Tapia-Andersen / LAT)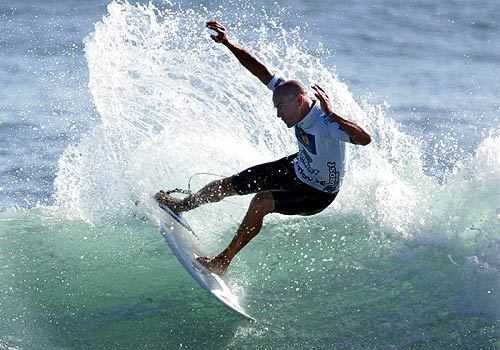 Kelly Slater is in fine form at Lower Trestles as he moved from fourth to second in the Foster's ASP World Tour rankings. Four contests remain as he guns for a ninth world title.
(Glenn Koenig / LAT)
Velvet Revolver, featuring Scott Weiland, left, and Slash, delivered a fiery performance of "Last Fight" at the KROQ L.A. Invasion concert at the Home Depot Center in Carson.
(Richard Hartog / LAT)