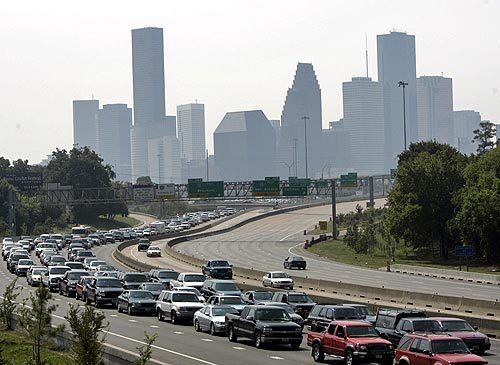 15 Images
Fleeing Hurricane Rita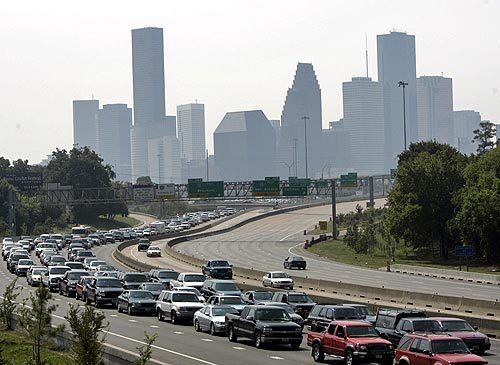 Texas evacuees
Gulf residents try to evacuate Houston on Interstate 45 at North Street in preparation for Hurricane Rita.
(Michael Ainsworth / AP)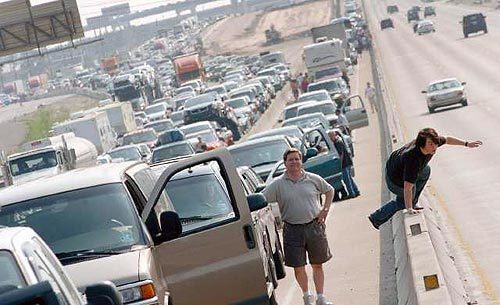 Bathroom break
A young man tries to cross Interstate 10 in search of a restroom after being stuck for hours in traffic out of Houston.
(Gerardo Mora / EPA)
Traffic
Storm evacuees stand on the side of Highway 290 in Houston on Thursday. Major freeways, especially around Houston, were at a near standstill as hundreds of thousands of people fled to safety.
(Ron Heflin / AP)
Traffic
A woman stands outside her car on Interstate-45 near downtown Houston on Thursday. Thousands of people are evacuating the Texas coast. Officials will be reversing the southbound lane on the interstate to four lanes for northbound traffic.
(Rick Bowmer / AP)
Oil refinery
An oil refinery on Galveston Bay in Texas City, Texas. Hurricane Rita threatens a large portion of the U.S. oil and gas operations industry in the Gulf of Mexico and along the Texas coast.
(Robert Sullivan/ AFP)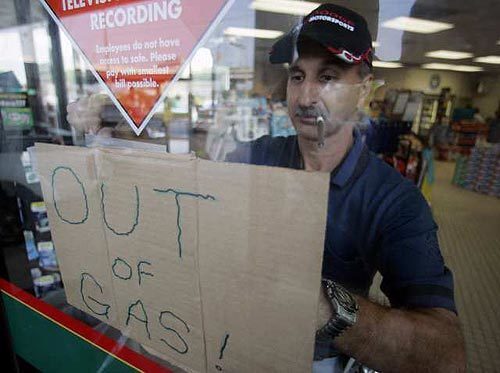 No gas
Gilbert Cabrera said his station in Houston ran out of gas around 2 a.m. Thursday, leading to several fights among customers leaving the city for safer places inland.
(Rick Bowmer / AP Photo)
Sandbags
Harold Byrd, right, fills a bag with sand provided by the City of Lufkin, Texas.
(Joel Andrews AP / The Lufkin Daily News)
Drum
Dicky Rayzor, 53, of Beaumont, Texas, fills a 55-gallon drum with about $100 worth of gasoline as he prepares to leave before Hurricane Rita makes landfall.
(Scott Eslinger AP/Beaumont Enterprise)
Oil traders
Traders work in the crude oil futures pit at the New York Mercantile Exchange Thursday. Crude oil prices climbed above $68 a barrel as Hurricane Rita closed in on Texas, raising fears it would hit key production facilities along the Gulf Coast.
(Mary Altaffer / AP)
Heeding the call
Evacuees on school buses, RVs and other vehicles jam Interstate 45 heading out of Galveston, Texas.
(James Nielsen / AFP/Getty Images)
Hurricane in 1900
A large part of Galveston, Texas was reduced to rubble, as shown in this September 1900 photo, after being hit by a hurricane. More than 6,000 people were killed and 10,000 left homeless.
(AP)
Storm in 1900
This file photo shows the Gresham house, center, now known as the Bishop's Palace, sits relatively unscathed behind a wall of debris following the hurricane that devastated Galveston, Texas, on Sept. 8, 1900. More than 6,000 people were killed and 10,000 left homeless as entire neighborhoods were swept clean. Heavily damaged Sacred Heart Catholic Church is at right.
(AP / Sisters of Charity of the Incarnate Word)
Preparing
Michael Visoski, 49, tapes up the windows at the Gulfway Motel in High Island, Texas as he prepares for Hurricane Rita.
(Scott Eslinger AP Photo/The Beaumont Enterprise)
Cowboy
Lyle Simpton, 72, herds cattle into a pen at a friend's house in Caplen, Texas, along the bay side of Texas 87. Simpton hopes to keep the cattle together and away from the canal if Rita hits.
(Scott Eslinger AP / The Beaumont Enterprise)
Clouds
Clouds loom over downtown Mobile, Ala., Wednesday as Hurricane Rita makes its way toward the Gulf Coast.
(Dan Anderson / EPA)