10 Images
In focus: Staff photos from Sept. 22-29
A house that languished for 11 days on the shoulder of the Hollywood Freeway was finally moved late Tuesday after a house-moving crew spent the day getting it ready for relocation. The owner was trying to transport it from Santa Monica to the Santa Clarita Valley when part of the roof was sheared off by the Western Avenue bridge; the house was eventually left on a wide shoulder. Caltrans hired a Santa Clarita company to move the house to an undisclosed location and plans to bill the homeowner.
(Robert Gauthier / Los Angeles Times)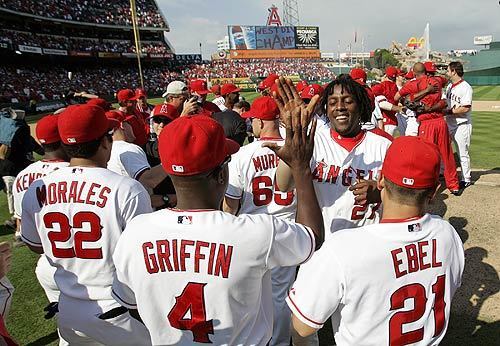 Angels slugger Vladimir Guerrero high-fives first base coach Alfredo Griffin after the team clinched the American League West title Sunday by defeating the Seattle Mariners, 7-4, at Angel Stadium. The Angels have won three division titles in the last four years.
(Allen J. Schaben / Los Angeles Times)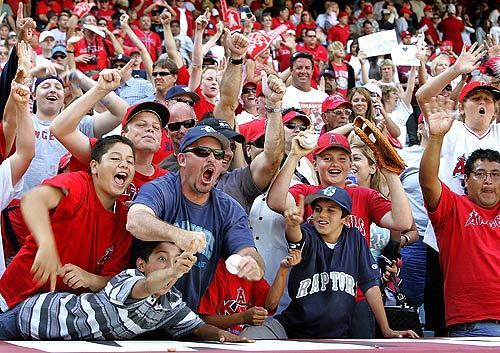 Angels fans celebrate finally clinching their third American League West title in four years against the Seattle Mariners. The crowd of 44,234 was the 34th sellout at Angel Stadium this season and took season attendance to 3,365,632.
(Allen J. Schaben / Los Angeles Times)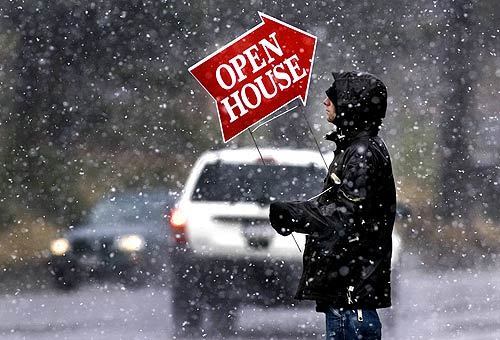 Mark Ehresman of Mammoth Lakes tries to lure customers and stay warm and dry Saturday on Main Street during the resort community's first significant snow of the season. The Southland was lashed by an out-of-season winter storm that caused sporadic flooding and outages and numerous traffic woes across the region.
(Robert Durell / Los Angeles Times)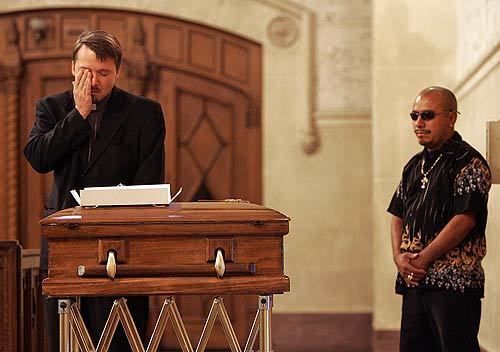 Pallbearers Jose Abrego, right, and the Rev. Howard Dotson stand by the casket of 23-day-old Luis Angel Garcia during his funeral Mass on Monday at St. Vincent Catholic Church in South Los Angeles. The baby became a victim of gang violence Sept. 15 when gang members walked into a crowd of hundreds at a marketplace near MacArthur Park and shot at a vendor, who remains in critical condition; a bullet struck and killed the infant. Police have arrested one suspect.
(Brian Vander Brug / Los Angeles Times)
Washington's Jason Wells tries to hang on to UCLA's Chris Markey during the first quarter Saturday in Pasadena. Markey made off with a career-best 72-yard touchdown run in the Bruins' 44-31 victory over the Huskies.
(Richard Hartog / Los Angeles Times)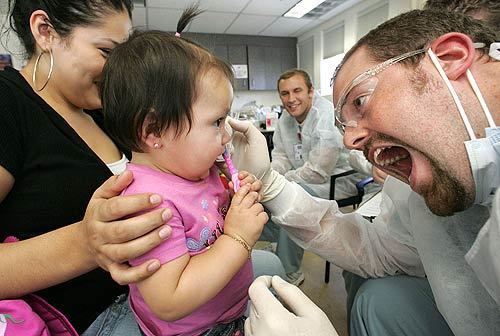 Ken Hussey, 26, a junior at the USC School of Dentistry, tries to persuade Kimberly Perez, 1, being held by her mother, Monica, to open wide during a free dental exam Monday at the Pasadena Public Health Department. The school offers such exams to low-income families as part of its Teeny Teeth program.
(Mel Melcon / Los Angeles Times)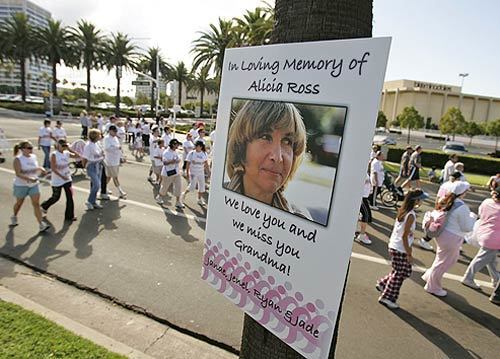 A poster commemorates Alicia Ross as contestants pick up the pace at the annual Susan G. Komen Orange County Race for the Cure on Sunday in Newport Beach. The Orange County chapter has raised more than $15 million in the fight against breast cancer.
(Allen J. Schaben / Los Angeles Times)
Brent Karner is the resident "bug guy" at the Natural History Museum of Los Angeles County. The associate manager of entomological exhibits is shown with an orb weaver, part of the nearly 100 creatures at the museum's newly opened Spider Pavilion.
(Mel Melcon / Los Angeles Times)
A technician works on a jet at San Bernardino International Airport. Officials at the airport say they are negotiating with four airlines for regular passenger service to begin next year. They hope to tap into potential Inland Empire travelers looking for low-cost fares, less congestion and international flights.
(Irfan Khan / Los Angeles Times)