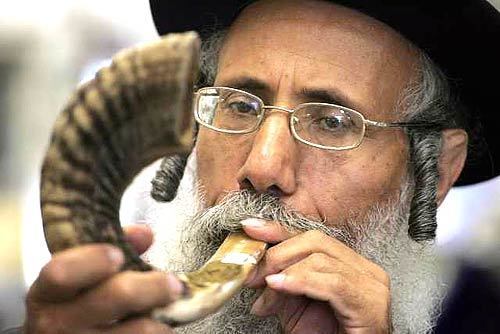 19 Images
The Week in Photos: Sept. 24-30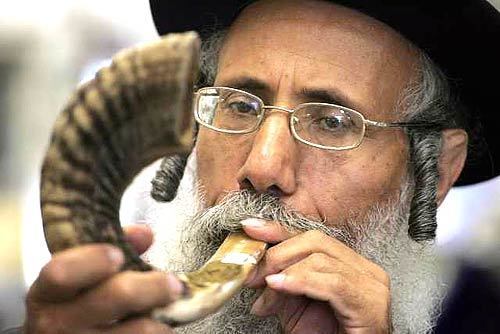 Rabbi Abraham Aria tried out a shofar at Solomon's Bookstore in the Fairfax district on Rosh Hashanah, the beginning of the Jewish new year. The rabbi from Israel came to the bookstore to buy a shofar for Maor Haim, a synagogue in North Hollwood.
(Gary Friedman / LAT)
Hung Liu, a Chinese artist who lives in Oakland, grew up during the cultural revolution in China and bases her paintings on her experiences and heritage. She stands in front of her piece "Golden Glyph" at the Walter Maciel Gallery in Los Angeles.
(Béatrice de Géa / LAT)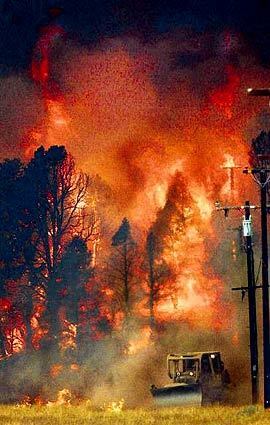 A bulldozer Wednesday clears a break next to homes in the Ventura County community of Lockwood Valley as the wind-whipped Day fire came close to residences this week.
(Stephen Osman / LAT)
Supporters of saving Bernard Luggage take pictures Thursday during a news conference in front of the store on Vine Street in Los Angeles. Los Angeles Councilman Eric Garcetti announced that the store, which has been at the same location since 1955, has been included in plans for a huge hotel to be built on the site
(Bob Chamberlin / LAT)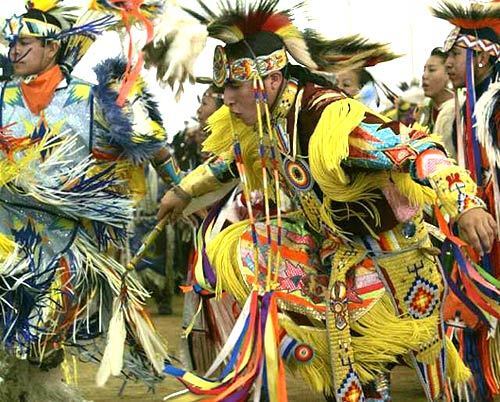 Dancers compete last Sunday on the closing day of the 16th annual Thunder and Lightning Powwow at the Morongo Indian Reservation in Cabazon, near Palm Springs. Besides dance competitions in 57 categories, there were parades and a bird-singing contest during the event.
(Karen Tapia-Andersen / LAT)
Rooshi Yaghobi cries at the spot where Parees Ghassemian died Monday night. Ghassemian was killed after he lost control of his 2004 BMW M3 while racing another friend in Laguna Hills.
(Karen Tapia-Andersen / LAT)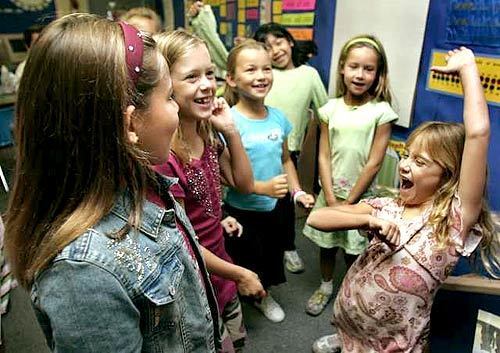 Second-grader Cassidy Stewart dances in her Mission Viejo classroom. The children sang "Happy Birthday" and she was given a birthday card, sticker and colorful pencil. Officials are cracking down on sweets for children's birthdays at the school. Fears of childhood obesity have led to the new policies.
(Karen Tapia-Andersen / LAT)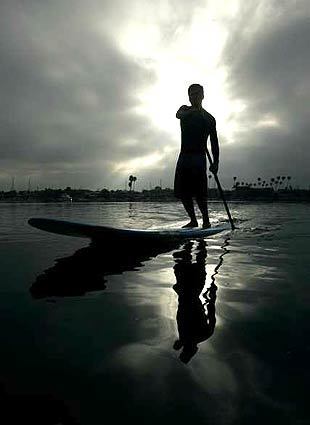 Early morning usually finds Robert Howson, owner of Harbour Surfboards, in Alamitos Bay in Long Beach. He sees paddle surfing as the next progression for lifelong surfers, "not an 18-year-old thing."
(Mark Boster / LAT)
Kristin Markham meets TV and radio personality Ryan Seacrest recently during Radio Lollipop's unveiling at Children's Hospital of Orange County.
(Don Kelsen / LAT)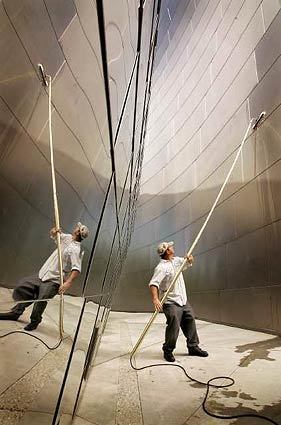 Elmer Paiz uses a special extension wand to clean Walt Disney Concert Hall in preparation for the opening of the Los Angeles Philharmonic's season. Forty-five percent of the building is cleaned by workers on a scaffold, the remaining 55% by hand with the wand.
(Al Seib / LAT)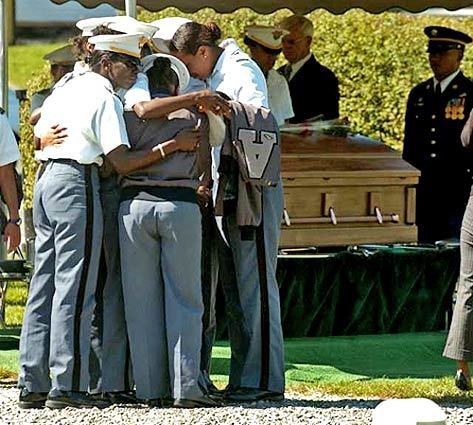 Cadets from the West Point Military Academy mourn the loss of 2nd Lt. Emily Perez after her burial ceremony at the academy cemetery in West Point, N.Y., on Tuesday. Perez, the highest ranking black and Latino woman cadet in corps history, was buried two weeks after she was killed by a bomb in Iraq.
(Tim Roske / AP)
Lebanese workers collect oil at a small Beirut harbor Tuesday. A thick layer of oil was still crippling a lot of the capital's fishermen more than two months after Israeli warplanes attacked fuel oil storage tanks at the coastal generating station, spilling up to 15,000 tones of fuel into the Mediterranean.
(Marwan Naamani AFP/Getty Images)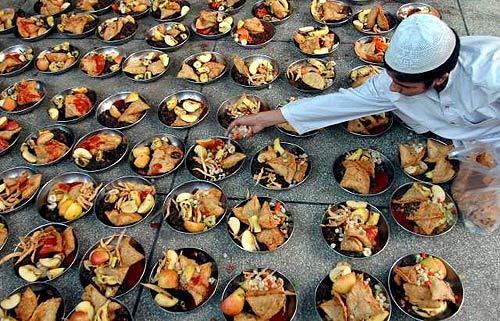 A Muslim boy arranges dishes of fruits and other stuff for the time to break the fast at a mosque in Karachi, Pakistan on Monday. Muslims are observing Ramadan and fast from sunrise to sunset.
(K M Chaudhry / AP)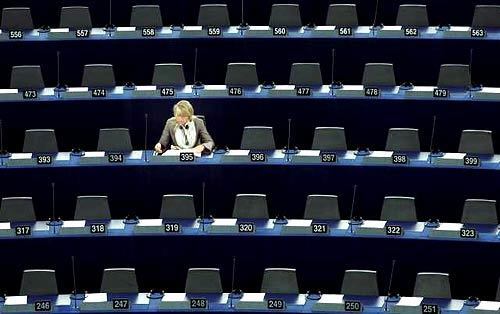 A European Union deputy is pictured during the first day of the plenary session in Strasbourg, France, on Monday.
(Christophe Karaba / EPA)
A view of the field during the pre-game festivities Monday before the start of the game between the Atlanta Falcons and the New Orleans Saints at the Superdome in New Orleans, La. The game was the first time since Hurricane Katrina struck last August that the Superdome, which served as a temporary shelter to thousands of stranded victims during Katrina, played host to an NFL game. The Saints easily won the game.
(Chris Graythen / Getty Images)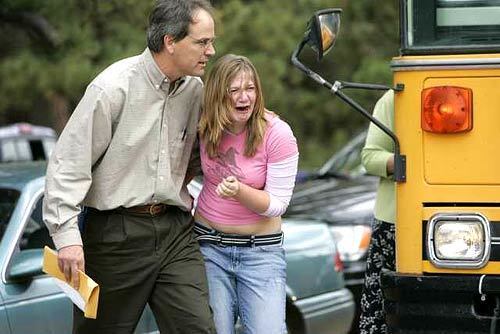 Platte Canyon High School counselor Jim Orcutt assists a student who had been transported to Deer Creek Elementary School to be reunited with her family after a hostage situation at Platte on Wednesday in Bailey, Colo. The gunman killed one student before killing himself.
(Barry Gutierrez AP/The Rocky Mountain News)
A worker carries a cardboard cutout of Prime Minister Tony Blair after the end of the Labour Party conference on Thursday in Manchester, England.
(Peter Macdiarmid / Getty Images)
An elderly man crosses the street as French United Nations peacekeeper troops patrol in the southern Lebanese village of Ait Aroun on Thursday.
(Mohamed Messara / EPA)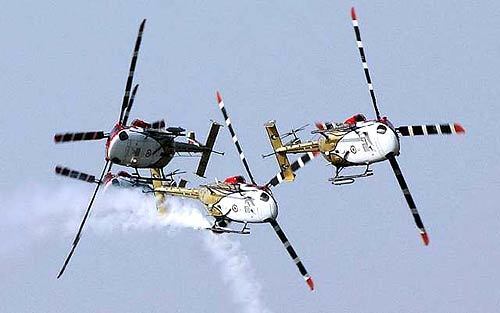 Indian Air Force pilots display their skills Tuesday during an air show, part of the platinum jubilee celebrations of the Indian Air Force at the Adampur Air Force Station, in India's northwestern state of Punjab.
(Narinder Nanu AFP/Getty Images)